While we love our dogs to the moon and back, there are times when they are real stinkers – literally. Maybe your dog is getting older, and her bladder control isn't what it used to be. Or maybe there's some change in the household that's creating anxiety, and your four-legged man of the house has started marking his territory. Whatever the reason, it's no fun to live with the smell and the stains from our dogs – no matter how much we love them.
While it's important to deep clean an area to discourage your pup from peeing there again, the problem is that a lot of household cleaning products have ingredient toxic to dogs, such as bleach, formaldehyde, isopropyl alcohol and other hard-to-pronounce ones.
Luckily, science, technology and nature have collaborated to produce revolutionary stain-removing, odor blasting products that are pet safe. There are a ton of these products on the market, but it can get confusing. Do they really remove the odor and stains? How do you know which ones are the safest?
Related: Do You Really Need to Worry About Cleaning Your Dog's Bowl?
We've gone shopping to find the very best cleaners — and companies — on the market today. These are safe for your dog, and they will leave your home sparking clean and smelling fresh.
Skout's Honor
Skout's Honor is a next-generation, enzyme-free, cleaning powerhouse. It removes stains and odors from dog accidents, as well as vomit, blood, mud, and grease. The cleaner is vegetable based, using their own formula called BioKore™, which works by osmosis to absorb and break the stain down. The natural fragrance is made from citrus pulp, and it's totally pet-safe (some essential oil fragrances can actually be toxic).
What we love: The company goes the extra step. If you are having trouble removing a stain completely, just give them a call, and they will develop a plan to remove it. They also partner with RescueBank.org: for every bottle sold, they provide a day's worth of food for an animal in need.
Price: $14.99, available on Amazon and Chewy.
Rocco & Roxie
Rocco & Roxie Professional Strength Stain & Odor Eliminator is an enzyme-based cleaner that uses a stain-activated bacteria, which actually feeds on the substances in poop and pee to remove both the stain and odor completely. It's been Certified Safe for all carpets, and it contains no chlorine, bleach or other toxic chemicals. It can be used on everything in your home and car, from carpet to clothing, and it works on any organic stain your dog can produce.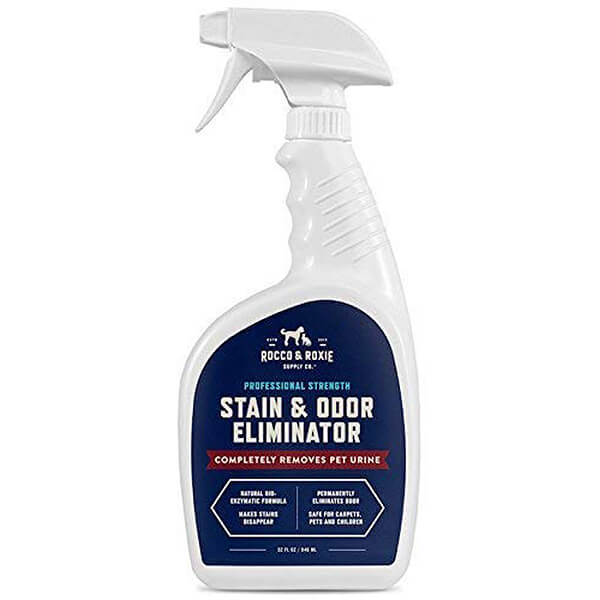 What we love: The family business was named after a Labradoodle named Rocco and rescue tabby cat named Roxie. Between the two of them, they provide enough samples to thoroughly test their products. We're guessing that one of them is sneaky: if you even suspect your dog has peed where he shouldn't, the company sells a UV Urine Detector Flashlight that lights up the source of the stink in your home.
Price: $19.99-$29.99, available on Amazon or Chewy.
Related: The Tricks Every Dog Owner Should Know on How to Reduce Shedding
Only Natural Pet Stain & Odor Remover
Only Natural Pet Stain & Odor Remover is formulated to remove the stain and smell of the worst your dog can do using only non-toxic ingredients. It contains a blend of organic enzymes and plant-sourced cleaning agents to break down the stain and odor and remove it completely. It tackles all stains and odors, including mildew, blood and food. Not only that, but instead of that weird enzyme odor, it leaves behind a natural scent of mandarin orange and green tea.
What we love: The company is dedicated to providing pet-safe, species-specific products that use human quality natural ingredients. It is also the first pet food and treat company in North America to become a Certified B Corporation. "B Corporations are leaders of the global movement of people using business as a force for good™." These companies are legally mandated to consider the impact of their decisions not only on the bottom line, but on the workers, community, customers, suppliers and the environment.
Price: $9.99-$12.99, available on its website or Chewy.
Pet Wellbeing Natural Pet Odor & Stain Remover
Pet Wellbeing Pet Odor & Stain Remover is a mineral-based, lightly scented, non-toxic cleaner that's safe for pets and for surfaces and fabrics in your home and car. It contains "a patented, proprietary blend of micronutrients that combat odors at a molecular level." When the product's scent dissipates, the odor and stain will be gone.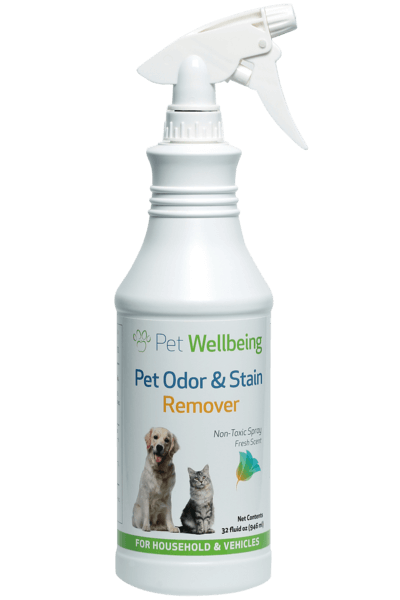 What we love: What makes this company stand out is its board of advisors and staff veterinarian. The current board is comprised of a rehabilitation specialist, an acupuncturist and herbalist; an owner and medical director of an animal hospital for canine rehabilitation and fitness; a Cornell University vet; and a clinical assistant professor at the University of Florida College of Veterinary Medicine. The staff veterinarian, Dr. Janice Huntingford, is certified in both tradition and holistic medicine.
Price: $14.99, available on its website.
Earth Rated Unscented Stain & Odor Remover
Earth Rated® Unscented Stain & Odor Remover is a powerful, bio-enzymatic cleaner that targets urine bacteria to remove the odor and stain, as well as removing common pet stains such as poop, blood and vomit. It helps prevent your dog from repeat soiling the same spot, and leaves your home smelling fresh and clean.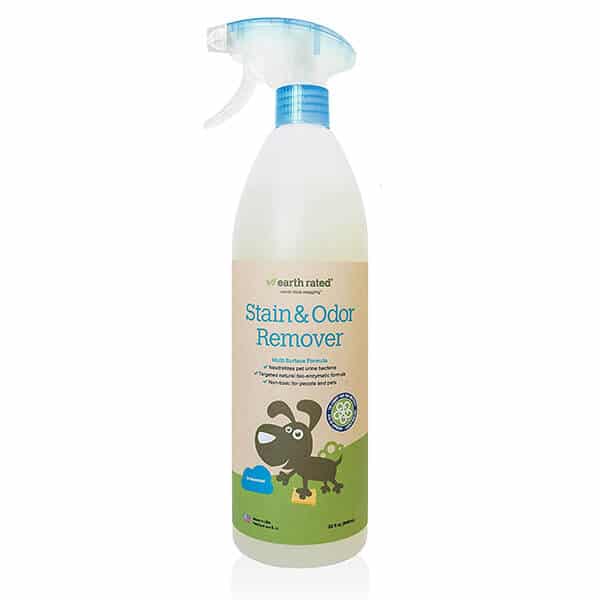 It's also Carpet and Rug Institute-certified safe on carpets, which is great considering how rugs are a dog-magnet for inappropriate peeing. It's also safe to use on upholstery, rugs, vinyl tile, stone, grout and concrete. It can even be used as a pre-soak on bedding or clothing if your dog has done his worst.
What we love: The company is committed to eco-friendly manufacturing and packaging, and they also support rescues and local shelters. They also make an a lavender version that still deodorizes.
Price: $13.99, available on Amazon and Chewy.
Related: The 5 Best Water Purifiers to Protect Your Dog From Toxic Chemicals Coming From Your Faucets
We may receive a small commission if you purchase from one the websites.