A puppy was brought back from the brink of death thanks to a little bit of creativity.
Named Arthur, the Chinese Crested Chihuahua was abandoned on the steps of RSPCA's Millbrook rescue center in the UK during the cold winter, a nearly detrimental decision.
Weighing just over a pound, the 6-week-old puppy was not in great shape upon arrival.
Related: Allku Taps Into Its Ecuadorian Roots to Create a Beautiful, Handmade Dogwear Line
"Poor little Arthur was in a bad way when he came in to us," Liz Wood, the center's deputy manager, told the Daily Express. "He had sores all over his body, weighed just 17 ounces, and was freezing cold. His body temperature was four degrees lower than it should've been."
While working on his recovery, the staff also had to figure out how to keep the 4-inch pup warm. Traditional dog coats and sweaters, even the smallest of the sizes, weren't cutting it — Arthur was just too small and would slip out the clothing.
Related: Where New York Dogs Go for Faux Hawks, Fur Dyeing and Everything in Between
Fortunately for little Arthur, Wood's creativity juices began flowing during a shopping trip.
"When I went out shopping one weekend I found some children's socks and thought they would be perfect, so I made two small holes in the top for his legs and cut the heels off and they fit him perfectly," she told the outlet. "He can move around just fine and keep warm, too."
Now, Arthur is one stylish pup, sporting wares with The Minions and Tweetie Pie on them.
Arthur continues to recover at his foster home and will be up for adoption soon.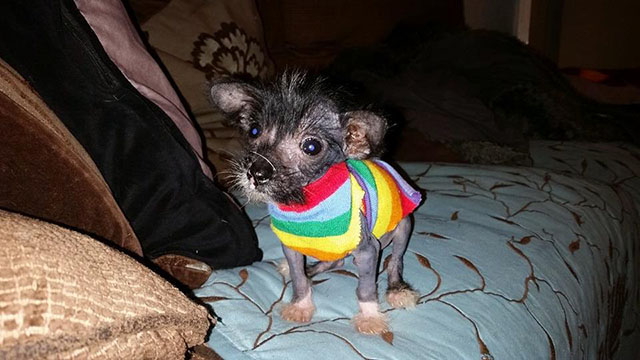 Related: Adorable Dog and Foster Boy Pose Together in Identical Outfits — And the Internet Goes Crazy