Dogs have long been a symbol of strength and worship in many cultures, including ancient Incas. This group believed dogs held a special place in society and were thought to guide recently departed spirits on their path to reincarnation. Without their guides these souls would be lost forever, unable to live among us in the living world. One up-and-coming dogwear line is paying respect to its pre-Inca roots by featuring distinctive items handcrafted by artisans living in Otavalo, Ecudar.
Founded in July of 2015, the New York City-based Allku marries traditional Otavalo patterns — bold hues, defined lines and geometric shapes — with a modern edge, providing buyers a unique alternative to the factory-produced items often seen in stores. The artisan-made collars, harnesses and leashes range from $40 to $60, while the poop-bag pouch costs $14. A portion of every purchase is donated to the Anti-Cruelty Society, a Chicago-based nonprofit.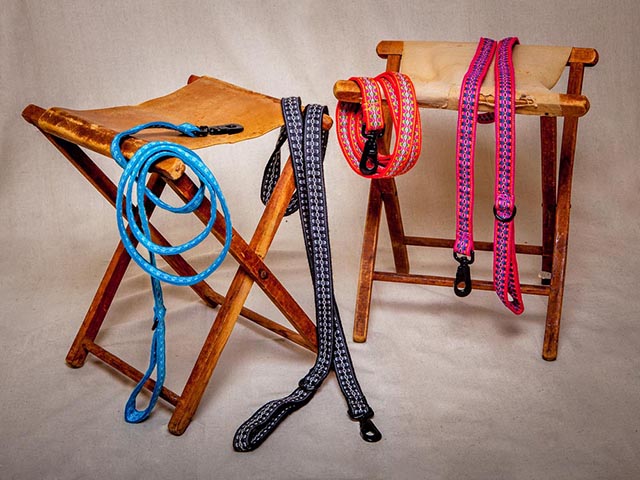 Created by the self-described "dog obsessed" duo of Gabriela Landazuri and Adrian Varga, Allku honors our four-legged friends by using the Quechua term for "dog" as their moniker. "Quechua is the language of the Otavalo people, the culture from which we draw inspiration for our products," Landazuri says.
Related: Yark: The Petwear Line Celeb Dogs Are Going Crazy Over
Having grown up in Ecuador, Landazuri fell in love with the culture, bright, bold colors and indigenous patterns and traditions that represent home. "We've seen this fabric in Ecuador many times and thought it would be amazing to combine our passion for Ecuadorian traditions with our love of dogs," she says.
The result is unique, handcrafted pieces created out of love and made with care. "The artisans we work with are people who've worked with these fabrics their whole lives," says Landazuri, of Allku's creations. "We wanted to help continue that tradition and create the most authentic product possible."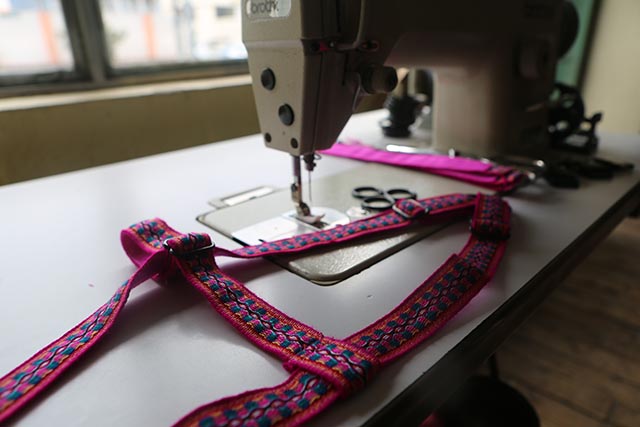 Known for being expert textile makers, the artisans of Otavalo continue to practice methods used since before the Inca invasion of the late 15th century. Keeping with the ancient tradition, a wooden loom is used to spin locally grown cotton, which is then treated to be water and stain resistant. "The fabric is 100 percent cotton, and all products are reinforced with locally produced nylon," says Landazuri, of Allku's stylish, yet durable, items. Each item is handwoven by a local artisan to create a stunning, original work of art to be worn by your canine companion — and a reliable source of income.
Related: A Beautiful Dog Bowl That is Eco-Friendly and Guaranteed for Life? Yes, Please.
Nestled amid the foothills of three inactive volcanoes, Otavalo has recently become a must-see destination for tourists, many of whom are interested in witnessing first-hand the sprawling Saturday market where artisans and vendors set up shops in which to feature their wares. Among the indigenous artisans of Ecuador, the Otavaleños are among the most commercially successful, although relying on tourism-based income can, at times, be unpredictable. So by building a working relationship with a company like Allku that practices ethical sourcing of their goods offers these craftsmen and women a more consistent source of income, even when tourism has slowed down for the season.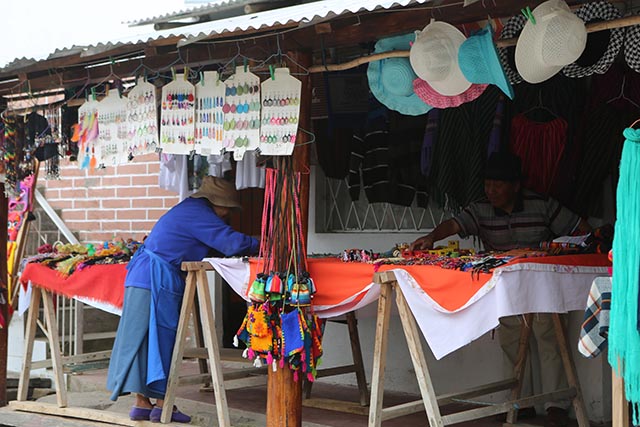 Allku not only helps these artisans continue their craft, but also works to create unique products for dog owners. "We are really pleased that Allku is a platform which allows the beautiful intricate work of these talented Ecuadorian artisans to reach a global audience they might not otherwise be able to," says Landazuri.
A huge vessel in reaching out to a global audience has been social media, which serves as a main avenue for marketing the brand. Having reached out to several famous pups on Instagram — including @mensweardog, @chloetheminifrenchie, and Cookie of team @ps.ny — each with a large audience, Allku has worked hard to make itself a familiar name within the ever-growing dog community.
For a company that's just making a name for itself, Allku is off to a great start. In addition to garnering traffic and increasing its brand presence on various media platforms, Allku is focusing its sights on the future, with plans to expand the line to include a wider range of colors and designs to be featured on leashes and harnesses. "We are also developing human-friendly items so owners can match their fashionable pups," Landazuri adds.
The products are sold exclusively online at allku.com and other ecommerce sites, with the exception of pop-up shops in New York City, Chicago and Miami.
More than just a dogwear company, this is a brand with a big-picture plan to keep tradition alive.
Related: Thanks to a Dog Company, Survivors of Human Trafficking Get a Second Chance
Images Robert Stoetzel