While dog-food subscriptions companies have been making waves in recent times, Shawn Buckley has been aware about the importance of feeding your dog top-notch ingredients for years.
"The pet food industry is self-regulated, that is to say, it is primarily and loosely governed by large, multinational food companies who would like to use their waste products as pet food," Buckley told This Dog's Life, adding "pet food is mostly made of horribly inadequate 'ingredients' that would otherwise be waste, everything from empty peanut shells to sawdust."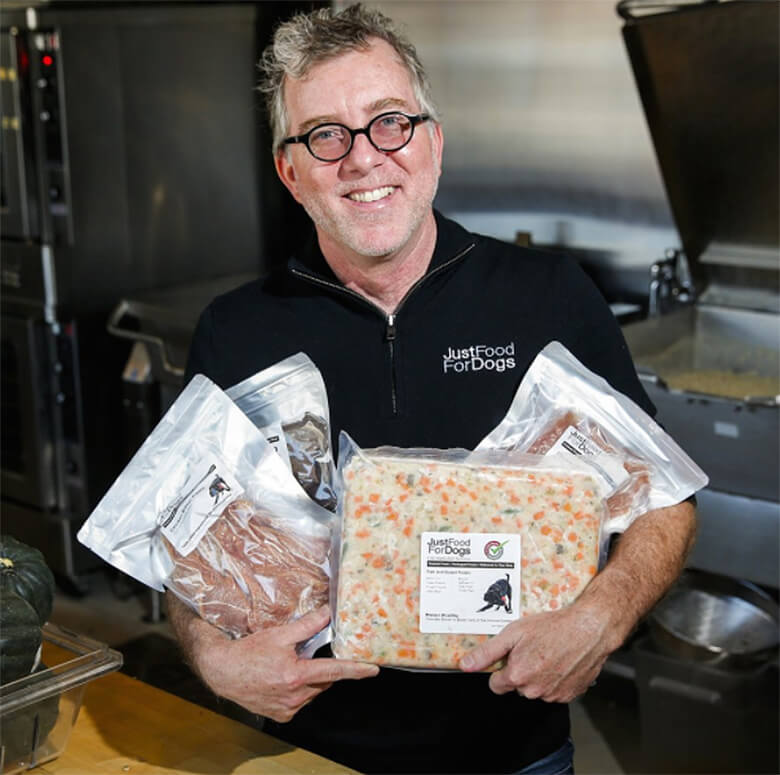 Related: Why Investors Are Betting $2 Million On This Made-To-Order Dog Food Delivery Company
This reality prompted Buckley to open Just Food for Dogs in 2010. Described as the "world's first dog kitchen," the Los Angeles-based company has 10 locations in California. At each location, "consultants" prepare dog food using fresh ingredients to formulate a balanced diet for your pup. Ingredients include USDA produce and meats like beef, lamb, broccoli and carrots.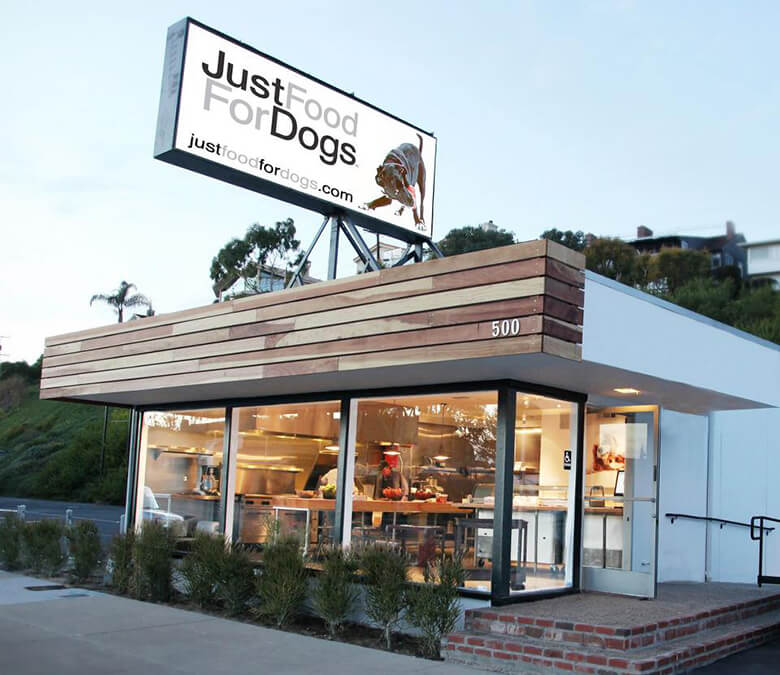 Trained by Chief Medical Officer Dr. Oscar Chavez, the consultants not only create homemade dog food but also specialty prescription diets for pups suffering from certain ailments, including renal and metabolic-support food.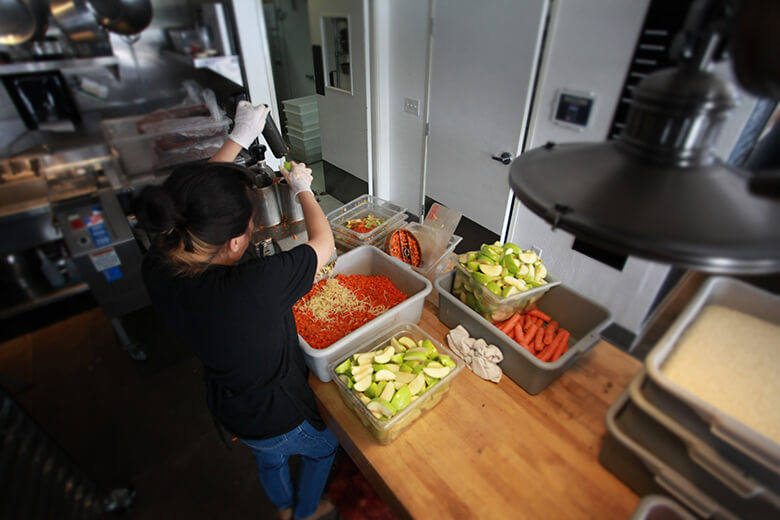 Made in small batches, the public kitchen allows dog parents to watch food being made – everything from the prep space to cooking the food and packaging it in containers.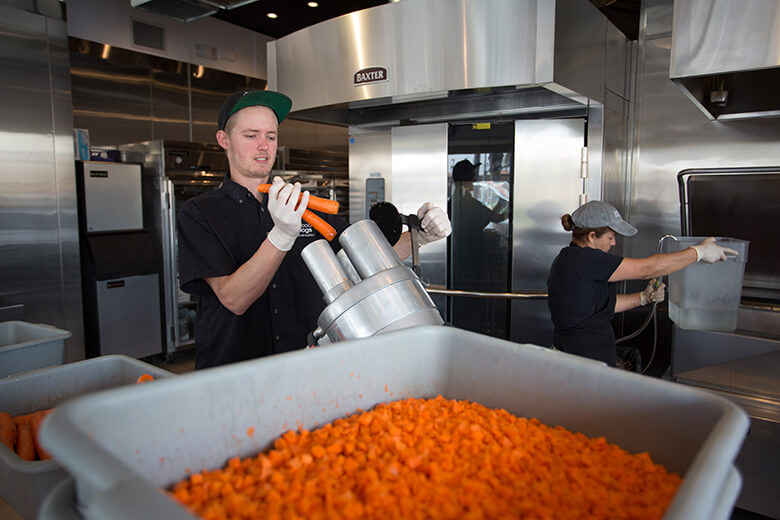 "Transparency is one of our core values and it would not be transparent to make our food in a 'facility' that's not open to the public… or worse, in a third-party facility or "co-packer,"' Buckley said when asked why he chooses to have multiple locations vs. one manufacturing space. "We have found over the past eight years that our customers want to see where their food is being made and they prefer that it's local."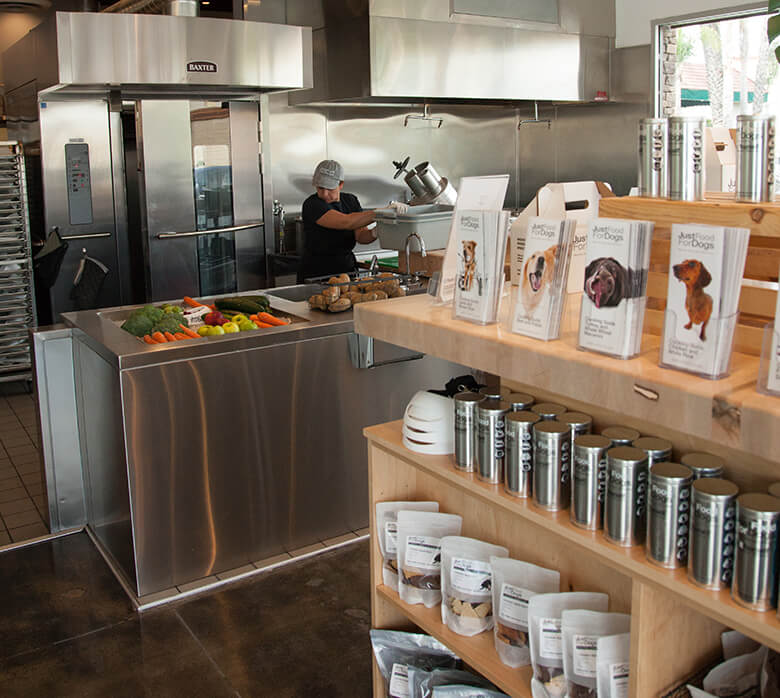 These values have caught the attention of dog owners, including Barbara Streisand and Jane Lynch, who shop at Just Food for Dogs.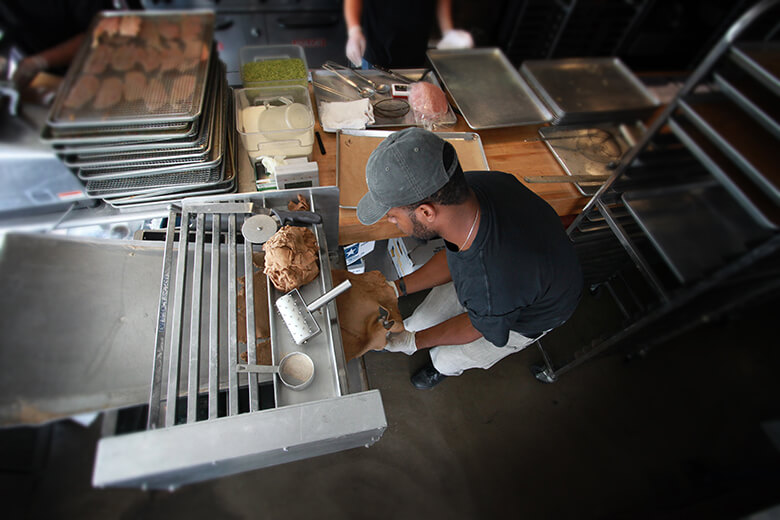 For those who can't make go to one of the 10 kitchens, the company does ship across the U.S.
Related: Here's What Our Pup Thought of His First Experience With Dog Food Delivery Company NomNomNow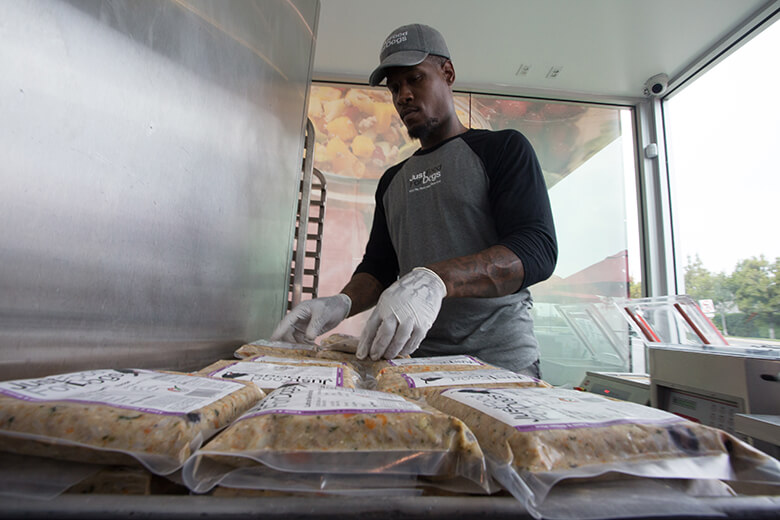 Besides the food component, Just Food for Dogs, also educates dog owners through classes, community events and advice.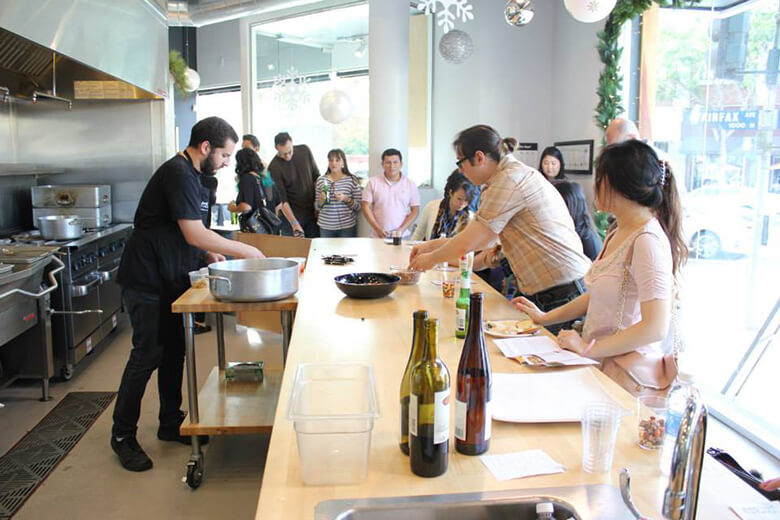 While Just Food for Dogs focuses on providing nutritional, high-quality food for our four-legged friends, it doesn't come cheap. We looked at the chicken and rice option (on the cheaper side) and the venison and squash option (on the expensive side) and calculated the daily cost for breeds that are considered small, medium and large. For an adult 15-pound male shih-tzu with a normal activity level, the price per day is between $3.50 and $6.50. This range jumps to $9.35-$17.00 for a 55-pound male husky and $14.20-$25.35 for a 90-pound Rhodesian ridgeback That is a lot of money with small dog owners looking to spend on the low-end of the spectrum $105.00 a month, while large-dog owners could spend upwards of $742.50 a month.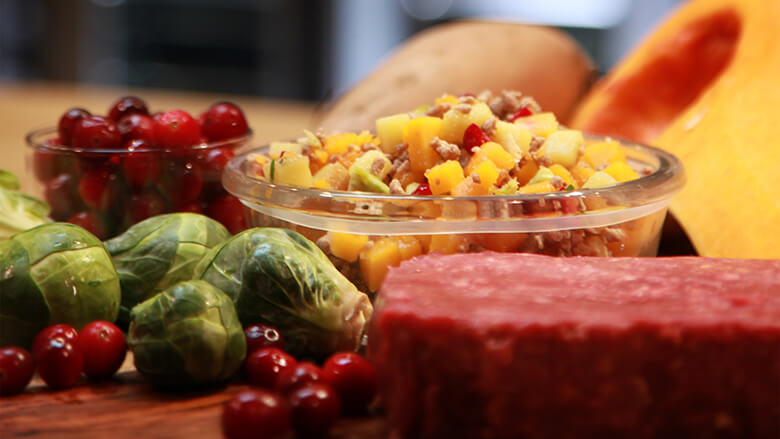 Moving forward, Buckley tells us, "We will continue to fulfill our mission: to help pets live longer, healthier lives and continue to open kitchens that serve additional communities."
Related: Check Out Our Verdict for Dog Food Delivery Company NomNomNow