Music is good for our soul; it energizes us, releases feel-good endorphins and can boost overall health. Some of these benefits are also great for our pups, with tunes helping with relaxation and anxiety.
And now Spotify is capitalizing on this. The music-streaming company has just released a playlist for our pups, along with other furries including cats … and hamsters.
Related: Music to Shelter Dogs' Ears: Spotify Is Helping Animals Get Adopted By Sharing What Songs They Like
The company, which current has 113 million subscribers, developed the "algorithmically curated" playlists for our pooch to help with stress.
The playlist is dictated by the dog parent's preference. People log on to Spotify, upload a pic of their pup and answer a few questions — is he/she energetic or shy; friendly with everyone or selective; and so on. Then, Spotify will create a custom playlist for your dog.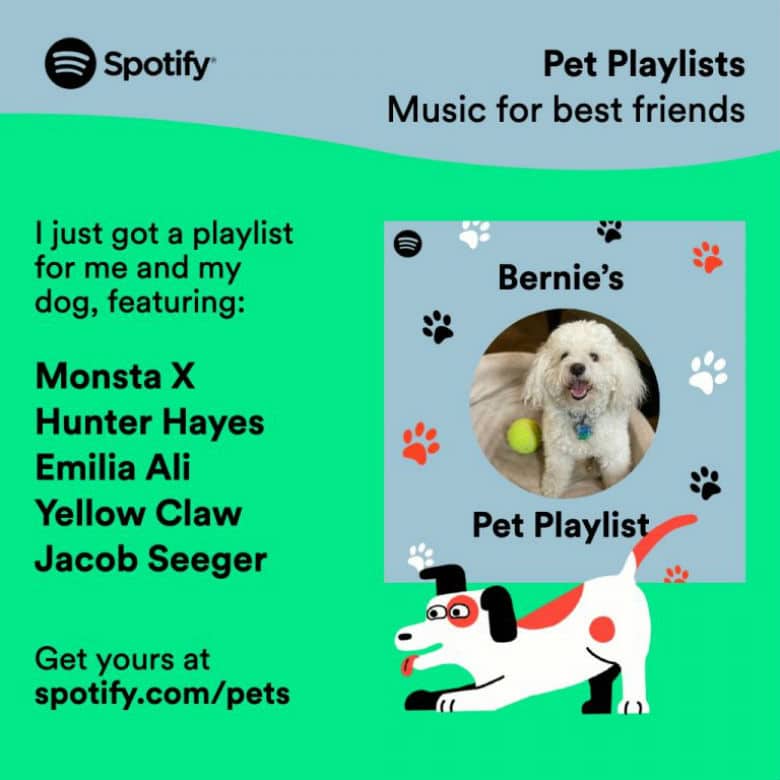 The company didn't stop there. It also created a dog-focused podcast, called My Dog's Favourite Podcast. It was created with the help of animal behaviorists to help relax your dog. Currently, featuring two episodes – "The Tail Begins" and "Pup Fiction" – the episodes are each five hours long and voiced by British actors Ralph Ineson (Game of Thrones) and Jessica Raine (Call the Midwife). (How can your dog not be soothed by posh British accents?). Besides storytelling, the podcasts also feature relaxing music and noises like rain.
Related: Vet Serenades Scared Dogs at Office With Music
Keep in mind, here is nothing better than being next to your dog, especially during times of stress, but if you have to be away, you can give the personalized pet list a spin on Spotify.