You aren't the only one feeling a little stressed out these days. Your dog may be anxious, too.
Guide Dogs, a charity group in the UK for blind and partially-sighted people, polled dog parents and found 74 percent reported their pooch was exhibiting behaviors related to mental health issues, including depression and anxiety. Eighteen percent said they noticed symptoms on a weekly basis. Some of the common signs include loss of appetite, destructive behavior, lethargy, and loss of interest in activities they usually enjoy. On the flip side, some dogs express their anxiety through excessive barking and hyperactivity.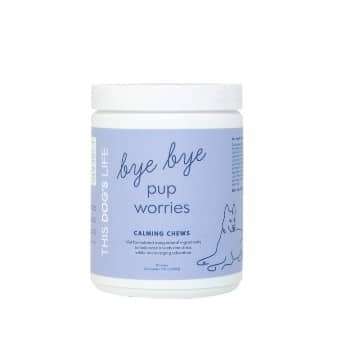 Formulated by a vet and backed by science, our Bye Bye Pup Worries use powerful natural ingredients like lemon balm and green tea to helps relieve nervousness, anxiety, and stress, so you can have a relaxed and happy pooch. Made in the USA.
The reason behind a dog's poor mental health can run the gamut.
"Dog mental health issues can be caused by a whole host of different reasons, from sheer boredom and frustration to separation anxiety when owners are absent," says Dr. Helen Whiteside, chief scientific officer at Guide Dogs.
A way to help your dog is provide physical and mental stimulation.
While a walk may help release some of your dog's energy and endorphins, our pups' brains need a workout, too.
For exercise, consider incorporating sniff activities in their walk to utilize a dog's strongest sense: her nose. It is believed that a dog's nose is 10,000 to 100,000 times more sensitive than a human nose. So, by allowing your dog to stop and smell her surroundings, like a fire hydrant, lamppost, grass, and fences, she is getting a better grasp what is happening in the neighborhood using her sniff-sleuthing skills.
Related: How to Have an Awesome Sniffing Walk for Your Dog
Still, it's important to have rules; otherwise, your dog will be pulling you all over the place.
"I believe in structured sniffing and walks, which means I will direct it, but still offer stimulus to entertain and stimulate them," Jme Thomas, executive director of Motley Zoo Animal Rescue in Redmond, Wash, told us in a previous article. "However, to strengthen our training, bond and communication, I will choose when the pup sniffs and when I need them to be walking and paying attention to my direction."
At home, consider canine-enrichment activities, like puzzles and games.
"They are a really great way of giving your dog something fun and engaging to do," says Dr. Whiteside. "Food puzzles, sensory activities, and interactive toys encourage natural behaviours, such as foraging, chasing and problem-solving."
There are a ton of puzzles out in the market for all levels in which your dog has to navigate lids, flaps, knobs, ropes, and drawers to get their reward, a yummy treat.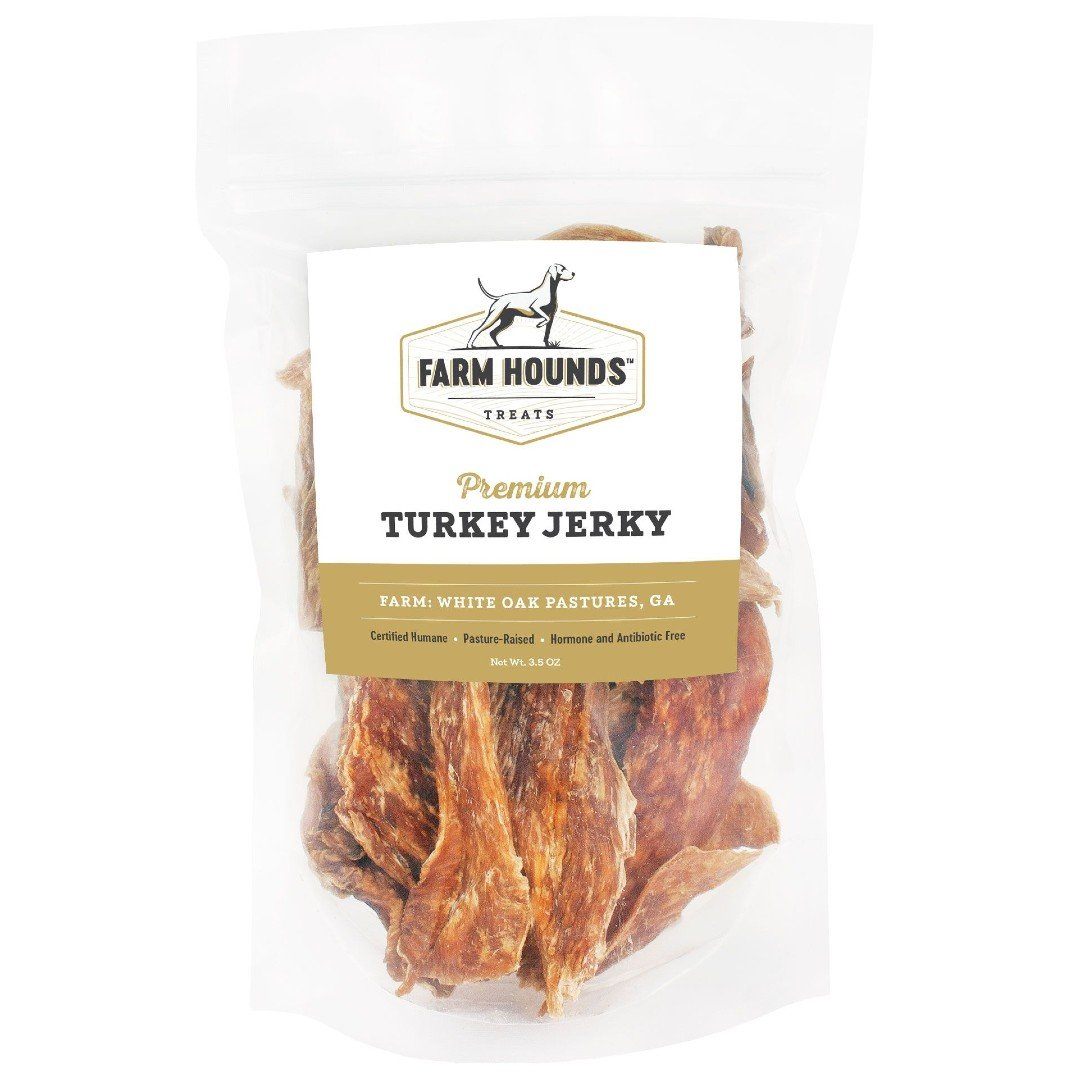 Made from pasture-raised turkeys, these yummy treats are free from antibodies, chemicals, hormones, and pesticide. And with Farm Hounds, you know exactly where the treats are sourced, as the name of the small family farm is right on the bag.
There are also games, like scavenger hunts around your home or ball launchers. Plus, sniffing mats or licking mats, not only allows your dog to use her brain to get the treats, but it takes time, so it helps an energetic pup calm down. Of course, always supervise your dog during these activities.
Even if your dog isn't feeling down, keeping your dog stimulated, both mentally and physically, can ensure a more balanced and happier dog. Consider changing things up to keep activities interesting for a dog. Also, it's always important to talk to your vet about your dog's wellbeing and concerns you may have.