Want to play a fun game with your dog?
How about a scavenger hunt with some "stinky" but yummy dog treats?
Not only does a scavenger hunt provide a great opportunity to bond, but this game can help stimulate your dog's brain. By mentally challenging your dog, you help alleviate boredom, build confidence and provide fulfillment.
We have created a simple dog treat recipe that you can use for the game.
Related: 10 of the Best Interactive Puzzles and Games for Your Bored Dog
All you need to do is bake the treats, hide them all over your home (or outside) and have your dog search for them. When you first start out, have your dog sit and stay, while you hide the treat. You can even hide it in a place he can see. Then give him the go-ahead to find the treat. Once he gets the hang of the game, make the hiding spots more difficult.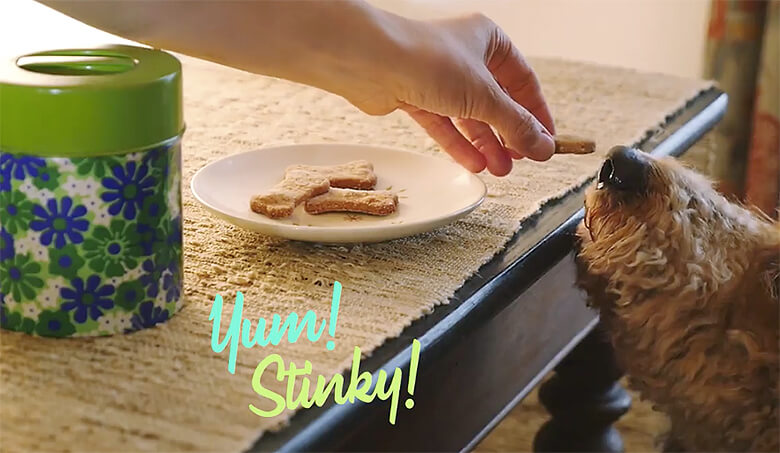 The treats are called "stinky," because they have krill or fish oil, grated parmesan cheese or chopped dried liver in them. But don't worry, they don't' have a strong scent (the treats actually smell good!) but have a flavor your dogs will love.
Related: Super Easy 'Pup Pops' Recipe That Your Dogs Will Absolutely Love
The game is more like a puzzle, helping your dog put her thinking cap on and find the goodies.
RECIPE
Makes 48 1-inch treats
Ingredients
½ cup oats
½ cup whole wheat flour, plus more for rolling
¼ cup dried milk powder
½ cup all natural almond butter
1 egg
2 tablespoons krill or fish oil, grated parmesan cheese or chopped dried liver
¼ cup water
Supplies
Sheet tray
Parchment paper
Food processor
Rolling pin
Cookie cutters (here are a few cute ones)
Preheat the oven to 325 degrees. Line a sheet tray with parchment.
Put oats in the bowl of a food processor and pulse to make them into flour. Add wheat flour and milk powder and pulse to combine.
Related: Yummy Gummy Bone Broth Treats for Your Dog
Add the egg, the almond butter, and water, and pulse, scraping down as needed, to make a stiff dough that holds together.
Turn the dough out onto a floured surface. With a rolling pin, roll it out slightly thicker than ¼-inch thick. Use small cookie cutters to cut out shapes. Line them up leaving half-inch space between them.
Gather and re-roll scraps until all of the dough is cut. Bake until treats are slightly darkened at the edges and firm, about 30-40 minutes.  Remove from the tray and cool the treats.
Hide the treats all over the place, and host a scavenger hunt for your dog.
Storage: Refrigerate, 2 weeks.
Decorating ideas: if you would like to make these fancy, stir milk powder and corn starch with enough water to liquefy. Put them into a piping bag with a small round tip, and pipe on decorations.
Check out the video below: