When it comes to what is important to dog parents, brands are taking note on what really matters to us. More and more, people are seeking out products that are beautiful yet functional, innovative but simple and high-quality and still attainable.
One dog company on the forefront of this shift is Finnish brand Paikka.
"Paikka is a totally new concept in the pet retail industry, combining Scandinavian style, premium quality materials and thought-through features and solutions focusing purely on a pet's wellbeing," says Sue Pregartner, CEO for the company's branch in the Americas. "We create un-compromising human-grade solutions to make every stage of a dog's life better."
Born out of award-winning home company Magisso, the pet brand ensures its products have a purpose beyond face value, whether it is a bed that uses infrared ray fabric to boost recovery after exercise or a harness that has high-tech fabric to reflect at night.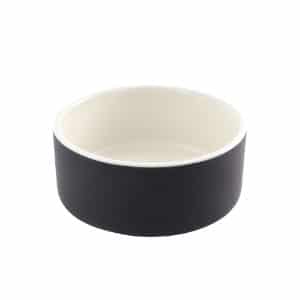 In its first foray into the pet category, the company created an antibacterial, self-cooling pet bowl launched under the parent company Magisso. All you need to do is soak the bowl in water for 45 seconds to activate the cooling effect, which keeps food fresher for longer and helps fight bacterial growth, which is great for dental care.
Related: Do You Really Need to Worry About Cleaning Your Dog's Bowl?
"The retail reaction was fast and well received by consumers," says Pregartner of the bowl. "Clearly a more robust pet assortment did not fit the strategic goal of Magisso. It was decided to create a pet specific brand with the same DNA — human grade — as the cool pet bowls."
And so, Paikka was born. Today, it carries its own line of bowls, beds, apparel, outdoor accessories and more.
Products with Purpose
"Product development starts always from pets and their needs," says Tea Kainu, CEO for the Finland office. "For example, we never dress pets just for fun, but to protect them from darkness or from changing weather conditions."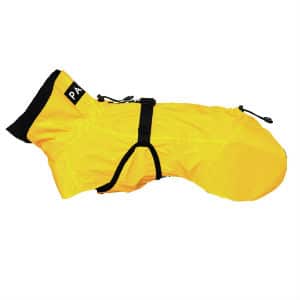 This becomes clear when you see what happens to their raincoat and harness at night: the material transforms into a brilliant white. Or go for Reflective Dog Raincoat that turns a white-yellow in a car's headlights.
Not only that, but the design clearly comes from the mind of a designer who knows about weather; the back is long enough to cover the dog's bottom and elastic leg straps keep it in place even in windy conditions. It even has a hood that can cover the ears with an elasticized neck that can be pulled up high. "We want to make dog owners' life easier and safer," says Kainu.
And they have the warm weather covered. If you want to protect your pooch from sunburn and insects, check out their UV Sun Protectant and Bug Repellant Dog Shirt. Made from a material that's treated with UPF 50+ sun protection, the super-stylish zebra print fabric will also deter insects from landing. The pull-on style is soft and comfy, with flat seams and a high neck to protect vulnerable areas.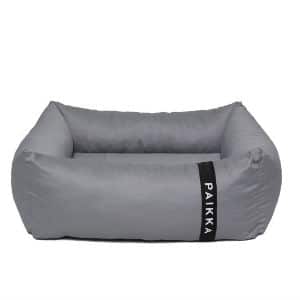 Related: Spring Cleaning: 9 Non-Toxic Dog Stain and Odor Cleaners That Get the Job Done

Even their beds do more than just give your dog a comfy place to snooze. Yes, the recovery orthopedic dog bed is made from memory foam that adjusts to your dog's body to relieve pressure points, but there's more. While the fabric emits far infrared that captures your dog's body heat and has medical applications: the body experiences it as a gentle heat, but it can actually penetrate below the skin to relieve muscle aches, increase relaxation, and improve sleep.
"We provide the best solution to that pain point and focus 100 percent on the well-being and impact on the pet," explains Pregartner. "We find solutions to challenges in a pet's life and we make every moment special."
Related: 6 Ways to Eliminate Plastic From Your Dog's Everyday Life