Plastic waste is a growing problem in our society. It fills our landfills, kills our wildlife and destroys our oceans — and the issue could get worse before it gets better. Indeed, the plastic industry is projecting a 75 percent growth in the US by 2022.
Fortunately, there are companies stepping up to the plate. The Walt Disney Company has banned plastic straws and stirrers in all of their parks around the world. By 2020 Starbucks hopes to follow suit and remove all plastic straws them their stores. Guinness, the beer giant, is eliminating all plastic from their packaging and replacing them with biodegradable cardboard. And Unilever is testing out reusable packaging.
But what can you do at home? Besides making more environmentally conscious personal decisions, you can do your part as a dog parent, choosing alternatives to plastic.
Here are six ways you can do your part.
1. Cornstarch Dog Poop Bags

One of the easiest ways to reduce plastic is by opting for dog poop bags made from compostable materials. This way when you have to do the undesirable task at least you won't be contributing to the plastic problem.
These bags from Pet N Pet are made from compostable materials that meet the ASTM D6400 standard for commercial composting. This basically means that they meet the government's guidelines for "compostable": they can be broken down over time.
The bags themselves are made from plants and renewable resources whereas the cores of the rolls are made from recycled cardboard.
Price: Starting at $12.00 for 120 bags.
2. Cotton Octopus Rope Toy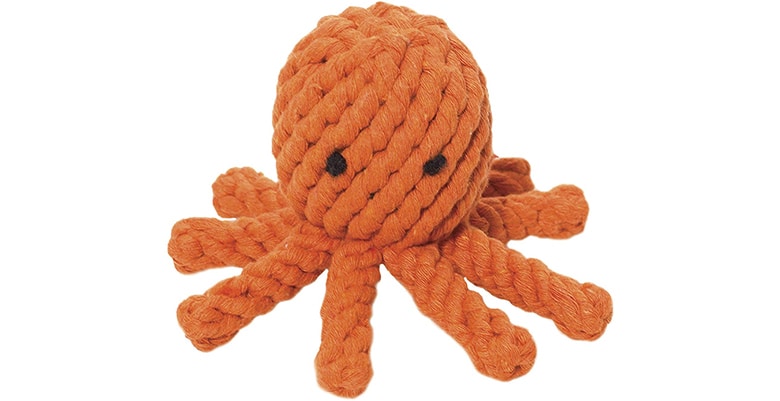 There are hundreds upon hundreds of plastic dog toys out there — meaning once they are destroyed, they end up piled in landfills.
Instead of plastic, opt for a natural material, like hemp or cotton.
This eco-friendly toy from Jax and Bones is not only super adorable but also sturdy. Made of natural cotton that is dyed using vegetables, it is completely compostable. Also, as your pup is chewing on it, the rope acts like dental floss, keeping your dog's mouth clean.
For other toys, consider those that are filled with recycled poly and use fabric scraps.
Price: $14.50
3. Ceramic Dog Water and Food Bowls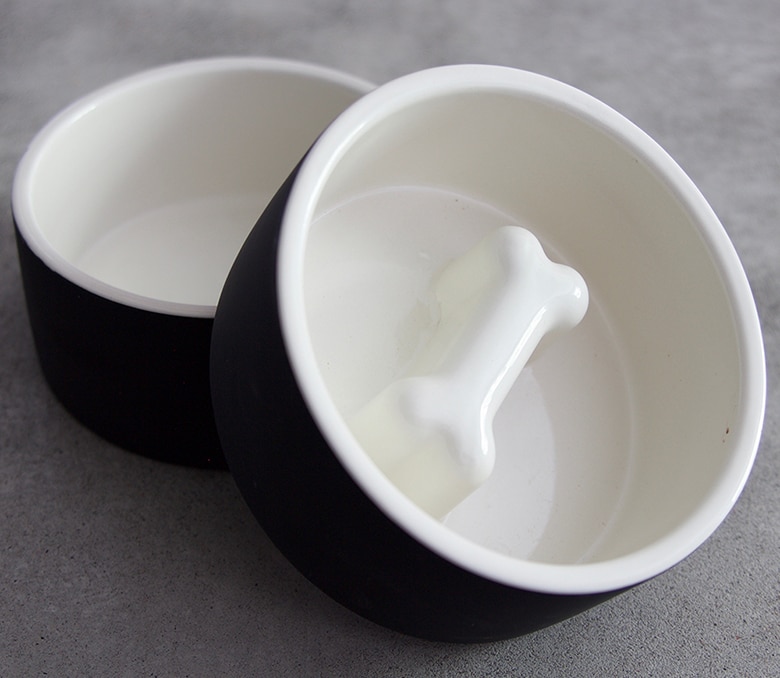 Choosing a ceramic or stainless steel bowl for your dog not only saves the planet, but it is also good for your dog's health. Plastic tends to scratch easily, allowing for bacteria to live in it — not great for your dog. And because they develops these cracks, the bowls need to be replaced often which hurts your wallet — and the planet.
These bowls by Magisso are both functional and beautiful. The water bowl is made of ceramic, and can remain cool for hours simply by soaking in the sink for 60 seconds. This means your dog will not only drink refreshing water, but it helps keep bacteria away (which tends to live in warm water).
The slow feeder dog bowl, also made of ceramic, helps slow your dog down, so he or she can actually enjoy meal time. This can help combat issues like choking. Plus, the increase in chewing improves dental hygiene, as more saliva is produced.
Price: Starts at $27
Related: Do You Know About the Dangers Lurking In Your Dog's Water and Food Bowls?
4. Natural Cotton Dog Bed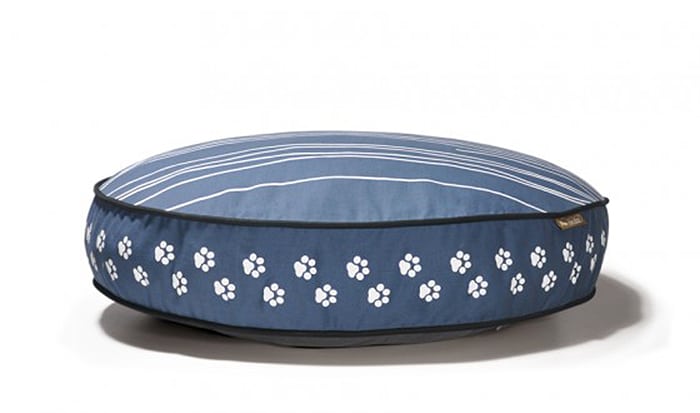 Throwing a dog bed away is not so great for Mother Nature. Not only does the sheer size make it not environmentally friendly, but what is in the bed may never decompose.
This dog bed from P.L.A.Y. offers an interesting, artistic look with a 100 percent natural product. The cover is made from natural cotton, and the bed's filling is post-consumer certified safe recycled plastic bottles The zipper is lead free, so you don't have to worry if you have a chewer in your house. With this bed you and your dog can sleep soundly knowing that you are doing your part to help the planet.
Price: Starting at $105.
5. Biodegradable Hemp Leashes 

These eco-friendly leashes from Baloo's Chews are 100 percent hemp, a great substitute for plastic and synthetic materials. The hemp used in these leashes are made without pesticides or herbicides, ensuring we are keeping toxic chemicals out of our land. Plus, these leashes hold up! Hemp is a naturally strong material, meaning it will stand up against even the strongest pullers. This leash is also machine washable and mildew resistant and built to last. Oh, and the packaging is recyclable, too. 
Price: $19.99
6. Natural Dog Brush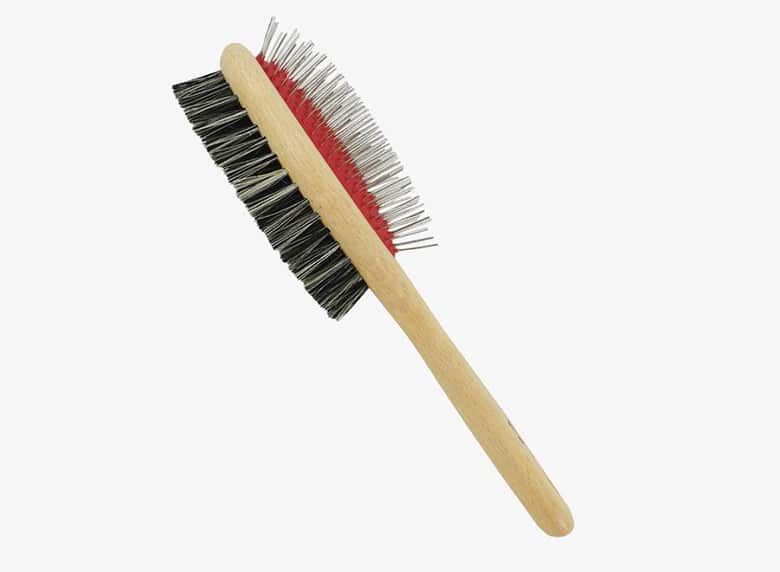 Managing your dogs coat can be one of the most daunting tasks when it comes to pet parenting; it can also be one of the most damaging for the environment. Too often, brushes are made of cheap materials, like plastic, meaning they don't last long.
This brush is 100% natural and compostable, even the metal pins are recyclable. (It also ships package-free, so there is literally nothing involved in this brush that can not be recycled.) This brush is dual-sided, so it will work well for all coat lengths. The soft side is great for short hair dogs whereas the spiky side will get through all of the tangles on longer haired dogs coats. 
Price: $16.99
Related: Here's What to Do If You Have a Smelly Dog