Sir Darius Brown is living proof of the phrase, "You can do anything you set your mind to." He is an entrepreneur, speaker, philanthropist, animal advocate, and founder of Beaux & Paws, a bow tie store for dogs.
While people (and their dogs) go crazy for his neckwear, Brown has also donated over 500 snazzy bow ties to help shelter dogs get adopted — when it comes time to taking photos, putting one of his bow ties on a pup can be just what is needed to help him get noticed.
"A bow tie is something so small that can make a huge impact, or it can catch a person's eye," Brown tells This Dog's Life. "I want to help the dogs, so they can look more noticeable."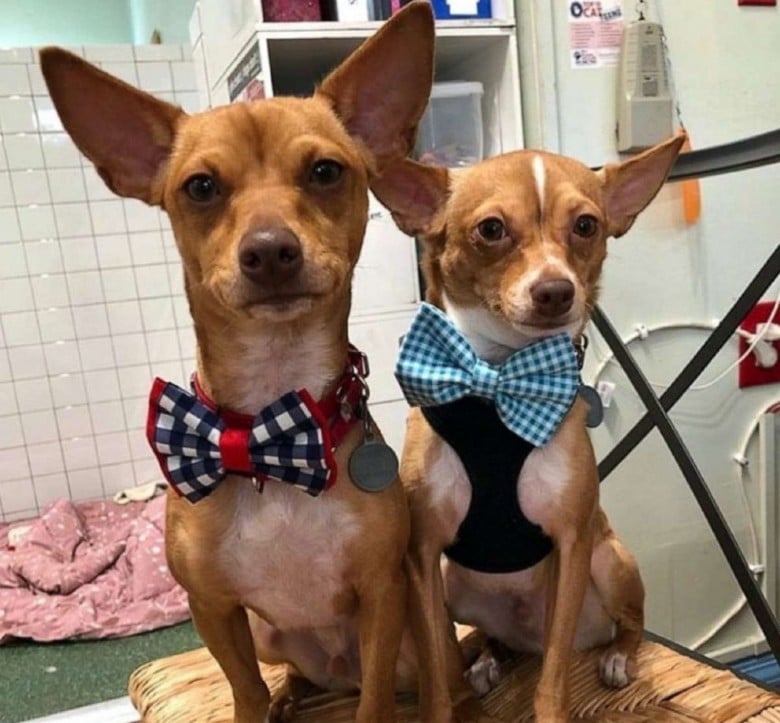 Related: An Adopted 14-Year-Old Is Giving Senior Dogs a Second Chance at Life
Because of his missions, he has received countless accolades – from being featured on the Nightly News and Good Morning America to being recognized by many, including Barack Obama and the British government.

And he is just 14 years old.
The Making of This Teen Entrepreneur
Brown was diagnosed with a speech, comprehension, and fine motor skills delay at 2 years old. Instead of these setbacks hindering him from doing what he loves, it helped him discover a hobby that is now a passion that's saving dogs' lives.
It started when Brown's older sister, a hair stylist, was making hair bows. Being the supportive 8-year-old little brother, Brown was eager to help.
"My mom had an amazing idea that if I helped my sister cut the fabric, I could also improve my fine motor skills," Brown, who lives in Newark, N.J., says.
So, he started with cutting fabric and eventually learned how to sew bow ties (with his sister's guidance, of course). He says his mom feels "like it was always meant to be," since Brown's grandmother taught his sister how to sew and his sister taught him.
From that point forward, Brown could be seen sporting his creations everywhere he went.
From Neckwear Fashionista to Shelter Dog Advocate
While he initially made bow ties with people as the intended wearers, that all changed when Hurricane Harvey and Irma struck in 2017.
Brown was devastated after seeing the aftermath of the destruction. He was especially heartbroken when he found out hundreds of dogs were left homeless as a result.
Related: 5 Heartwarming Stories of People Rescuing Dogs in the Aftermath of Hurricane Harvey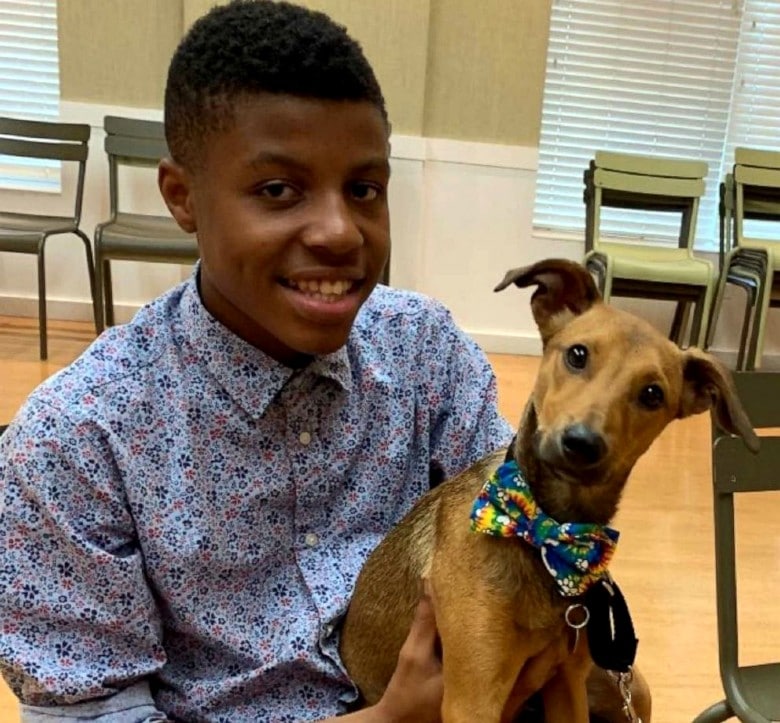 "At that time, I was really hurt because of Hurricane Harvey and Irma, because I saw all the bad things that were happening," Brown says. "I was really sad and emotional at that time. I couldn't just sit down knowing that I couldn't help."
After sitting and thinking for a couple of days, Brown saw on Facebook that dogs were being transferred to nearby shelters in New Jersey. And that's when he came up with a life changing idea: to donate his bow ties to get displaced dogs adopted.
Brown and his sister went to the New York ASPCA shelter shortly after to make their first contribution of colorful bow ties. During his visit, he learned many shelter dogs are euthanized every day due to overcrowding.
Crushed by this news, Brown made it his mission to save lives one bow tie at a time. He has donated over 500 bow ties and helped countless dogs get adopted across the nation and the United Kingdom. Nowadays, he can make a picture-perfect bow tie in just 15 minutes!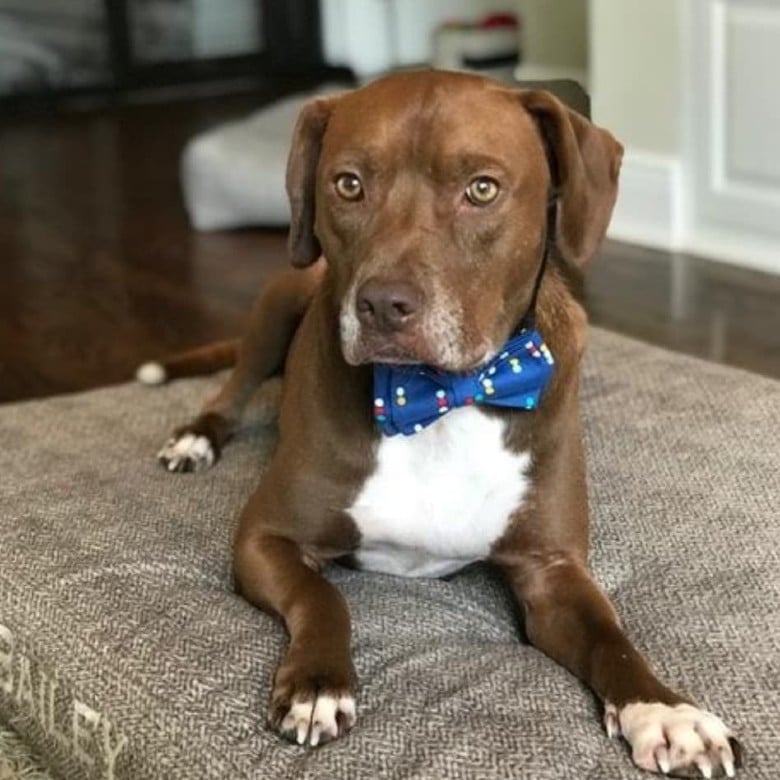 While Brown's current initiatives seem like a lot for any entrepreneur, being a teenager adds an extra level of complexity, as he is also is juggling school, family, and friends. But he just takes it in stride.
"It's just you have to know how to thoughtfully organize your time well," Brown says. "I guess I had to sacrifice some things here and there, but it's all going to be worth it in the long run."
And he isn't stopping.
Touching Even More Dogs' Lives
Brown created the "PAW-some Mission" last year with a goal of shipping bow ties to and visiting shelters in every state. He planned on personally donating his bow ties, helping with adoption events, and highlighting shelter animals on Instagram to his more than 60,000 followers to get them adopted quicker.
Unfortunately, Brown has not been able to go to as many shelters due to the pandemic. He has, however, been able to visit a few to gift them with his bow ties. He has also donated homemade cloth masks to essential workers at hospitals.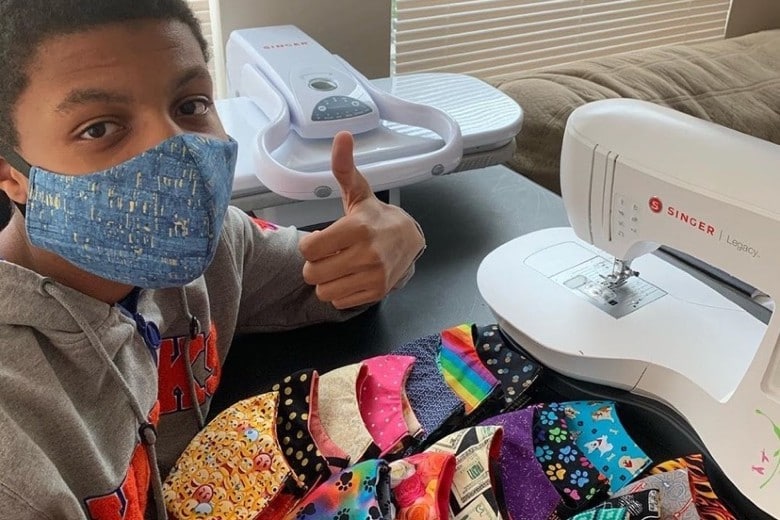 But the current climate isn't deterring this 14-year-old, as Brown says he plans on going to a lot of animal shelters to make up for the pandemic once it is safe to do so.
Besides continuing to focus on his "PAW-some Mission," Brown will be releasing a book in 2021 and is working on another company to set up a completely different project.
In regard to his long-term goals (yes, those were just his short-term goals!), Brown is going to be visiting and volunteering at more animal shelters. He plans to sometime set up his own animal shelter rescue group and boarding facility. Additionally, he intends to put more effort into being more impactful and helpful to his community.
With all that Brown has already accomplished within just a few years, it will definitely be exciting to see what else he achieves. His ambition to help better the lives of our four-legged friends is not just admirable, but inspirational too.
"No matter what troubles that may come your way, don't give up. Stay positive. Stay on the same route you're going to," Brown says. "Also, if you want to start a business or if you want to do something but your scared or having doubts, ignore them. Do it."
Brown also recommends helping others and paving the way forward.
"I feel like you're spreading positive ripples, and that's the fastest and easiest way of how you can spread happiness and positivity in this world," he says. It cleans all the negativity up."
Related: See the Amazing Transformation of This Shelter Dog — And the Importance of Second Chances