Houston is underwater. Traffic lights topple in Corpus Christi. The National Guard evacuates Katy. The streets of Rockport are a now a rising river. Around 30 percent of Harris County, home to 4.5 million people, was flooded by Tuesday afternoon. Tens of thousands have lost their homes.
And so have their pets. The internet is filled with photos of families clutching their dogs as they wade through chest-high water. But there are also many images of pets in dire need of help and stories of those who have dropped everything to come to their rescue.
The animal rescue community has mobilized, but some of the most heroic stories of rescues are about local citizens who risked their lives to save an animal.
Related: Veteran and His Dog Saved From Massive Floods After Brother Finds Them on Twitter
Here are a few of our favorites:
1. A dog named Lucky
Amazing! https://t.co/2w39ue56Is via @MailOnline

— ThisDogsLife (@Thisdogslifeco) August 30, 2017
A heartbreaking image: a small terrier mix, tethered to a pole, alone in the rising water. Abandoned by her owner, she hunches, soaked to the bone, terrified, her back against the pole. The image went viral, and thousands took to social media to pray for her rescue.
Their prayers were answered in the form of the photographer who took the image. DailyMail.com photographer, Ruaridh Connellan, waded across the flood water, untied the dog, and brought her to higher ground. On the same property, a pit bull mix was found, also tethered, along with two cats and a pony. All the other animals were on higher, drier grounds.
He set the pit bull free. When Connellan returned the next day, the dog who he named Lucky ran out to him with her tail wagging. After giving the animals food and fresh water, he called local animal control to report the abandoned animals. With authorities overwhelmed, Connellan hopes to adopt Lucky if her family can't be found. For now, Lucky and her four-legged pals are frightened, but safe.
2. 21 dogs on a small boat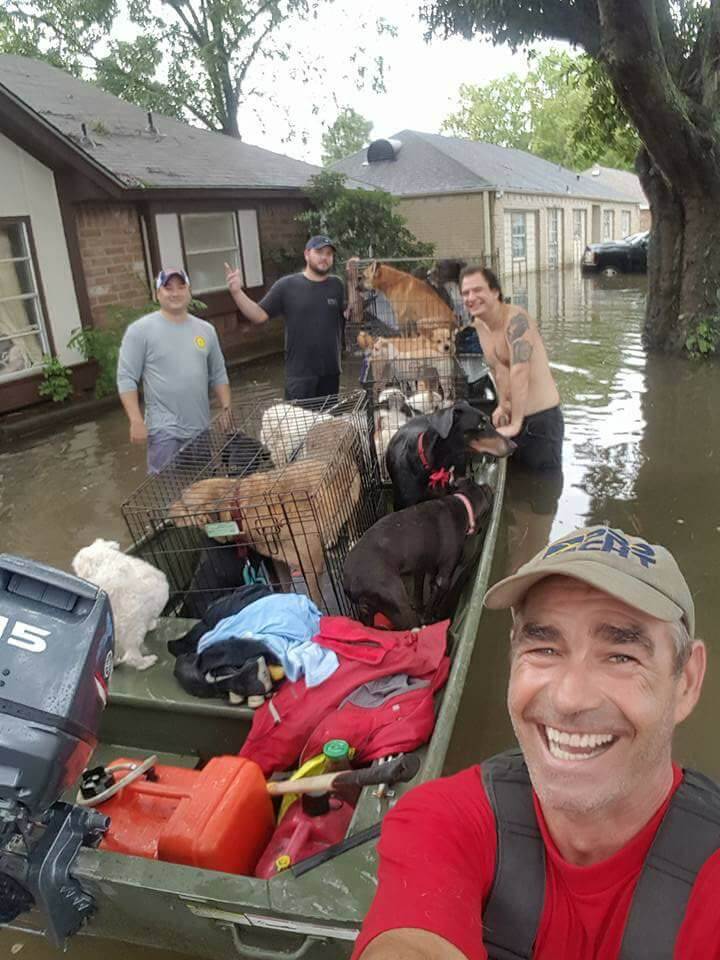 Betty Walters works with a number of rescues, and she also lives with four of her own dogs. When the hurricane hit, she took in 11 dogs from local rescues. She also had another dog she was pet sitting. As the waters rose, more dogs floated in — literally. One small dog appeared at her window. Two dogs showed up that were cared for by homeless people. Two neighbors asked her to help their dogs.
Related: A Guide for Dog Owners on How to Prepare for a Natural Disaster
Tragically, Walters had to listen to the crying of dogs in the neighborhood who were left outside. She rescued those that she could get to as she waited for help. Soon, she and the pack of dogs were forced to retreat to her attic.
Fourteen hours later, two men with a small boat appeared and started loading up the dogs. When they were done, they had a modern-day Noah's Ark with 21 dogs onboard.
Worried that there were so many dogs the boat would capsize, Betty Walter offered to stay behind until they came back to get her and the remaining dogs, but the men refused. The insisted they were taking everyone, though the humans had to wade through the floodwater because there wasn't any room left on the boat. That's okay; Betty Walters wasn't complaining! 
3. Dog found left in a crate on a bus is rescued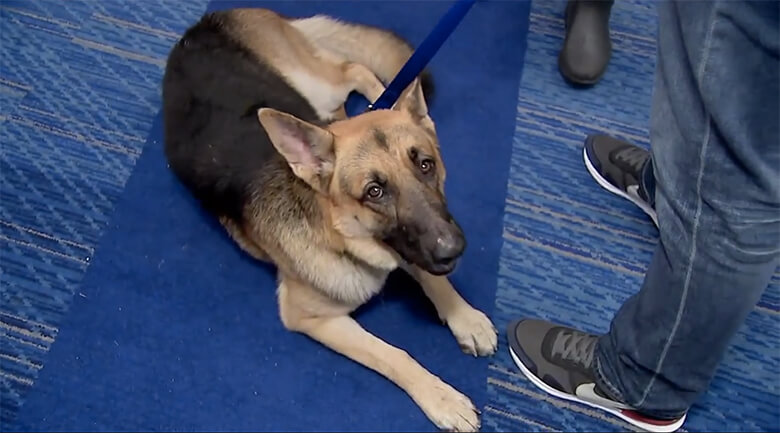 A German Shepherd was found abandoned in his crate on a bus that was ferrying evacuees to the George R. Brown Convention Center, which has become an enormous shelter. The downtown center has surpassed its capacity as of last night, with over 10,000 people sheltering in a space meant for 3,600.
It isn't known if the dog was left by accident or not. People immediately came forward to foster the dog, who they've named Harvey. They are trying to find his owner.
4. College student risks his life to save Thelma and Hercules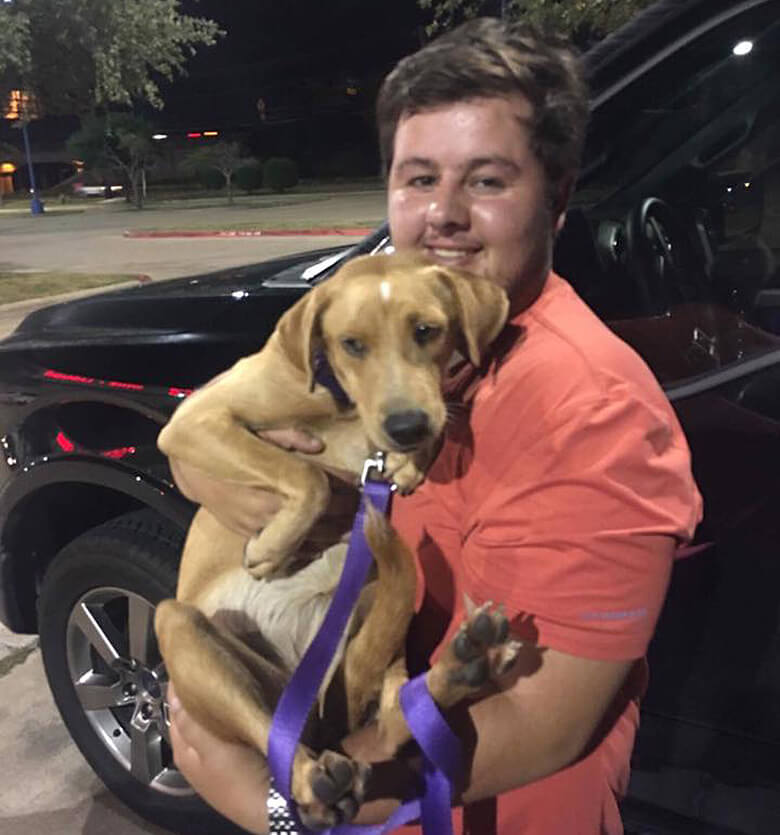 Connor, a 22-year-old college student, heard about two dogs in danger from a message posted on social media by an animal shelter where his mother volunteers. The dog's foster parents were asking for help.
Connor didn't hesitate. He jumped in his truck and drove into a hurricane. He found Thelma and Hercules in Corpus Christie and brought them to a local animal shelter called Lucky Lab. Shelter staff called him a hero and inaugurated him as a "rescue road warrior."
5. Twitter unites lost dog and his family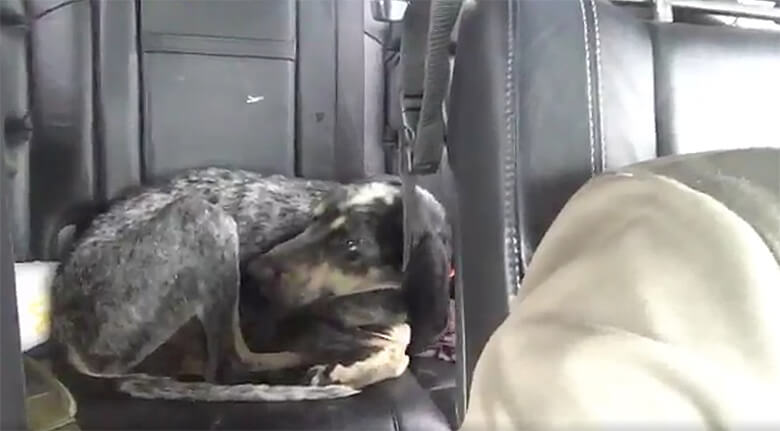 Thanks to a storm chaser and Twitter, a lost dog finds his way back home.
On his way home to take care of his own dogs, Aaron Jayjack stopped for gas in Runge, Texas, and a dog who had been following him down the road jumped into his car.
Naming the dog Harvey, he posted as video to Twitter, asking people to help track down Harvey's owner. He kept posting updates, and even managed to have the dog scanned for a microchip, but he didn't have one.
But the Internet came through. The dog, whose real name is Cash, was returned to his grateful owner.
Related: Dog Emerges From Rubble Nine Days After Earthquake Hits Italy