As the temperatures drop, a good designer dog coat provides more than good looks. Because of the quality, craftsmanship and materials, the jackets are designed to keep your pup extremely warm during the cold weather and last for seasons to come
Here are some of the hottest new designs that will keep your pups strutting their stuff while staying toasty.
Related: The Must-Have Products to Keep Your Dog Safe and Warm During the Winter Season
Max-Bone Chic Puffer Vest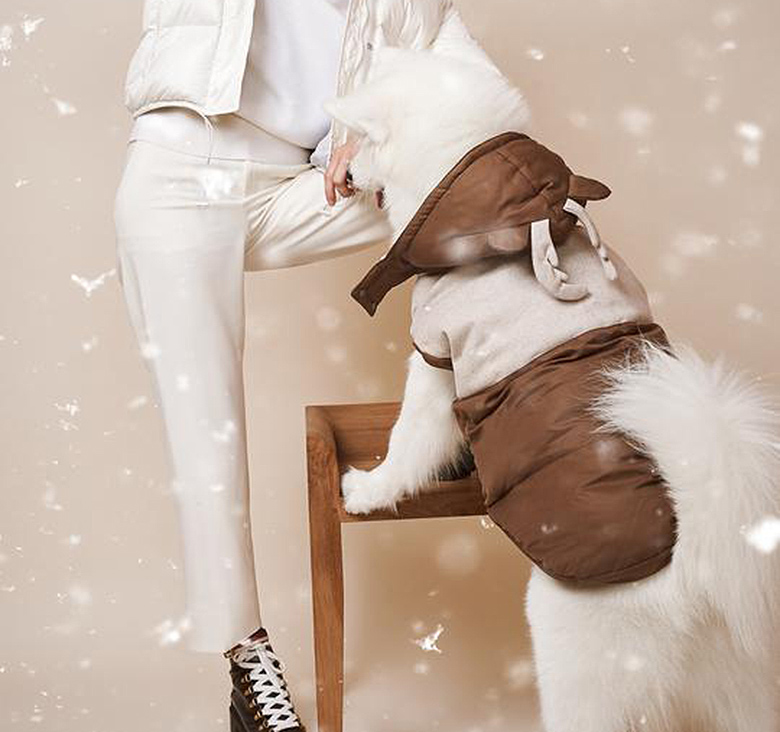 This luxury and fashion lifestyle brand features a dash of whimsey with classic high style. Its line leans toward timeless looks that draws from art and architecture in addition to fashion. Its Sven Puffer Vest will draw a lot of "awws" from passersby with its detachable reindeer hood complete with ears and antlers. Made of wool and nylon, it's available in small to extra large at $85.
Temellini Dog-à-Porter Cashmere Coat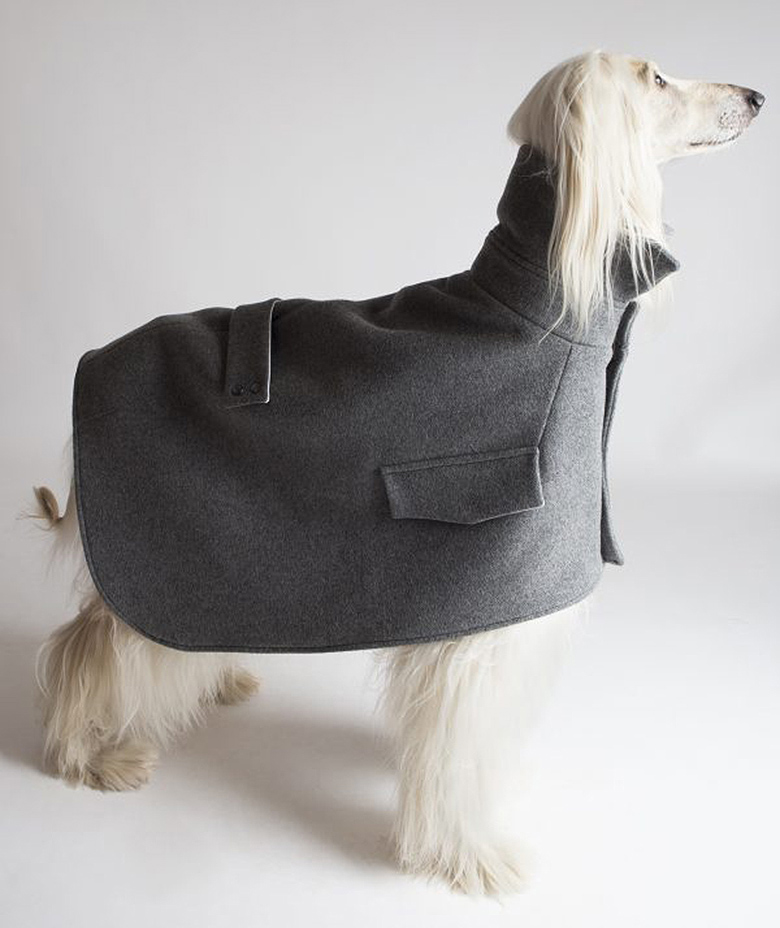 From Temellini Milano, these minimalist, chic designs should be in every fashion-conscious canine's closet. Designer Giovanna Temellini uses sustainable fabrics that are elegant and comfortable, and her sleek designs are the height of Milan's refined fashion. Perfect for the high-class canine, the Sherlock Cashmere coat is one of their signature pieces. Made of 100% cashmere, it features a high collar, faux pockets, a "martingala" belt, and silver buttons. In a large range of sizes, is priced anywhere from $250 to $700.
Moncler and Poldo Dog Reversible Padded Jacket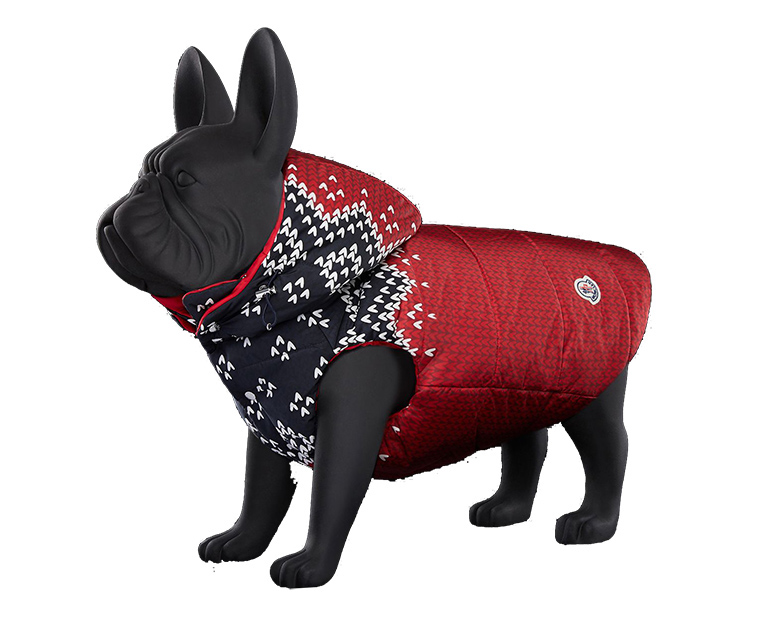 A collaboration between the luxury Italian designer Moncler and the new luxury dog brand Poldo Dog Couture is a match made in dog heaven. Called the Mondog, the red quilted jacket is a reversible dog vest that has a "sweater knit" print on one side and a solid color on the other side. It is well-padded and warm. It also has a reversible hood, snap closures and a Moncler logo. Sized from 00-4 (9.84″ long to 21.65″ long), it goes for around $495.
Mutts & Hounds British Style Waxed Cotton Coat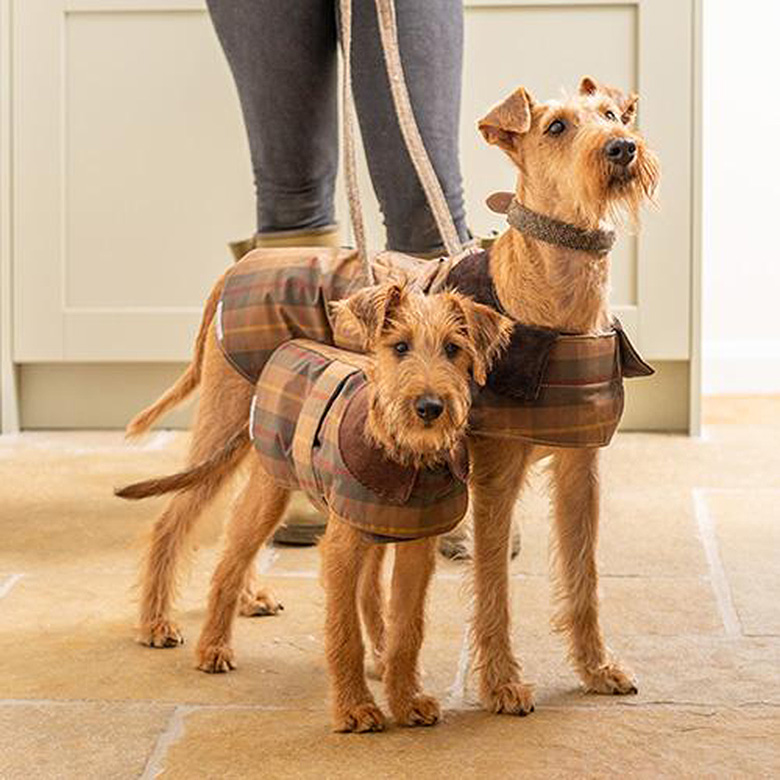 Inspired by the serene countryside surrounding the company's rural studio and workshop in Wiltshire, England, this British lifestyle brand was born out of the director's desire to outfit her own dog in "British style and sensibility." The famous Harrods department store was the first to put the brand on the map, though they have managed to keep the production in-house. Today, its garments and homewares are carried in 18 different countries.
What could represent England better than their Tartan Waxed Waterproof Dog Coat? Made of waterproof waxed cotton from "from the British leading manufacturer of waxed cottons" to keep pups dry and lined with grey fleece for warmth, it comes in sizes from XX small to large and is priced around $61 to $75.
Related: How to Keep Your Dog Away From the Vet During the Winter
Hemsmith Classic Moose Hoodie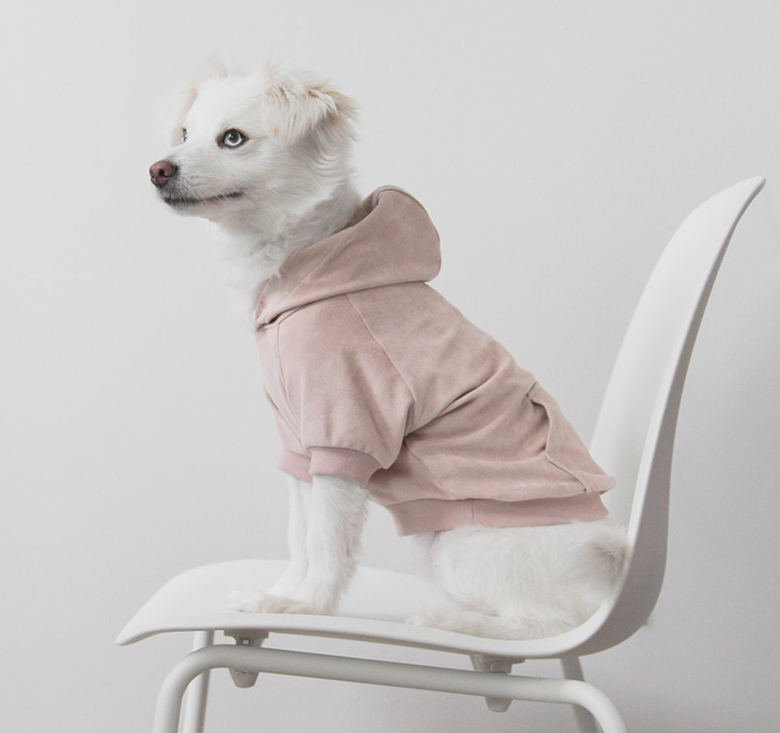 Inspired by Japanese and Nordic design, Hemsmith is known for minimalistic, sustainable clothing that's both timeless and comfortable. It has recently added a collection for the sophisticated canine. Its classic Moose hoodie is designed to pair with the brand's human fashion in color and style. Like its two-legged counterparts, the hoodie features understated, unique elements including a built-in leash portal, an embroidery detail on the hood, a large patch pocket on the back and a ribbed cuff and hem. Made from extra soft micro-suede, the Moose comes in stone gray and blush. Sized from XS to 3XL for $60.
Wolfpack New York Leather Dog Jacket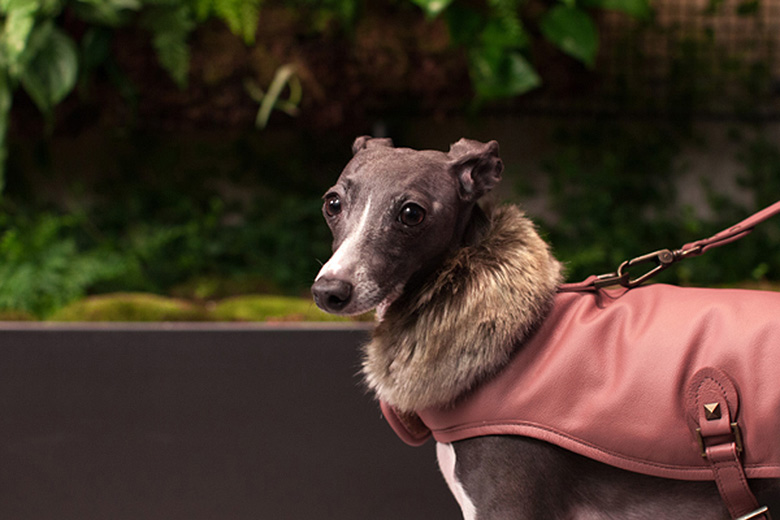 Quintessentially New York, this brand designs classic, sophisticated dogwear "inspired by a vintage New York lifestyle." Artisans with expertise in working with leather manufacture its clothes in the city. Its leather and hardware are from Italy and its fabric from a Japanese textile mill. The signature piece is the iconic leather jacket, and its Bordeaux Leather Dog Jacket is a bestseller. Made with crocodile embossed lamb leather and a Chinchilla faux fur collar, it's lined with charcoal faux suede and insulated with a polyester fill for extra warmth. From XS to XL for $325.
Le Chien Bleu Oscar de la Renta Jacket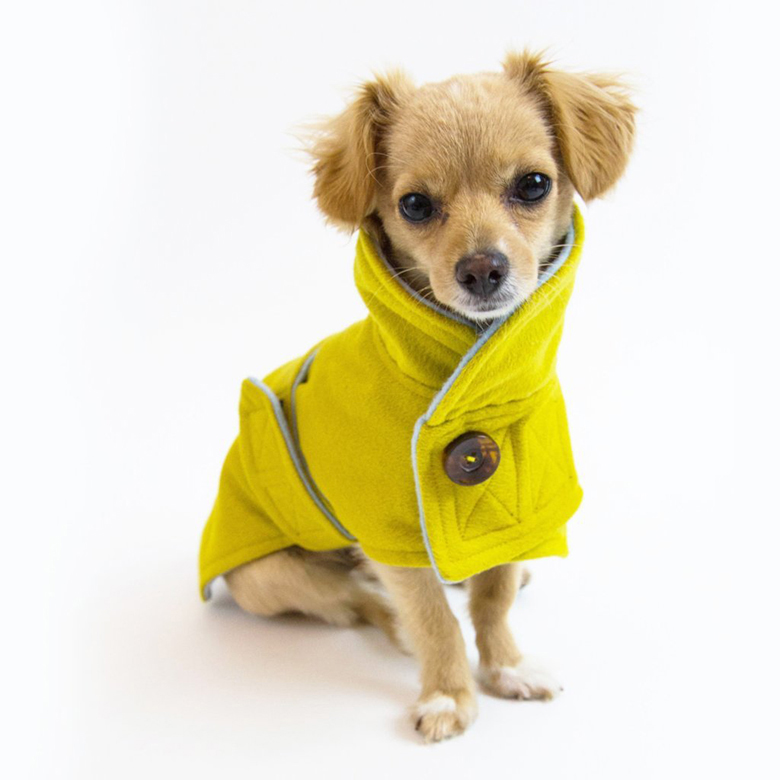 Launched by Parsons School of Design graduate JY Lee, Le Chien Bleu was inspired by Lee's rescue dog, the "most adorable Shiba Inu." Her designs are based on what Jax, her pooch, needs to be stylish and comfortable in the East Coast climate (in other words, warm!). Her line is made to suite all weather conditions. Standouts include the Dijon, a coat made from Oscar de la Renta cashmere and lined with fleece. Made to order and handmade, the coat comes in XS to Large at $220.
Related: Natural Ways to Help Heal Your Dog's Cracked Paws and Nose During the Winter