When "the weather outside is frightful," it can be a challenge to keep your dog healthy. Freezing temps, biting wind, snow, and ice engender a slew of potential health challenges for our furry best friends, despite many having a natural fur coat.
They can still get hypothermia, frostbite, burned paws, and even poisoned by the changes cold weather brings. The better you're prepared, the healthier your dog, and the less traumatic and expensive veterinarian visits you'll have to book this winter.
Here are a few tips that will help you keep your pooches warm and healthy this winter.
Related: Here's How to Tell If Your Dog Has a Cold — and What to Do About It
Dogs get cold too.
Generally, if you need a warm winter coat, your dog needs one too.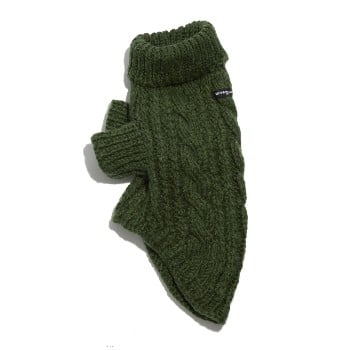 This is especially true for small dogs and short-coated breeds (including pit bulls, greyhounds and bull dogs), but most dogs need some protection against freezing temperatures.
Pay attention to wind chill rather than the general temperature.
And "my dog hates clothing" is not an excuse; would you let your 5-year-old outside in a t-shirt in 30-degree weather? I didn't think so.
Watch out for frostbite.
Cold weather can lead to dangerous conditions, including hypothermia and frostbite, especially if dogs are outside for an extended period of time. Frostbite occurs when cold temperatures damage the skin. In dogs, the places most often affected are the ears, tail, paws and nose.
If your dog gets wet in the snow, for example, he will be more vulnerable to frostbite. Use boots on the paws, and watch out for the signs of discolored skin (pale gray or blue), redness, pain and swelling.
Dog boots are more than cute.
Another serious cold weather risk is chemical burns from snowmelt products after prolonged exposure.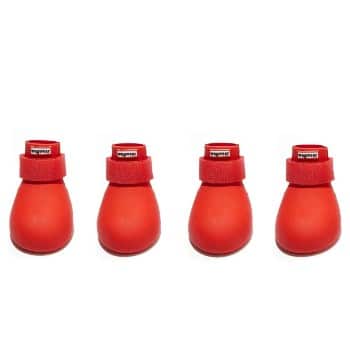 These products can irritate the paw pads and sicken your dog if he licks his paws. Dogs that swallow 4 grams of rock salt per 2.3 pounds of body weight could actually die. That translates to 2 ounces for a 4-pound dog.
If you're the one salting your sidewalk, look for pet-friendly products.
Additionally, in cold weather, dogs can cut their paws on jagged ice, or get frostbite. Dog boots are the best protection. There's a wide variety of boots for dogs, from disposable ones to boots for serious outdoor adventures.
Related: When Taking Your Dog for a Walk, Beware of These Hazards
Watch out for puddle drinkers.
If you notice your dog lapping up water in puddles or licking ice, get him to stop immediately. Frozen water on sidewalks and roads can pose a major threat to your dog, as a number of chemicals or bacteria may be lingering in it.
During the cold months antifreeze is used to prevent a car's engine from freezing. While a lifesaver for drivers, it is highly toxic to dogs — even consuming a tiny amount can be deadly. If you think your dog has lapped up antifreeze, go to the emergency animal hospital immediately. And make sure to wipe down your dog's paws, legs, and belly when you come inside to remove potential toxins.
Dog poop mixed with water can also be dangerous to your pup. Giardia, a parasite that lives in a dog's intestine and is passed through poop, can be transmitted to other pooches if they happen to swallow some of the feces, which can happen with drinking contaminated water or licking ice. It causes diarrhea, a fatty or slimy stool, and weight loss. A vet visit is required to treat it.
Keep your dog warm inside.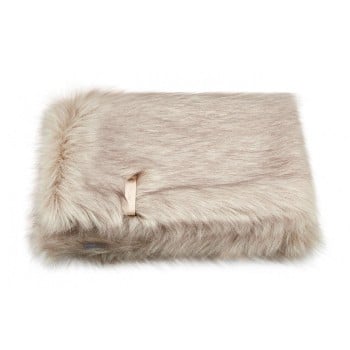 Give your dog a warm place to sleep that's protected from drafts and/or off the cold floor.
A warm blanket is helpful if your house is generally cold, as your pup can not only lay on it but also burrow in it.
If your home is particularly drafty, or your heat isn't great, have your dog wear a t-shirt, sweatshirt, or even dog PJs that are super comfortable while inside.
More food, please!
As a general rule, feed your dog the best quality food you can to keep them healthy year-round. Dogs tend to burn more calories in cold weather, especially after romping in the snow or sliding on ice, so consider increasing the amount you feed slightly (after you talk to your vet). Make sure there's plenty of fresh water to keep them hydrated and combat dry skin, and wash the water bowl frequently.
Related: We Compared the Top Dog Food Delivery Companies on Ingredients, Price and What Makes Them Special
This article has been updated.
This article is for informational purposes only. It is not, nor is it intended to be, a substitute for professional medical advice, diagnosis, or treatment and should never be relied upon for specific medical advice.