A Kansas City Chief Player celebrated his Super Bowl win by helping dogs in need.
Defensive tackle Derrick Nnadi announced he will be covering adoption fees for for more than 100 dogs at KC Pet Project in Kansas City, Miss.
"All my life I always wanted a dog," Nnadi told CNN. "Growing up I didn't have a pet. My parents didn't really allow pets."
This changed when he adopted his first dog, Rocky, during his senior year in college. "When I first got him, he was very timid," Nnadi told the outlet. "It made me think of how other animals, whether they're owned or in a shelter, are feeling scared and alone."
Related: After Losing His Parents, Football Player Has His Two Rescue Dogs Accompany Him on Senior Day
Nnadi's foundation, Derrick Nnadi Foundation, reached out to KC Pet Project last year in hopes of helping shelter dogs, Tori Fugate, the KC Pet Project chief communications officer, told This Dog's Life.
"He's a huge animal lover and wanted to find a way to help dogs in Kansas City," she tells us. "We came up with the idea to sponsor a dog's adoption fee for every Chiefs win during the 2019-20 season, and it's been so successful."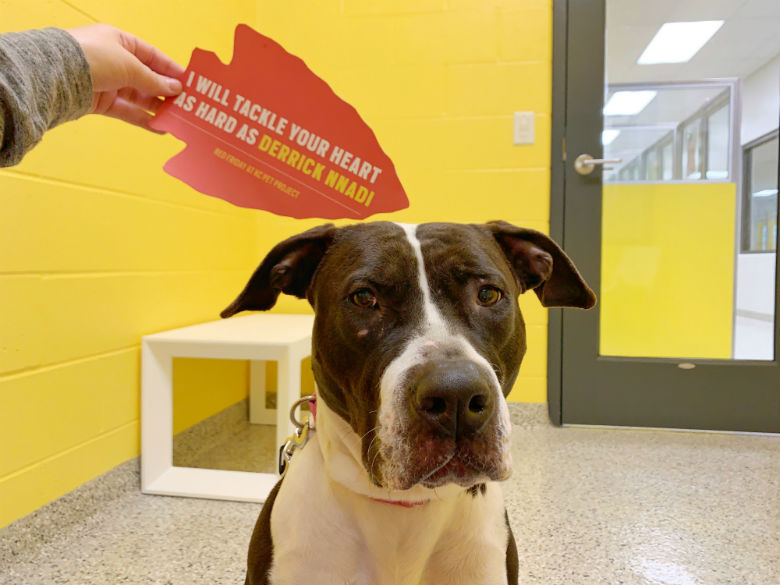 The non-profit cares for more than 10,000 animals a year, with approximately 30 new pets arriving at its open-admission, no-kill shelter each day. The organization spends around $400 per animal, with some costing a lot more due to medical issues.
"For Derrick to cover those adoption fees, that helps us free up necessary funds to provide medical care for those injured pets," says Fugate. Each adoption fee is $150.
"Our community is so excited right now with the Chiefs win and this is such a heartwarming story to add to our city's excitement," she says, adding, "We're here for every animal that comes to us in need no matter what and we're just so honored that Derrick chose our organization to partner with."
Related: Meet the Adorable Puppies Playing in the Puppy Bowl