The colder and wetter the weather gets, the stiffer our bodies feel – and this is also true for our canine companions.
"A cold front will drop the atmospheric, or barometric, pressure, which in turn affects the tissues of the body, making them stiff and painful," according to Dr. Jamie Whittenburg, DVM and owner of Kingsgate Animal Hospital. "Cold weather and low temperatures also affect dogs as these increase the viscosity of the fluid in the joints, resulting in stiffness and pain."
This is primarily an issue in older dogs and those with osteoarthritis, but even young, active dogs may be mildly affected, Whittenburg explains.
Here are other reasons your dog might be feeling sore when winter comes around and what you can do about it.
Your Dog Is on the Heavy Side
Being overweight is very hard for a dog with osteoarthritis, as well as dogs with normal joints, according to Whittenburg. "Carrying excess weight causes added wear and tear to joints, tendons, and ligaments and will increase pain for dogs with orthopedic issues," Whittenburg says.
Add to that some cold or wet weather and no wonder your dog is feeling the ouch on his joints.
"Losing weight can help tremendously and allow the dog to live a longer and more comfortable life," says Whittenburg, who also recommends talking to your vet about adjustments to your dog's diet to shed a few pounds.
Related: Baby, It's Cold Outside: How to Keep Your Dog Safe From the Deadliest Winter Dangers
Your Dog Doesn't Get Enough Exercise
If you have a dog with achy joints, the worse you can do is overdo it with exercise. Having a long hike over the weekend but then barely moving the rest of the week might cause more harm than good.
Rather, focus on low-impact exercises for dogs with osteoarthritis, says Whittenburg, who explains they can help strengthen muscles and keep joints and tendons loose, resulting in less pain for the dog.
Whittenburg recommends low-impact exercises, including walking on soft surfaces, swimming, and underwater treadmills, as they allow for movement without much impact. "All exercise plans should first be cleared by the dog's veterinarian, as some health conditions may require modifications," Whittenburg adds.
Related: Exercise and Your Dog: Why It Is So Important – And the Proper Way to Do It
You're Going Outside Without Bundling Up
Dogs with short hair and thin coats don't do very well in very cold weather. As a rule of thumb, if it's cold enough for you to need a heavy jacket, it's cold enough for your dog to need one too (exceptions noted for breeds like huskies!).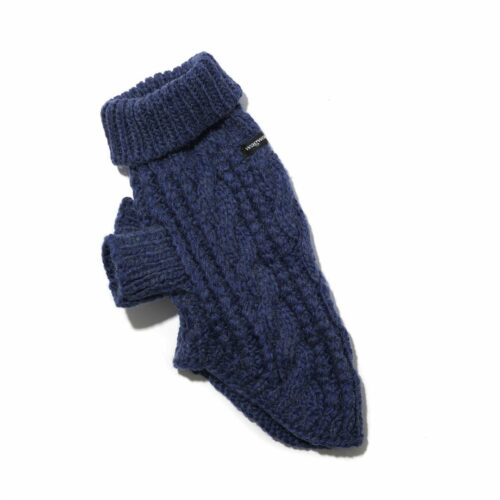 Knit from the softest wool, these traditional sweaters feature a thick turtleneck, two front legs, and a knit pattern of cables and textured stitches. This heirloom quality, cold weather classic will keep your dog warm and comfortable.
"Keeping joints warm in the cold weather can reduce pain and increase mobility for dogs with osteoarthritis," says Whittenburg. And even though sweaters do not cover the majority of commonly affected joints, maintaining the dog's overall body temperature could be helpful, especially if the dog accepts the sweater and finds it comforting, Whittenburg explains.
Inside, make sure your pooch has a warm bed to sleep on, away from drafts and cold tiles. Consider an orthopedic bed as well, as they provide good support for achy joints.
Related: What to Do When Your Dog Absolutely Refuses to Wear a Coat in Cold Weather
You Haven't Tried Physical Therapy
Physical therapy can be an excellent addition to an overall treatment plan for dogs suffering from achy joints. "There are many PT exercises that can be beneficial, ranging from passive range of motion movements to underwater treadmill workouts," Whittenburg says.
One thing to keep in mind: Even dogs that love winter shouldn't be swimming in cold bodies of water for the sake of their joints. Instead, find a local heated dog pool for them if they love to swim.
Your Dog Isn't Taking Any Supplements
A diet rich in omega 3 fatty acids can help minimize inflammation and pain, but there are a number of supplements that are also worth trying to support joints. "I typically recommend a supplement with glucosamine, chondroitin, MSM, and an avocado or soybean unsaponifiable," says Whittenburg.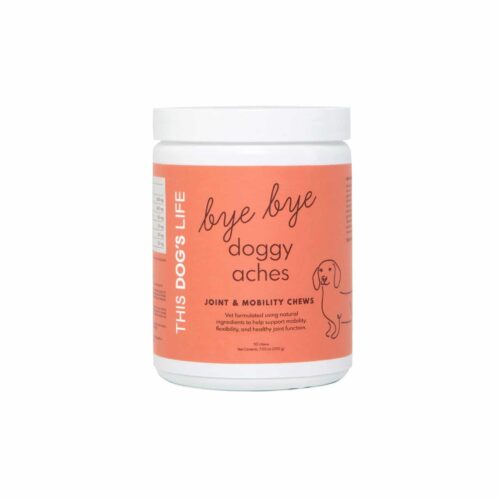 Bye Bye Doggy Aches chews are vet formulated and have more than 1,000 mg of powerful natural ingredients to help your pup deal with occasional discomfort. Glucosamine HCl, MSM, green-lipped mussels, and chondroitin support mobility and flexibility while also stimulating cartilage growth and maintaining joint lubrication. Made in the USA.
Products like Bye Bye Doggy Aches chews contains a number of ingredients that support mobility and flexibility while also stimulating cartilage growth and maintaining joint lubrication and relieve inflammation.
Whittenburg adds that it's important to remember that joint supplements act to protect joints and improve their function, but they are not pain relievers and do not work immediately. Instead, they should be given continuously for best results.
Related: The Top Ingredients to Look for in Joint and Hip Supplements to Help with Arthritis