This article has been updated with a version of this article originally appeared on Boogie the Pug.
The pet industry is a multi-billion dollar one. According to the American Pet Products Association, it is projected that pet parents spent $99 billion on their furries last year. That's a huge, multi-billion dollar pie, and it's time to carve out a big fat slice for Black-owned businesses and POC.
And with February being Black History month, a time to acknowledge the achievements Black people have made and the role they played in our country's history and economy, it's also important to celebrate what today's Black entrepreneurs are doing to make an impact in our world. But we can't just do it for 28 days.
It's important to spread the wealth, put your money where your mouth is, and support Black-owned businesses year-round.
There are free ways to support Black-owned dog businesses:
Follow them on social media.
Interact with their social media accounts by commenting, liking, reposting, or sharing.
Shout them out, either on your own social media pages or blog, or by telling your friends and family.
Write a positive review.
Sign up for their newsletter.
If you are a dog parent, buy their products, tell your friends about them, and follow them on social. If you are a business, carry these products in your shop, or recommend their services to your clients. We can all do something.
Here are just a few Black-owned dog businesses you can support right now.
1. Ava's Pet Palace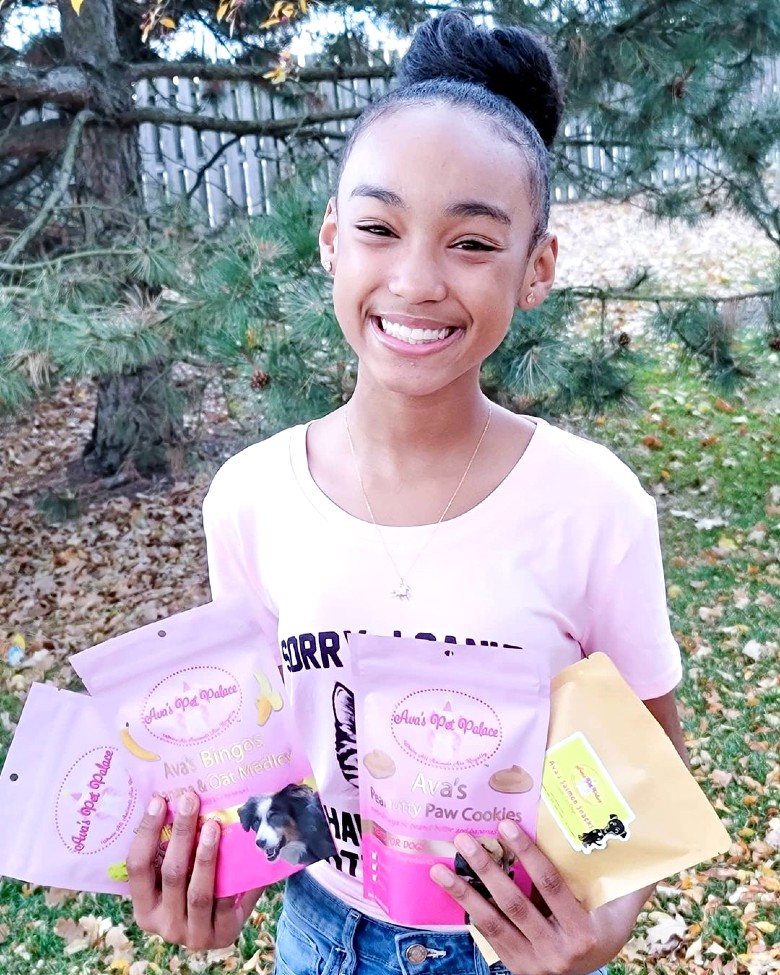 When animal lover Ava Dorsey was just a girl, she recognized a need for healthy pet treats for her dog and cat. She started Ava's Pet Palace, and began offering treats made with quality and tasty ingredients.
Today, at just 13 years old, Ava continues to push the importance of health and wellness for pets. Her treats — like Minty Woof Poppers and Cheeze Pleeze Bites — are made in small batches and are 100 percent organic.
She was recently awarded Young Entrepreneur of the Year at the WDB Marketing Legacy Awards. And she is just getting started.
Shop Ava's Pet Palace products here.
Instagram: @avaspetpalace
2. Beaux and Paws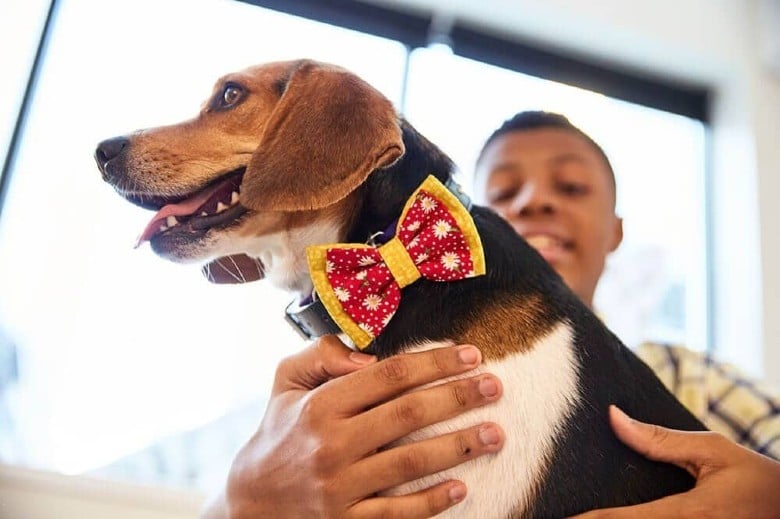 When young Darius Brown saw the devastation caused by Hurricane Harvey and Irma, he went into action. He decided to hand make colorful bow ties to donate to the ASPCA, to help displaced dogs garner more attention in the hopes of getting adopted.
Since then, Darius has been hard at work building his brand. He's the youngest designer to participate in the "New York Pet Fashion Show," he was featured on Animal Planet's "Dog Bowl lll," and he was acknowledged by former President Barack Obama.
Related: Work-from-Home Gigs: Here Are 13 Ways Dog Lovers Can Earn Money Remotely
Today, 14-year-old Darius continues to donate and sell bow ties for animals in need. He's currently on a mission to ship bow ties to animal shelters in all 50 states, and visit them, too. Go Darius!
Shop Beaux and Paws products here.
Instagram: @sirdariusbrown
Related: Meet the 14-Year-Old Making It His Mission to Help Shelter Dogs One Bow Tie at a Time
3. Enjoy-A-Bowl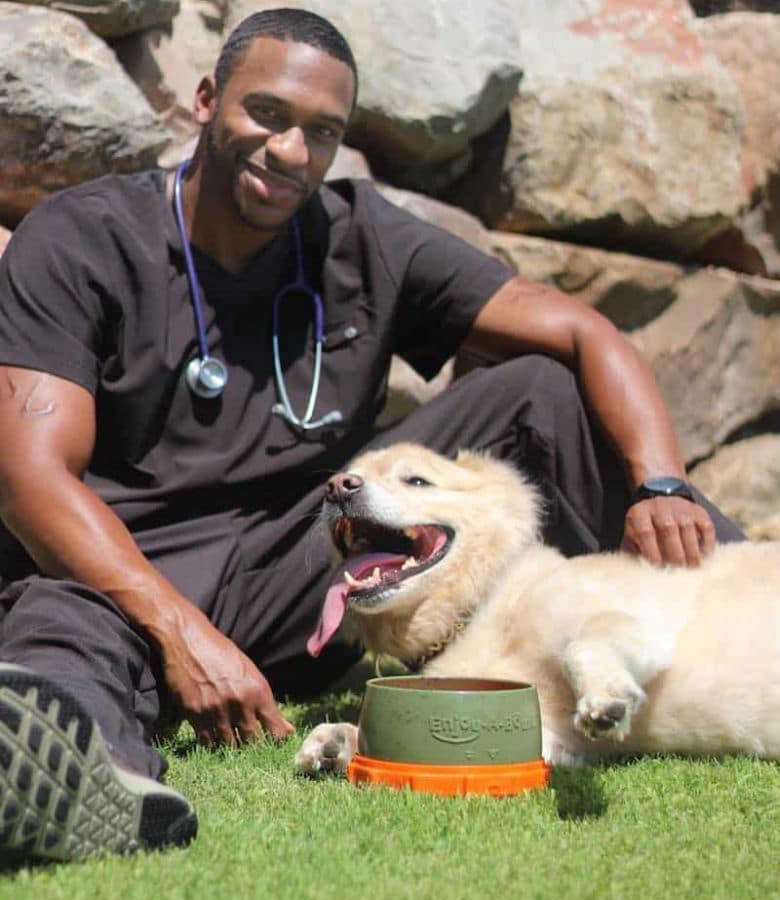 When veterinarian Joe J. Owens noticed that his furry patients were getting sick because of their diet, he invented the Enjoy-A-Bowl.
The Enjoy-A-Bowl is the only appetite stimulation bowl on the market. It works by placing good smelling food in the bottom tray, then placing your dog's actual food on top, using a divider to separate the two. The bottom food's aroma stimulates your pet's appetite, without any of the bad side effects.
Related: The Top 6 Dog Parenting Mistakes, According to a Veterinarian
The bowl is great for picky eaters, diabetic patients, pets on prescription diets, those with pancreatitis, or those managing obesity.
Shop Enjoy-A-Bowl products here.
Instagram: @enjoyabowl_products
4. The Bark Shoppe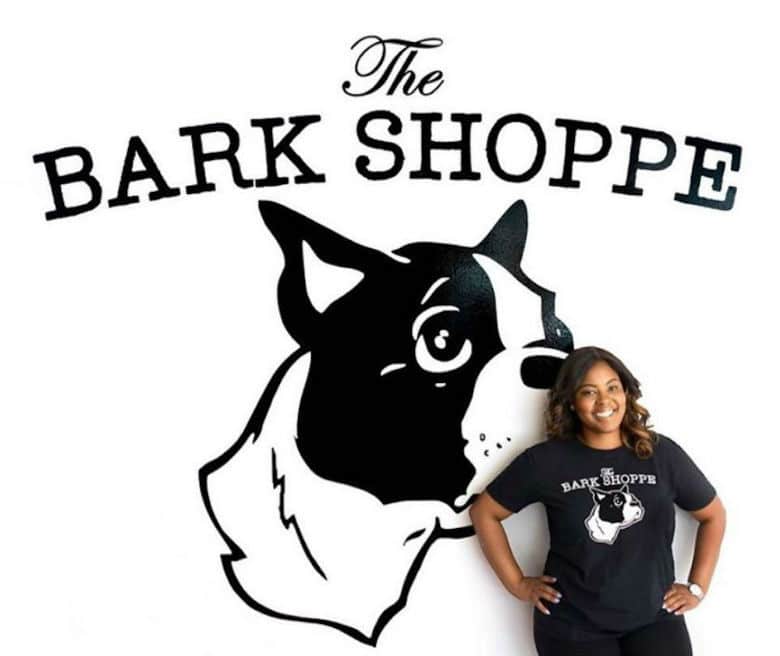 Bronx native Melissa Mitchner opened her brick-and-mortar location, The Bark Shoppe in Harlem back in 2012.
This top-rated, premier pet care facility offers grooming, boarding, daycare and dog walking, as well as their own house brand of grooming products.
Besides their dog services, The Bark Shoppe also gives back, and in a big way. Melissa uses her business to help others. They offer internships to underserved communities through partners like Bronx connect, Fedcap, Pathways to graduation and Friends of the Island to help motivate and introduce people of color to the pet care industry.
Location:
100 St. Nicholas Avenue
New York, New York
Shop The Bark Shoppe products here.
Instagram: @thebarkshoppe
5. Harlem Doggie Day Spa
Brian Taylor has always loved dogs. What began as dog walking after work turned into The Harlem Doggie Day Spa, a dog spa owned and operated by Taylor with one brick-and-mortar location and another on the way.
The Harlem Doggie Day Spa offers pet grooming, doggie daycare, cage-free boarding, and pet transportation.
Besides providing Harlem residents with great customer service and dog care, Taylor gives back to the community. He launched an internship program for at-risk youth, teaching them useful skills and providing jobs, and often participates in community driven efforts, like food and clothing drives, and fundraisers.
In 2013, he started a "No Poop Left Behind" campaign to increase the number of dog poop bag stations in the area, something all New Yorkers, dog owning or not, can appreciate.
Related: The 10 Best Dog Groomers in Manhattan for 2017
Location:
734 St. Nicholas Avenue
New York, New York
Instagram: @harlemdoggiedayspa
6. Homescape Pets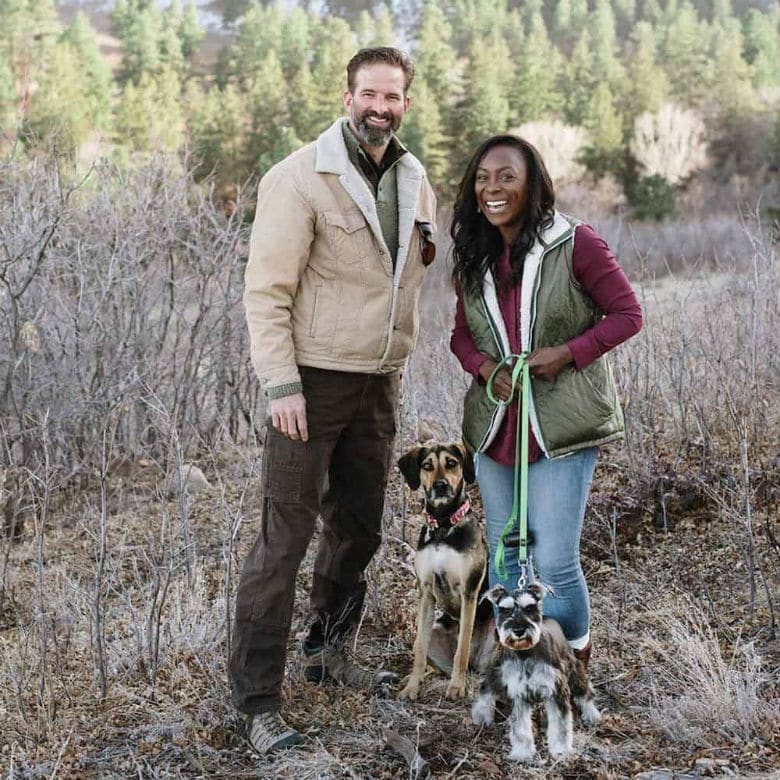 Husband and wife team Nana and Marcus started Homescape Pets after losing their beloved Schnauzer Beau to cancer. Towards the end of Beau's life, they knew they couldn't save her life, but they could give her a better quality of life. That included less hard-core drugs and more of what nature provides.
So they buckled down in Colorado and began creating simple, all-natural, hemp and CBD-based pet supplements, with an emphasis on all natural ingredients.
Fun fact: What's in a name? Nana and Marcus moved four times in five years. Each time, they made their house into their little homestead, ensuring that their dogs were comfortable, plants were growing, and their surroundings were personalized. They believe that people create the landscape of their lives. Homestead + Landscape = Homescape. Perfect!
Shop Homescape Pet products here.
Instagram: @homescapepets
7. House Dogge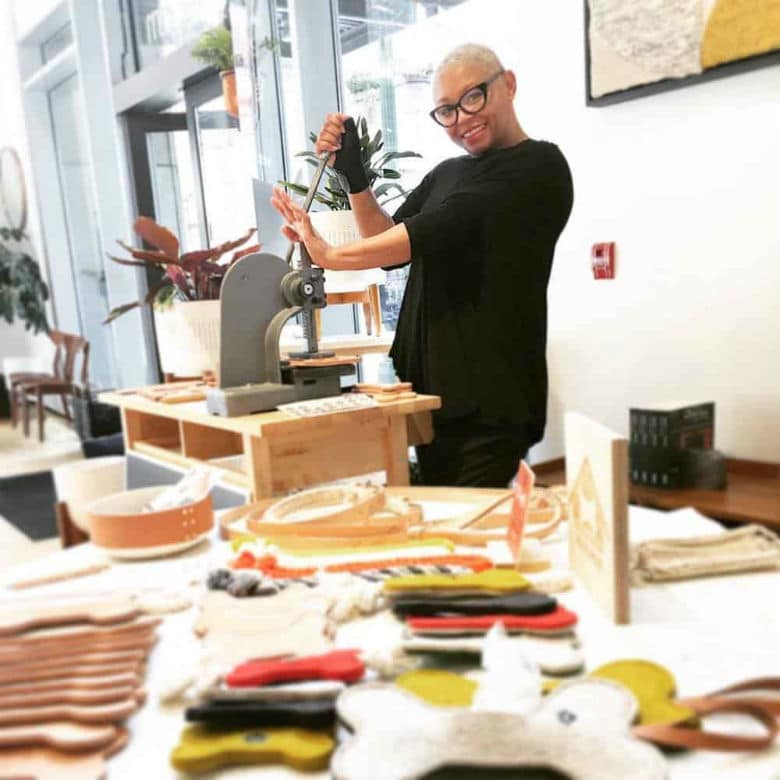 Inspired by her English Bulldog Wubbi and years of travel and design, former Nike design director Angela Medlin founded House Dogge, a modern, eco-friendly dog accessory brand.
Its beautiful studio is based in Portland, Ore., where House Dogge makes creative and sustainable dog accessories and clothing that has caught the attention of many celebrities, including Oprah. Check out their beautiful rope toys and their personalized items.
Shop House Dogge products here.
Instagram: @housedogge
8. Little L's Artisan Dog Treats
Little L's Artisan Dog Treats was born when dog owner Lenny Forde began looking for locally-sourced, homemade dog treats that were a safe alternative to jerky for his two dogs, Lulu and Lilly.
Soon came delicious kookies, krak'ems (meat brittle) and a physical location called Little L's Pet Bakery & Boutique in the Bronx.
Their treats are all made in house, right in New York City, and have expanded to include things like Woofulls (dog waffles!), krumbs appetite boosters and more.
Check them out in store or buy online on their website.
Location:
311 Atlantic Ave.
Brooklyn, NY 1120
Shop Little L's Artisan Dog Treats products here.
Instagram: @littlelspetbakery
9. LooHoo Wool Dryer Balls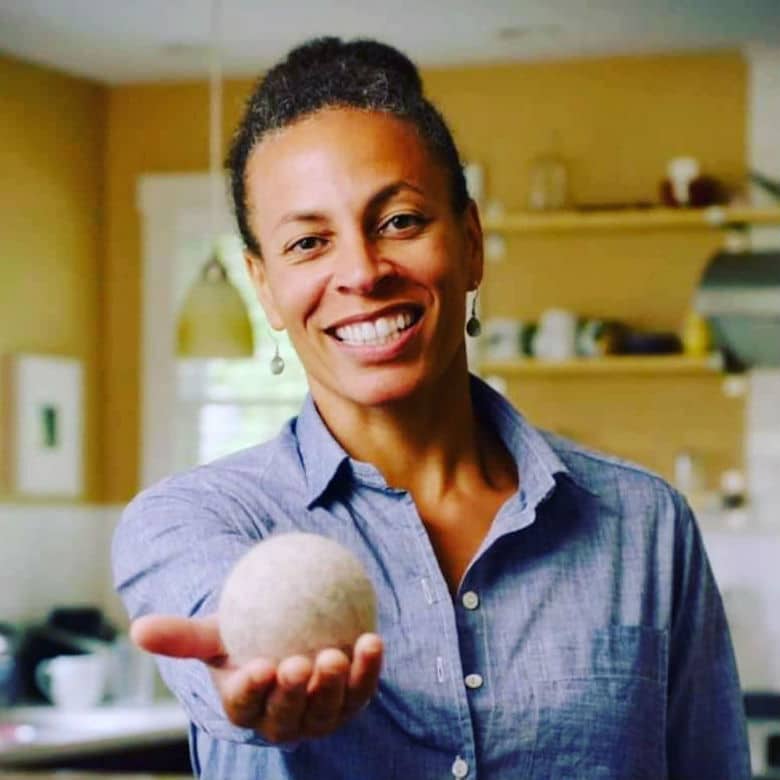 When Cyndi Prince wanted to protect her family from the toxic chemicals found in household cleaners, she knew that normal chemical ridden dryer sheets had to go. So she created LooHoo Wool Dryer Balls, a natural alternative to toxic dryer sheets.
Her wool dryer balls are made with 100 percent wool, which is all natural, sustainable, biodegradable and durable. Plus, they soften our clothes and reduce our dry time. And lucky for dog owners, they make great and safe dog toys! Cyndi sells a durable braided dog toy that's soft on teeth and great for a game of tug-of-war.
All LooHoos are American-made in Maine using 100 percent domestic wool from American sheep farmers.
Instagram: @loohoowooldryerballs
10. Nova West Supplies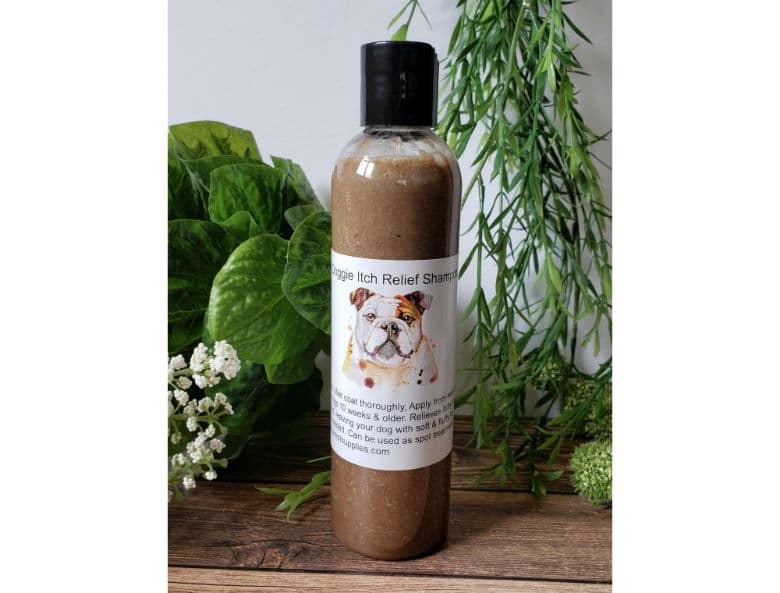 Nova West Supplies is committed to all natural body care, and that includes care for our canine friends too.
Its all-natural dog shampoo effectively treats symptoms of dermatitis, seborrhea, mange, and other parasitic or bacterial infections. It also helps soothe and eliminate scaling, rashes and inflammation. It's great for allergy prone dogs with itchy skin.
Related: 3 DIY Dry Shampoos for Your Dog You Can Make at Home
A portion of their sales go to Denver Animal Shelter.
Shop Nova West Supplies products here.
Instagram: @novawestsupplies
11. Pardo Naturals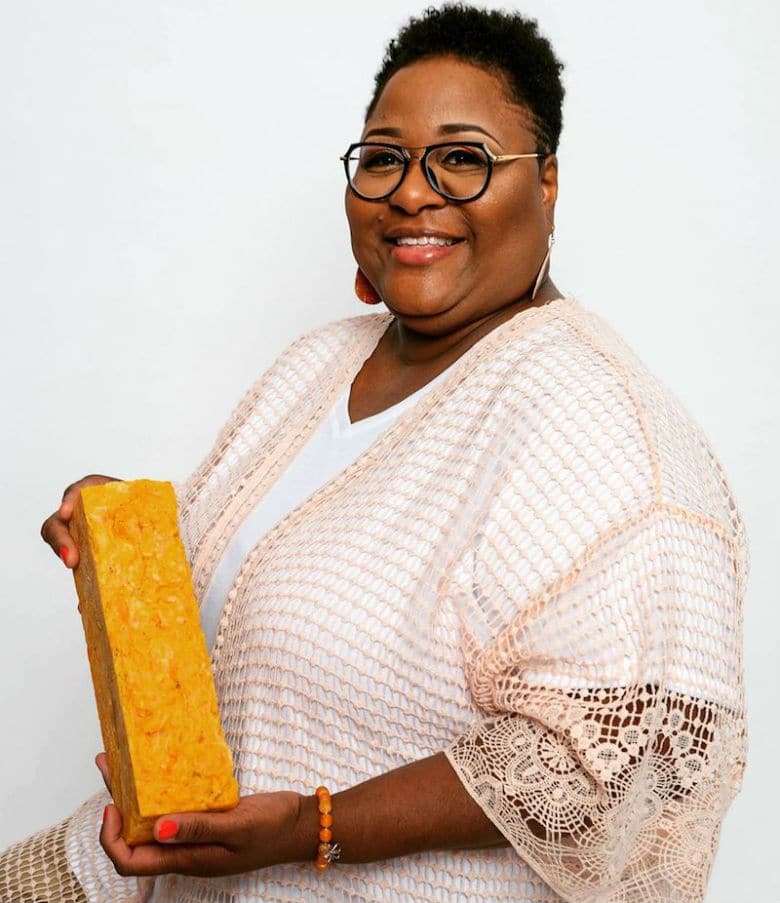 When Pardo Naturals founder Rita Pardo couldn't find a product to relieve her daughter's severe case of eczema, she took matters into her own hands. She researched natural remedies, aromatherapy and medicinal herbs, and came up with her own concoctions.
That was back in 2014. Today, Rita has grown her company to include everything you need to live a toxin-free lifestyle, from lotions to bath bombs, dishwasher tablets and pets!
Check out her moisturizing paw and nose lotion bars for dry noses and paws. Great for dogs who need relief, especially in the winter time.
Shop Pardo Naturals products here.
Instagram: @pardonaturals
12. Pet Parent Allies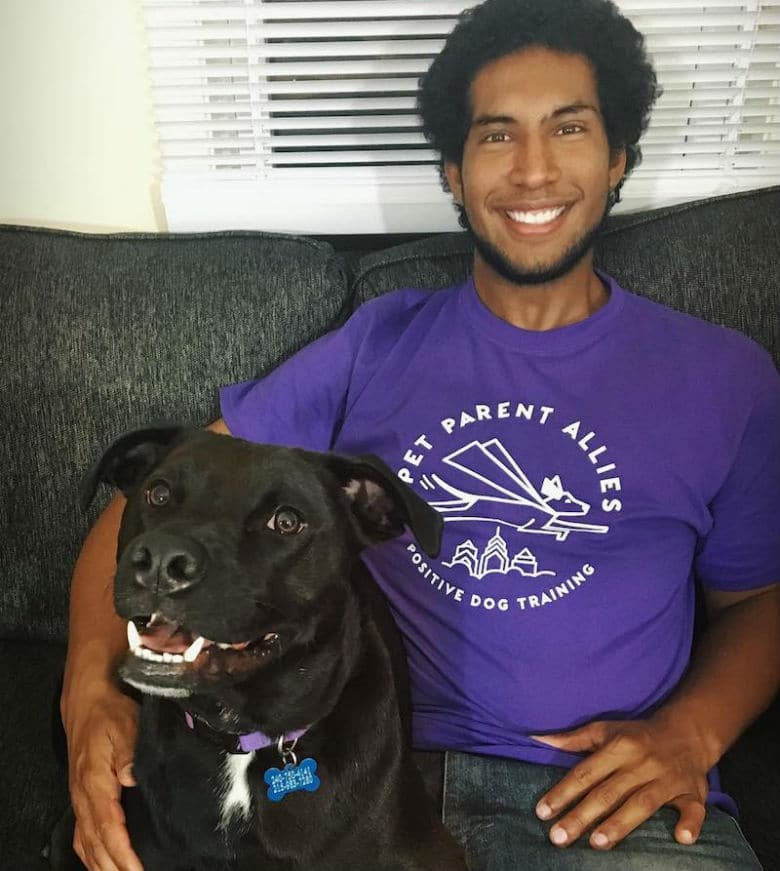 CPDT-KA dog trainer Curtis Kelley uses positive reinforcement to train dogs of all ages and sizes. He implements intimidation and fear-free methods that help you better communicate with your dog. Plus, he teaches dog agility and dog walking.
Pet Parent Allies offers private and group classes in Philadelphia and online.
Check out Pet Parent Allies here.
13. Pet Plate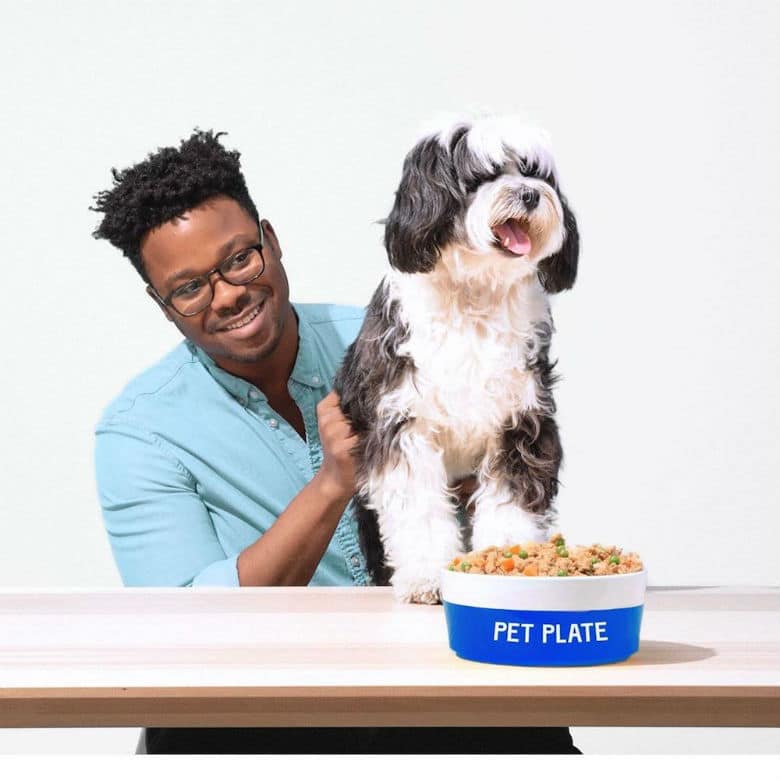 I've been a huge fan of Pet Plate since even before I saw them featured on Shark Tank.
Pet Plate is a subscription-based dog food that delivers all-natural, ready-to-eat meals, straight to your door. Their food is made with human-grade fresh ingredients and cooked in a USDA facility. Plus, you can get food personalized specifically for your pup.
Company founder Renaldo Webb started his career working as a consultant in the pet food space where he witnessed first hand how mass-market pet food was made. He witnessed the inferior ingredients and substandard processes, so he worked to find a healthy solution for his dog Winston.
Related: We Compared the Top Dog Food Delivery Companies on Ingredients, Price and What Makes Them Special
Today, those healthy meals are shipped all across the country.
Instagram: @petplate
14. PupStars Pet Care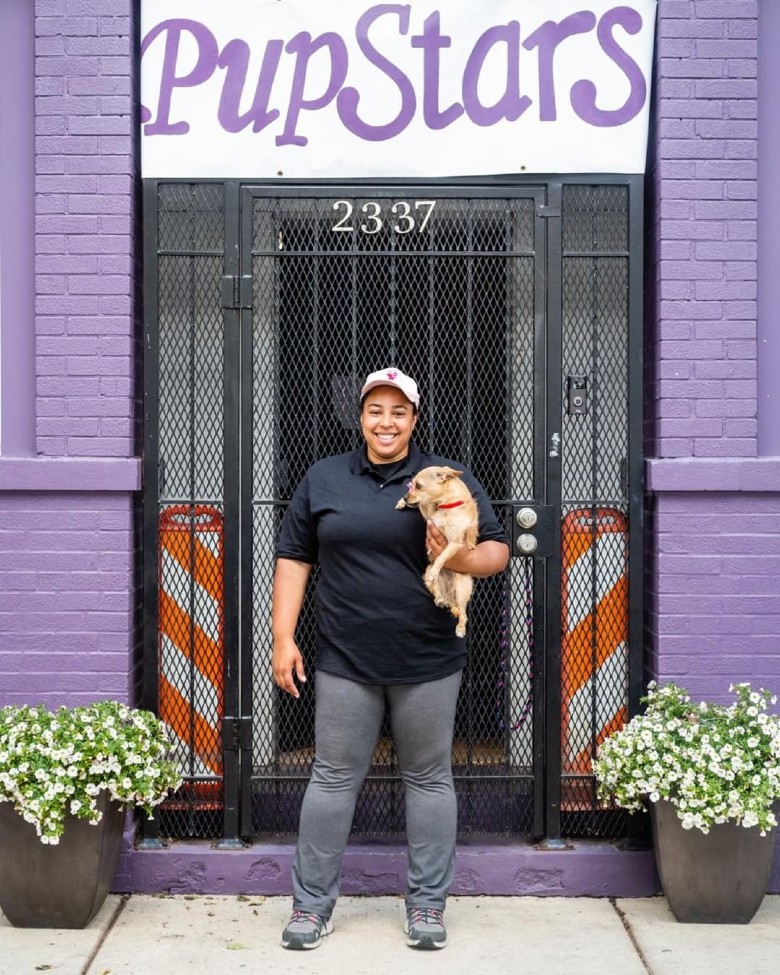 PupStars Pet Care service started out as a home-based dog-walking company in Chicago, and has grown into a first-class 10,000 square-foot brick-and-mortar operation with luxury boarding suites.
The location offers grooming, walking, boarding, training and puppy parties. If you're in the area, check out their amazing (and huge!) dog park called Payton's Playground, which offers a coffee shop, benches and lots of fun.
Plus, owner and founder Tara Robertson is only getting started. She also plans to host free events, mobile vaccinations and doga (dog yoga).
Location:
2337-2339, West Lake Street
Chicago, Illinois 60612
Instagram: @pupstarspetcare
15. Scotch and Tea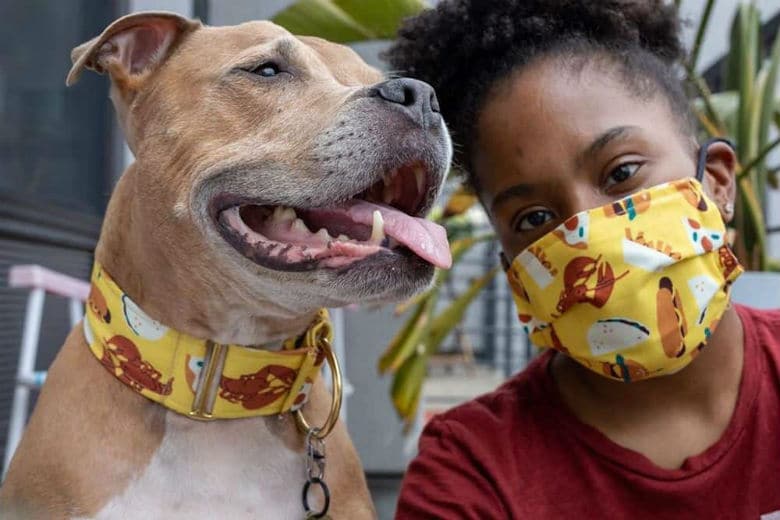 Khrys Nikole is a devoted dog walker, sitter, and trainer. She lives in New York City with her partner, dog named Butter, and cat named Chai.
Besides working with dogs, Khrys has her own accessory and stationary online shop called Scotch and Tea, where she sells matching masks and dog accessories, among other things.
Khrys will be joining CUNY City Tech for their BA program in Business and Tech of Fashion in Fall 2020.
Shop Scotch and Tea products here.
Instagram: @scotch.tea
16. Sir Dogwood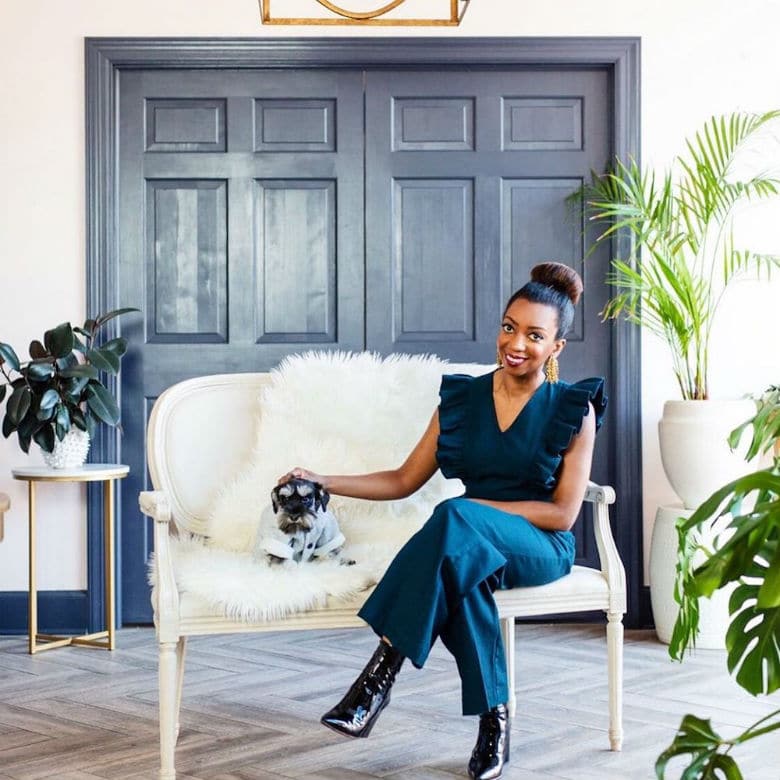 Based in Chicago, Sir Dogwood was founded in 2016 by Chaz and her muse, Beatrix the Schnauzer. Their online dog shop curates chic and comfortable dog wear for dogs of all sizes and their sartorially-minded owners.
Their shop has everything from leashes and harnesses to sweaters, outerwear and dog beds.
Besides taking care of our pup's fashion and at home needs, Sir Dogwood loves to feature other makers and creators in the pet space. Here's their interview with one of our favorite crafty queens DWJ. Creators who support other creators? Yes please.
Shop Sir Dogwood products here.
Instagram: @sirdogwood
17. Smart Bitch Dog Training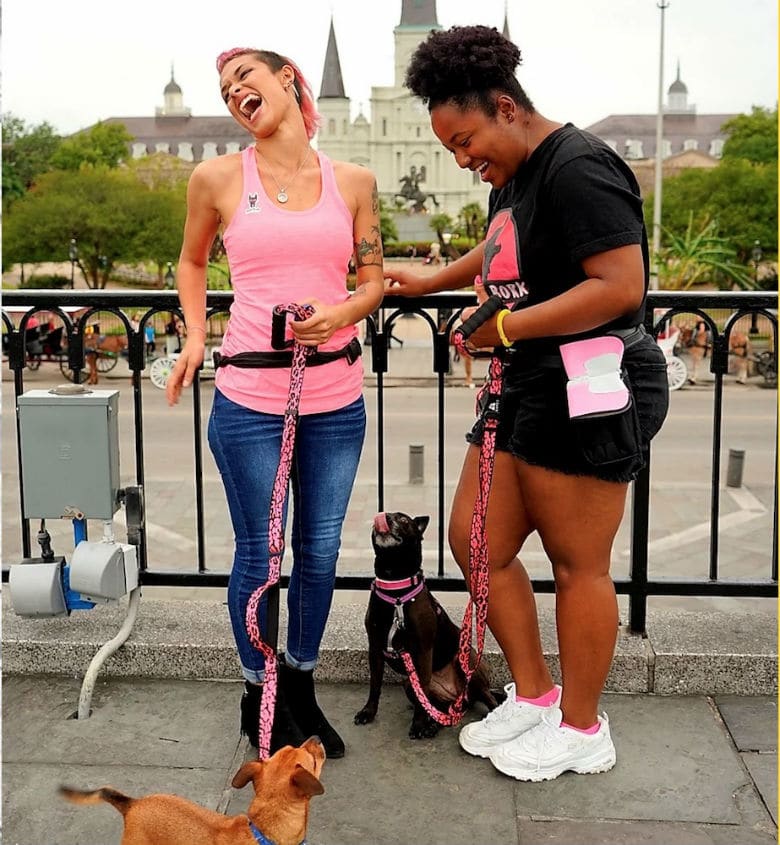 New Orleans native Taylor Barconey is obsessed with dogs. After college, with the help of a mentor, she began her journey in dog training. She became certified, gained experience, and eventually linked up with a friend to begin making her own mark. Smart Bitch was born!
Today, Smart Bitch helps NOLA residents bond with their dogs using fun and force-free methods. They offer in person services, as well as virtual ones, like live living room groups classes and digital DIY coaching.
Check out Smart Bitch Dog Training here.
Instagram: @smartbitchdogtraining
A few more This Dogs Life found!
18. Gerrard Larriett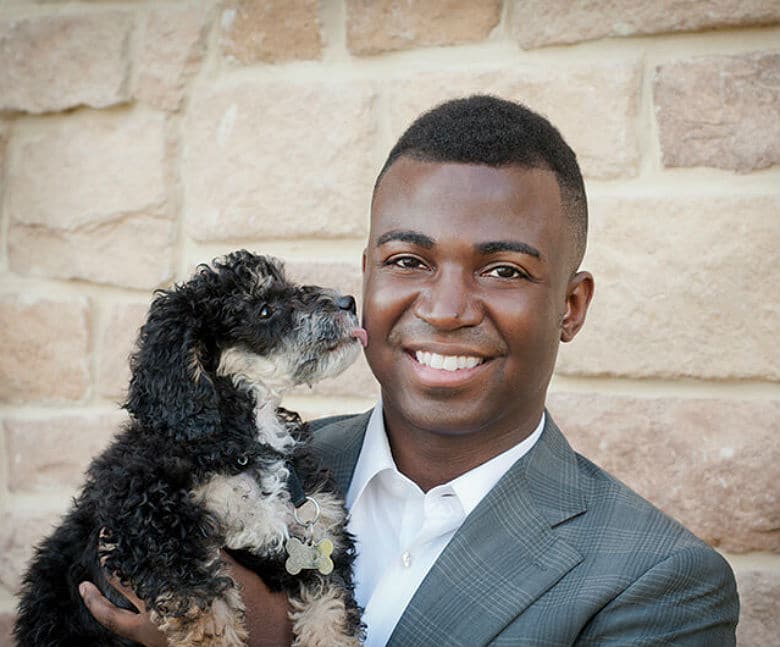 Gerrard Larriett's background working at big-name brands like L'Oreal, LVMH and Elizabeth Arden helped in his creation of a pet care aromatherapy product line for our furry best friend.
He was inspired after trying to soothe his dog, Dada, during a thunderstorm one evening. Despite being on dog medication, Dada remained petrified. Gerrard starting thinking about other solutions. Realizing our dog's nose is sensitive to smell, he turned to aromatherapy and incorporated it into pet products.
Now he has candles, sprays, shampoos, and more.
Shop Gerrard Larriett products here.
Instagram @gerrardlarriettaromatherapy
19. Grooming Extraordinaire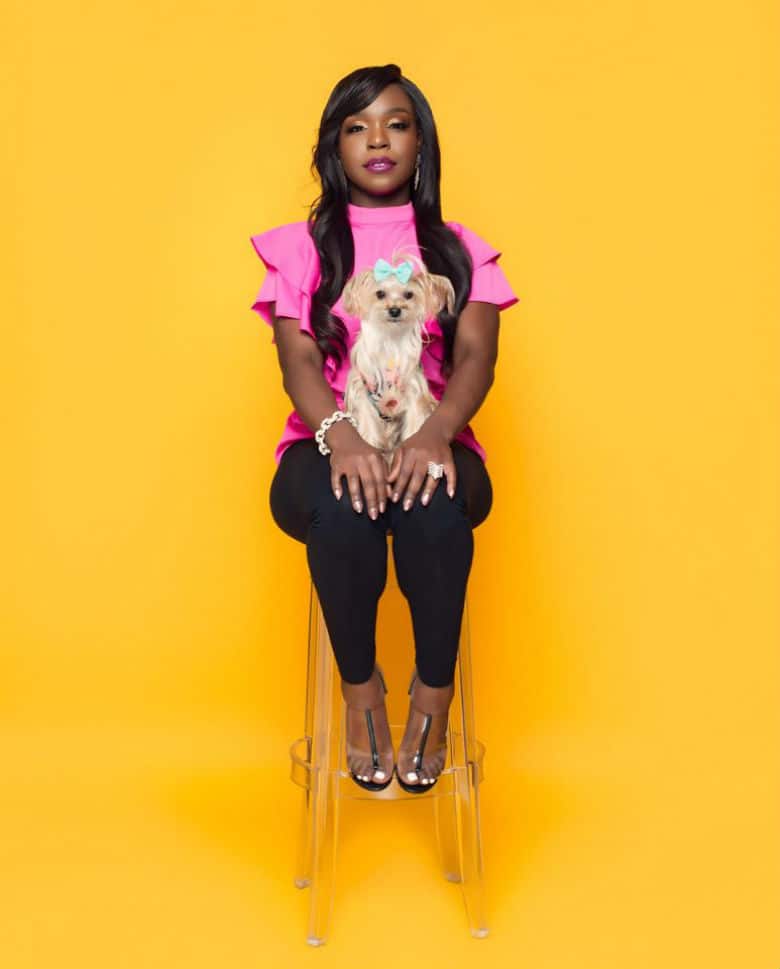 Ashley Ann opened her first dog-grooming business in 2015 after completing her master's study program in Chongging, China at the Yin Li Pet grooming school.
Today, she is a highly sought-after groomer in New Jersey with a celebrity clientele. She's known for favoring the finer "details of grooming, which she incorporates in her practice while individualizing each breed's unique look to further define a dog's personality."
Besides her grooming business, The Grooming Extraordinaire, Ashley educates people on the pet industry, including writing guides about grooming and diets.
Location:
190 Main Street, Lincoln Park, NJ
(973) 872-7387
Instagram @groomingextraordinaire