Back in 2010, Kristen Maurer had no idea her life was about to change forever when a law enforcement officer asked her to pick up a military dog that was arriving from Kuwait and transport the canine to Dallas. Maurer had trained and certified her own narcotics detection dog, but she knew nothing about the fate of military and contract working dogs deployed overseas.
What she discovered was despite saving countless lives, these dogs often didn't receive the heroes' homecoming they deserved, with many abandoned, mistreated, and even unnecessarily euthanized.
In 2014, Maurer along with Louisa Kastner, a vet tech in the army, and "social media computer guru" Bob Bryant launched Mission K9 Rescue, an organization to "rescue, reunite, re-home, and rehabilitate retired working dogs."
Related: Report Released States K-9 War Dogs Were Abused and Mistreated by Military
"We hit the floor running," Maurer recalls. "That year, I reunited around 27 military dogs with the handlers they had deployed with."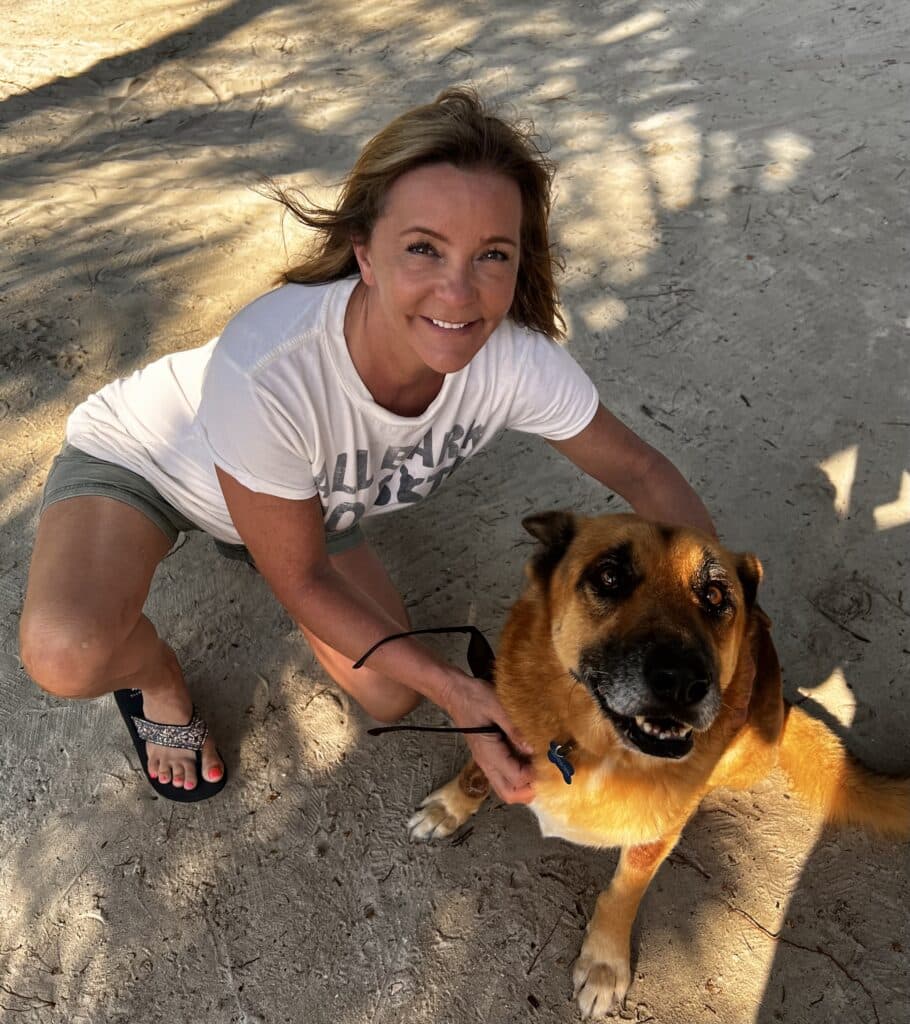 Word spread and towards the end of the year, Maurer received a call to rescue contract working dogs who were left behind in Afghanistan and Kuwait. Contract working dogs, unlike military working dogs, are not part of the Department of Defense. Instead they are provided by third-party private companies to perform similar duties as military working dogs, including mine detection, patrol, search and rescue, and security. Once they retire, it's up to the contract company to bring them back. (They are not afforded the same protection as military working dogs, who, by law are required to be returned home after each deployment.) If for some reason the company is unable to do that, the dogs can be left to languish in kennels … sometimes for years, says Maurer.
So, when she heard about these dogs needing help getting back to the states, Maurer didn't hesitate — even though she didn't yet have the setup to accommodate them. "It was kind of the cart-before-the-horse [situation]," she says. "There's a need, and so we had to figure out how to fill." Today, contract working dogs are largely the focus of Mission K9 Rescue's mission.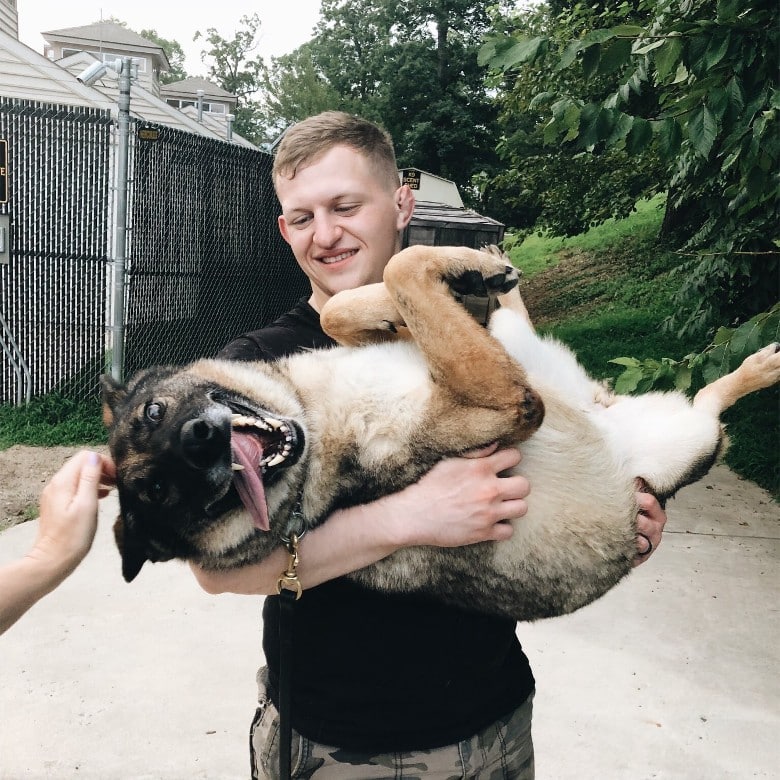 Related: George H.W. Bush's Service Dog Sully Lays By His Casket In Photo With Caption 'Mission Complete'
A New Lease on Life
"We bring them into our care and evaluate each dog," Maurer says. "People must fill out an adoption application, but we don't allow people to pick their dog. We take their application and match it to the dog that fits their lifestyle."
Many of these dogs have never lived as pets; they don't know how to function when they aren't working. They need time to decompress and to learn how to just be a dog. Like humans, the chronic anxiety, fear, and stress dogs experience working in a war zone may lead to Post-Traumatic Stress Disorder (PTSD). Both military and contract working dogs have survived explosions and gunfire while at the same time carrying out high-risk operations, such as mine detection, tracking, and patrolling. Their normal "resting" state is always on high alert.
Dogs with PTSD may shake and cry. They may try to hide. They may become aggressive with people and exhibit resource guarding around food. The biggest challenge lies in helping these dogs understand on the deepest level that they are finally safe.
At the Mission K9 Rescue facility, dogs decompress in large, quiet single-dog enclosures. Protected from loud and sudden noises, the dogs are given time to relax, acclimate to their surroundings, and experience peace. The team also uses toys as a form of therapy.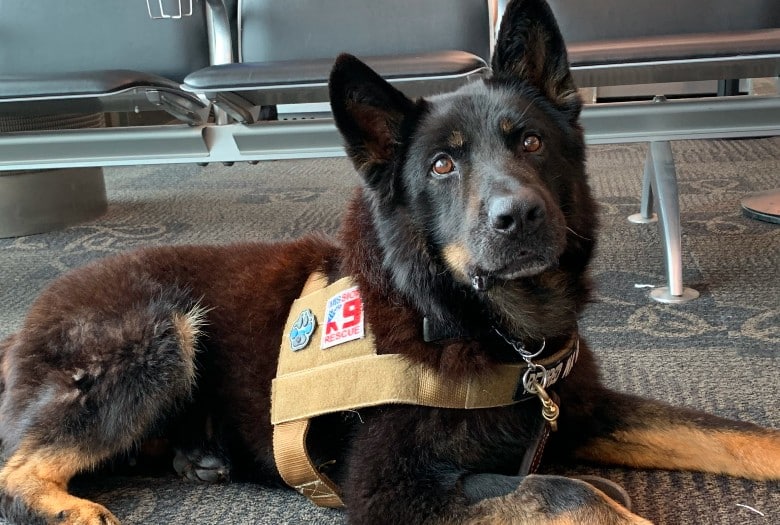 The dogs they rescue have one thing in common: Whether they are searching for land mines, improvised explosive devices (IEDs), or the enemy, the motivation is the same. "They're really searching for their toy," says Maurer. "When they find whatever they are searching for, they get to play with their toy. Their entire drive is focused on that toy." But the only time they get to play with their favorite toy is when they work.
"When they get into our facility, we give them as many of those toys as they want. And that way, they know that they don't have to work for it anymore," says Maurer. By doing this, "We're taking that drive down a notch, so they're not so intense when they get into a home."
While playing inside with toys helps with decompression, Maurer says their goal is for the dogs to spend as much time outside as possible. "What we found is no dog wants to live in the kennel environment," says Maurer. "Each dog gets a yard, and they get to play," she says. At first, she notes, the dogs will bark and snarl at the dog in the adjacent yard, but they soon start to realize being around other dogs outside is much more fun than being in the small confines of a kennel.
"They are fairly isolated their entire careers, so we want to make sure that they learn how to be with other dogs," says Maurer. "We call it 'unhandling.' We want to take them from a working dog and turn them into a pet. And it's a process."
Trainers work to gain the dogs' trust, but sometimes, when a dog continues to cower or show aggression to their caretakers, medication may be necessary to relieve persistent, severe symptoms.
In addition to the emotional challenges, some of the dogs return with serious health concerns, including skin conditions, dental and musculoskeletal issues. While Mission K9 Rescues works on rehabbing the dogs, they also ensure that the dogs are medically sound before they consider adopting them into a home.
A Second Act for Ronnie
Lisa Brown comes from a military family. "Both my husband and my father served, and we have a high regard for veterans," she says. "And now we're able to serve our country in other ways," including by welcoming a retired contract working dog into their home.
The process of finding the right dog for her family was akin to "a dating service." The dog Mission K9 Rescue had in mind for the Brown family came with a few medical problems. Ronnie, a 10-year-old German Shepherd, had been working overseas as an explosives detection dog in Kuwait for six to eight years, where he would clear 300 to 400 vehicles a day. He now had hip dysplasia, and his elbows were worn down, recalls Brown. "They were just the skin and callus, which is an indication of dogs laying for long periods of time on cement." The rescue wanted a family that lived in a single-story home, so Ronnie wouldn't have to navigate steps.
"We were given options to look at other dogs," says Brown, "but I didn't want to after I saw Ronnie." It was love at first sight. Brown put Ronnie on a leash and walked him around so the trainers could see the way she handled him. He knew how to sit, and they played fetch with a Kong. She knew right away Ronnie was the right dog for her. "He was perfect," she says.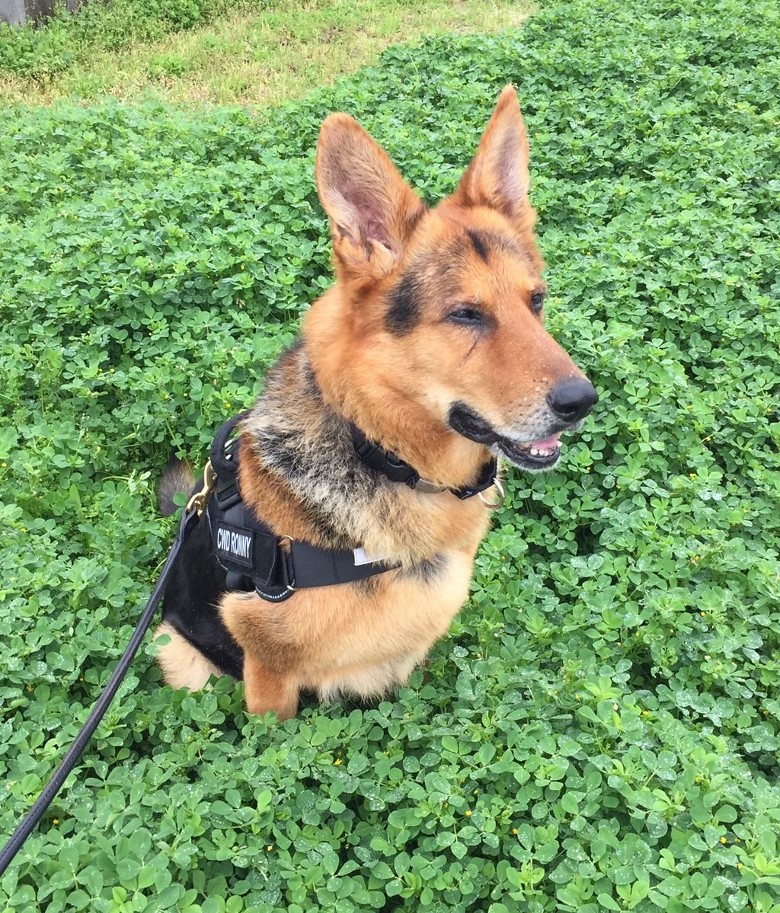 Ronnie had been trained using Dutch commands, so Brown went on YouTube to learn Dutch. The family also took him to an introductory obedience class "just so we could all be on the same page for hand signals and communication." Her husband had never trained a dog before, so she thought it would be a good bonding experience for them.
Related: How One Nonprofit Is Connecting Our Country's Loyal Service Men and Women With Shelter Pets
"It's been a process. When they first come to you, there's kind of a quiet period. They're still trying to learn if they can trust you. They're still learning your expectations," Brown says. "You're still learning about them and their body language."
To help Ronnie adjust and get comfortable, Brown bought several doggy steps, so he doesn't have to jump to get on the sofa or the bed. The Browns even upgraded their own bed to a king size so that Ronnie would have plenty of room.
Max and Fabian's New Relationship
Many of the dogs at the rescue get to go home with their past handlers, including a Belgian Malinois named Max who served with Navy Chief Petty Officer Fabian Salazar in Afghanistan as part of the explosive detection team. Salazar was devoted to Max; during one patrol, Max sensed a surprise attack before a gunman opened fire without any warning. With a sharp tug on the leash, Max alerted Salazar, and that alert saved Salazar's life.
When Salazar was deployed to Guantanamo Bay detention camp in Cuba, he reached out to Mission K9 Rescue to ask for help in bringing Max to the camp. Maurer discovered that it was impossible to get dogs to Gitmo, so she offered to keep Max at their facility for the three months that Salazar was deployed until he returned to the U.S.
"Once he became eligible for a PCS [permanent change of station] stateside, we united the two of them, and they've been together now for years," says Maurer.
To date, over 1,100 working dogs from all over the globe have been rescued, rehabilitated, and adopted through Mission K9's program, and the nonprofit remains committed to ensuring these remarkable canines have the heroes' retirement they so richly deserve.
"These dogs are just amazing," says Maurer. "They are so critical in the lives that they save while they're working." And when they're adopted, they go on to continue uplifting the spirits of those in need.
Related: Dog Shown in Viral Purple Heart Photo Reunites With Handler