Social media definitely has its drawbacks – it can be a complete time suck, breeds bullying, privacy issues and the list goes on. But for Chris Williams, it turned out to be a complete lifesaver.
After hearing about the devastating floods caused by Hurricane Matthew in North Carolina, Craig Williams was worried about his brother, Chris, who was living in the city of Hope Mills, an area ravaged by the natural disaster.
Chris, a veteran, was trapped in his home with his dog Lana, who could not swim.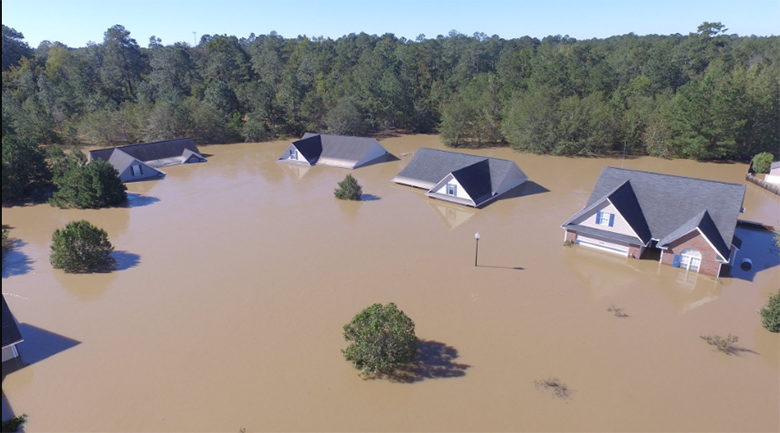 Related: Dramatic Rescue of Women and Dog Saved From Sinking Car During Louisiana Floods Caught on Video
When Craig heard this, he first called 911 but was told they are doing everything they can and were unable to get out to Chris' neighborhood due to the flooding.
Craig then took to Twitter, scrolling through #HopeMills, a hashtag used for Chris's city, to see if there was an updates. One image that caught his eye, was a picture taken by Twitter user @ImSoFIRST with a drone showing homes almost completely submerged.
Looking to lighten up the mood, Craig texted Chris the image, joking with him that at least this wasn't his home.
Turns out, it was his home.
Craig tweeted to @ImSoFirst, which is run by Quavas Hart, asking him to help out his brother. Hart stopped what he was doing, used his drone to reach FEMA and directed them to Chris' home.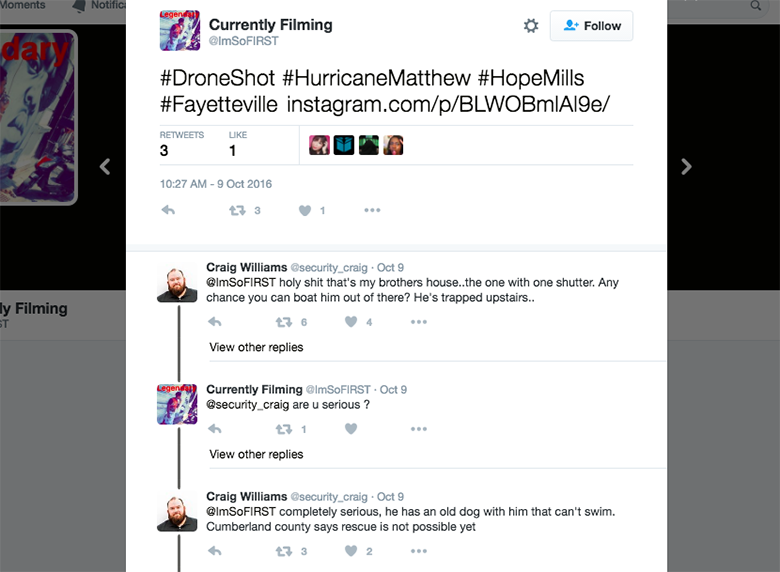 Hart was able to capture the rescue on tape and is credited for helping save Chris.
"It's a humbling experience, all the praises go to God he put me in the right place at the right time," Hart tells This Dog's Life. "I couldn't of orchestrated this on my own."
Related: Dog Reunited With Family After Swimming More Than 6 Miles in Lake Michigan
How I helped save a mans life with my #drone #Dji #HurricaneMatthew pic.twitter.com/xMU5ofFUe2

— Crypto Quavo ?? (@ImSoFIRST) October 10, 2016