During the impeachment proceedings, lawmakers and staffers got a much-needed respite with the help of some dogs.
On Wednesday, the first day of the hearings, Pet Partners, a therapy animal organization, had emotional support dogs on hand to the delight of officials.
"From young staffers who talked about wanting to get their first pets to members who were interested to hear how these volunteers and their special animals enhance human health and well-being for their neighbors, all our guests, well over 300, enjoyed a brief break with the therapy animals," Elisabeth Van Every, communications and outreach coordinator at Pet Partners, told us.
In total, there were 18 therapy dogs on hand, working in three short shifts to ensure they didn't get tired or stressed.
Related: Do Therapy Dogs Actually Like Their Work?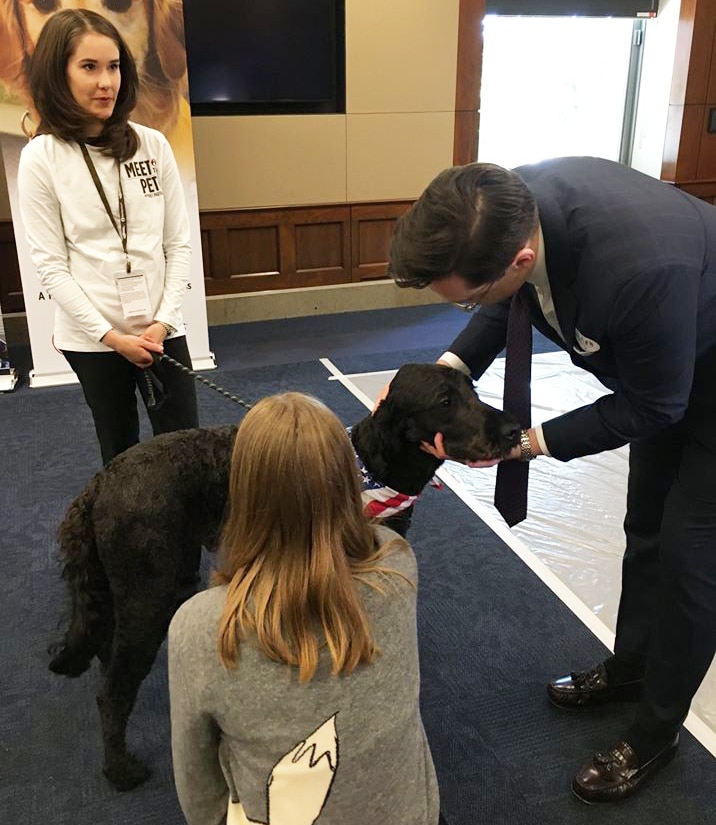 "The dogs came in all sizes and multiple breeds, including mixes of unknown heritage," says Van Every. "The role of the therapy dogs was to provide the affectionate, calming presence that animals can have and demonstrate why animal-assisted interventions are important. "
The organization had planned the event months in advance, not knowing its visit would fall on the first day of the hearings.
"It was purely a coincidence that it happened to be the day that public impeachment hearings were scheduled. We hope our therapy dogs offered a break and some stress relief to everyone who came to visit with them," Van Every says.
The nonprofit believes having dogs front and center at the Capitol can help bring awareness to officials pertaining to issues around therapy animals.
"It's important for lawmakers to understand the role and effect of therapy animals in order to draft accurate legislation surrounding access and standards for animal-assisted interventions," says Van Every. "We were thrilled to bring therapy animal teams to the U.S. Capitol to provide not just stress relief, but also education."
Therapy dogs provide valuable assistance to many people and conditions, including children with autism, patients at hospitals, seniors in assisted-living homes and veterans who suffer from PTSD.
Related: A Yearbook Page Is Dedicated to the Therapy Dogs Who Comfort Parkland School Shooting Survivors