Yes, just like you, your dog needs to be restrained in the car. During an accident, a dog can fly through a windshield or out an open window. He can crash into the back of the front seat or into the dashboard. Just like you, your unrestrained dog can be seriously injured — or even killed — if you get into an accident.
A few years ago, I was taking my dog back home after a visit to his vet. We were in the backseat of a taxi in New York City, flying through Manhattan. When we got to a corner, the driver had to slam on his breaks to avoid plowing into a car running a red light. Despite the fact that my little dog Buster was on my lap with me holding him in my arms, he flew off the seat and hit the back of the driver's seat, then fell heavily onto the floor.
The only thing that saved him from serious injury was the fact that I had him in a dog carrier. Even though it was soft-sided, it cushioned him enough to prevent broken bones, concussion or worse.
Related: How 3-D Printing Is Rocking the Dog World
If your car crashes, and your dog goes airborne, he can develop projection forces equaling 40 times his weight. Think about that. If your dog weighs 77 pounds, he turns into a missile with a force of 3,087 pounds. If you want to see what that looks like, a company named Allianz staged a crash test using two dog crash test dummies in the backseat.
To keep your best friend safe, invest in a dog harness, car seat or a sturdy crate.
Dog Car Harness
A dog seatbelt harness works a lot like a people seatbelt. You simply put the car harness on your dog like any other harness. Then the seatbelt is threaded through handles or loops to attach it to the seat. This results in a tight, secure restraint. The harnesses that go directly into the seatbelt buckle allow your dog more movement, but they are less effective in the event of an accident. Here are three of the top-rated car harnesses on the market.
EzyDog Drive Dog Car Harness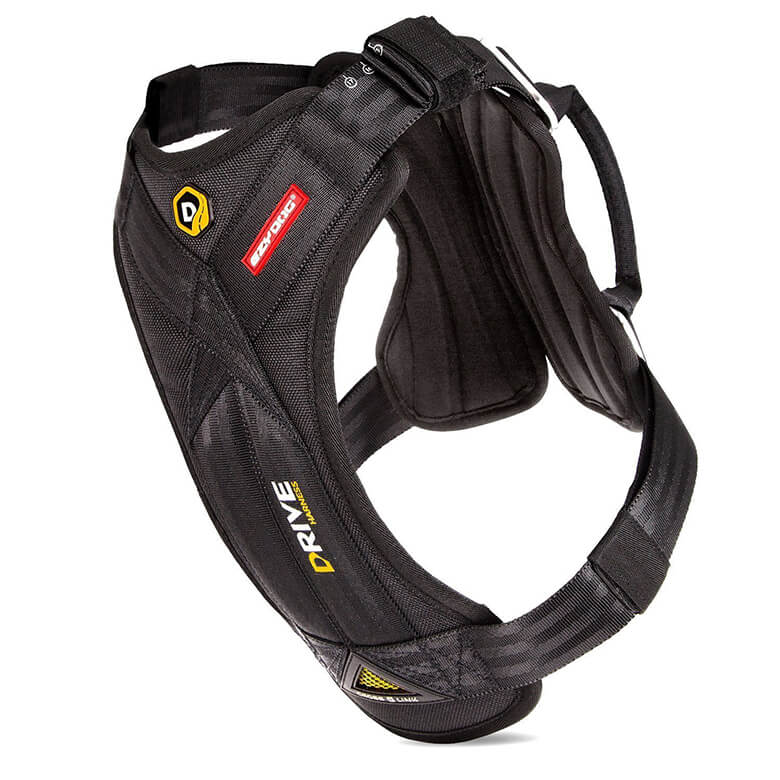 The EzyDog Drive Dog Car Harness is made to be customized to fit your dog by adjusting the webbing, which are marked with measurements so it can be properly balanced. It features a patented Mag-Lok instant closure, two D-rings for a leash and a padded chest plate. You then thread the car seatbelt through the two handles on the harness, click into the buckle, and then tighten to remove slack. Light yet very strong, it's crash tested and certified.
Small-Large, $99
Ruffwear Load Up Harness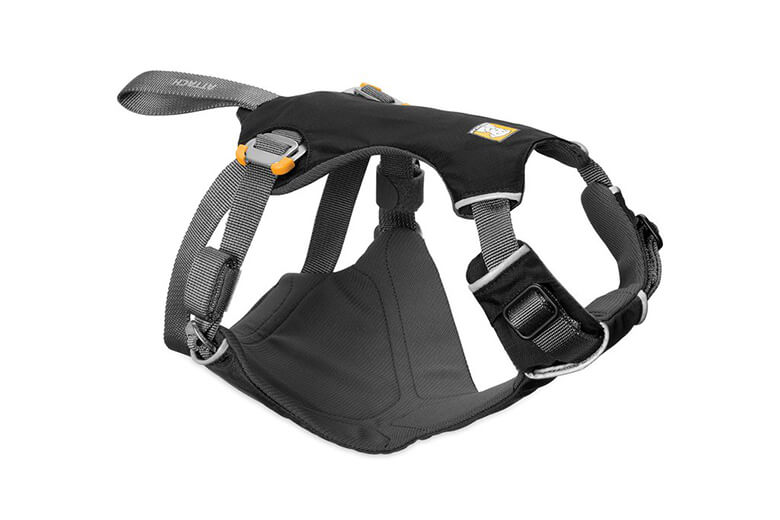 The Ruffwear Load Up harness is built with strength-rated hardware and components. Loosen all the straps before putting on your dog. It goes on over the head, fits under the belly and attaches to the back plate with buckles. Then tighten all the straps until the harness is snug. In the car, run the seatbelt through the seatbelt attachment loop and buckle the seatbelt in. This restrains the dog but still allows some movement.
XXSmall-XLarge. $79.95
Related: Does Ruffwear's Jet Stream Vest Really Cool Off Your Dog?
Kurgo Impact Dog Car Harness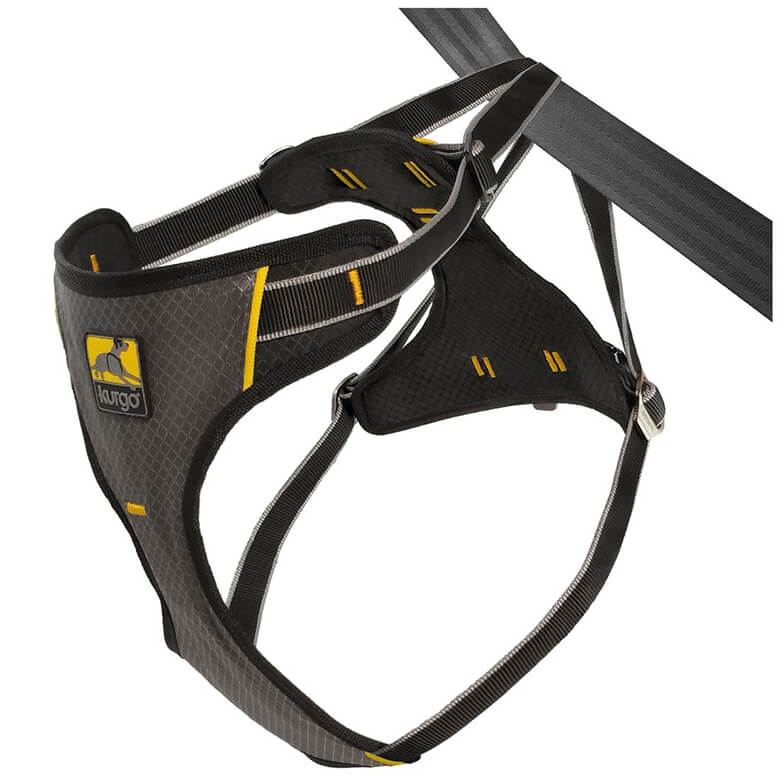 The latest Kurgo design uses a single piece of high tensile tubular webbing with reinforced bar tacking, which makes it extremely strong. To put it on, pass it over your dog's head, line up the back pad, center the chest pad on his chest, pull your dog's legs through the loops and adjust the straps for your dogs. The seat belt then passes through the two straps and clicks into the car buckle. Crash tested with a 130-pound dog.
Small-Extra Large. $75
Dog Car Seats
Dog car seats tend to work best for small dogs, typically under 30 pounds. Dog car seats keep your dog elevated so she can see out of the window and feel the wind on her face. Your dog can also stretch out, curl up and snooze. A dog car seat's main purpose is to keep your dog off your lap, which is not only dangerous for your dog, but results in distracted driving accidents. However, while these attach to the car, many of them don't include a way to secure your dog. The recommended ones have a dog car harness built in or a way to tether the dog by the car seatbelt.
Kurgo Skybox Dog Booster Seat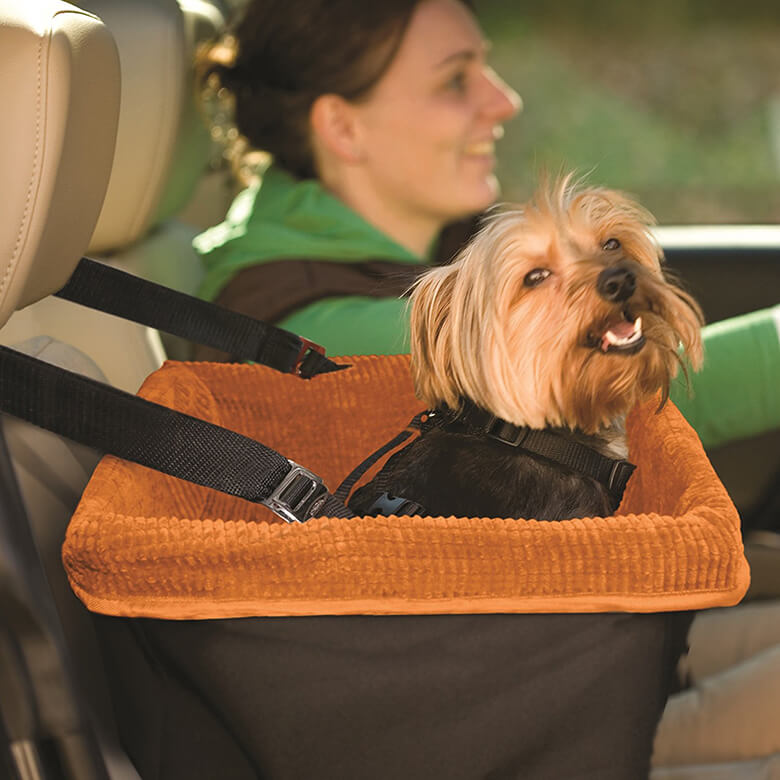 The Kurgo Skybox can be used in the front or the backseat. It attaches to the headrest of the seat and buckles around the seat back. It's meant to be used with the Tru-Fit Dog Car Harness. It features metal supports for structural integrity, and it's waterproof. Recommended for dogs up to 20 pounds.
Styles range from around $40-$90.
The harness is under $35.
Pupsaver Car Seat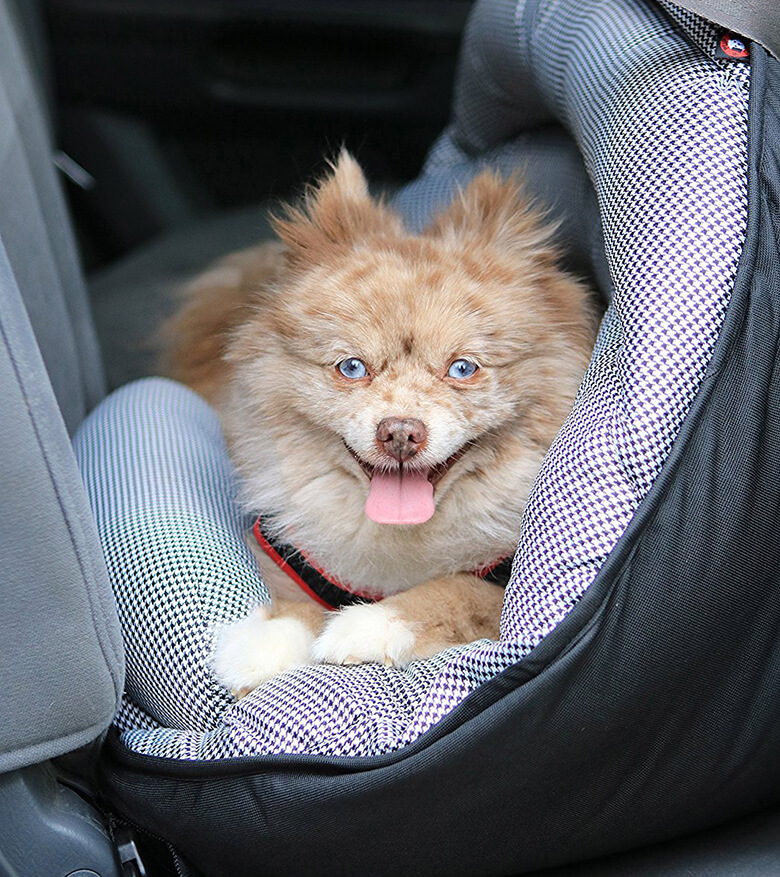 The Pupsaver is actually crash tested. These seats are rear facing to protect your dog but still allow him to see out the window. They connect to the car with two universal anchorage system hooks, which anchor it to the seat. Your dog is then clipped onto a strap. It's meant to be used with the PupSaver Harness.
Styles, which are size-rated, range from $154.95 to $179.95.
The harness is $29.99.
Related: The Doggy Sunscreen I Fell In Love With
All our picks our independently chose, but we do earn an affiliate commission to support our work. However, if we don't like the product, we aren't going to write about it. Making a few cents off an affiliate just isn't worth it to us.