A rescue dog in Liberia has a new mission in her life: comfort abandoned chimps.
Named Princess, the 9-year-old rescue dog belongs to Jim and Jenny Desmond, wildlife rehabilitators who treat injured and orphaned animals around the world.
Their latest mission has taken the crew to Liberia. The Desmonds are there to help two groups of chimps — one being babies who are victims of the illegal bushmeat and pet trade.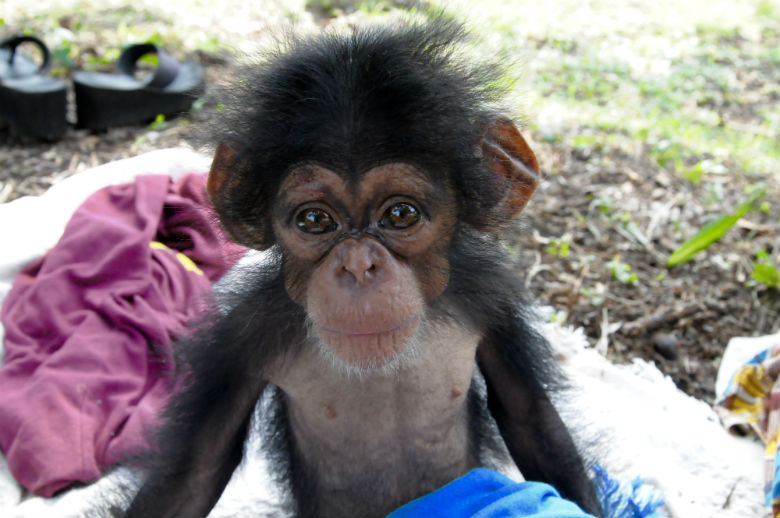 "All the orphans were confiscated by Liberia Forestry Development Authority from hunters who had illegally killed their mothers, and/or families, for bushmeat," Jenny Desmond tells This Dog's Life. "They then pull the babies off their mothers and sell them illegally as pets."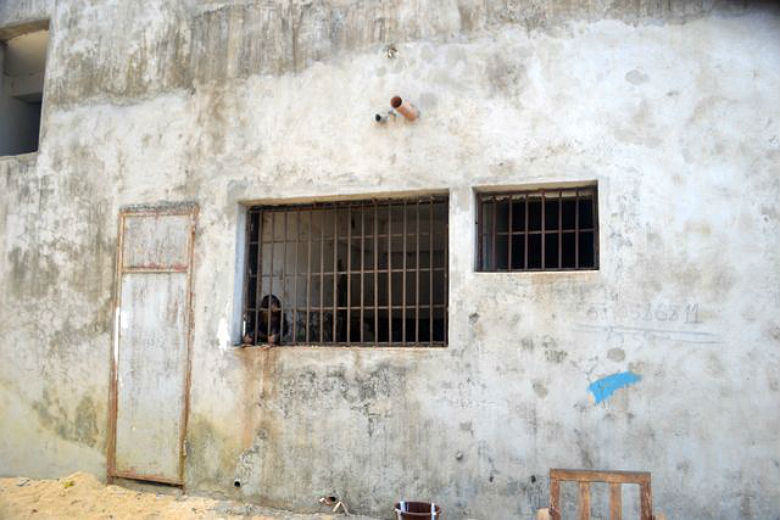 So far, five orphaned chimps have arrived at the Desmonds onsite work location, the Liberian Institute for Biomedical Research. They were taken by the Forestry Development Authority and handed over to the Desmonds as their guardians.
Related: A Dog That No One Wanted Takes a Cheetah Under His Wings
While they work to provide the chimps the necessities of life — food, water and healthcare — Princess provides comfort to the baby chimps and earns their trust back, a role she loves.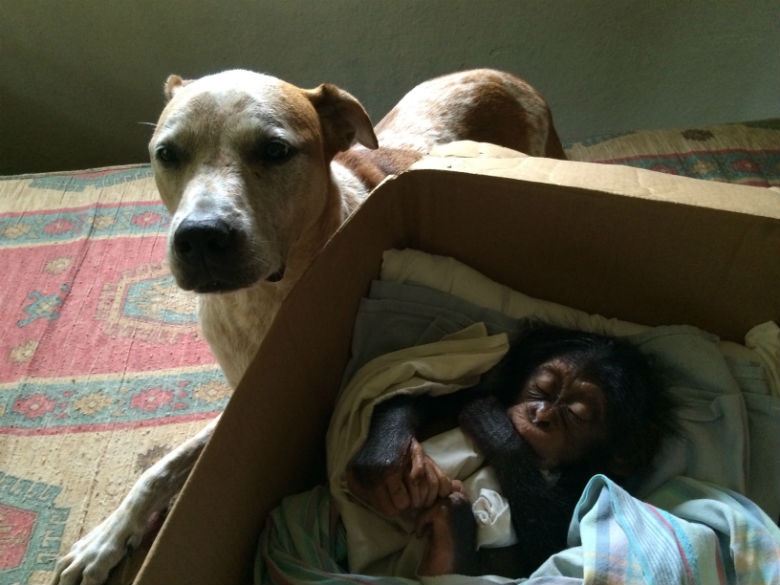 "When a box comes into the house, whether filled with rescued animals or not, Princess gets VERY excited and hopeful about who might be inside," Jenny Desmond tells This Dog's Life. "She also completely adjusts her role depending on the size, age, personality, needs of each new foster family member — it is remarkable!"
Ranging in ages from 2 months to 5 years old, Princess works to build up trust and comfort them.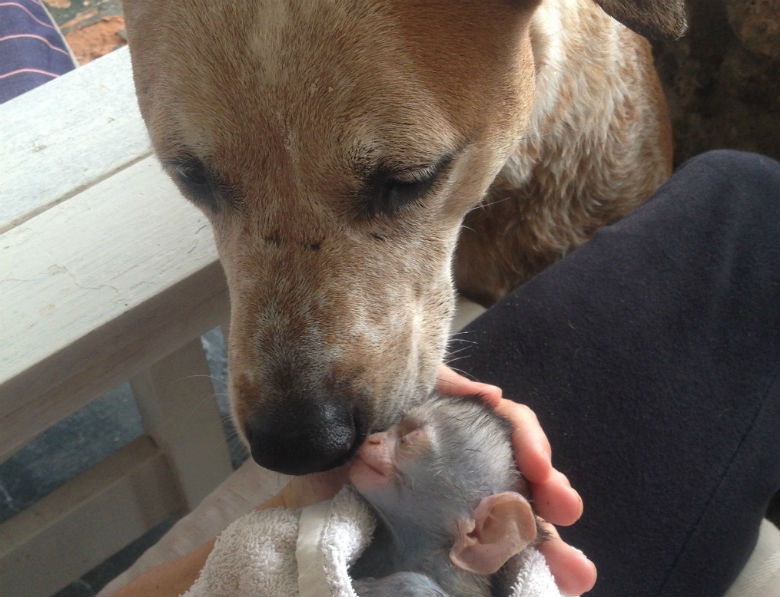 "Princess truly helps the chimpanzee orphans feel safe, secure and loved. She adds immensely to the feeling of family they inherit when they come into our home," Desmond says, adding that in no way should these chimps be ever kept as pets. "Not only does she welcome them and shower them with gentle kisses, but she is also very protective of them."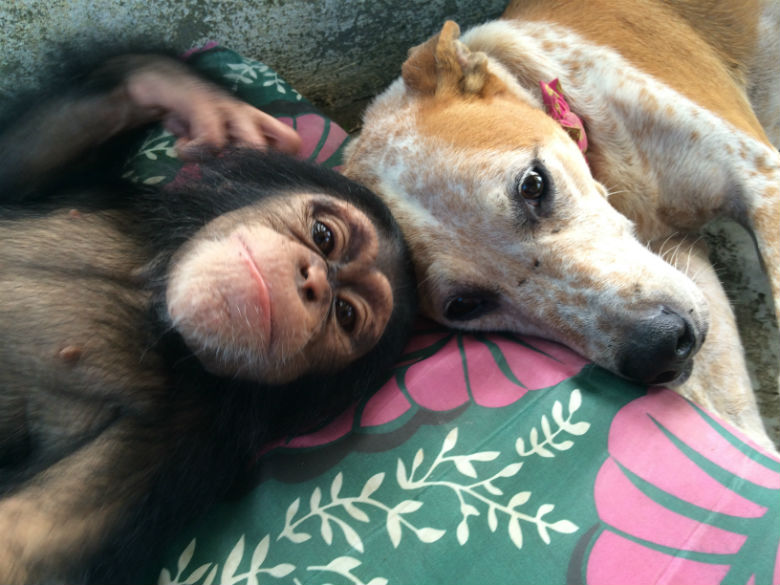 Related: Enormous Dogs Are Keeping Cheetahs Safe and Away From Livestock
Desmond tells us that if a stranger comes too near to the babies, Princess will put herself between them and the person while giving a warning bark, so they back off.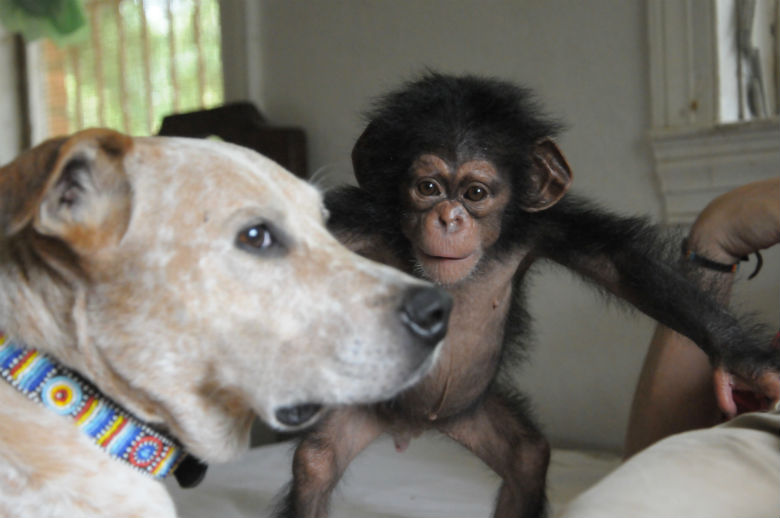 One chimp Princess has had a huge impact on is Portea, who arrived emaciated, depressed and traumatized.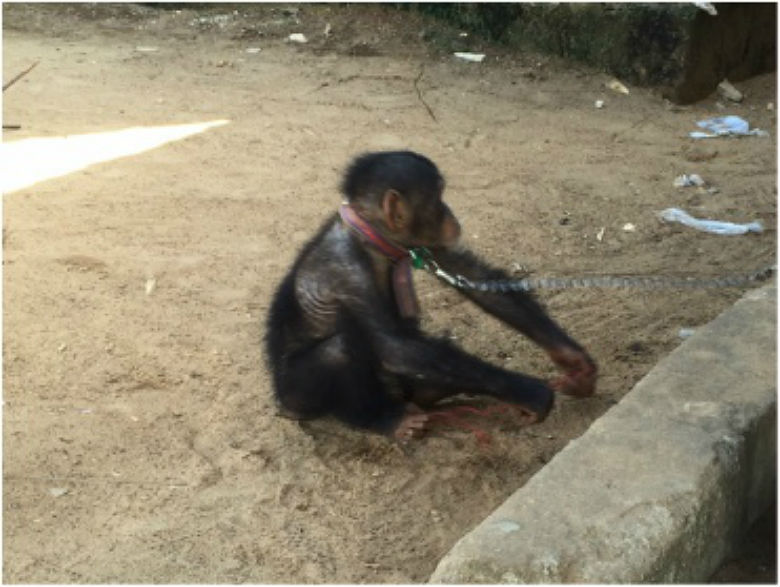 "We gave her love and care and 24-hour attention," Desmond says. "However, what truly brought Portea out of her shell was Princess. She became her best friend and they played for hours on end."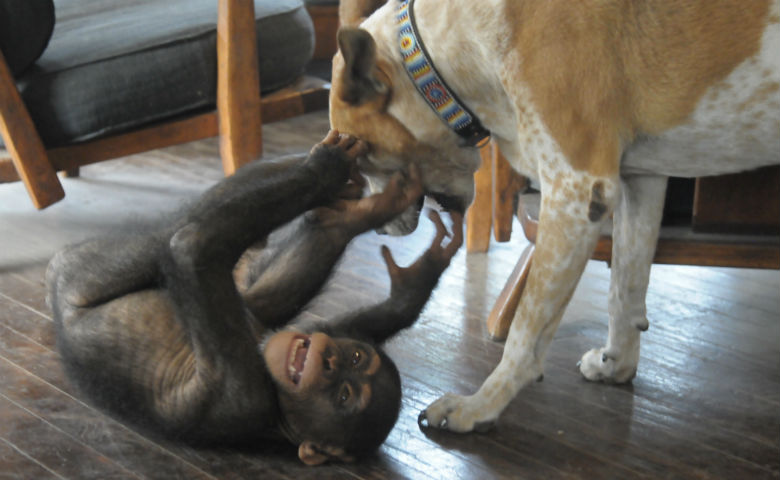 Portea transformed from a chimp who was extremely sad to one full of life. Eventually she was introduced to two other chimpanzees and lives with them. But Princess still visits Portea every day and the chimp continues to be excited to see her.
At one time, Princess, herself, was like Portea and the other abandoned chimps. She was rescued by Sterling Animal Shelter in Massachusetts and was considered "unadoptable." "She was not exactly scheduled to be euthanized although this could very likely have been her fate without a lot of work," Desmond says. They decided to initially foster her but ending up adopting her. It is a good thing they did.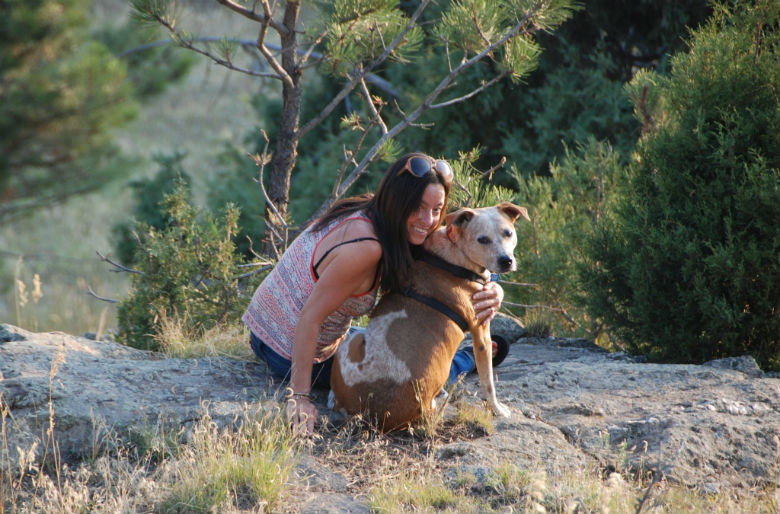 "I feel that Princess' presence alone is a true comfort to all the needy creatures who come into our home," Desmond says.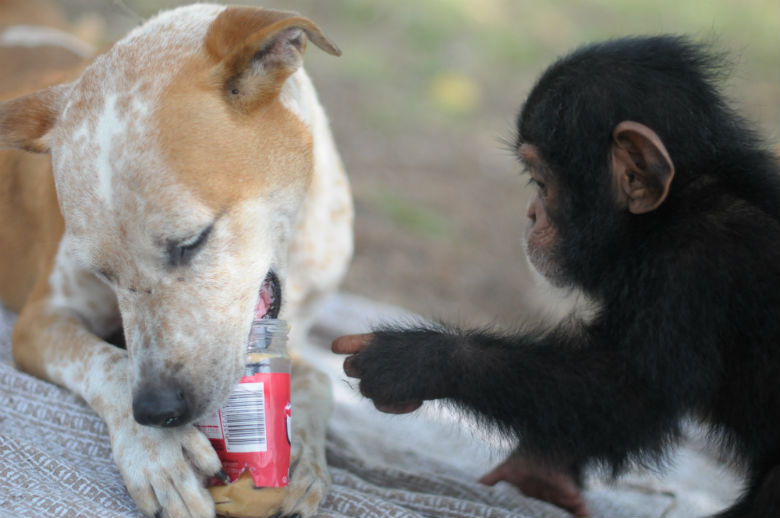 The other group of chimps the Desmonds help were used in research laboratories and literally dumped on a nearby island to fend for themselves.
Related: Abandoned by His Mother, a Takin Gets a Dog Nanny
In 2015, the New York Blood Center (NYBC) abandoned 63 chimpanzees after subjecting them, and others who passed away, to invasive research for 30 years, according to Desmond. After ending their research, NYBC brought them to an island in 2005. After supplying the chimps with food and fresh water for 10 years, in 2015, the nonprofit stopped caring for the chimps, telling the Liberia government it was now their problem. Without a plan set up for how these animals were going to live out the rest of their lives and a country grappling with Ebola and a struggling economy, the chimps were basically handed a death sentence.
Since this time, NYBC has consistently refused to take ownership of this problem, despite pressures from organizations and people around the world. (NYBC did at one time offer to pay less than 5 percent of the costs, but animal welfare groups refused the settlement, considering it unreasonable, according to Desmond.)
To ensure their safety, the Desmonds have teamed up with the Humane Society of the United States, along with 30 other animals groups, and raised hundreds of thousands of dollars to provide care, food and medical attention to the chimps. According to HSUS, it costs approximately $30,000 a month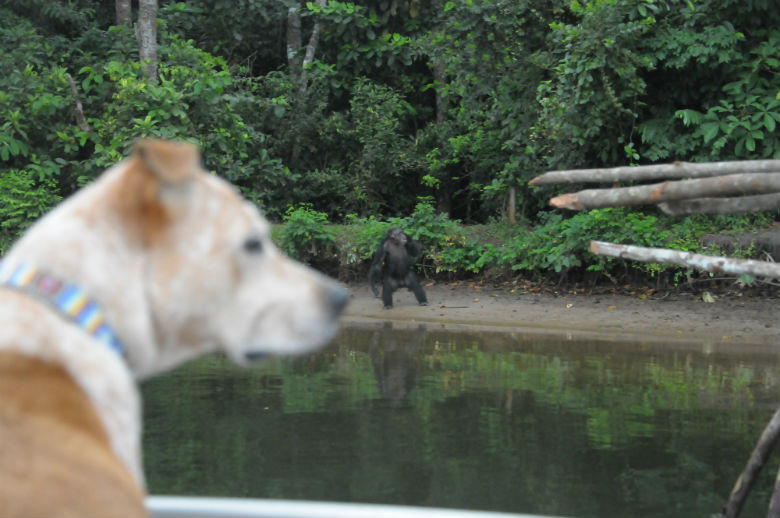 Moving forward, the Desmonds and Princess will continue helping the chimps in Liberia. They are hoping for a permanent sanctuary to help chimps in need. There are currently between 10 and 15 in need of rescue.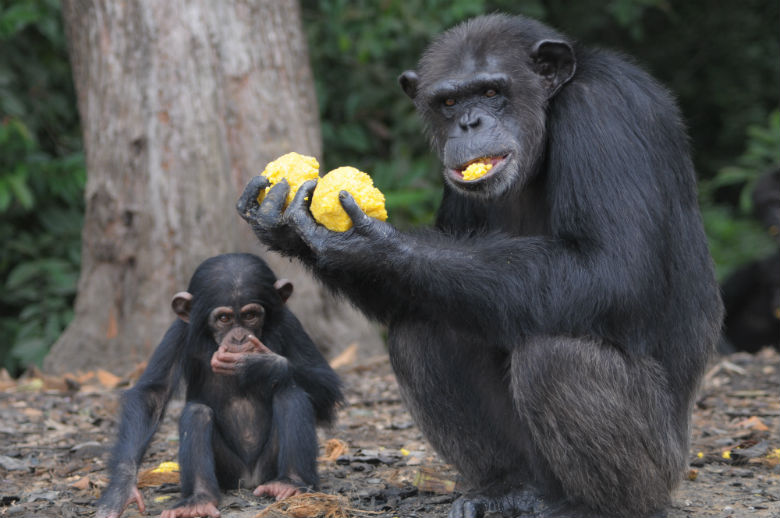 "The establishment of a sanctuary in Liberia would not only help rescued chimpanzees but also support law enforcement in putting a stop to the illegal bushmeat and pet trades," says Desmond. "In addition, a sanctuary plays an integral role in promoting conservation and protection of chimpanzees, their habitat and all wildlife in peril."
Related: Dogs Protect Adorable Little Penguins From Going Extinct on Remote Island