After being dragged nearly a mile, a dog is now is good hands as he recovers in a full-body cast.
This past week, a Galveston County Animal control officer was called out to Sante Fe, an unincorporated area outside of Houston, after it was reported that a dog was dragged nearly a mile by a truck.
Upon arriving, he discovered a severely injured 6-month-old Australian shepherd, with deep wounds all over his body, including some where muscle tissue and bone were exposed.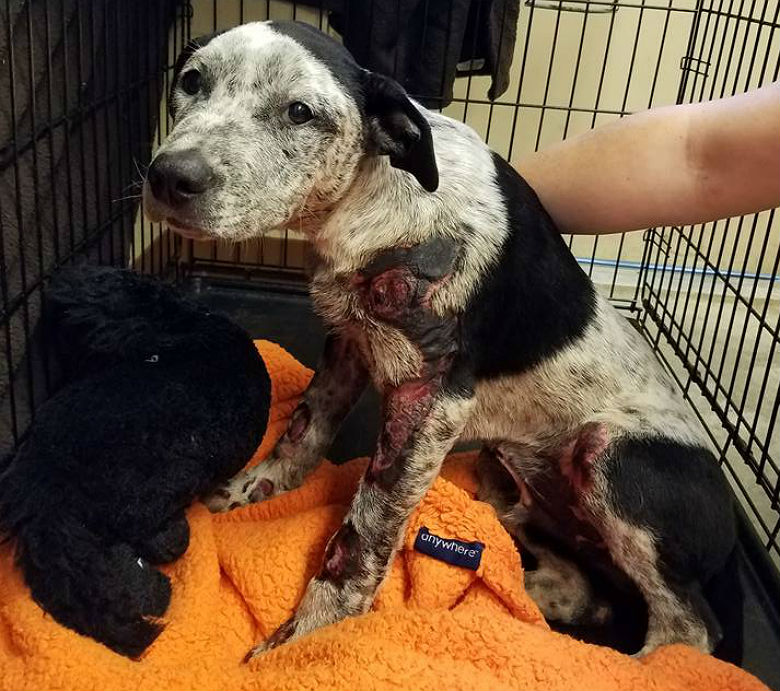 A woman told the officer that the puppy was temporarily tied to a trunk by her 12-year-old daughter when the girl wanted to go play down the street, it has been reported. Her father got in the vehicle and drove away, with the dog being dragged behind. After about 3/4 mile, the dog's collar snapped and he was freed. It is unknown if it was accidental or purposeful.
Related: Puerto Rico's 'Dead Dog Beach' Is Becoming 'Dead Dog Island'
The dog, now named Arlo, was immediately brought to Houston's VERGI Animal Hospital where workers performed emergency surgery on him. Because large patches of skin had been shredded from his underside and shoulders, he was immediately put under sedation, where he underwent cleaning, clipping and debridement. Later on, X-rays were performed and a broken toe was discovered.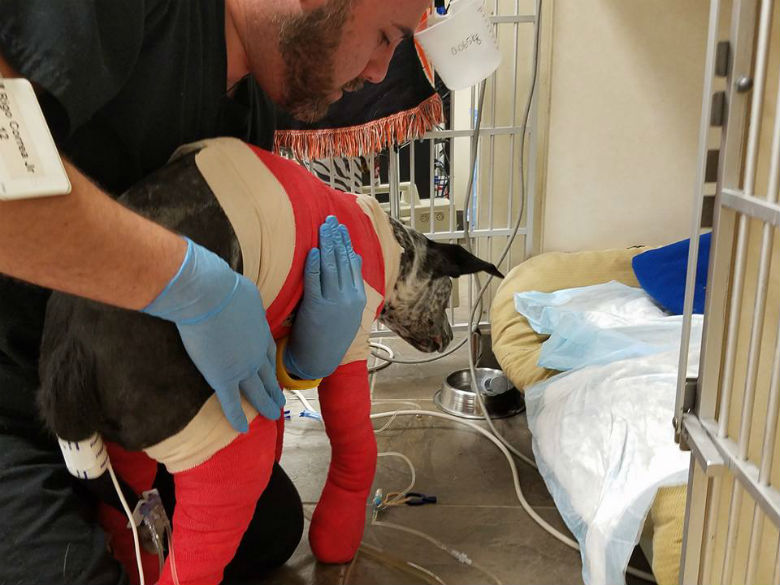 Despite everything he has been through, Arlo isn't giving up.
"Today Arlo greeted me with a slow wag of his tail. It was a happy and hopeful surprise to see," a volunteer from Houston K911 Rescue, the organization helping Arlo, wrote on its Facebook page. "It made me tear up to see him so vulnerable yet so accepting of his condition. He's being a good little patient."
Related: Abused Pit Bull Caitlyn Gets Completely Spoiled on Special Day Just for Her
He is working up an appetite, too. "He was offered a dish of diced chicken which he sniffed at but didn't eat. The tech determined that Arlo probably wanted it warmed up and sure enough he ate a little bit after the food was warmed," Houston K911 Rescue wrote on its Facebook page. "You want it warmed, it will be warmed."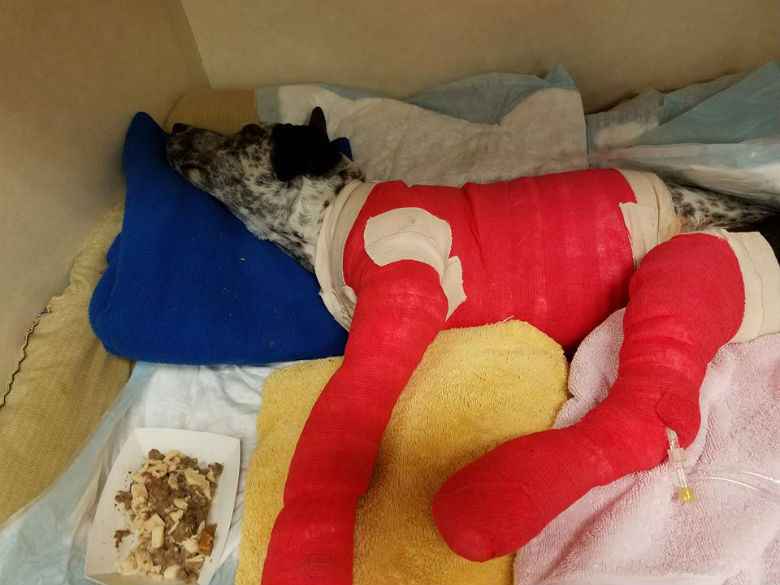 Arlo is now at Texas A&M Veterinary Hospital where a soft tissue specialist believes he will need skin grafts in order for his wounds heal and will be on the mend for weeks.
Houston K911 Rescue has raised more than 10,000 for his medical needs, as they are 100 percent committed to helping him. "Everyone who has met Arlo has fallen in love instantly," says Anna Barbosa from the organization. "We will do everything within our power to keep him safe and comfortable."
Related: Dog Weighed Down By Chain and Muzzle Taped Shut Now Has Reason to Live
If you are interested in helping out, or hearing about updates, check out Arlo's YouCaring page.