A dog discovered at the bottom of a dry creek bed left for dead is getting a second chance in life.
Randy Abke and his wife were enjoying their usual walk on a path in Waller County, Texas, when for some reason, they decided to change it up a bit – a decision that saved a dog's life.
"We never go to the right we always go to the left," Abke told Fox News. "And for some reason I stopped at that culvert.
At the bottom of dry creek, lay a dog weighted down with a heavy chain and whose muzzle was duct-taped shut. It was an obvious case of extreme animal abuse, and the person had left the dog to die a slow, painful death.
Related: Man Accused of Taping Dog's Muzzle Shut Faces Federal Gun Charges
"My wife said oh my God she just sat down there on the street and started bawling," Abke told the outlet, adding that his wife told him that "God sent us to this dog to save this dog."
The couple acted quickly, calling 911 and was connected to dispatcher Donna Mace. "I actually thought I was sending the deputy out to put him down, because it sounded that bad," Mace told Houston's KHOU.
But the dog, now named Rusty, pulled through. After being checked out by the vet, Anke wrote on Facebook that the puppy was doing well and "ate, drank and wags his tail." He also added that while he wanted to take the pup, his house was already full with three other dogs.
Related: The Woman That Duct-Taped Her Dog Found, Animal Not Removed From Her Care
You need not worry. The local veterinarian was bombarded with applications to adopt Rusty, with one being from the dispatcher that took the call. "When I found out the next morning he had made it and he was doing well, I told my husband," says Mace. "I just feel like it's something I had to do."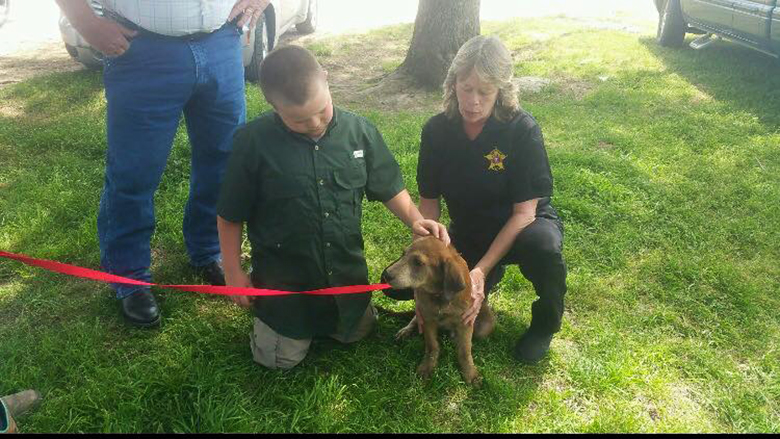 Mace, along with her family, took Rusty home this past weekend and Anke posted a video of the event.
"As you can see, Rusty seems pretty content with his new life, and it has barely even begun!" Mace says in the clip. "We've got a big yard and a lot of loving family members. He's not going to want for a thing."
Anke also feels like the dog struck the jackpot, writing on Facebook that Mace, "just loves him to the moon and back."
While Rusty has a happy ending, the person who did this to him is still at large. There is a $1,000 for any information leading to the arrest of the person responsible for this heinous act. Please call: 979 826-8282.