After six months of fostering a Chihuahua, last week a New Jersey woman tried her best to write a profile for the "demonic" foster dog – and it went viral.
Tyfanee Fortuna took to Facebook to share her brutally honest bio post of her foster dog Prancer, seeing if anyone out there would be a good fit to adopt the 2-year-old dog.
"Ok, I've tried. I've tried for the last several months to post this dog for adoption and make him sound…palatable. The problem is, he's just not. There's not a very big market for neurotic, man hating, animal hating, children hating dogs that look like gremlins," she wrote on Facebook.
She goes on to describe him as "the demonic Chihuahua hellscape" that taunts her family every day. "If you own a Chihuahua, you probably know what I'm talking about. He's literally the Chihuahua meme that describes them as being 50% hate and 50% tremble," she says.
Related: An Adopted 14-Year-Old Is Giving Senior Dogs a Second Chance at Life
Prancer came to Fortuna through a local rescue organization, Second Chance Pet Adoption League, that is completely foster based, meaning there isn't a physical shelter. "Prancer came to me obese, wearing a cashmere sweater, with a bacon egg n cheese stuffed in his crate with him. I should have known in that moment this dog would be a problem."
But Prancer's true colors didn't come out until a week or so later. The first week, he was quiet, as he hadn't come out of his shell yet. "He just laid on the couch. Didn't bother anyone. I was excited to see him come out of his shell and become a real dog," Fortuna said.
She soon found out he only likes woman – literally no one else.
"He hates men more than women do, which says a lot. If you have a husband don't bother applying, unless you hate him. Prancer has lived with a man for 6 months and still has not accepted him. He bonds to a woman/women and takes his job of protection seriously. He offers better protection than capitol security," she writes.
And for those who have other animals. Prancer may not be a great fit for your home.
Related: The 10 Biggest Myths About Adopting a Dog From a Shelter or Rescue
"Have other dogs? Cats? Don't apply unless they like being shaken up like a ragdoll by a 13lb rage machine. This may be confusing to people, as he currently lives with my other 7 dogs and 12 cats. That's because we have somewhat come to an agreement that it's wrong to attack the other animals. But you know that episode of The Office where Michael Scott silently whispers, 'I'll kill you.' to Toby? That's Prancer having to begrudgingly coexist with everyone when I'm around."
Children also a no-go, for obvious reasons.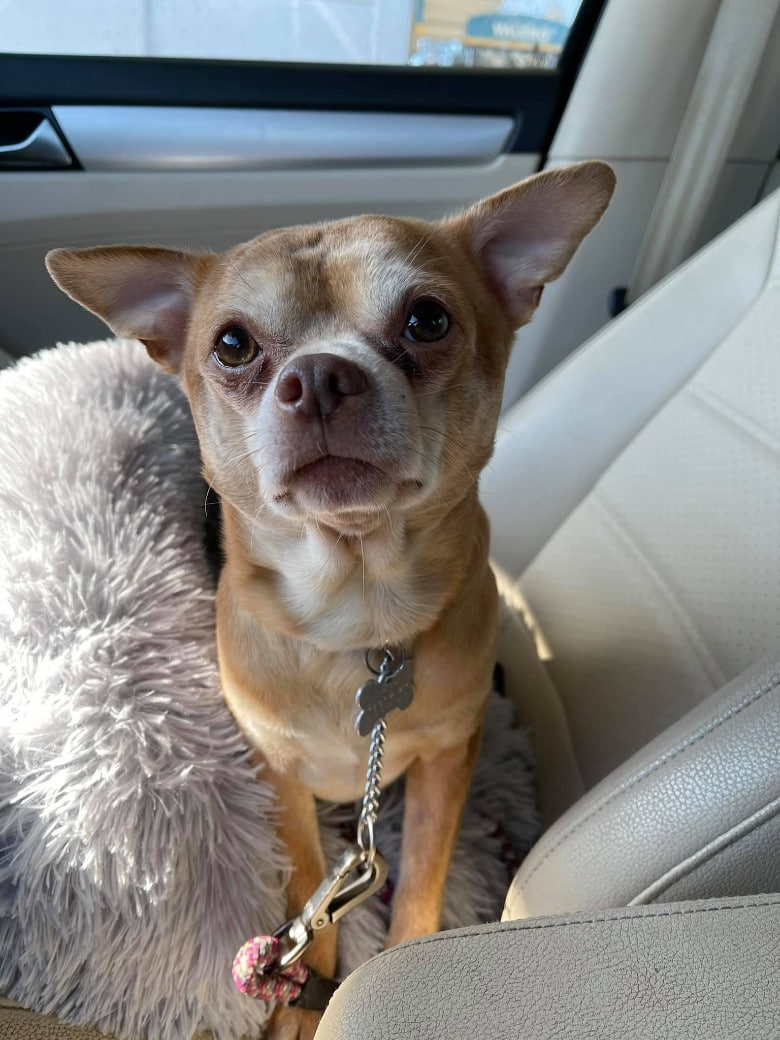 Still, Fortuna is holding out hope, believing there is someone out there who will accept him for all his flaws – and strengths.
"He is loyal beyond belief, although to tell you a secret his complex is really just a facade for his fear. If someone tried to kill you I can guarantee he would run away screeching. But as far as companionship, you will never be alone again. He likes to go for car rides, he is housebroken, he knows a few basic commands, he is quiet and non-destructive when left alone at home," she writes. "He also 'smiles' when he is excited."
And for those who really want to make Prancer part of their family, there are a few stipulations.
"His ideal home would be with a single woman, a mother and daughter, or a lesbian couple. You can't live in an apartment or a condo unless you want him to ankle bite your neighbors. We already addressed the men and children situation. If you have people over he would have to be put away like he's a vacuum," Fortuna states.
Related: 7 Reasons Why Adopting a Dog Is the Way to Go
With now more than 60,000 shares on Facebook and lots of interest, we are hoping Prancer finds a forever home, and both him and his human can live happily ever after. For those interested, Fortuna provided information about Prancer.
"He is in New Jersey but can be adopted anywhere in the general tri state area. If you've always wanted your own haunted Victorian child in the body of a small dog that hates men and children, please email njwoof@cs.com," she writes. "Oh, also he's only 2 yrs old and will probably live to be 21 through pure spite, so take that into account if you're interested."
Check out the full post below: