Stray dogs have it hard and look for safety and security in a number of ways — warm place to sleep, food scraps, and human contact. But for one dog, he found solace in something unique: a unicorn, or to be more exact, a stolen unicorn.
Animal control officers were called to a Dollar General store in North Carolina after a homeless dog would not leave. The pup, believed to be a Labrador mix, would trot into the store every time someone came out and beeline to the toy aisle. Once there, he'd grab a bright purple unicorn toy and make a run for it.
"He went straight for the unicorn, the same one every time," Joe Newburn, a supervisor at Duplin County Animal Services , told People. "The only thing we can think is that he came from a home where he had a similar stuffed animal or kids in the home did."
Related: A Stray Dog That Kept Showing Up at a Car Dealership Is Now an Honorary Employee
Samantha Lane, the officer who took the call, thankfully, gave into the dog and bought the $10 unicorn for him. He happily went with her after he got his toy.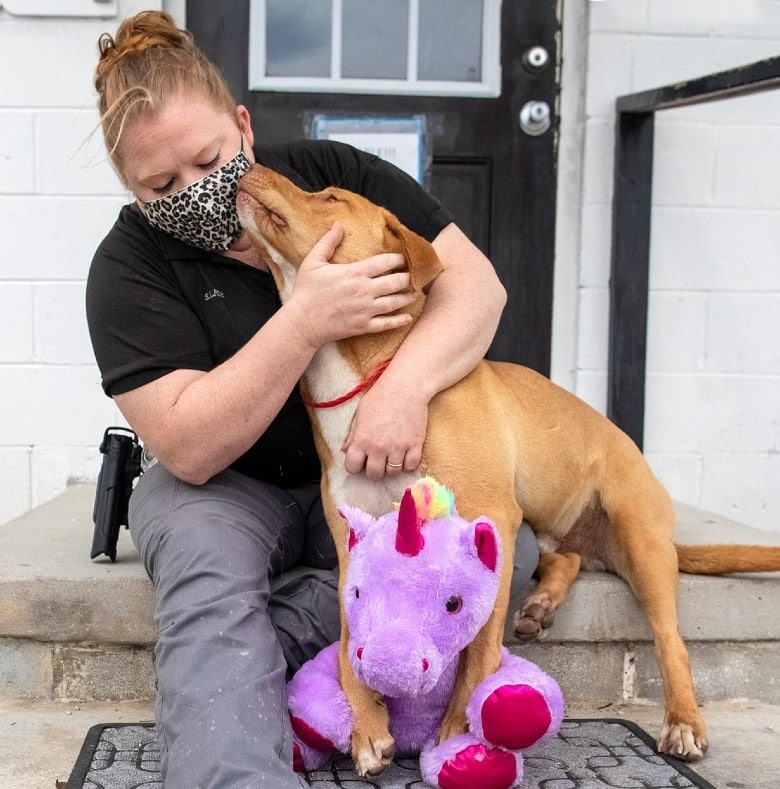 Once at the shelter, the team named him Sisu after the dragon in Disney's new film, Raya and the Last Dragon, and posted on the agency's Facebook page.
"This is what happens when you break into the Dollar General consistently to steal the purple unicorn that you laid claim to but then get animal control called to lock you up for your B & E and larceny but the officer purchases your item for you and brings it in with you," the team posted, with information about adopting him.
Related: An Ikea In Italy Lets Stray Dogs Hang Out In Its Store — and Customers Love It
You can imagine that after the post went up, Sisu got a lot of interest. There were more than 22,000 shares. (The Duplin County Animal Services looked for his owner to no avail.)
"It's so sweet. It's amazing. I mean, he's obviously super smart, and even when we got him to the animal shelter, he's been very obedient. He sits, shakes. Someone should be looking for him," Newburn told the outlet. "I don't know of any other reason why he would focus on the unicorn other than he had one at home. If the store had called and said he tore open dog food, that would make more sense but not hunting for a purple unicorn."
Sisu found a rescue and an adopter. Once he goes to his new home, Dollar General spokesperson Crystal Luce told People that the company plans on sending a "few extra purple unicorns for the adoptive family."
Related: Every Night, Coffee Shop Opens Its Door to Stray Dogs