Melani Andrews didn't want a dog. For the last 12 to 15 years, she'd been a caretaker for her mother-in-law and husband. Early this year, she lost her husband and her American stanford bull terrier. "I really needed time alone," she says.
But, Andrews says, she kept hearing about dogs who gave their love and life in service, and when they needed help, they were cast aside due to finances.
Related: Dog With Terminal Cancer Is Living Out His Last Days Checking Off His Bucket List
"I got to thinking no dog who has problems should have to end their life in a kennel situation," she says. To her, dogs should be able to spend their golden years comfortably, surrounded by love. So, she decided to visit her local rescue, Front Street Animal Shelter in Sacramento, California.
"This kind woman walked into our shelter and asked who the oldest, hardest to adopt dog was," reads a post on the shelter's Facebook page. "So, we introduced her to Jake."
Jake is a small 12-year-old muttigree who came into the shelter as a stray after his former family deserted him. He was suffering from skin infections, dental problems and terminal cancer – but that didn't hold him back.
"Jake was alert," says Andrews. "You could tell he liked people and wanted to be picked."
He fit the description of the hardest to adopt dog that Andrews had requested. "He was pretty motley with crusts and lesions on him and a snaggle tooth on his lower right side." So, of course, she decided to take him home.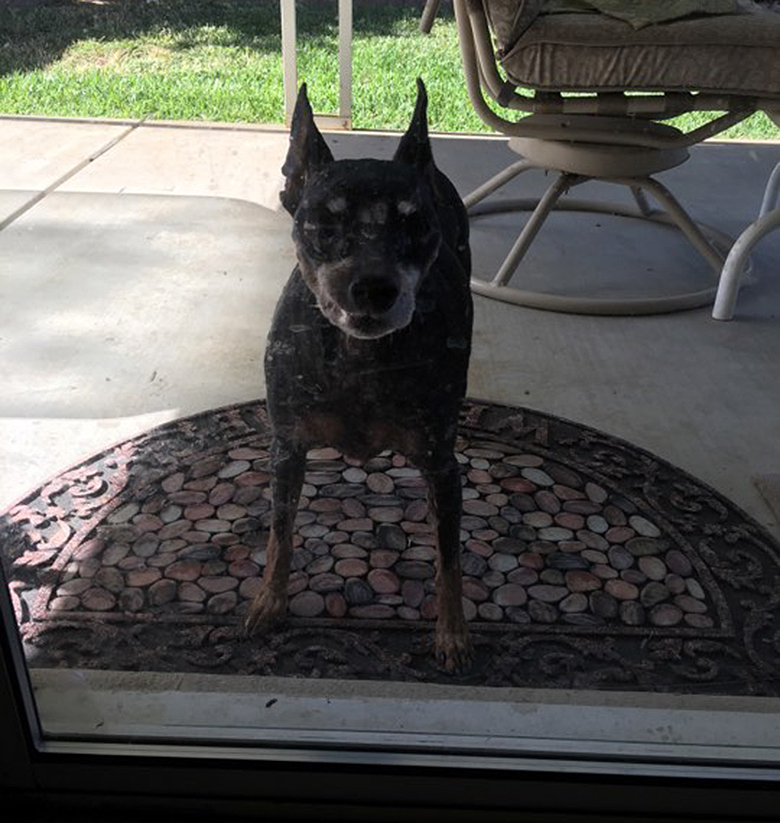 Related: Dog Found With 35 Pounds of Extra Fur Gets a New Lease on Life
He was excited to get going, so they leashed him up and took him to the front. That's where Andrews discovered that he had a strong attachment to one of the workers. Jake "tore out after her howling," she says. "She had to bring him around, and he was not happy about leaving her, I can tell you. I knew then I had a fighter that wanted freedom and some comforts of his old life."
Jake followed Andrews everywhere for the first three days. "He was learning the lay of the land," she says.
Today, Jake enjoys a routine of short walks and naps, taking care to wrap himself up tightly in a fleece blanket before settling down to sleep. On some afternoons, Jake rides along in the car when Andrews goes out for errands. Sometimes they walk around the mall, and Jake gets to sniff around and say hello to other dogs.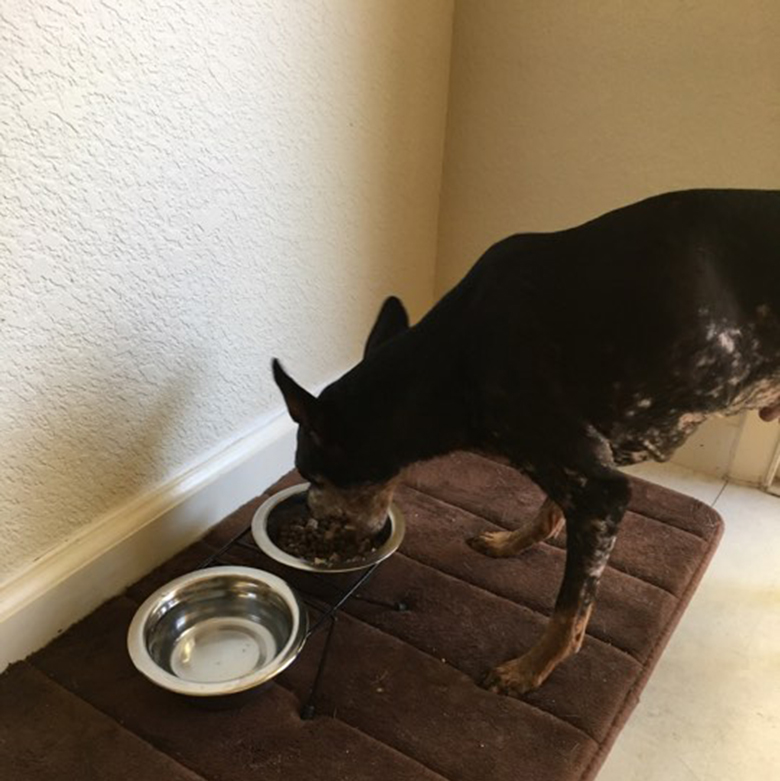 Andrews says that Jake is almost deaf, and she has to have face-to-face contact for the dog to respond to her. His eyes are hazy, which may be the result of cataracts. All this makes Jake a very lucky dog. The majority of senior dogs in the shelter system, especially those that are sick, usually have a few days until they are euthanized, taking their last breath in the cold, frightening, impersonal environment of a kennel.
After many visits to the vet, during which Andrews discovered that the little dog is a well-behaved patient, she is able to make Jake comfortable with a combination of calming shampoos and prednisone to relieve the uncontrollable itching of his cancer bumps and an antibiotic to alleviate secondary infections. None of this bothers Andrews. "Jake is a fighter. He's a great companion."
Related: Former Marine Embarks on 'Farewell Tour' With His Terminally Ill Dog