After a dog was diagnosed with terminal cancer, volunteers at a shelter are making sure his last days are the best possible.
Rocko, an 8-year-old lab mix, was recently returned to Arizona's Maricopa County Animal Care and Control shelter for the third time in 15 months. It was soon discovered the dog had lymphosarcoma, an incurable cancer.
"Rocko has been in a foster home and taking medicine since September," says Melissa Gable, the public information officer for Maricopa County Animal Care and Control, tells This Dog's Life. "He was doing great, but lately it appears the medicine is losing its effectiveness, and we don't know how much longer he has to live."
Related: Former Marine Embarks on 'Farewell Tour' With His Terminally Ill Dog
Despite his prognosis, volunteers wanted to make his time left on our planet as amazing as possible. So, they created a mini bucket list for Rocko, filled with fun places to visit, activities and delicious food. It is basically doggy nirvana.
The first top on the list was a visit to a local fire department this past Friday to let Rocko ride in the fire truck.
"I'm not sure what he liked better – the fire engine ride or the female firefighters," says Gable.  "He's quite the ladies man."
The first experience was bittersweet. "I was at the fire station with several volunteers," says Gable. We were fine until the firefighters drove the truck with Rocko inside down the street in front of us with the lights and sirens. We broke down at that point."
Related: Hundreds Gather for the Last Walk Owner Takes With His Dog on Beach
This upcoming weekend, Rocko is going to hang at a dog-friendly restaurant, surrounded by everyone that loves him, along with a bunch of tennis balls.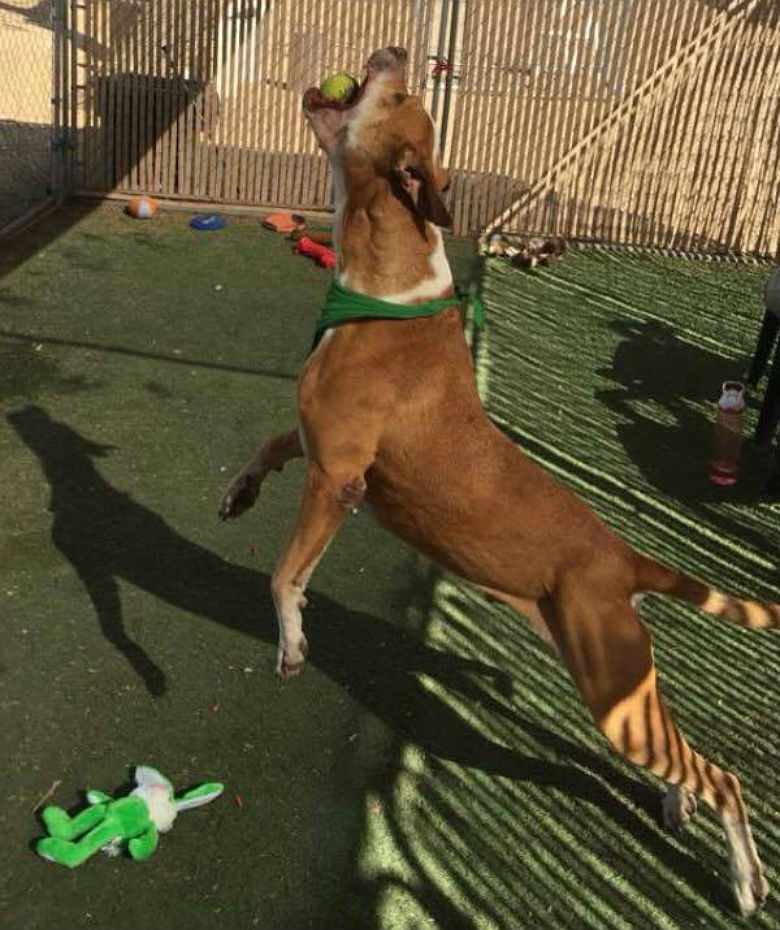 Other activities they would like to knock out, include walking a beat with a police officer, visiting the Chicago Cubs training facility in Mesa, Arizona,  getting an honorary degree from a local college and meeting a local celeb.
"I'd love to see him meet Larry Fitzgerald. He plays for the Arizona Cardinals and is a local hero," says Gable"While I'm sure Rocko would be happy to meet anyone – the publicity has certainly helped bring attention to him and our shelter. We want people to know that although we may be an 'animal control' facility, it doesn't mean we don't care! We take in about 35,000 animals EVERY YEAR, so the more people we can get in to adopt, the better!"
Related: TV Anchor Says Goodbye to Dog With Bucket List and Heartbreaking Tribute