DOG saunters around the facility as if he owns the place. He occasionally swats one of the service dogs-in-training on the nose or curls up against their warm, furry rump. If he wants one of the big dog beds, he takes it, while the big dogs lie on the floor. After all, he's king DOG — even if he happens to be a little black and white kitten.
He's the first cat at Support Dogs, a St. Louis-based, national nonprofit organization that provides highly trained service dogs to individuals with disabilities, therapy dog services to at-risk and ill populations, reading assistance to area students and educational programming to schools and businesses.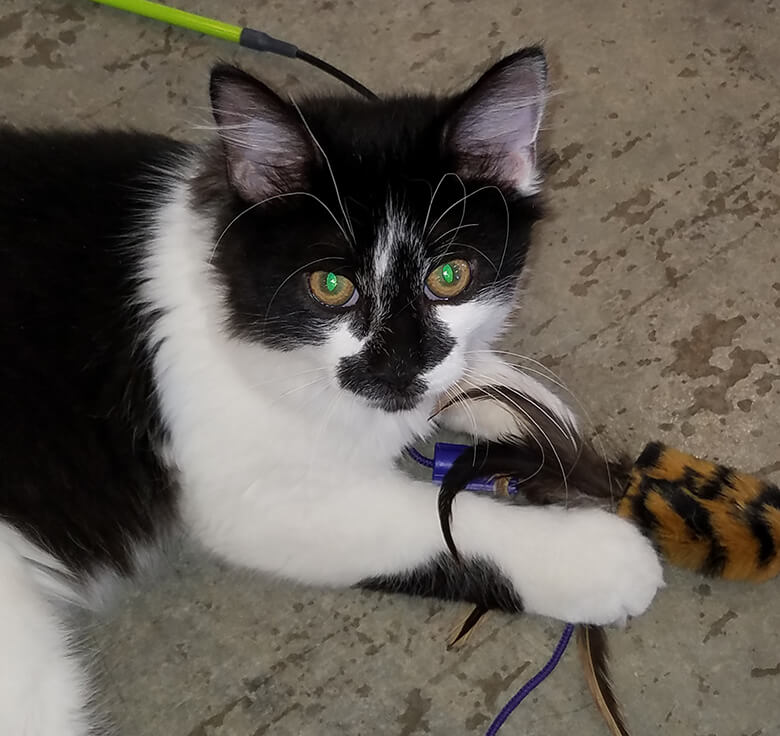 The director of Canine Services, Nadine Wenig, met DOG when she was out of town, working at facility that was home to one of their service dogs. "She came upon DOG at Netherfield Farms, the bed and breakfast she was staying at," Stephanie McCreary, the volunteer manager at Support Dogs, tells This Dog's Life. "He came right up to her, and she was instantly smitten." The B&B was kind enough to give him to Support Dogs.
At first, staff at Support Dogs was concerned about the kitten's safety. They took the introductions slow. "We saw that he was completely fearless despite his size and had no issue being around and close to the dogs," says McCreary. "Now he is so comfortable, he comes right up to the dogs in training."

Related: Dog Loves Living Like a Cat
While the kitten may seem at first as a cute and cuddly friend to the dogs, he actually assists them with their training.
Support Dogs places dogs in all kinds of settings, including employees at facilities that work with at-risk populations, private homes as service dogs and hearing dogs, and individuals that work at courthouses with abused children and adults. "We wanted a cat around so that if they should go into a setting with a cat, they would be somewhat acclimated to it," says McCreary.
And DOG is also there to test the dogs' tolerance to distractions. The cat is brought into the training room with the kennel dogs, and he walks (or runs) around them. "He will often play with their tails and bat their noses," says McCreary. "The dogs are exposed to this, and we watch for any behavioral changes and adjust accordingly."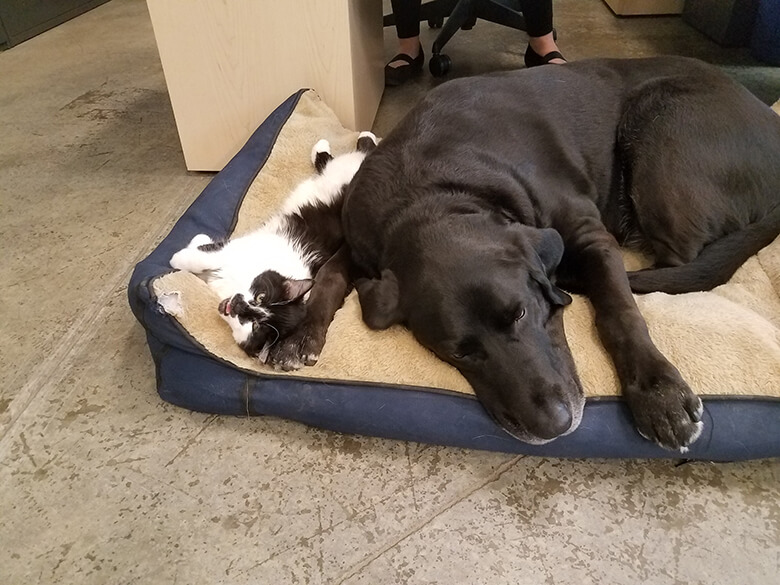 Related: Kittens Heal Dog's Heart After She Loses Her Best Friend, a 22-Year-Old Cat
So far, says McCreary, they've had little to no issues; the dogs have learned how to stay focused and ignore DOG. Focus is an important quality in a successful service dog, and other distractions such as food, toys, and other people are utilized to test that focus. A service dog can't provide service, after all, if he's running away after a squirrel.
"DOG is a loveable scamp, mischievous, and at times the silliest little thing you will ever see," says McCreary. "His fearlessness and social nature have made everyone that has met him fall in love." He has become a key element in the training of the support dogs — and he's the boss of each and every one of them.
Related: A Frightened Rescued Tortoise Finds a Best Friend in a Golden Retriever