A 9-year-old is making it his mission to protect K-9 dogs across the U.S.
Since 2017, Brady Snakovsky of Strongsville, Ohio has been raising money through his nonprofit, Brady's K-9 Fund, to provide protective vests for police dogs on duties. Recently, he added a GoFundMe campaign to help in the efforts.
His passion for helping K-9 dogs came after he was watching TV series Live PD, a show that follows police around to get a glimpse into the inner workings. He noticed that weren't wearing any protective gear. Snakvovsky decided to change that — and the dogs are grateful.
Related: Rescued From Euthanasia List, Pit Bull Goes on to Become First Deaf K-9 Dog in Washington
Dogs on the force don't have it easy. They are often tasked with sniffing out bombs, chasing down criminals and finding drugs, to name a few of their duties. And they often don't have protective gear. Because of this, causalities do occur. At least 28 dogs having died in the line of duty in 2018.
"I feel really happy when I meet one of the K-9's I've vested knowing they are now safe," he tells This Dog's Life.
Snakovsky, who is getting some help from his mom Leah, is working with Line Of Fire Defence, a Canadian company producing body armor, to provide bulletproof vests for the dogs. The price for each one is $1,200 but the company if offering them to Snakovsky at the law enforcement discount so he can provide even more to dogs in need. To date, Snavosky has donated 85 vests and has a current waiting list of 60 dogs.
Related: Report Released States K-9 War Dogs Were Abused and Mistreated by Military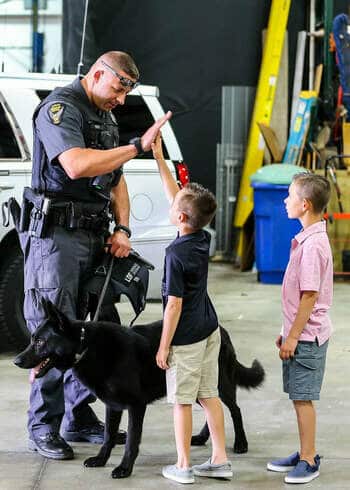 The vests are top of line. They are lightweight, keep dogs cool and provide freedom of movement, allowing police dogs to do their job to the best of their capabilities.
One of Snakovsky's favorite things is meeting the dogs who get the vest.
"I'm happy to see the handler feel better that their dog now has protection," he says. "And the police handlers are very thankful for the vest, more thankful than I thought they would be!"
The GoFundMe campaign has nearly reached its goal of $85,000. But Snakovsky isn't stopping. After the campaign ends, he will continue to host local fundraisers, have his nonprofit site up and look for additional ways to raise money.
He also has his sights on one day being in law enforcement, telling us that he wants "to be a police officer, because I want to keep people safe."
To learn how you can help, check out the GoFundMe page or Brady's K-9 Fund.
Related: K-9 for a Day: Cops Take Shelter Dogs on Ride Alongs To Help Them Get Adopted