It's the most wonderful time of the year, and I don't mean Christmas. I mean National Dog Day! Occurring on August 26, the special day celebrates all dogs, from mutts to purebreds. Of course, as dog parents, we celebrate our dogs every day, but it's time to do something truly special to let our pups know how much we love them.
But first, let's look at the backstory. Founded in 2004 by pet and family lifestyle expert Colleen Paige, National Dog Day considers its mission "to help galvanize the public to recognize the number of dogs that need to be rescued each year and acknowledges family dogs and dogs that work selflessly each day to save lives, keep us safe and bring comfort." National Dog Day became part of the New York State Legislation in 2013.
For this year's celebration, why not go all out and treat your dog (and yourself) to a getaway at a swanky dog-friendly resort? Considering the blazing dog days of summer we've managed to survive, what could be a more perfect treat?
Here are some of the dog-friendliest, ritziest, most swoon-worthy resorts to celebrate your best friend.
Related: Check Out Our Amazing Getaway Up to the Country Where Our Dogs Went Wild
Northeast
High Peaks Resort
Location: Lake Placid, N.Y.
High Peaks Resort is run by true dog lovers who donate a portion of guests' pet charge to local High Peaks Animal Rescue Joshua Fund. When you arrive, pups are greeted with a water bowl, bed, doggie bandana and special welcome treat. Overlooking Mirror Lake and Lake Placid's Main Street with views of Whiteface Mountain, rooms have modern yet rustic Adirondack-inspired furnishings with European-styled bathrooms that include natural, river rock walk-in showers with both waterfall and handheld shower heads and a jetted soaking tub.
Dogs hold "Peak Pup" status, billed as "an exclusive for-dogs-only group of guests," and the resort provides a bandana at check-in, as well as the use of a mat and bowls, along with a cushioned dog bed. Its mascot is a mutt named Denver who was plucked from a local shelter by a resort employee. This resort is surrounded by 6 million acres that make up the Adirondack wilderness park, with thousands of miles of trails for you to walk your dog.
Pet fee is $25/day.
Emerson Resort & Spa
Location: Mount Tremper, N.Y.
Located in the Catskill Mountain, the Emerson Resort & Spa offers luxury rooms at two locations. There's space at The Inn, where a spa, the Woodnotes Grille, its retail shops and the world's largest kaleidoscope is located. Then there is The Lodge, which features a series of rooms designed with a log cabin feel and is close to the seasonal pool, Emerson Park, and Catamount Dog Park, a huge fenced-in area for our dogs. It includes a place to run, a shower for dog, fresh water and a separate section for our little four-legged friends. Woodnotes Grille serves up a Pup Fare menu. Dogs nosh on only the finest foods, including unseasoned chicken breast, a grass-fed burger or a New York strip steak. Bon appetit! For an extra fee of $50, dogs can enjoy a welcome basket, which includes a toy, treats, a bowl and more. Humans can enjoy the spa, wellness and fitness classes, bike riding, bird watching (complimentary binoculars included), volleyball, horseshoes and frisbee or cornhole at Emerson Park.
Pet fee is $35 per night.
Related: A House Was Designed Completely Based on a Dog's Needs
West Coast
Bardessono
Location: Yountville, Calif.
Bardessono in the Napa Walley is a green, pet passionate, luxury hotel. Designed to "offer a mindful approach to living the good life," it provides suites with over-the-top luxury such as 100 percent Egyptian cotton Fili D'oro linens, REN bath products, bath tub/spa, motion-controlled exterior shuttering system, virtual surround speaker system, media hub, steam spa suites, private courtyards, complimentary bicycles and concealed massage tables in-suite.
Upon arrival, four-legged friends are provided with pet bowls, a pet bed, and doggie waste bags. And the hotel also offers a "Canine Delectables" menu at its farm-to-table restaurant Lucy. Some of the entrees include seared tuna, beef and barley and chicken and rice. Yum!
The pet fee is $150.
Hotel Nikko
Location: San Francisco
Experience luxurious hospitality and personal service set in the midst of a city world-famous for its cutting-edge style. Hotel Nikko, just steps from Union Square in the heart of San Francisco, offers Asian-inspired California flavors at its restaurant ANZU, an expansive health club, glass enclosed indoor pool and beautiful views of the city and surrounding bay.
Explore the best of the city within moments, and then retreat to your own private, urban refuge, designed with a modern, Asian influence. This dog-friendly hotel boasts a COO (Canine Operating Officer) named Buster, who "knew I was destined for a career in hospitality, as my whole heart wants to help everyone around me." All dogs that check in receive dog beds, bowls and treats. There's also an awesome dog run on its pet terrace, where pups can run and meet friends.
Pet fee is $50 per day.
South
Postcard Inn Beach Resort & Marina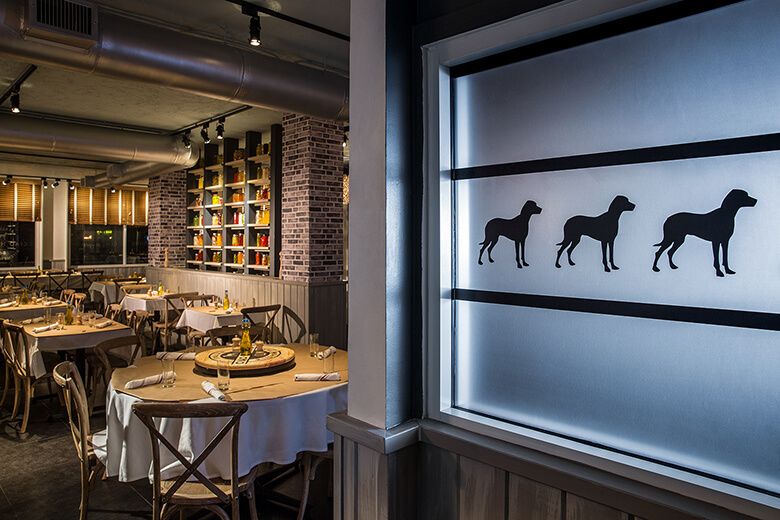 Location: Islamorada, Fla.
Located in the Florida Keys, Postcard Inn Beach Resort & Marina is the perfect place for that ideal beach vacation. The resort does an amazing job mixing modern with a rustic, country feel.
Its award-winning Italian restaurant Ciao Hound welcomes dogs, is canine themed (as the name implies) and provides a ton of amazing amenities for our four-legged friend. There is an outdoor carpeted space for our dogs, with toys, water bowls, a place to hang leashes and cozy dog beds. When our dogs work up an appetite, they can choose an entree from Ciao Hound's canine cuisine. Some of the staple menu items are Hot Diggity Dog, Hen House Chicken Strips, Happy Puppy Steak and The Half Hounder Burger. They can wash their meal down with Bowser Beer, a non-alcoholic brew for dogs.
Pets must be a combined weight of 40 pounds or under. Pet policies note a $100 pet fee.
One Ocean Resort & Spa
Location: Atlantic Beach, Fla.
Need some fun in the sun with your four-legged friend? Well, at One Ocean Resort & Spa, dogs can experience a little taste of heaven. Each dog-friendly guest room comes equipped with food and water bowls, a comfy dog bed, toys, some biscuits and of course, a room service menu just for our dog. (Think: Schnauzer Spinach Salad with corn and chopped beef or the Open-Faced Beagle Burger.)
For us, the hotel stocks each room with Molton Brown bath products and a Keurig coffeemaker. One Ocean Resort & Spa also has a fitness center open 24 hours and a spa.
Pet policies list a $75 pet fee.
Barnsley Resort

Location: Adairsville, Ga.
You can visit the Antebellum South at the Barnsley Resort, around an hour north of Atlanta. This historic Southern estate sits on 3,000 acres for those looking for an outdoor adventure. Activities vary from the tame (golf) to the not-so-tame (shooting), along with horseback riding, hiking, biking and boat rides. Accommodations include rooms in country-style cottages or at the three-story Inn at Barnsley Resort. There are restaurants, a beer garden, golf course, spa, fitness center, museum, swimming pool and a lot more.
For our pups, there are no weight limits for dogs and most of the public areas and open to pooches. Standard amenities for pets include pet beds, bowls, bottled water and treats. Pet sitting may be arranged with advanced notice. But we don't think you will really want to leave your dog in the hotel room at the Barnsley Resort. On the 3,000 acres, there are hiking trails, fire pits, restaurants with outdoor seating and beautiful gardens to explore.
Guests who book the Pampered Pets for PAWS rate get the resort's $75 pet fee waived and donated to PAWS Atlanta, a local no-kill shelter.
Related: 8 of the Most Dog-Friendly Offices of 2018
Pacific Northwest
Surfsand Resort

Location: Cannon Beach, Ore.
Dogs will be pampered at Surfsand Resort, starting with the moment they enter the hotel, where a welcome board announces their arrival. Once inside the room, dogs can check out the welcome basket, stocked full of goodies — treats, a dog bed, towel, sheet, food and water bowls, to name a few. Plus, its Four-Paws Cookie Jar always remains stocked with fresh treats.
For the beachgoers, dogs can run around at the off-leash Cannon Beach (there is a Foot and Paw Wash outside, so you don't trek sand into your room.)
Other activities you can enjoy with your dog include nightly summertime bonfires, nighttime strolls and pleasurable walks. For us, the Surfsand Resort provides beach cruiser bicycles, a spa, fitness center, heated indoor pool and tea and coffee station in the lobby.
Pet fee is $15 per night.
Iron Springs Resort

Location: Copalis Beach, Wash.
Iron Springs Resort offers secluded cabins on the Pacific Northwest Coast's beachfront cliffs. Located on 100 acres of coastal woodland, the cabins are dog-friendly and feature water and food bowls, absorbent paw-printed towels and an outdoor washing stations for sandy paws. The resort has its own branded dog products, including leashes, collars, treats and toys, which are available for purchase at its General Store. Plus, dogs get a free tennis ball and treat at check in. Cabins feature woodburning stoves and fireplaces, and spectacular views. For fun, get a clamming and fishing license from the General Store.
The private beach goes on for miles with lots of access points. Or take a hike with your pup along one of the many hiking trails. Dog fee is $20 per night, not to exceed $100 per stay.
Related: When You Are on the Go, Here are 7 Dog Sling Carriers to Put Your Pup In