Diapers are not just for babies. Dogs may need to wear them, too. The reasons vary from simple old age to a spinal injury. But as a dog parent, there's no reason to be embarrassed when you're walking your pup who's wearing a diaper.
If you're scratching your head, thinking, why would a dog need a diaper, you're not alone. So let's look at some of the reasons your dog may need to wear one.
Why Does a Dog Need a Diaper?
You may think your dog is getting back at you for leaving her alone by peeing on your carpet, but that's not always the case. Dog have accidents in the house because they have to go, and they just couldn't hold it.
Maybe you're walking your dog six times a day, and she's still leaking in the home. It's called incontinence. There are several possible reasons, but none are "my dog is mad at me."
A urinary tract infections may result from a bacterial infection or bladder stones. Diabetes or an adrenal disease like Cushing's Disease predisposes a dog to bacterial infections. A weak bladder sphincter muscle may cause urine to dribble out, especially in older dogs. Other reasons for urinary incontinence include spinal injury, congenital abnormality, prostrate disease and just plain ole stress.
Diapers can also be used when a female dog is in heat (which doesn't happen if you spay your dog).
Urinary Tract Infections
If you've ever had one, it's not something you ever want to repeat. You feel an urgent need to go right now, but only a trickle comes out. And on top of that, it may burn. An emergency call first thing to your doctor, a prescription for antibiotics and in a day, you'll be feeling a lot better.
It's not so simple for dogs.
Dogs have to rely on their human(s) to recognize the symptoms. These include straining to urinate, blood in the urine, crying while urinating, dribbling urine, frequent urination or an indoor "accident" in a housetrained dog. If you find a large puddle of pee by the front door, don't yell at your dog (ever!). Your dog may have a urinary tract infection.
If you see these signs, get your dog to the veterinary immediately. Your vet will determine the cause with appropriate tests.
The Cutest Diapers Out There
Doggie diapers come in all shapes, sizes and colors. There are diapers for male dogs called belly bands. There are disposable diapers, washable diapers that use a washable or disposable pads, and even diaper overalls.
Here are some of the best.
For the Girls
Related: 7 of the Coziest Dog Pajamas Your Pup Needs for Staying Warm Inside
Charlotte Diaper Dog Sanitary Pantie with Suspenders by Alfie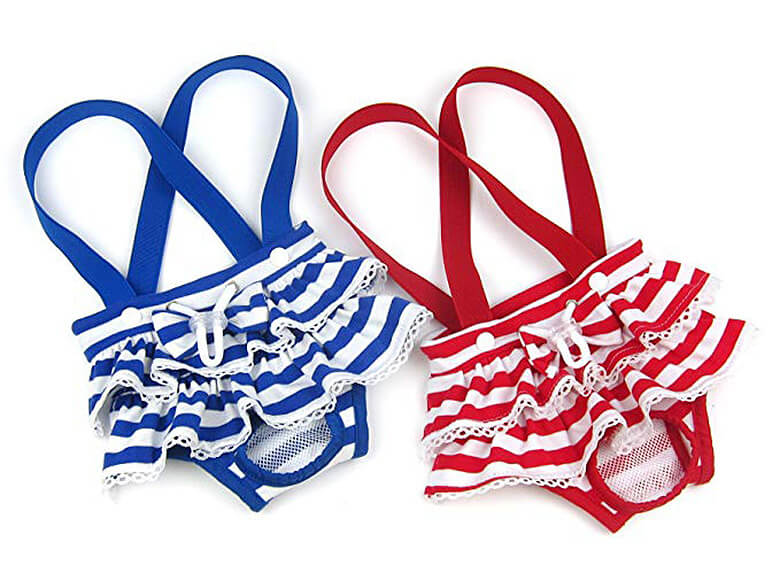 The Charlotte Sanitary Pantie with Suspenders is great for the dog that wiggles out of regular diapers. It comes in two parts: the adorable ruffled pantie with an adjustable drawstring and the coordinating, adjustable suspenders. Made of soft cotton that's machine washable, it has a breathable mesh fabric inside — just press a disposable pad inside, and you're ready to go. Available in blue and white stripe and red and white stripe, or both in a set. Sized from XS to XL.
Price: $11.99 to $17.99
Ruffled Dog Panties by Doggie Design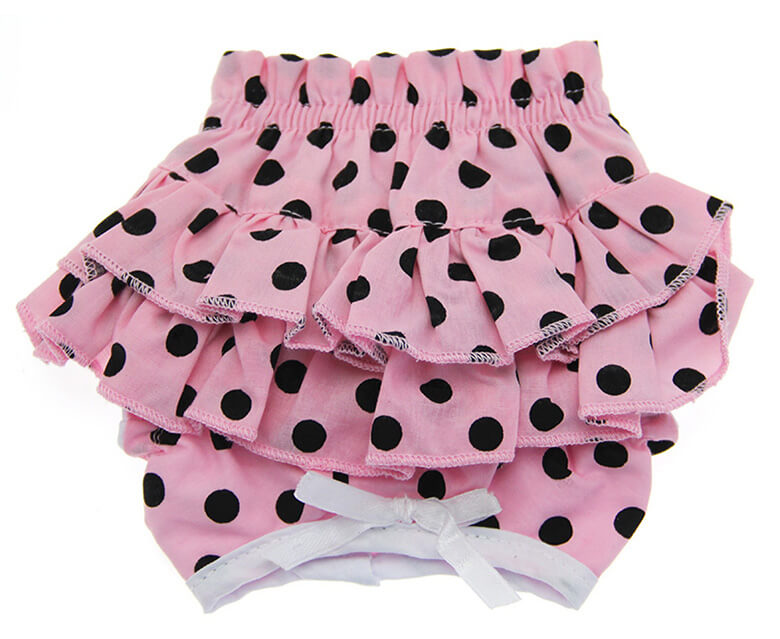 The Ruffled Dog Panty come in a few pattern made for the girlie princesses dog. It has adorable ruffles and an accent bow. Soft cotton and machine washable with wide elastic around the waist and legs and a hook-and-loop closure, they're comfortable (and cute!). They are meant to be used over a disposable diaper or with a disposable pad. Available in pink gingham, hot pink, red and white polka dot and light pink and black polka dot. Sized from XS to XL.
Price: $9.99
Escape-Proof Dog Diaper Overall by Barkertime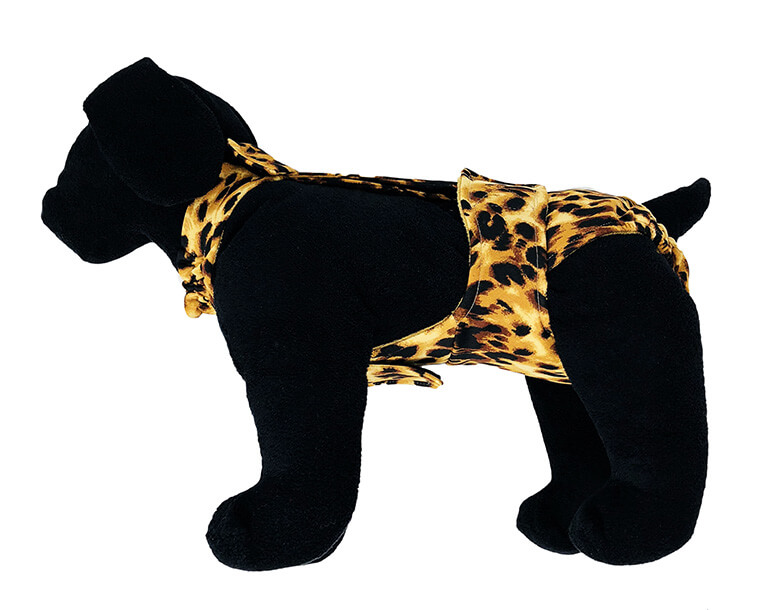 The Escape-Proof Diaper Overall is perfect for your resident Houdini, and dogs with unique shapes like French Bulldogs, English Bulldogs, Dachshunds and Pugs. They come in a range of sizes, but what makes this company stand out is the option for a custom order if your dog isn't a regular size (like Whippets and Greyhounds). It works for both male and female dogs, and the collar and straps are adjustable. Made from high-quality fabric available in a ton of fabrics, it has a soft inner lining and a waterproof barrier. Machine washable (use the gentle cycle and air dry), or use with a Barkertime Diaper Liners that are washable or disposable. From XS to XXL, with or without a tail hole.
Price: $69.99
Washable Dog Diapers by Barkertime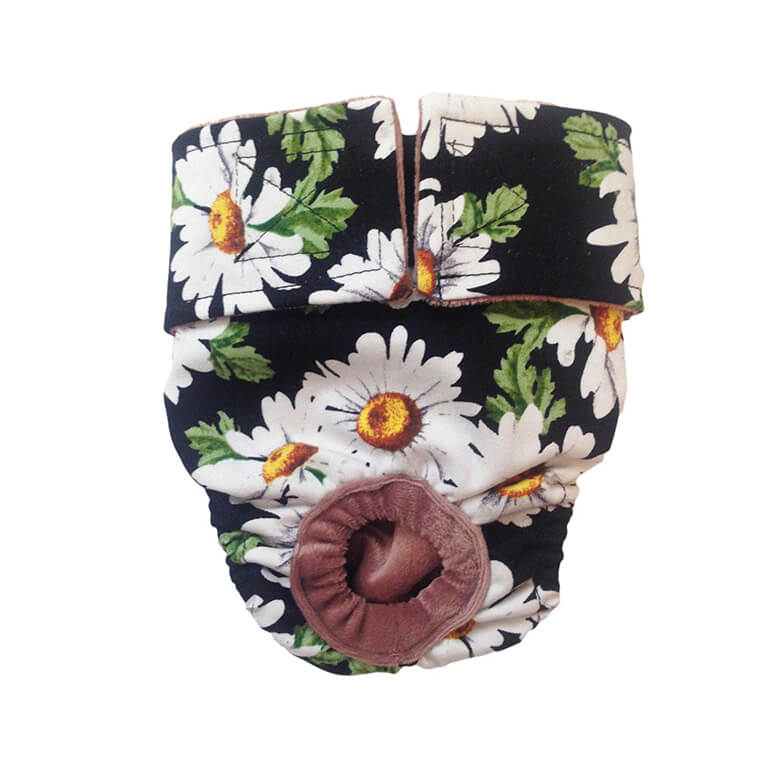 From the same company, the Washable Dog Diaper is a pull-up diaper for female dogs. They come in hundreds of fabrics (literally), because it's a female dog's prerogative to change her mind. Easy to put on, with a cotton-poly fabric on the outside, a super soft lining and an additional waterproof lining. You can also use it with a disposable liner. Custom sizes are also an option. From XS to XXL.
Price: $24.99
Related: Check Out the Boots That'll Prevent Your Dog's Paws From Being Burnt During the Summer
Dog Diapers by JoyDaog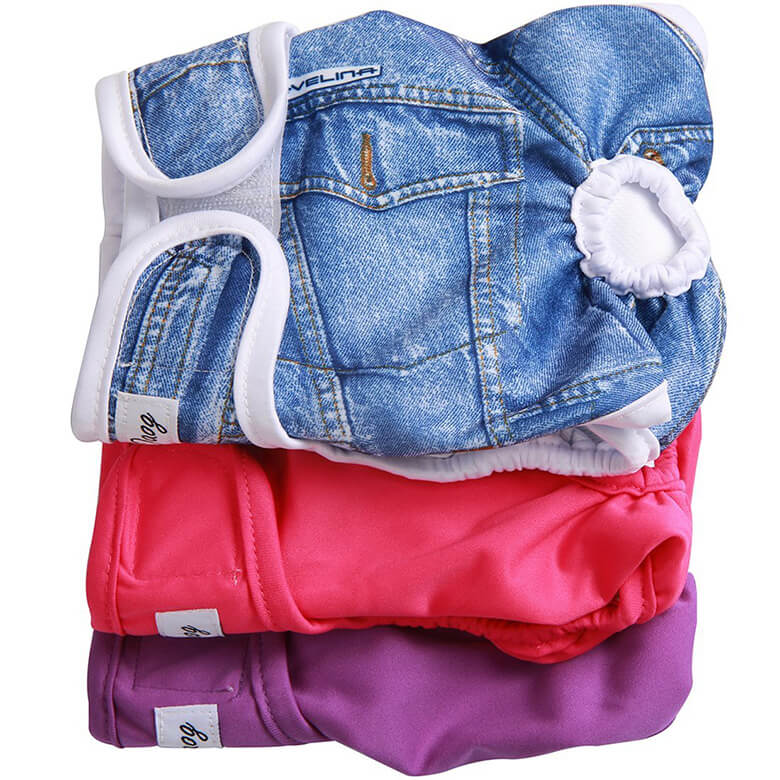 While JoyDaog do have a range of sizes, they only go up to a 27-inch waist. The cotton fabrics include one that looks like denim jeans, which is something all dogs need in their wardrobe. An absorbent diaper pad is sewn into the lining, with two layers of microfiber inside and a waterproof outer lining. Adjustable at the waist with elastic at the sides and around the tail hole. From XS to Large.
Price: $13.99 to $22.99
For the Boys
Reusable Dog Diapers by Vecomfy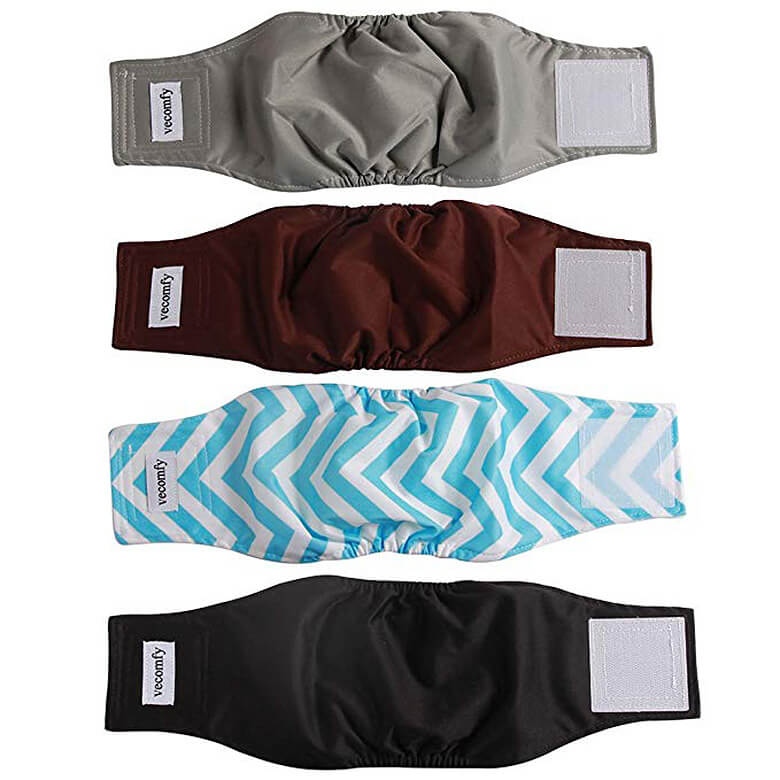 Vecomfy offers a ton of fabric options. There are two microfibers layers in the pad, making them super absorbent. The outer layer of the band is made of waterproof and leakproof material. The closure is Velcro, with double stitching to add extra durability. The diapers can be washed over and over again, making them a great eco-friendly option. Available in sizes XS to XXL.
Price: $10.99-$29.99
Washable Male Dog Wraps by Wegreeco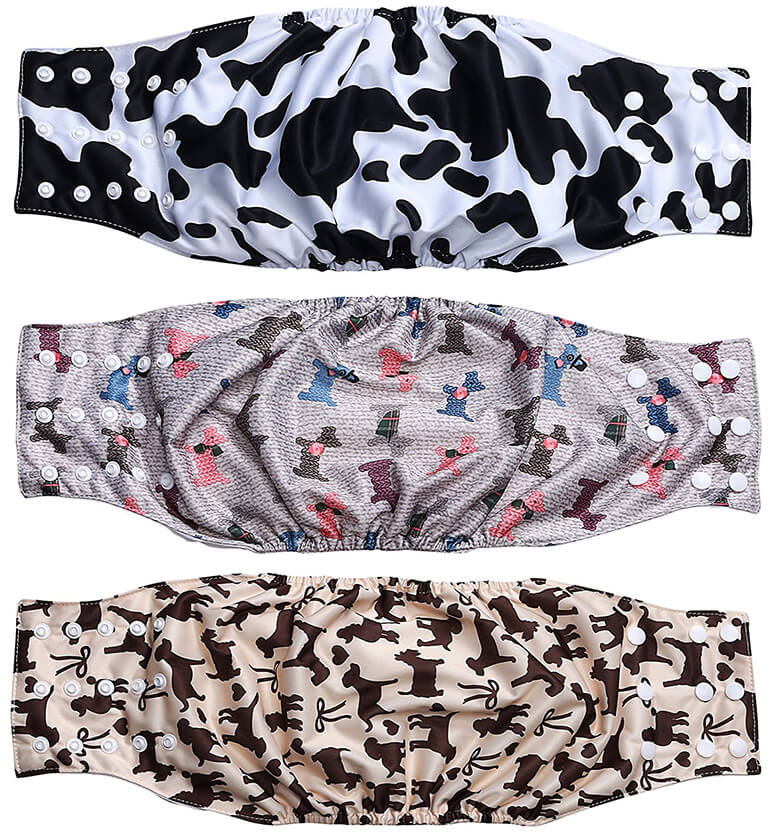 The Wegreeco Washable Male Dog Wrap comes in a three-pack with three different patterns. The outer layer is waterproof, while the inside is lined with moisture-wicking soft cotton jersey. Three rows of snaps will adjust the wrap to fit at the waist and the legs. There's a pocket on the inside to slip in a disposable liner. Available from XS to XL.
Price: $12.99 to $26.99
Male Dog Belly Band Wraps by Mkono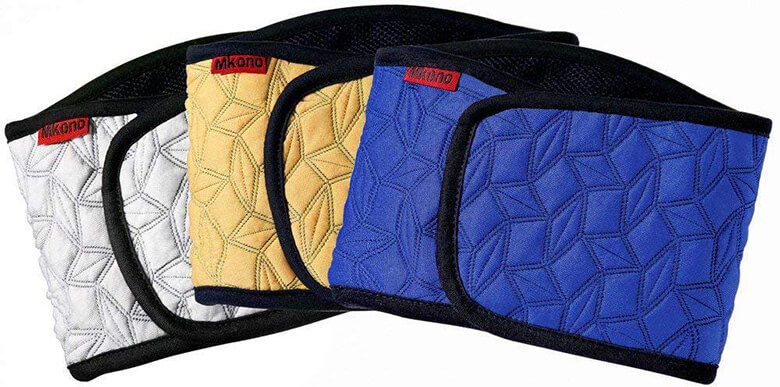 The Mkono bands stand out with a curved design that fit better than most, helping to prevent leaks. They're made from attractive quilted cotton fabric in a three-pack with three different colors. A center mesh pocket on the inside holds a disposable pad. Machine washable on gentle cycle. Available from small to XL.
Price: $14.32 to $15.99
Related: 24 Bad-Ass Dog Tags Your Pup Needs to Be Wearing Right Now