Not all dogs are blessed with the über-thick coats of an Akita or an Alaskan Malamute. Small dogs, short-haired dogs, even dogs with alopecia may spend the night shivering on a frigid, winter night. Even in summer, when the air-conditioner is on full blast, these breeds often appreciate some comfy PJs.
Just ask Darren and Phillip (also known as the Blue Boys), some of the cutest pajama-wearing pit bulls on the planet. Some dogs just love wearing a snuggly onesie.
https://www.instagram.com/p/6MqoY8rPlM/?utm_source=ig_embed&utm_campaign=embed_legacy
If you live with a pajama-loving pooch, these are worth staying inside for.
1. Galaxy Dog Pajamas
Custom-made by DonoSews, these are handsewn fleece pajamas with front and back legs and contrasting cuffs. You'll find instructions for precise measuring so your dog's PJs will fit like a glove. These also come in a variety of prints such as a groovy fleece Tie Dye Pajama, a sophisticated cotton Aztec Pajama, and for dogs who like a little mystery, a Sugar Skulls fleece pajama.
Price: $39.99
2. Fitwarm Knitted Thermal Dog Pajamas
Fitwarm's knitted thermal dog pajamas are perfect for snuggling up in front of a roaring fire. Made of a warm, washable knitted fabric that will keep the cold drafts at bay, your dog will love these so much he'll insist on wearing them outside. Check out the customer pics to see how smart these pooches look. The four legs cover down to the feet but are easy to walk in and comfy as a blanket.
Price: $13.99
Related: Adorable Dog and Foster Boy Pose Together in Identical Outfits — And the Internet Goes Crazy
3. Leopard Flannel Pajamas
Trimmed in pink, these leopard print flannels from Fabdog are roaring to go. They even have pink poplin piping on the back pockets for extra stylin' (or for reading glass, as the website suggests). Velcro closings for easy on and off. Perfect for late night dinners and snuggling on the couch to watch old black and white movies.
Price: $25
4. Luv Gear Moose Print Pajamas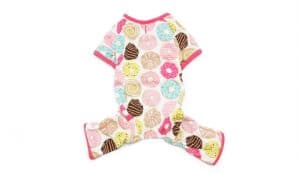 Just because your dog can't eat a donut, doesn't mean he can't look absolutely scrumptious wearing one. Soft and super cute, these pajamas from DOGO may make you a bit hungry. Great to keep your dog warm inside or for outside walks, as it has a leash hole, too.
Price: $24
5. Hopping Bunny Flannel Pajamas
The adorable and super soft pajamas from Funny Fur are made from lightweight flannel fabric. The cozy PJs have cute bunnies and are trimmed with white piping. There are two pockets, a snap button closure and even a place to attach a charm. Each outfit does come with one of their signature logo charms.
Price: $28
6. Thermal pajama set
For those who want to take it to the next level, Fabdog has matching pajama sets for you and your pup. The thermal waffle-knit pajamas are high-quality, very cozy and super stylish. Each option has the Fabdog logo, so everyone will know that you and your dog are twinsies. So, grab your four-legged best friend, curl up on the couch and binge-watch Netflix.
Price: $25-$45; Human pants, $25
Related: Celebrity Dogs Recreate Kanye West Music Video for a Good Cause
All our picks our independently chosen, but we do earn an affiliate commission to support our work. However, if we don't like the product, we aren't going to write about it. Making a few cents off an affiliate just isn't worth it to us.