Today, marks National Pet Day, a holiday to celebrate our special best friends – be it your dog, cat, bunny, reptile or some other lovely creature.
For us, dogs rule the roost. They bring us so much joy, love and laughs. They never let us down, act as our perma-shrink and stick by our side through thick and thin.
And while there are specific days to honor them – including National Dog Day and National Puppy Day — we don't want this holiday to pass without letting our pups know how much we appreciate them.
Here are five ways to say I love you on National Pet Day
1. Take your dog on a memorable walk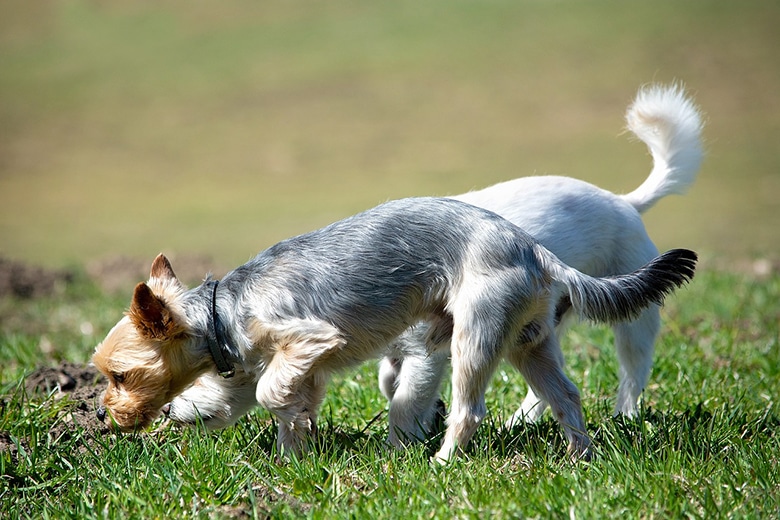 Go outside today, and rather than the norm, take your dog on a new adventure. Perhaps you go right instead of left, north instead of south. Not only is a change of scenery good for both or you, but new scents will be a nice surprise for your pup.
"Our daily lives with our dogs typically don't permit them to exploit the full abilities of their incredible noses," Alexandra Horowitz, author of Being a Dog: Following the Dog Into a World of Smell, tells PetMD. "We hurry them along during walks, focused on the destination rather than the journey itself."
Related: Soon, You May Have Better Luck Getting A Job As A Dog Walker Than Teacher
Dogs have a minimum of 200 million scent receptors, with some having a billion! (We, on the other hand, only have six million.) So a scent walk is the perfect opportunity to sniff. This special walk doesn't need to be complicated; it just requires patience. When you take your dog on a new route, let her smell to her heart's content. Don't pull her along to keep moving when she has her nose to the ground, or tell her, "It's time to go." Instead, let her take it all in.
"I've found that when dogs are allowed to use their noses, they actually display a lot less 'misbehavior,'" she told the outlet. "It's as if the thing that they have decided to be their 'work,' barking at each approaching dog, say, or always being vigilant (and thus anxious) about where you are, can be replaced with this more natural behavior, if they are allowed to sniff. In other words, it makes them happy."
2. Make bath time extra nice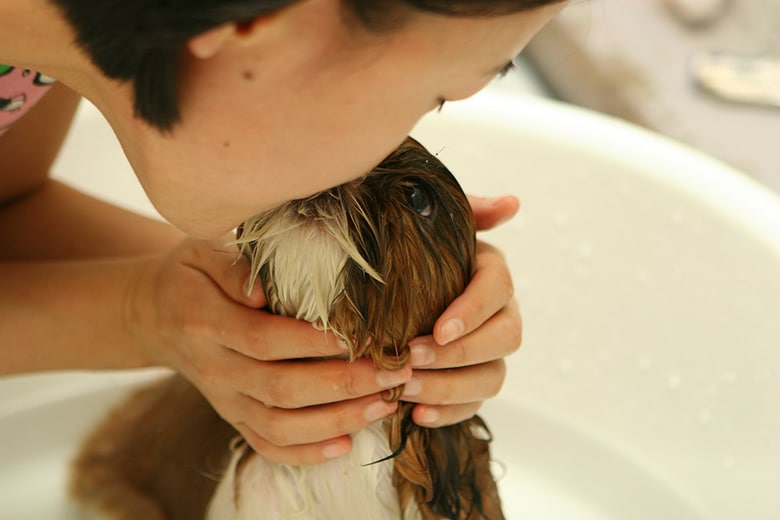 Okay, most dogs really don't dig baths. They are trapped, have water spraying all over them and are cold. There is no escaping for them until after all the suds are washed away. (We have all seen the horrible bath face.)
So, why not give them a special treat during bath time? You can rub a little oil on your fingertips (we recommend a dog-friendly odorless oil or one that has a light lavender scent), and give your dog a quick face massage.
To improve your dog's circulation, begin my massaging the top of her head to increase blood circulation. Then do light finger taps on your dog's face to help stimulate the brain and get the blood flowing. You can also focus on the ear area, massaging your dog's ear flaps and rubbing in circular motions around the base of the ears for air circulation, according to dog-walking site Wag. If you want to open up the sinus cavities, apply gentle pressure using your thumbs below the eyes and at the bridge of your dog's nose. Lastly, focus on the muzzle, back of the jaw and under your dog's chin and neck area by massaging these spots and running your fingers along them. This will help open up blood vessels, improve circulation and help with oral health, Wag says.
3. Give your dog a special treat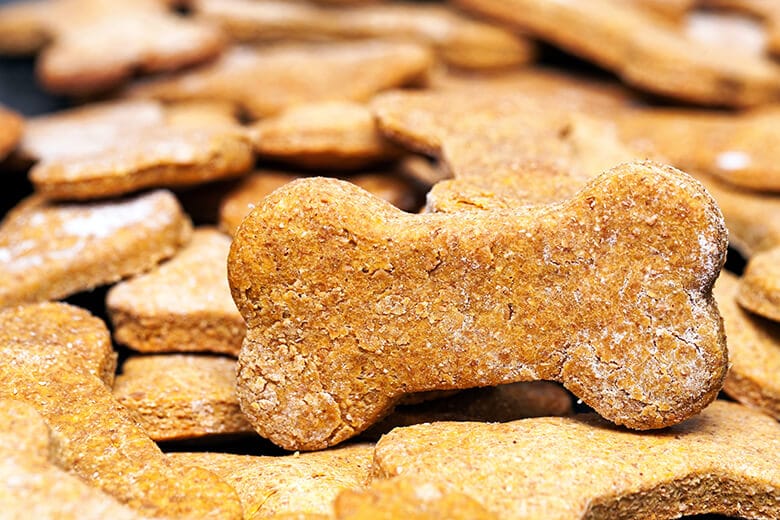 All dogs love treats, and there is no better time to give your best friend one (or two), than on National Pet Day. But instead of his everyday treat, why not give him one that can also support his health – a win-win for both of you!
By adding some basic ingredients (many of them you probably already have) to a treat, you can freshen your dog's breath, improve their oral hygiene and help take away tartar.
Here is a basic dog treat recipe that freshens breath, too:
The below recipe has parsley, which is a natural antibacterial; mint to make your dog's breath smell nice and coconut oil, which has anti-microbial properties that can help remove harmful bacteria from your dog's mouth, preventing plaque build up.
Pre-heat your oven to 325°
Ingredients
2 ½ cups old-fashioned oats
½ cup fresh parsley, finely chopped
½ cup fresh mint, finely chopped
1 large egg (if your dog is allergic to chicken products, substitute with ¼ cup unsweetened applesauce)
¼ cup of water, plus 1 teaspoon
3 tablespoons coconut oil (unrefined extra-virgin is best)
Put the oats in a blender or food processor and pulse until they look like flour. In a bowl, combine the mint, egg, water, parsley and oil. Add the oat flour to the bowl.
Then take out the dough, knead it and roll it out onto a floured surface (about 1/8 inch). Use a cookie cutter (we love fun designs!) to make the treats.  Place on a non-stick cookie sheet and bake for 30-40 minutes, or until the treat are crispy and golden.
Put in an airtight container (lasts 3-4 days) and freeze the rest.
4. Cook a delicious home-cooked meal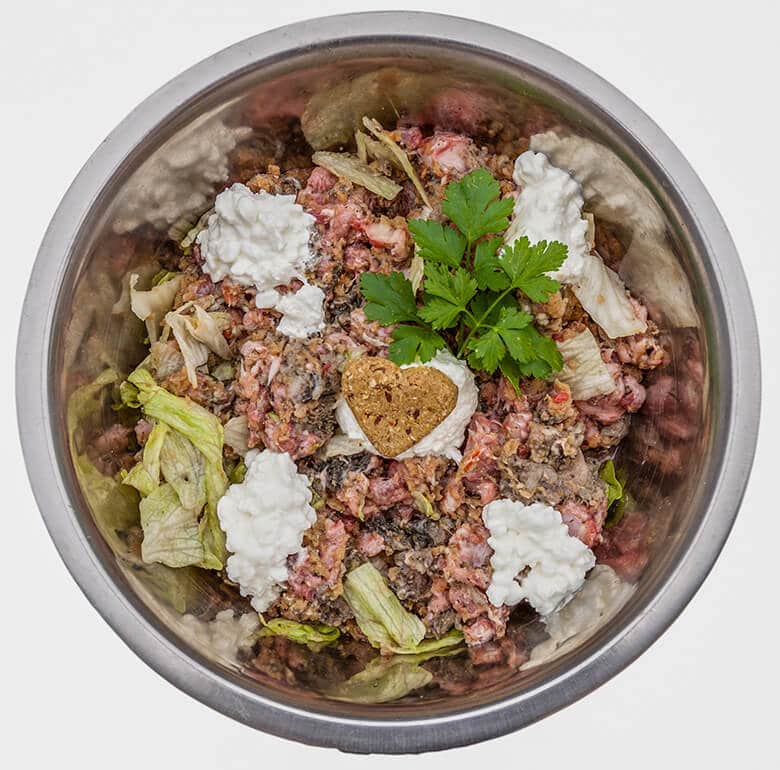 Not ready to go all in? You can always cook food for your dog and use it as a topper or mix it into your dog's current kibble.
Below is a simple recipe. Keep in mind, we believe you should consult with a professional before making any diet changes.
Related: The Complete Guide to Making Home-Cooked Dog Food 
Grab your slow cooker or crockpot (6- to 8-quart is ideal). Also, if you have a food processor or blender, you can speed up the process, as it can save time on chopping up the ingredients.
Ingredients
2 ½ pounds ground beef
1 ½ cups uncooked brown rice
1 ½ cups chopped butternut squash
1 ½ cups diced carrots
½ cup frozen peas (or green beans)
1 to 3 cups chopped spinach
4 cups of water
Add all ingredients to the slow cooker. Make sure you stir in everything and then cover and cook on low for 5-8 hours. Once done, portion out. Put some in the freezer and add some to the refrigerator (lasts about 3-4 days).
Feel free to get creative and swap out the proteins, vegetable and grains.
And you can add some supplements to balance it out, making sure your dog gets all his nutrients.
Want even more home-cooked recipes for your dog? We recommend BalanceIT's "Auto Balancer EZ," which allows you to choose from five groups to create a balanced recipe.
You can also check out some canine cookbooks, including Home Cooking for Your Dog, to get a few ideas.
5. Play an engaging game with your dog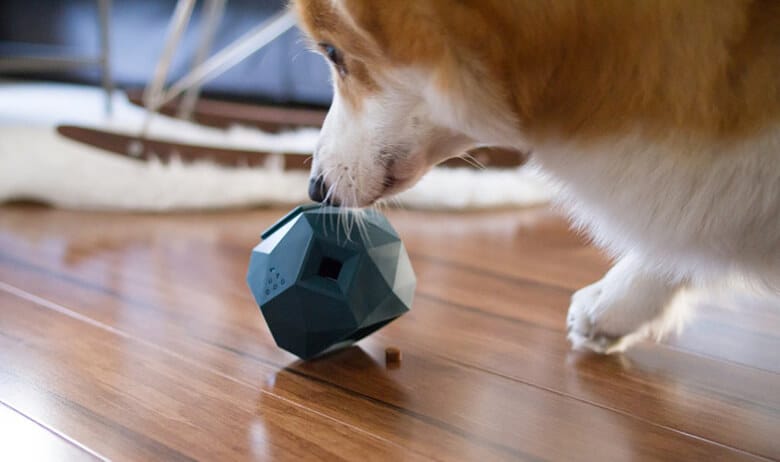 If you haven't gone to YouTube to see the lengths us dog parents go when we are playing with our dog, you are missing out. While fetch, tug-of-war and squeaky toys delight our dogs, there are a few special games you can add to their routine.
Interactive puzzles are a great way to provide mental stimulation for your dog – and they keep your pup busy! They can improve problem-solving skills and boost confidence.
The go-to tends to be Kongs, but there are other ones out there that we enjoy. The Odin, an interactive, treat-dispensing toy, not only will keep your dog occupied for hours, but it looks like a work of art, making it the perfect decoration for the floor. There is also the OG, Nina Ottosson's puzzles. The games, often involving little drawers to hide treats, make it challenging for our pups. For any toy, it is important to keep an eye on your dog.
Related: Bored Dog? Give Him One of These 5 Toys to Keep Him Busy.