Is your dog destroying your house? Need something to keep him occupied and help him expend his pent up energy? Look no further. We've compiled a list of our favorite toys to keep your dog busy… instead of shredding your new couch cushions.
1. The Kong Wobbler $10.95-$39.99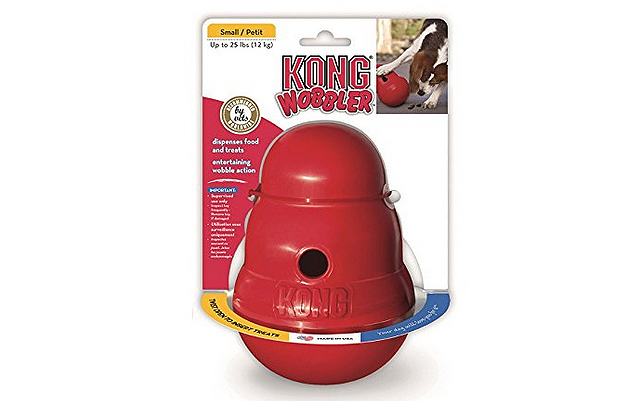 Kongs are nothing new to the dog toy scene; the company has been making remarkably indestructible dog toys for years now. Beginning with the classic red-colored Kong, the toys have evolved over time and now make a great line of toys that can be stuffed with treats, kibble or spreadable foods like peanut butter.
Related: 5 Ways to Tire Out Your Dog Before Leaving the House
It's fun and durable for him to chew on and once he figures out treats come tumbling out as he knocks it around, he'll be chasing it everywhere. Just make sure there isn't anything fragile on the ground that can easily be knocked over as this thing will be flying all around the house with a pooch in hot pursuit!
2. The PetSafe Tug-a-Jug $9.70 (sale)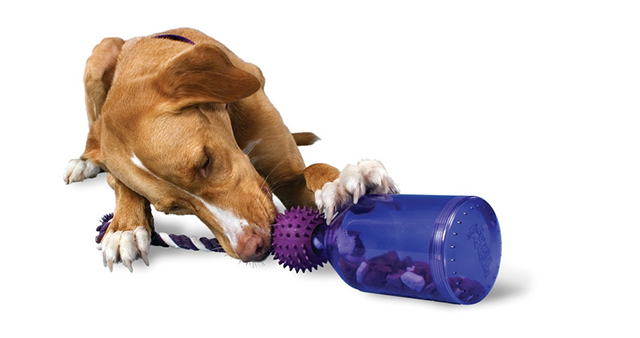 The PetSafe Tug-a-Jug is built around a pretty interesting concept. Unlike many of the other treat dispensing toys, treats don't come falling out as your pup knocks this around. Instead, he has to tug on the rope and as he pulls a treat will periodically get pulled out along with some of the rope. For added fun, the ball the rope runs through is made out of textured rubber, which stimulates your dog and cleans his teeth at the same time. Can't beat that.
You can easily add dry kibble or some other treat to the jug by unscrewing the bottom. It's pretty durable, but if you have a big dog that chews really hard the rope might get worn out. Don't worry: You can always replace it with an old sock. Another option is to insert different size balls in the bottle. The more comfortable your pup gets with the balls, the more (and larger-size ones) you can insert.
Get ready for some serious banging as your furry little friend will have the tug-a-jug swinging all over the place in his quest for treats.
3. Nina Ottosson Dog Casino Interactive Game $30.75 (sale)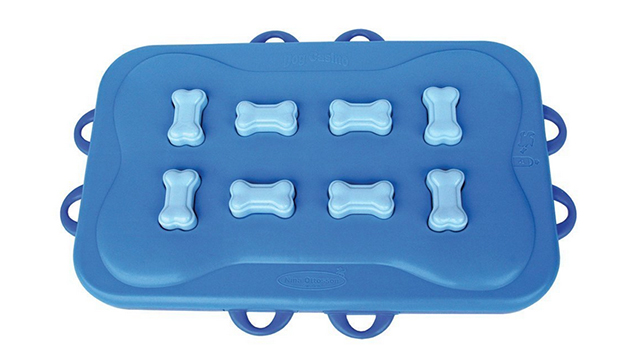 A little pricier than the other toy options, the Dog Casino Interactive Game focus more on mental stimulation and puzzle-solving skills than sheer luck.
The way it works is pretty simple: There are a number of drawers that you put treats into. When your pooch figures out how to open the drawer, he is rewarded with a snack. Once that gets too easy, you can start locking the draws with little bone shaped keys. Now your fuzz ball will have to figure out how to get the lock out before pulling out the drawer. This could literally take your dogs hours to figure out.
The Dog Casino is a better choice for people living in apartments who are worried the banging of the other toys might disturb their neighbors. Just be careful about leaving your dog alone with it unsupervised. It's not as durable as the others and a dog might be tempted to chew up one of the locking bone keys once it is removed.
Related: Chewed: An Ode to Destroyed Toys
Nina Ottosson has a number of other great puzzle toys for dogs, you can check out here.
4. West Paw Design Zogoflex Tux $15.50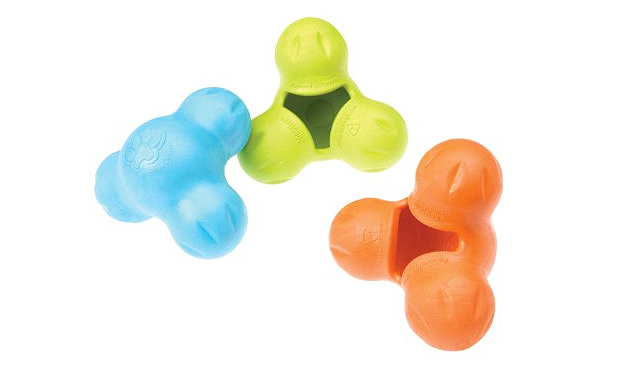 Going back to the knock around, treat dispensing style of toys is the West Paw Design Zogoflex Tux. This one is great, because it is extremely durable and flexible, so your dog will love to chew on it even without treats inside. Not only that, it's buoyant making it a great toy to use in the pool or lake. Plus, it is dishwasher safe, so cleaning it is a breeze.
This is another good option for apartment dwellers. Because it's relatively soft, it makes only minimal noise as it is shaken and tossed around the house. You'll also be supporting domestic business when buying the West Paw Design Zogoflex Tux as it's made right in the USA, and it's recyclable to boot.
5. The Buster Food Cube $12.95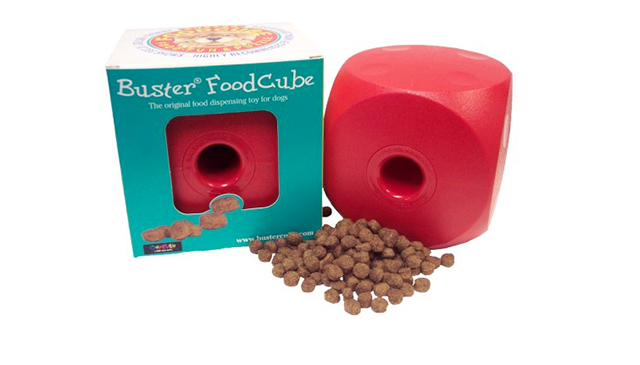 One of the best aspects of the Buster Food Cube is your ability to adjust the challenge level. You can increase or decrease how fast the treats fall out by twisting the toy.
It's also got a pretty large treat storage compartment, which holds a lot of dry kibble. Combined with the adjustable opening, you can easily leave it alone with your dog for hours of enjoyment. It's made from durable plastic, which is nearly indestructible and can be thrown in the dishwasher when it's time for cleaning.
There you have it. No more worries about your lovable little pal tearing up couch cushion or gnawing on furniture while you're away. Toss him one of these awesome time consuming toys and head off to work.
Related: They're Back: Pregnant Puppy Toys for Kids
Image via Image via Flickr/Rexness