As we honor those who have served our country, it is important to remember the four-legged veterans, too.
Dogs have served in all branches of the military at the side of soldiers, working to help detect mines and bombs, guard our armed forces and scout, patrol and fight in combat. They even play a role with our veterans, once back at home, serving as emotional support and PTSD dogs.
Despite military dogs' long history of service, the first monument to honor them wasn't completed until 2013. The U.S. Military Working Dog Teams National Monument was sculpted by Paula Slater and mounted at Lackland Air Force Base in San Antonio, Texas, where the Canine Training Facility graduates around 230 canine/handler teams each year. The bronze monument includes a detailed dog handler in combat gear and four military dog breeds: a German Shepherd, Labrador Retriever, Doberman Pinscher and Belgian Malinois.
Along with honoring veterans on Veterans Day, let's give thanks to some of the most famous military dogs that have saved lives — and sometimes altered history.
Conan
Our latest canine military hero is Conan, the Belgian Malinois who accompanied Delta Force soldiers on the raid to capture Islamic State leader Abu Bakr al-Baghdadi in northwest Syria on October 26, 2019. When al-Baghdadi attempted to escape his compound, Conan reportedly chased him into a dead-end tunnel where the ISIS leader detonated a suicide vest, killing himself and two young children.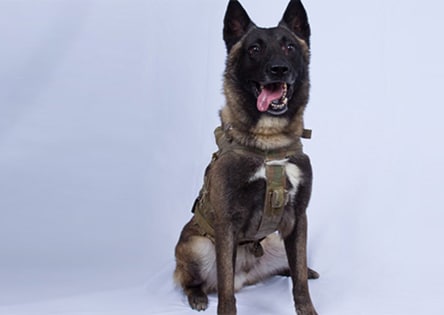 Conan was injured in the raid when he came into contact with live electrical cables. This extraordinary military dog has served on many missions over the last several years while working with special operations forces. Conan has recovered from his injuries and returned to active duty. It is reported that the president wants to give him the Purple Heart.
Related: Dog Hailed a Hero for Role in Capturing ISIS Leader
Dexter
This German Shepherd is an Iraq Navy war veteran who served alongside handler Petty Officer 1st Class Kathleen Ellison. The first military K9 to receive an American Legion Post 703 membership card, he patrolled the streets of Baghdad, where he saved lives in July 2004 by detecting explosives hidden in the gas tank of a garbage truck that was sent out to destroy a crowded American mess hall at Abu Ghraib prison in Baghdad. After his service, Dexter was set to be euthanized like many military dogs due to their aggressiveness, but his handler begged congress to save his life. He was able to retire to Spring Grove, Penn. with the help of Military Working Dog Adoptions and Save-A-Vet, organizations that rescues unwanted military and police dogs. Ellison escorted the canine hero home where he attended an award's ceremony at Fox Lake American Legion Post 703, where he became a permanent member and received a giant bone and a 2-pound steak.
Sallie Ann Jarrett
This brindle Staffordshire Terrier was adopted by the 11th Pennsylvania Infantry at a training camp in West Chester in May 1861. Named after a young woman who would visit the soldiers, Commander Colonel P. Jarrett declared her the regiment mascot. She quickly became adjusted to army life and participated in drills with the soldiers. Sallie went into her first battle against the South at Cedar Mountain in 1862. Her job was to essentially bark at the enemy, but she would also chase after bullets that hit the ground.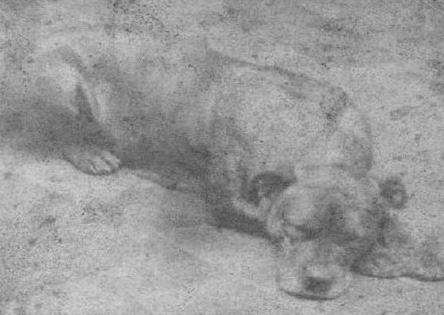 She accompanied the soldiers at the Battle of Antietam, considered the bloodiest day in United States history with 22,717 dead, wounded or missing, but the dog survived and had 10 puppies a month later, who were later adopted by northern families. Sallie even got to meet President Lincoln, who is rumored to have tipped his top hat to her. In July 1863, Sallie accompanied soldiers on their retreat through Gettysburg when she became separated from her friends. Three days later, she was found guarding her wounded or deceased soldiers. She was killed during the Battle of Hatcher's Run on February 5, 1865. Grieving soldiers risked their lives under heavy to bury her where she fell. Twenty-five years later, the survivors of the 11th regiment gathered at Gettysburg for the unveiling of a monument honoring their service. At the base of the monument, there's a statue of Sallie lying down, forever keeping guard.
Related: George H.W. Bush's Service Dog Sully Lays By His Casket In Photo With Caption 'Mission Complete'
Cairo
Another Belgian Malinois, Cairo accompanied SEAL Team Six on the raid that killed Osama bin Laden. He arrived with more than 20 Navy SEALs, parachuting out of a Black Hawk helicopter wearing a Kevlar vest and a night-vision camera. They landed outside the Pakistan compound where the al-Qaeda leader lived. Cairo's mission was to detect bombs, search for concealed enemies and find any secret passageways or doors in the compound. Plans changed after one helicopter crashed. Cairo, four SEALs and the translator were deployed to secure the perimeter while six other SEALs stormed the compound. After more than a half hour, bin Laden was killed. Cairo retired and went to live with his handler in the United States. He died peacefully when he was 12 years old.
Sergeant Stubby
One of America's greatest war heroes, Sergeant Stubby served during World War I. He was smuggled onto a ship by a soldier named Robert Conroy and went overseas to France with the 102nd Infantry 26th Yankee Division to provide an early warning of incoming shells and gas and to search for wounded soldiers on the field.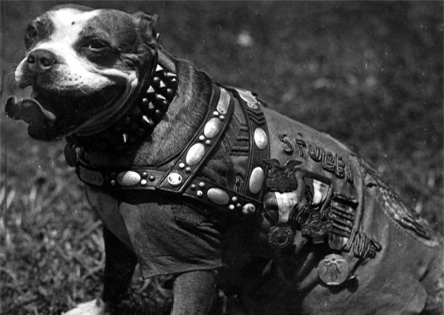 Stubby, believed to be a "muttigree" was taught how to salute; when he was discovered onboard the ship by the commanding officer, the dog stunned the officer by saluting and was allowed to stay as the official mascot of the Yankee division. Stubby served in four offensives and 17 battles, including the second battle of Marne in July 1918. He made history by capturing a German soldier hiding in the bushes, for which he was promoted to Sergeant. Stubby retired to live with Conroy, and when he died in 1926, the New York Times published a 15-paragraph obituary. His military coat is displayed on a statue of Stubby at the National Museum of American History.