It all started with the Rudy Loaf. Kiki Kane's beloved Boxer/Labrador mix Rudy loved to hang out in the kitchen while she cooked up a storm. When Rudy was diagnosed with cancer, Kane set out to improve his appetite and energy and keep his spirits up by supplementing his diet. Since Rudy was a connoisseur of "leftover bits and bobs," Kane knew her dog's favorites: carrots, pumpkin and sweet potatoes. The Rudy Loaf was born. Kane's first homemade attempt was a success; her dog loved it. It launched her career as a dog chef.
Today, Kane combines her love of cooking with writing as the Trending Editor and Dog Chef Extraordinaire on Rover.com, the dog-walking and siting site. In her role, Kane writes articles and posts recipes. (Her dog Rudy was the first Taste Tester in Chief.)
Also, Kane's YouTube video series, Kiki's Canine Kitchen, demonstrates her easy but healthy dog recipes and how simple changes, like replacing wheat flour with gluten-free oat flour, can give your dog optimal, safe nutrition without sacrificing taste.
After Rudy's last Christmas in 2017, Kane's Frenchie/Boston Terrier mix Bea Pickles took over as Taste Tester in Chief.  A "high energy 'big dog'' in a little cannonball of a package," Kane describes Bea as "a force of nature who can play fetch for six hours straight rain or shine."  Besides tasting responsibilities, Bea is also tasked with pre-rinsing the dishes before they hit the dishwasher. "I know when a recipe is really good when she eats the treat and licks the plate clean too."
Related: Here Are 4 Dog Food Cookbooks You Will Actually Use
These recipes from Kane, inspired by the holidays, include food and flavors that will have your dog drooling – and your house smelling amazing.
Pumpkin Pie Biscuits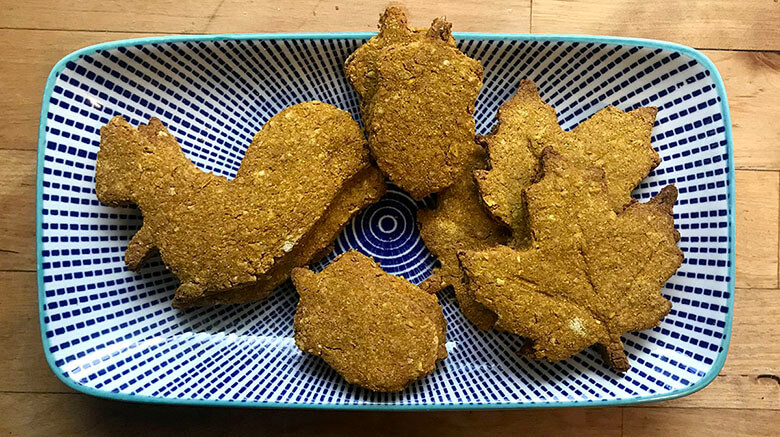 These crunchy, gluten-free cookies feature oatmeal and pumpkin puree with just a hint of pumpkin spice. Oatmeal is a healthy and easy-to-digest flour alternative that Kane loves to use in the Rover kitchen. Pumpkin is valued for its gut healing properties, fiber and beta carotene.
Nutmeg, a standard ingredient in commercial pumpkin pie spice, is not good for dogs, so you're better off following this recipe rather than using a pre-mixed spice blend. Kane replaced nutmeg with earthy turmeric, which also brightens the color of these tasty treats.
Ingredients
1 1/3 cup oat flour
1 cup tapioca flour
2/3 cup coconut flour
2 tsp baking powder
2 tsp cinnamon
1/2 tsp ginger
pinch of allspice
pinch of clove
1 tsp vanilla extract
3 tbsp coconut oil
1 egg
1 cup pumpkin
2 tsp molasses
Preheat oven to 350º and move oven racks so you can bake more cookie sheets at once.
Combine dry ingredients in the bowl of food processor and pulse lightly to combine.
Add wet ingredients, and pulse intermittently until the dough comes together.
Turn dough out onto a floured board, adding additional oat flour until dough is no longer sticky.
Cut dough into whatever shapes you fancy, placing onto parchment-lined cookie sheets.
Bake for 30 minutes, then turn off the oven but leave the cookies inside to cool for extra crunch.
Turkey Dinner Meatballs
This recipe is a great way to use up leftover turkey and veggies (or cook anytime as a special treat). Turkey is a great lean protein source, and fresh veggies add fiber and vitamins your dog might not get out of his same-old kibble meal.
Serve these hearty little meatballs as a special treat or add to a meal (just cut back on the kibble a little to adjust for added calories). They will stay fresh for up to five days in the fridge. You can also freeze them and defrost the night before using.
Ingredients
Approximately 1 lb. of leftover turkey
½ cup rolled oats
2 eggs
2 tbsp low-fat yogurt
1 cup mixed veggies (we used carrot, peas and green beans)
¼ cup fresh parsley
Preheat oven to 400º
Remove skin and bones and pulse leftover turkey in a food processor to break up the meat.
Add rolled oats and pulse until well blended without any large pieces.
Add egg and yogurt and pulse until the mixture just starts holding together.
Transfer mixture to a large bowl.
Add veggies and parsley and mix with your hands until they are thoroughly blended.
Roll into 1" balls and place on a parchment-lined cookie sheet.
Bake for 18 minutes or until just starting to get golden around the edges.
Related: 5 Ways to Have a Very Dog-Friendly Thanksgiving
Toasted Coconut Cranberry Shortbread
This fancy cookie is a perfect gift for the dog in your life! The toasted coconut, coconut flour and coconut oil creates a rich and crumbly cookie with a mouthwatering aroma.
Coconut is a popular ingredient for dogs (and humans) because of its anti-inflammatory and antioxidant properties, as well as making their coat shine.
Ingredients
½ cup unsweetened shredded coconut
6 ounces coconut oil
1 cup coconut flour
½ cup almond flour
1 tsp baking powder
1 tsp vanilla extract
1 egg
⅓ cup dried cranberries (look for low sugar)
Preheat oven to 325º
Toast shredded coconut 5-10 minutes or just until golden.
Cream coconut oil about 2 minutes in a stand mixer (or blend just until fluffy)
Add the flours and baking powder and continue to mix on low.
Add egg and vanilla.
When a dough ball is formed, mix in cranberries and toasted coconut until just combined.
Roll out dough about ¼" thick.
Cut out into simple shapes, use a spatula to transfer to baking sheet if necessary.
Bake for 18 minutes or until just starting to brown around the edges.
The shortbread will be delicate until cooled, so let it cool on the cookie sheet.
Related: The Beginner's Guide to Home Cooked Food for Your Dog
Sweet Potato Casserole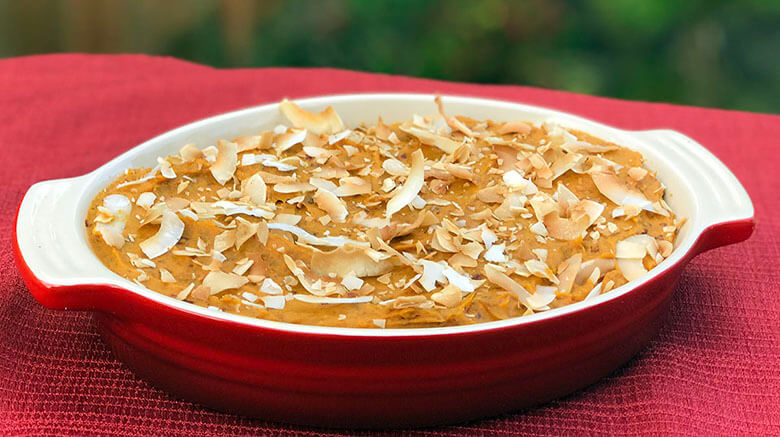 This nutritious recipe makes a delicious meal to mix with dog food, stuff into a holiday Kong or freeze into cubes for a tasty "pupsicle" anytime. It uses ingredients you probably have on hand for your holiday recipes.
Sweet potato is full of vitamin A (beta carotene), vitamin C and vitamin B6, and is a healthy source of dietary fiber and beta-carotene. Carrots and apples are healthy treats on their own, and add a natural sweetness to this recipe. Beans are a great source of protein, as well as B vitamins, fiber, iron, folate, potassium, magnesium and phytonutrients
Ingredients
½ cup shredded unsweetened coconut
2 sweet potatoes
2 large carrots
1 apple
1 can low sodium kidney beans (or prepare from dry beans to avoid excess sodium)
2 tbsp coconut oil
OPTIONAL: 1 tsp turmeric and ½ tsp ginger
Preheat oven to 350º
Spread coconut flakes on a parchment lined sheet pan and bake until toasty brown, about 5-10 minutes
Wash, peel and roughly chop the sweet potatoes, carrot, and apple.
Steam the veggies until soft and let cool enough to handle.
Drain and rinse kidney beans for two minutes to remove as much sodium as possible.
Place the beans and veggies into a food processor and pulse to combine.
Drizzle in the coconut and add the spices and pulse until combined.
Sprinkle with toasted coconut to garnish.
Related: Celebrate Your Dog's Special Day With This Yummy Birthday 'Pupcakes' Recipe