A dog wearing a "cone of shame" is not a happy dog. He bangs into everything, including the floor, wall and furniture. He can't get to the food or water bowl. He's hot and uncomfortable and grumpy.
There are even worse complications. Dogs in shelters are often wearing cones because they've been neutered, and even though they may be perfectly healthy, these dogs have trouble getting adopted because they appear unhealthy. It's a "Cone 22."
But there are much better (and cheaper) options that the standard hard plastic cone you get at the vet's office. Here's some alternatives that might make your dog much happier while he recovers.
Related: Artist Transforms Recovering Shelter Dogs Into Viral Superstars
Inflatable collars
Kong Cloud Collar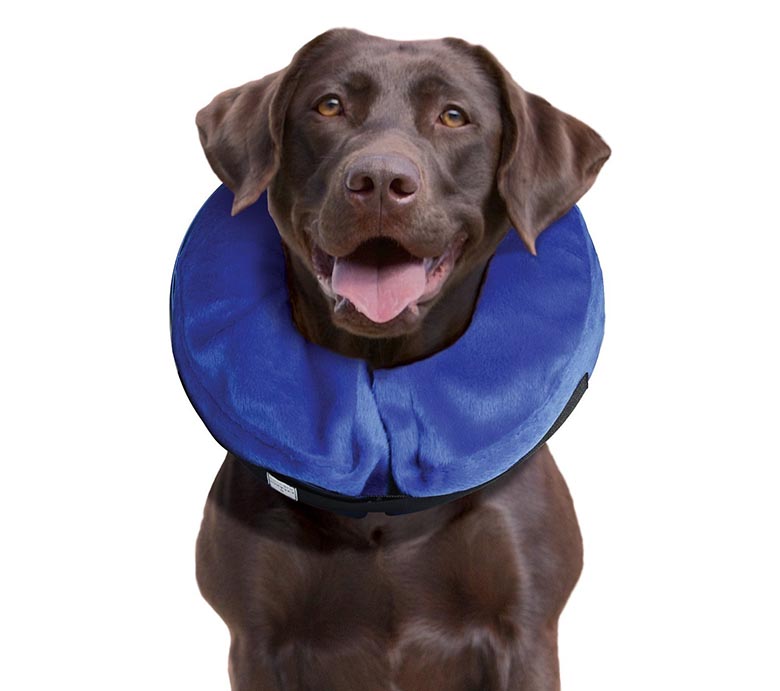 Soft and cushy as a comfortable neck pillow, this inflatable Cloud Collar by Kong won't interfere with eating, drinking or walking, and it won't affect your dog's peripheral vision either. Your dog will even be able to take a comfortable nap while he's wearing it. It's especially recommended for those dogs that are freaked out by the size and hardness of a traditional cone (which is basically all dogs).
Some consumers report that their dogs actually enjoy wearing them — what dog wouldn't enjoy a portable, attached pillow? It's machine washable, can be deflated for storage and it won't scratch floors and furniture.
The downside? It doesn't work for some dogs. This may be due to a seriously determined dog or where the incision or injury is, but some customers report that their dog is still able to reach the problem. But for the majority, it works like a dream.
The collar costs from $10 to around $18, depending on the size (comes in XS to XL).
Calm Paws Inflatable Protective Dog Collar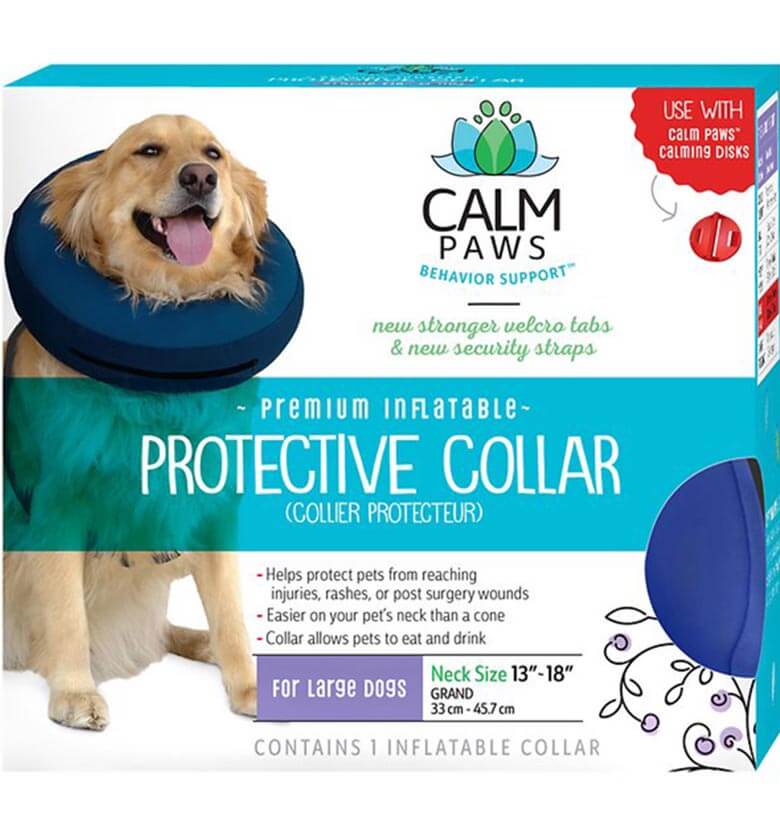 This option can be viewed as a "system"; it's made to be used with the Calm Paws Calming Disk Dog Collar Attachment, a blend of essential oils known to have a soothing effect on anxious dogs, which easily attaches to the inflatable collar. The collar's blue color was chosen for maximum calmness. The lightweight, inflatable design is airy, and allows your dog to eat and drink naturally.
Sizes go from XS to XL. The collar runs between $10 and $18.  
Other inflatable collars
Well & Good Inflatable Collar: Similar to the Kong, but flatter on top. Priced around $12 to $24.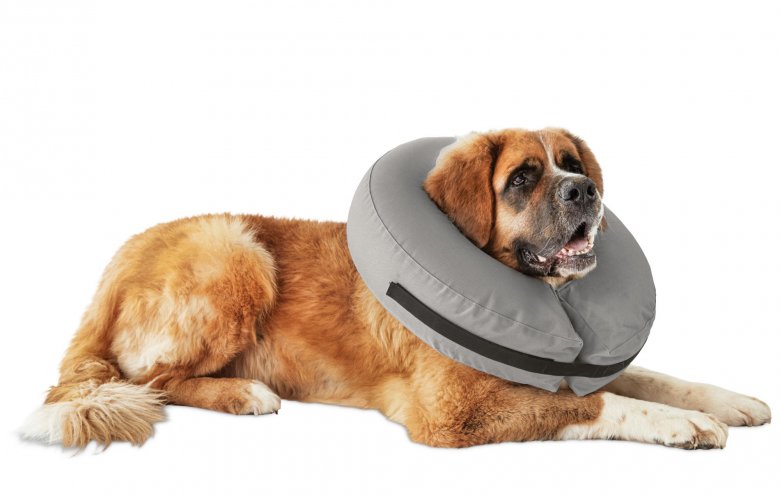 Remedy+Recovery Stay Rite Xtra Strong Collar: Petal shaped, extra-strong collar; designed with a notch system so pets can't wriggle out of it. Priced around $20 to $25.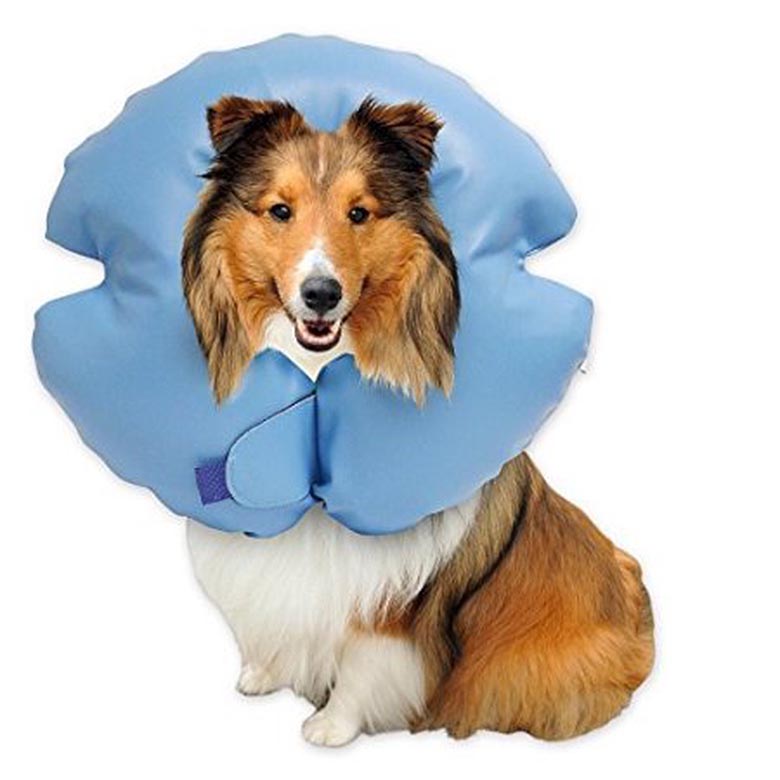 Kong Cushion: Strong but soft and flexible, sits on the neck or shoulders. It costs between $7 and $23.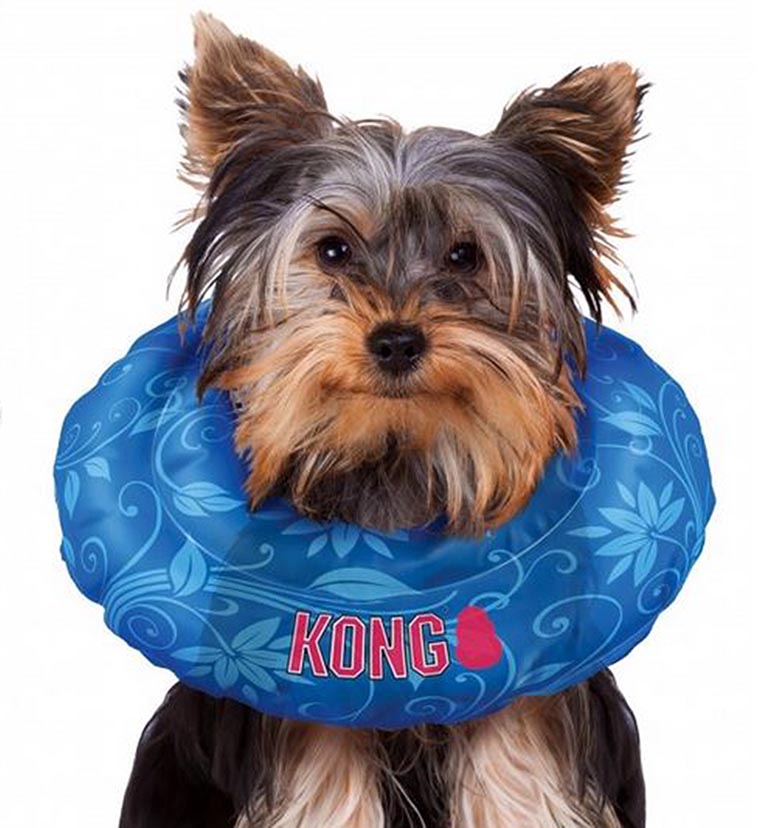 E-Collars 
Comfy Cone E-Collar for Dogs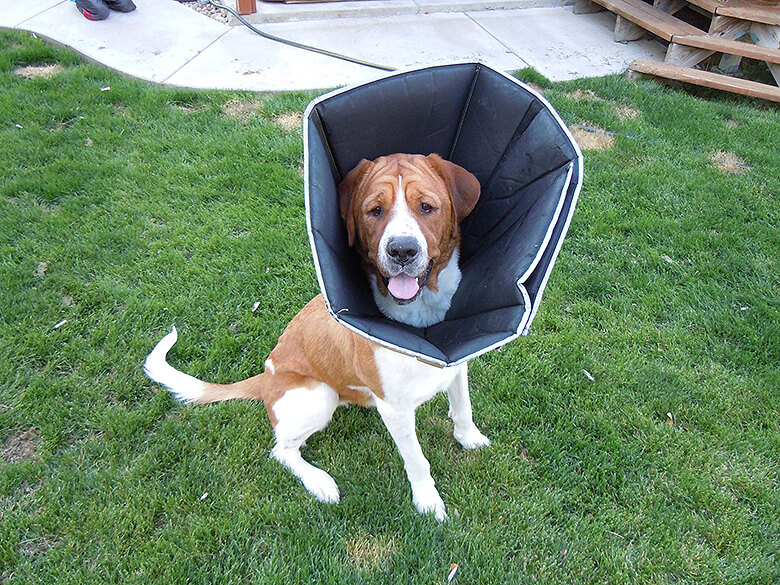 These collars are shaped more traditionally, but the difference is the material. A soft, padded cone-shaped collar with removable stays for more structure, yet, allows more flexibility of movement. You can remove the hard stays and fold back the collar to make it easier for dogs to eat, drink and sleep. The collar direction can even be reversed to face backward for shoulder or upper back injuries, as well as IV lines.
Related: Gala Event in Los Angeles to Transform the 'Cone of Shame' Into Beautiful Artwork
The shape also allows your dog to get through doorways, pet doors and other opening. The design has reflective binding for outdoor safety. The dog's regular collar threads through the elastic loops so the fit is secure but comfortable. Bonus: it is water resistant and repellant, so you can wipe it clean. The shape and fit is much closer to the traditional cone than the inflatables, so fussy dogs may still be unhappy.
The same rule applies: the collar's effectiveness will depend on your dog. While this collar extends past the dog's nose, if your dog is determined or stubborn, he may be able to get to the injury, but it's been reported by most customers to be effective. It comes in sizes from XS to XXL and runs anywhere from $9 to about $44.
Alfie Pet Recovery Collar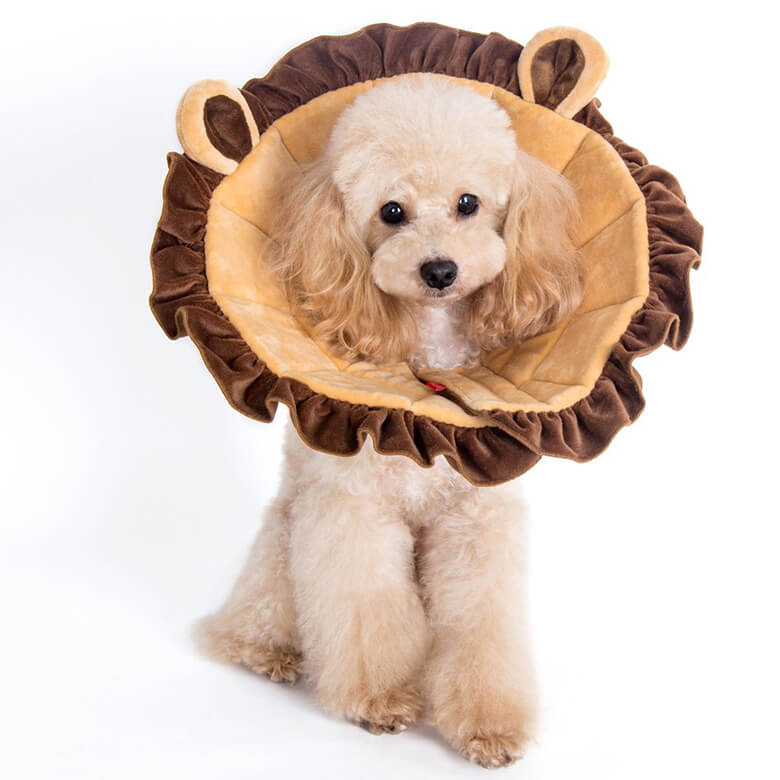 The cutest option by far, the Alfie Pet Recovery Collar has a lion design with little ears. Made of lightweight and comfortable plush fabric, the Velcro closure allows you to customize the fit. The collar extends past the nose, and most people report that it keeps their dog from getting to the injury.
And then there's the design. When it's on your dog, he looks like the King of the Jungle. (The company also has a pompom and sunflower style). It can double as a Halloween costume. The cuteness factor is off the charts.
It's sized from XS to XXL and goes from around $14 to $16.
Other E-Collars
ElizaSoft Recovery Collar — A soft, lightweight fabric option, it resists chewing and is flexible. Price is around $10.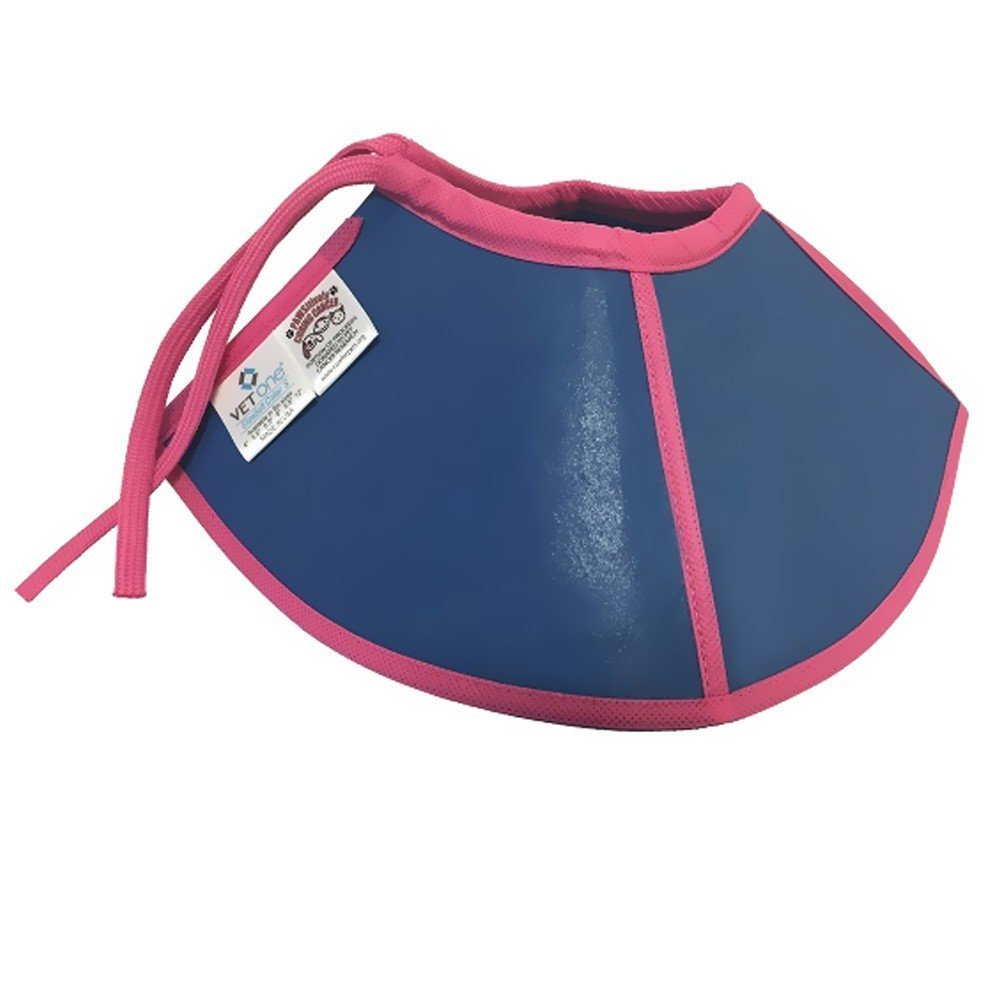 ZenCone — A canvas cone with see-through "windows" for easy visibility. Priced between $14 and $20.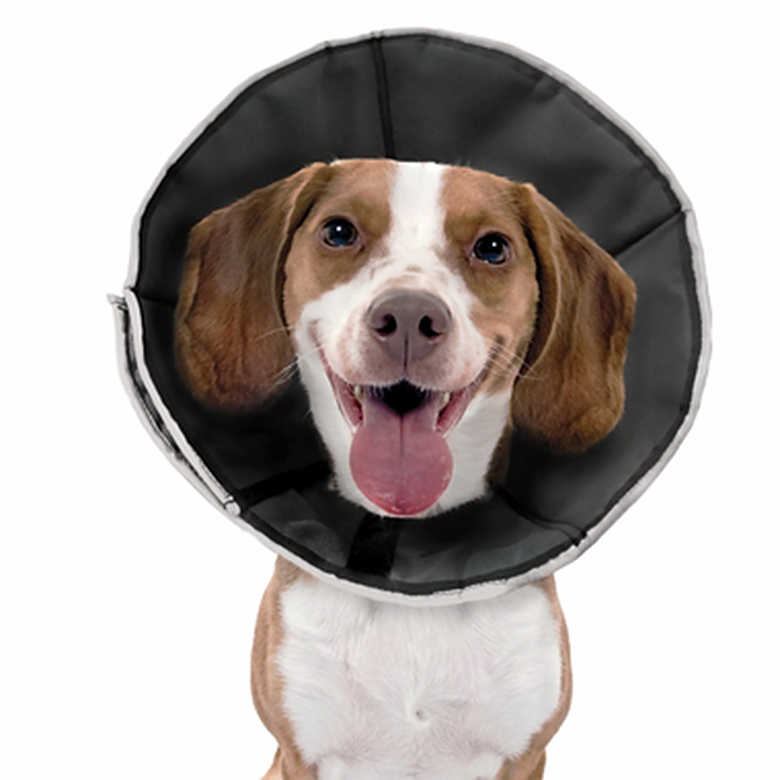 Cuddle Cone Soft E-collar — For the fashionista, a foam, fleece and fabric option with beautiful printed fabric. Priced between $30 and $40.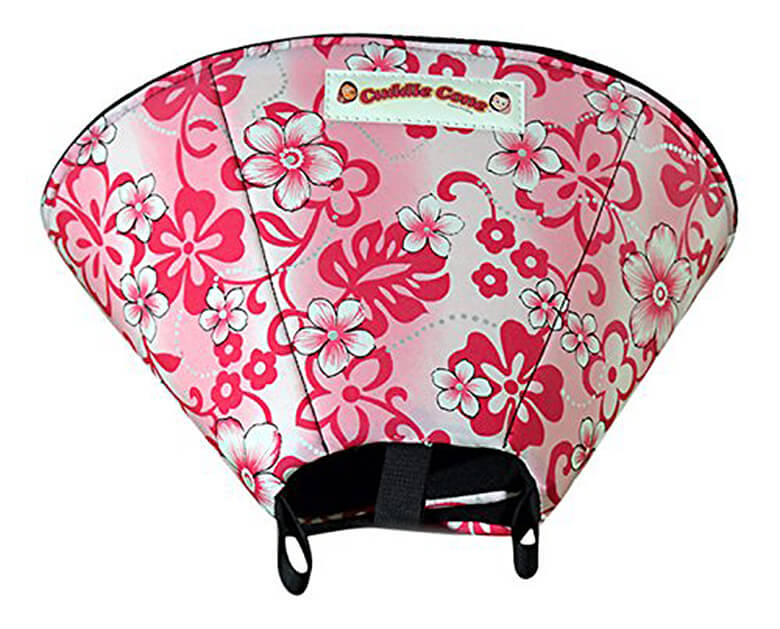 The no-cone option
Cover Me by Tui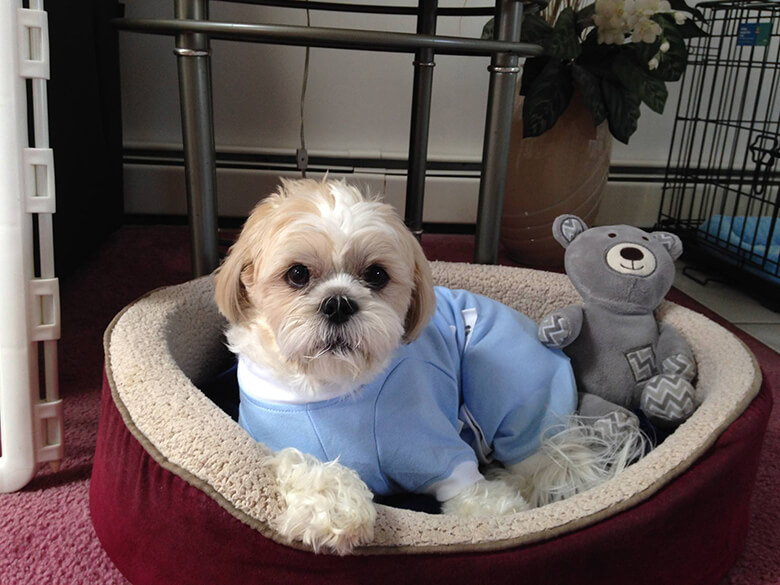 If your dog's injury is on the body (rather than the paws) this "post-surgical pet garment" may be the answer. It's basically a dog onesie with an adjustable fit and breathable fabric that is machine washable. Made from 100 percent Peruvian cotton fabric, it's hypoallergenic and comes in a step-in or pullover option with short or long sleeves.
The suit basically covers the entire dog's body, down to the paws with the long sleeve version. Snaps on the side can be adjusted for a customized fit. A "potty cover" can be unsnapped and rolled up for dog walks.
It comes in blue, yellow, pink, puppy print and camouflage. Sized from XXS to XXL and is prices from $20 to $40. 
Related: Does Ruffwear's Jet Stream Vest Really Cool Off Your Dog?