Looking to make your dog feel like a puppy again? Massage may be just the thing! Based in Los Angeles, Dancing Dog Massage provides canine therapy sessions combining aromatherapy, stretching and various massage techniques tailored to the individual needs of canines.
Founded by Gene Rukavina, he got the massage bug after becoming intrigued with dogs' muscular system and being his own boss. "Ever since I was a veterinary technician student, I had this dream of building my own small business based around my love for dogs."
While in school, Rukavina learned about the anatomy and physiology of dogs and became fascinated with the similarities of human and canine musculature. He soon realized there was a veterinary specialty focusing on animal massage therapy, and after receiving his veterinary technician license in California, he went back to school to become a canine massage therapist. In 2015, Dancing Dog Massage was born.
Related: Feet & Paws Fitness: The Easiest Way to Get in Shape With Your Best Friend
Whether it's a growing pup or pampered pooch, a Chihuahua or a Great Dane, every dog's musculature is the same – meaning that the benefits of canine massage will be enjoyed by all.
Rukavina explains that dogs can experience any or all of the following: improved blood flow, a more relaxed body, increased flexibility of soft tissue, reduced discomfort of arthritis, the elimination of bodily waste and toxins, better posture, injured muscles heal faster, improved athletic performance, release of endorphins and reduced stiffness in elderly dogs.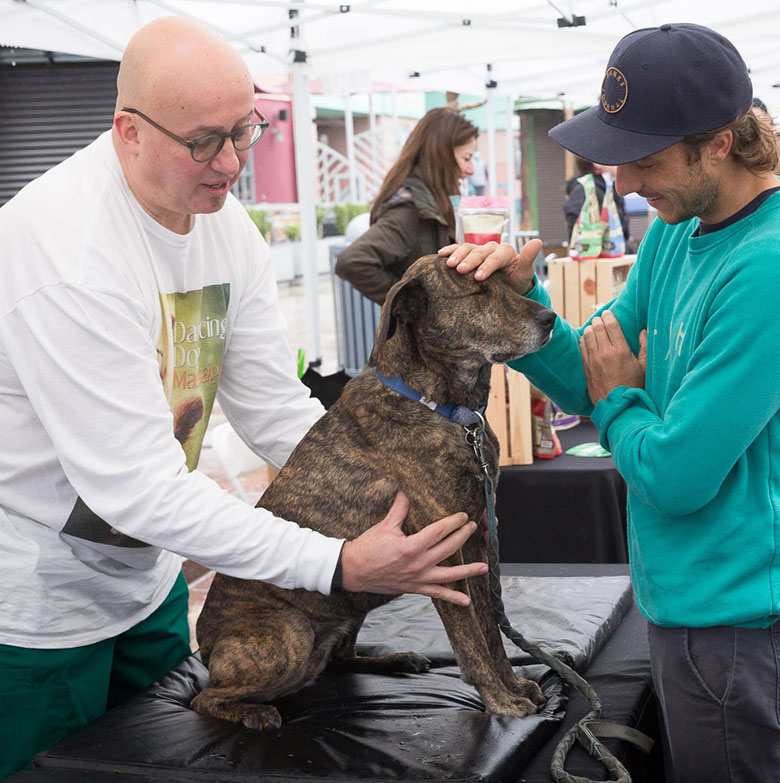 As if the basic massage's benefits weren't enough, Rukavina uses aromatherapy and music to take his services up a notch. His current potion of choice is Rescue Remedy Pet, an elixir which combines five bach flower essences that help relax the dog during the massage therapy session.
Related: Downtown Doghouse: Where Westminster Dogs Go to Get Groomed
"I either add a drop to a treat or rub it on the dog's paws, nose or ears – sometimes a dog will lick it right out of my hand!" says Rukavina.
Along with aromatherapy, he also uses iCalmDog, a portable music device, to play soothing music from composers such as Mozart and Beethoven. "The music really helps set a tranquil mood, and sometimes I think my clients like it as much as their dogs do," he says.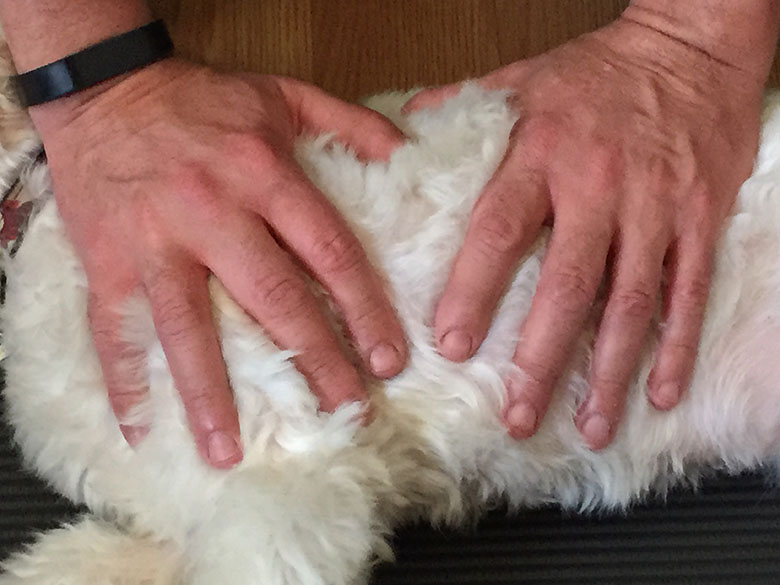 Dancing Dog Massage bases the cost of its services on the body weight of the dog. Small dog massages (less than 25 lbs) are $40, medium dog massages (25-50 lbs) are $50, large dog massages (51-100 lbs) will run you $60 and extra large dog massages (over 100 lbs) are $70. The time range is 30 to 60 minutes, depending on the pup's size (bigger dogs receive longer massages) and Rukavina's service is mobile, meaning he comes to you (nice!)
To work with different budgets, Rukavina offers a referral discount (three new client referrals equals one free massage!), multi-dog package (multiple dogs at the same location receive $10 off!), adoption discount (any dog rescued from a legitimate organization receives his first massage free!) and working dog discount (police, guide, therapy and service dogs receive $10 off any service).
Dancing Dog Massage offers much more than what meets the eye. Along with house sitting and dog walking, Rukavina frequently participates in different meet ups and events for owners and their canine companions. He's a sponsor for Wine and Dine with Doggies, has participated in events with Healthy Spot and even attends a weekly group called Beverly Hills Chihuahuas and friends.
As business continues to boom, Rukavina plans to stick with what he knows best: growing his company slowly and mindfully.
Related: 5 Ways to Tire Out Your Dog Before Leaving the House
"All of my future plans revolve around growing Dancing Dog Massage by leaving no stone unturned in the dog world," he explains. "There are so many avenues to explore and I love establishing good working relationships with other dog-friendly business in the greater Los Angeles area."
Stop by Dancing Dog Massage's site to learn more.