When Downtown Doghouse opened its doors in 2003, owner Nancy Chinchar wasn't going to settle on just making it any pet salon and boutique. She wanted the best, especially when it came to dog groomers.
"Mediocre groomers give me high blood pressure — lazy and uneducated stylists are accidents waiting to happen and that keeps me up at night," Chinchar says. "Mediocre is okay for stuff I don't care about, but I care too much about the dogs."
Well, it seems like Chinchar sleeps well at night. Looking at the staff's pedigree, her team could be considered the Olympic team of the dog world.
Related: Bar Bruno Wants Both You and Your Dog to Kick Back and Enjoy Its Mexican Food
Her staff has taken home numerous awards including Best in Show, Best in Breed and Rising Star; been both invited and shown at Westminster; has styled Instagram dog celebrities, was the go-to groomer for an ad for designer Philip Lim's menswear line that featured his dog Oliver; has been asked to style pups at numerous dog events; and been invited on the Today show, Anderson Cooper Live while also contributing to The Wall Street Journal, the New York Daily News and DNAInfo.
Besides these accolades, Downtown Doghouse goes beyond just the basic bath and trim. For one, they are known for their handstripping technique.
For those of you who don't know (including us) handstripping is a technique where groomers pluck fur or hair from dog coats. (Don't worry the groomer only grabs hair that is ready.) It is used on wiry-hair dogs and owners need to make the decision early on in a pup's life if this is the style they want.
The shop also does the very in vogue Japanese grooming (literally, think dog dolls), hand scissoring and show cuts.
Related: How This Little Store Helps the BARC Shelter Thrive in a Big Way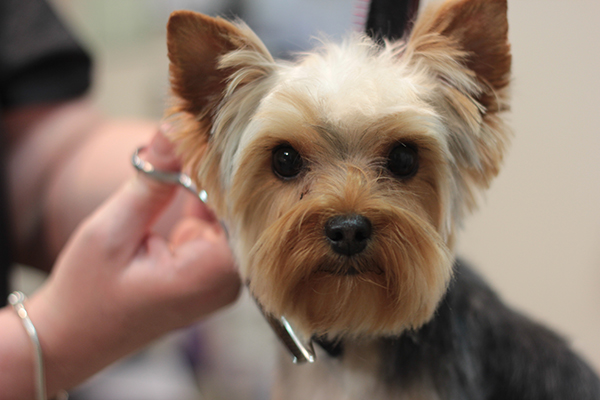 And then there is Mackensie Murphy, the No. 2 ranked groomer in the U.S., which helped her nab the cover of February's Groomer to Groomer magazine and a spot on Groom Team USA. (Yes, this exists.) Her main specialty is breed standard show trims. For this year's Westminster show, she will be grooming dogs in the cocker spaniel and Sealyham terrier category.
Because of the demand, Chinchar was able to open a second shop in Chelsea.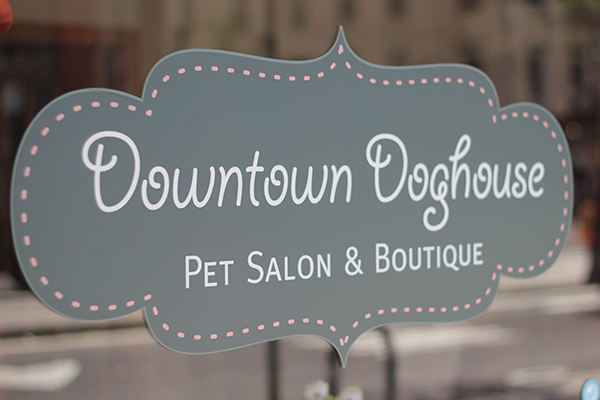 Chinchar is able to attract such experienced groomers because of her flexibility and support. Not only does she allow them time to travel for their trade but also ensures they all stay current on education. Plus, when her focus is finding the best of the best, she is able to more easily spot a high caliber of talent.
The groomers may be top tier, but the prices are reasonable. Haircuts begin at $90 and handstripping at $160.
The business also has special add-ons like teeth brushing, blueberry facials, drop-in nail or bang trims and a hydrosurge massage to help with the aches and pains in the older guys.
Besides ensuring your pup is in the best hands, Chinchar also wants to make the experience as transparent as possible, which is why there is a huge window in the shops, so worried owners can view everything.
"Both of my shops are nearly 100 percent in view of the front door, so anyone can stop by any time and see how well we treat the pups," Chinchar says.
While Downtown Dog is known for their extraordinary grooming and staff, they do also have a boutique filled with top-notch brands like Billy Wolf, Found My Animal, LoveThyBeast, Unnecessary Essentials, Chilly Dogs (winter wear) and Bella Bean Couture, among others.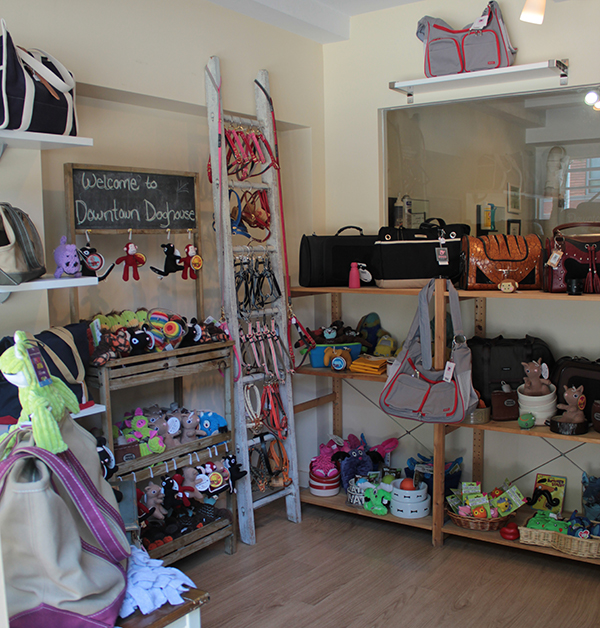 So, if dog owners are going to Downtown Doghouse for a haircut, facial or just to pick up a new collar, Chinchar wants them to know they are in good hands.
"I have high standards when I love something, and I love these creatures."
Related: New York City's Vino-Versity Adds Some Bark to Its Bottles