Online entities, inhabitants, dwellers, that we have become, searching or browsing for items from the convenience of our homes relies heavily on photos of the object of our desire — be it clothing, house ware or electronics, to name a few. And pets are no different.
For anyone looking to adopt a dog, the immediate connection formed upon looking at those soulful eyes staring back at you from your computer screen speaks volumes: it adds a face and character to any facts and information laid out before us. One famous photographer is using her craft to build a bridge for that bond, utilizing both her skill and her online following to promote and raise awareness for dogs in need of a forever home, while offering dog lovers an amazing product.
Sophie Gamand recently created a 2016 calendar along with a 12-image series of prints for sale featuring her former foster dog Tucker. Both items feature an array of beautiful and often-hilarious images of the pit bull mix, with 100 percent of the proceeds from all sales going towards Mr. Bones & Co.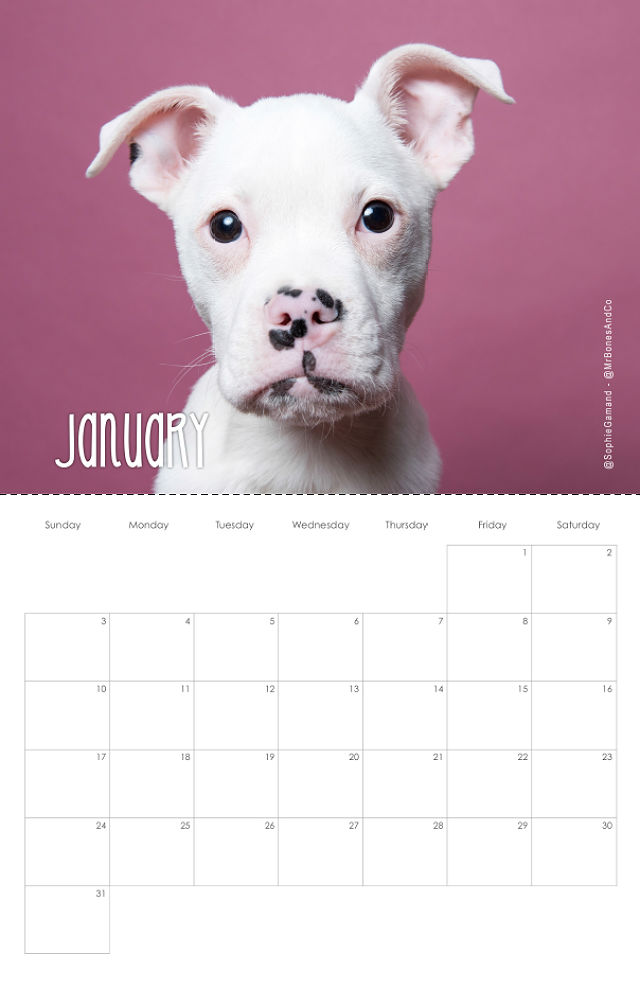 Related: Photographer Sophie Gamand Reveals the Real Magic Behind Her 'Flower Power' Pit Bull Series
At three months old, Tucker was found wandering along a highway near Lenoir, N.C. The young stray was brought to a local shelter, which reached out to Mr. Bones & Co., a rescue organization located in New York City, in an effort to get him out of the high-kill facility. Having agreed to take him into its One Lucky Pup program, an initiative that focuses on shelter dogs facing extraordinary challenges, the rescue searched for a local foster. With a single photo, they found one in New York City-based Gamand. "I saw a picture of him at the North Carolina shelter," says Gamand. "For me, it was love at first sight!"
At first shy and afraid, Tucker quickly learned to trust. "Tucker was so scared of everything," recalls Gamand. "He was very shy, and would cower when you approached him."
While fostering the young puppy with her husband in their apartment, the photographer quickly realized she had found her muse. "It's incredible what a few days in a home and out of a shelter did to this little guy," she says. Posing for the camera came naturally to the photogenic pup, and he and Gamand worked to create the playful images that are now featured in the calendar and prints series.
It was when those photos, shared on Gamand's Instagram and Facebook account went viral, that the unbelievable happened: the little stray puppy that no one wanted found his forever home in one week, the quickest adoption in the history of Mr. Bones & Co.
No stranger to the power of the photographic image, Gamand is the brain behind the viral series Flower Power, in which shelter pit bulls are adorned with an ornate crown of flowers, and Wet Dog, now a book that invites viewers into the intimate world of bath time.
Related: Sophie Gamand's Book 'Wet Dog' Goes Way Beyond Cute Pictures of Pups at Bath Time
"When it comes to my work, I try to capture something unique about my models — an emotion, a soul, a personality. This proves to be very important when projecting an image of a dog awaiting adoption," says Gamand I want to create a connection between them and the viewer because all the potential adopters out there are looking for their doggy soul mate. I think good photography helps create those connections, and I know that rescues and shelters get many more followers through posts with strong photography."
Having worked with several rescues over the past five years, Gamand has witnessed near-miracles such as Tucker's time and again — dogs that have lived in a shelter for years with no interest finally finding their best friend thanks to one heavily-shared photograph. Gamand's success stories include Flower Power pups Murdock, a former bait dog who was seized in a criminal case, and Brownie, who, having waited in the Hempstead Town Animal Shelter for two years with no interest, was adopted two weeks after her photo was featured as part of the series.
Related: Remember Murdock, the Former Bait Dog? You'll Never Believe What Happened to Him.
"Social media is a key platform for promoting our adoptable dogs and gaining added visibility through 'shares'," says Marisa Grimshaw, co-executive director of Mr. Bones & Co. Despite listing all of their adoptable dogs on Petfinder, as well as their website, social-media users invite these dogs into a larger arena, allowing for additional exposure on a daily basis. "Most applicants will say they heard about our organization or a particular dog through Facebook or Instagram," adds Grimshaw. And with how we consume content these days, it makes perfect sense.
With 37 percent more people responding to image-based posts over text-only the power of the photo not only gets people talking but now has a stage upon which it may shine. "People are inundated with information and texts all day long on social media," says Gamand. "You have to get to the point. A photograph does that."
Through the use of technology, social media, and the established foster program of Mr. Bones & Co., Tucker's life was changed in a matter of weeks, and he isn't the only one feeling the love. "The experience of fostering is teaching me so much," states Gamand. Opening one's home and heart to a dog in need not only changes the life of that dog, allowing them to acclimate to the daily structure of family life, but also comes with immeasurable rewards for the foster parent. "I think fosters can teach you a lot about yourself, the way you interact with the world around you and your relationships, be it with humans or animals," Gamand says.
The famed photographer cannot praise fostering highly enough, and is looking forward to finding her next match, a pairing her thousands of supporters and followers are no doubt looking forward to as well.
To purchase the calendar, head over to her store featuring it. The cost is $20 for 28 pages. To buy an individual print, you can view options on her online gallery. Prices vary from $25 for a 4 x 4 to $200 for a 16 x 20. Again, all proceeds from the sales of both the calendar and prints will go to benefit Mr. Bones & Co.
Related: Photographer Sophie Gamand Snaps Pics of Marc Jacobs' Dogs for Denim Shoot