Eveleigh is an unpretentious and intimate restaurant that was built on an orchard in 1923. Opened in November 2010 by restaurateurs Nick Mathers and Nick Hatsatouris, Eveleigh, named after a Sydney suburb, is quickly becoming known as a rustic retreat on the Sunset strip.
The restaurant prides itself on in-house production of the best foods in the area and sources ingredients abroad that have conscientious practices and free-range origins. While Eveleigh is inspired by the freshness of California cuisine, southern European traditions are creatively infused in many dishes.
The rustic appeal goes beyond the restaurant's approach to food: Eveleigh's relaxing ambiance will have guests feeling at home. Whether it's the unassuming clapboard façade, enchanting front garden, marble-topped two and four tops or the comfy oversized chairs, it's the perfect place to enjoy incredible food and even better company. And by company, we mean your furry friends! Yep, it's true: Eveleigh invites each and every one of their customers to enjoy their beautiful dining patio surrounded by the ones they love most — their pets!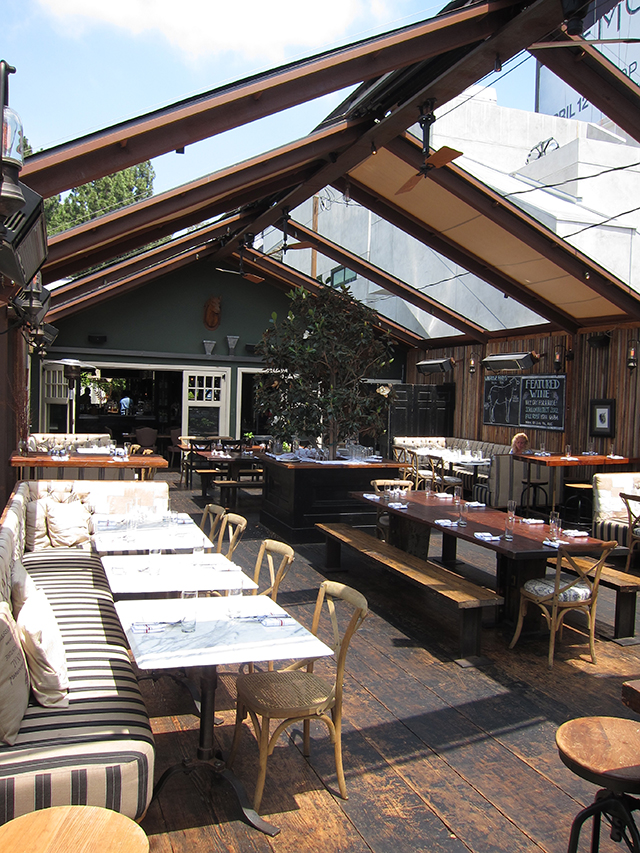 "At Eveleigh, we love dogs! In fact, people bring their pups to the restaurant nightly, says general manager Jeremy Adler. "Dog and companion seating is readily available on our front patio and we offer complimentary sparkling or flat water upon request for all guests between two to four feet." Wondering what pups prefer more? "Bubbles with ice is always a good time," he tells us.
Related: Dogs Can Indulge in Facials, Pawbar and Champagne Room at Pussy & Pooch Boutique
As far as fare goes, Eveleigh's dishes are simple, allowing the food to speak for itself. Meals are divided into four sections — small plates, large plates, sides, and of course, desserts. Think: juicy burgers with fresh accruements, roasted butternut squash accompanied by trumpet mushrooms, veggie dishes tossed in sweet and spicy sauces and a charcuterie plate that'll leave you pining for more. They also have an in-house bakery that makes fresh bread and sweet and savory breakfast pastries.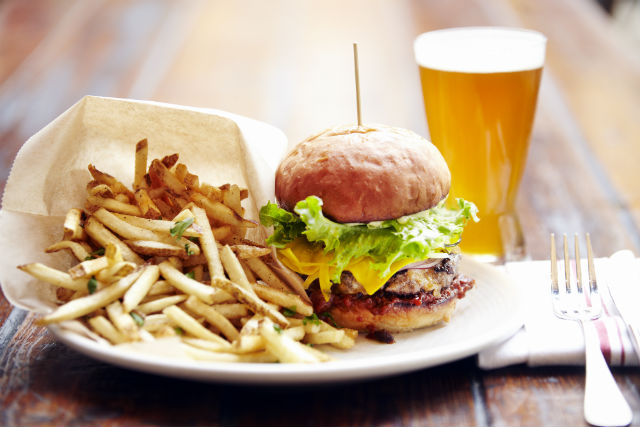 And let's not forget the drinks. Eveleigh's bar team has been trained by famed mix master Sasha Petraske from New York City's Milk & Honey, so expect handcrafted cocktails made fresh with market herbs, spices, fruits, and hand-crafted syrups. Favorites include the Eveleigh Lemonade (chamomile-infused tequila, Combier, Cocchi Americano, fresh lemon juice, honey), the Summer Sangria (rose, pears, tangerines, grapes, lavender brandy, Aperol) and the Oaxacan Phoenix (bourbon, mescal, celery bitters, Serrano pepper, agave, fresh lemon, smoked sea salt). And the wine list? It spans from France to California to New Zealand and features wines from productions of less than a 1,000 cases and some of their favorites are from productions of less than 100 cases.
While the food is absolutely incredible, the atmosphere is just as great. According to LAWeekly.com, "The Eveleigh is like a garden party oasis in the midst of West Hollywood, and the barn-like back room, which is actually a patio, is one of the loveliest parties in town. Owners were smart enough to install two bars, and one of them is at the back of the patio, where you can order stellar cocktails and look out over a stunning view of the city sprawled out in all its jewel-like magic."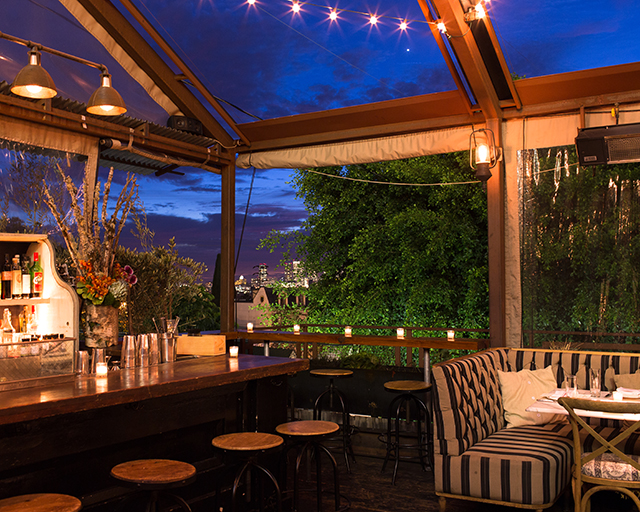 Besides offering great food, amazing drinks, and a killer atmosphere, Eveleigh prides itself on being charitable, too. Just recently, they hosted a pet adoption Yappy Hour with Healthy Spot (our personal favorite!) on their front patio. Outside of the dog realm, they frequently host private functions like fashion shows, weddings and community events.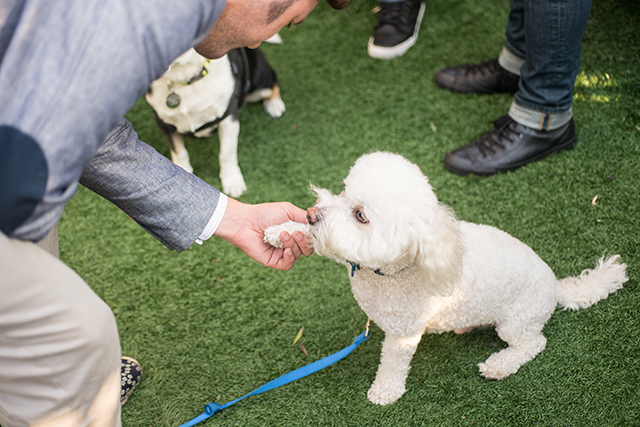 Bonus: The Eveleigh team also owns Goldies, another LA-based restaurant, and Ruby's and Dudley's – both based out of New York. Double bonus: all three are pup friendly, too!  Moral of the story: grab your pet and get to one of these restaurants STAT. You won't regret it.
We can't wait to see what this innovative team comes up with next!
Related: Healthy Spot: Where LA Dog Owners Go for Wholesome Food and Top-Notch Services