For the fashion-forward dog owners on the go, these 10 options feature carriers constructed of 100 percent animal-friendly products.
1. Trixie and Peanut Luxe Lexi pet tote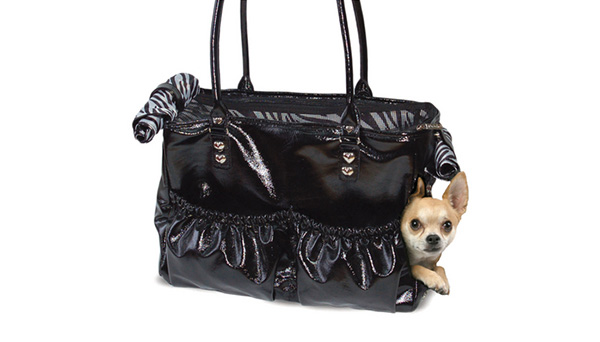 This lightweight pleather carrier from Trixie and Peanut is armed with exterior pockets, ventilation panel, roll-down privacy flap and magnetic snap closure. Measuring 15" x 7" x 11.5" it also meets airline requirements.
Related: Those Biodegradable Dog Poop Bags May Not Be as 'Green' as You Think
2. Pet Ego hog bag in faux leather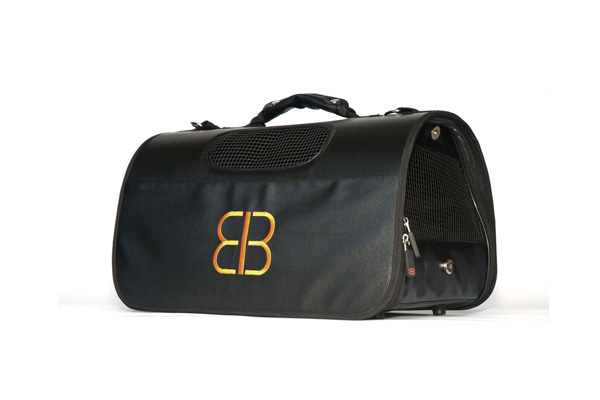 This bag by Pet Ego and designed by Emanuele Bianchi Design does not skimp on style. Decked out with two mesh doors along with a mesh window on the side, allows for great ventilation – and so your sidekick has ample view of the situation. The faux leather is easy to maintain, the bag is collapsible and measures either 14" x 8" x 8.5" or 16 "x 10.5" x 9.5" Again, meets airline regulations.
3. Dog of Glamour Alexander tote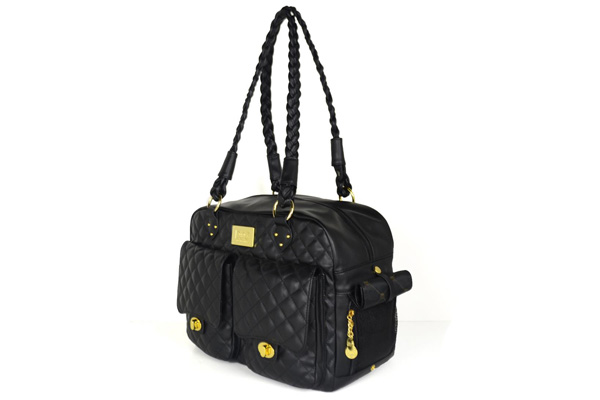 This Dog of Glamour luxury pet carrier is made of quilted vegan faux leather and comes with braided handles – for optimal style. Named the Alexander tote, the carrier has side ventilation, a faux fur pad for your pup to sit on and front pockets. Available in black or pewter, this bag is airline approved measuring 16" x 11″ x 8.5."
4. PuchiBag PetSak in candy apple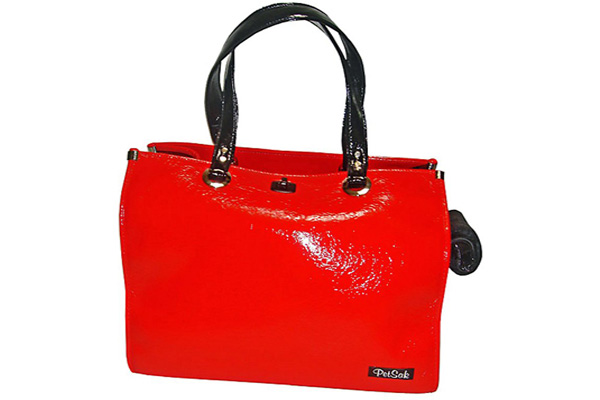 A break from the traditional black and canvas-colored offerings, this PuchiBag comes in bright candy apple red. The bag combines patent with distressed for both its body and its straps. The hardware has a silver finish and black faux fur and mesh accents throughout. The bag measures 15″x 8″ x 12″ and is airline approved
5. Anima black faux crocodile travel bag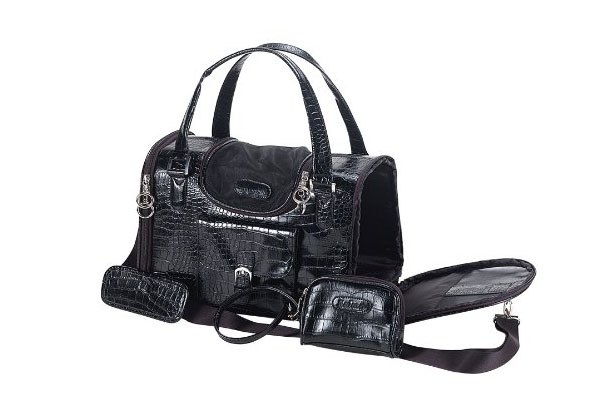 This faux crocodile number by Anima comes with a matching tote for treats and snacks. Besides having ventilation windows and pockets for storing more goodies, the bag has leash attachment inside for added security. Available in black or pink, the bag measures 13″ x 7″ x 9″ or 16.5″ x 9″ x 11″ (meets some airline guidelines).
Related: Coach Throws NYC Party to Celebrate Collaboration With Ariana Grande's Dog Toulouse
6. BK Atelier Rox dog tote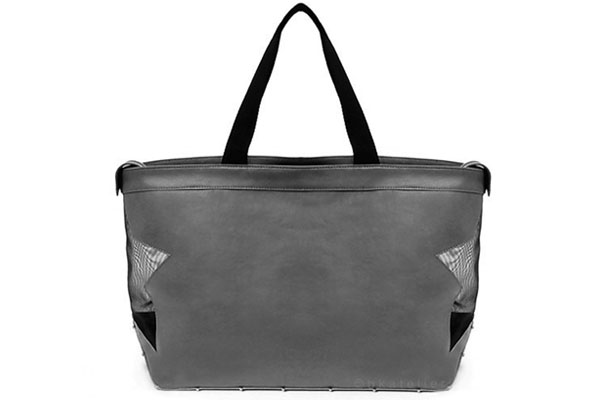 Vegan-friendly design by BK Atelier features nylon silk mesh openings for breathability, removable terry lining and gold-studded details. The body of the bag is a charcoal coated canvas and is oh-so stylish. Designed by Justine Kwok, a fashionista who has had past stings to Louis Vuitton, Givenchy and Diane Von Furstenberg. The bag measures 19″ x 8″ by 11," so definitely not airline friendly. (But would you really want to stuff this bag under a seat?)
7. Susan Lanci faux fox fur dog cuddle carrier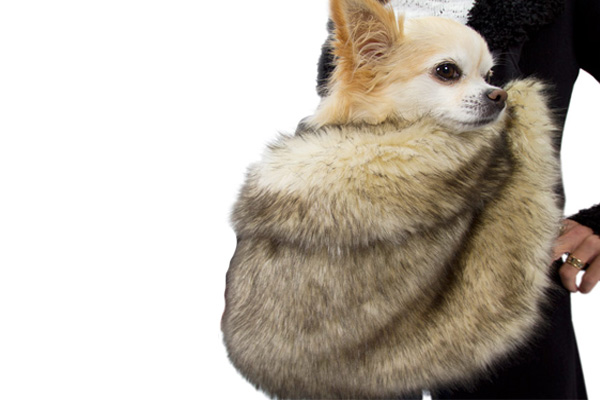 Cart your furbaby around in this cute faux fur satchel made by Susan Lanci. The inside is also lined with an " extremely soft black curly sue fabric," making the bag extremely warm and cozy. For dogs 12 pounds and under, measures 19″ x 11″ x 11″ and has adjustable shoulder strap. And no, there is no way you are getting on a plane with this bag.
8. Paws 4 Peace leopard sling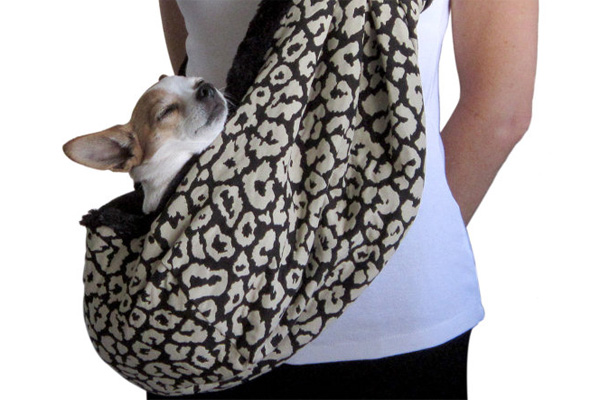 Animal prints never go out of style and now you can tote your sidekick around in a fashionable leopard textured design. The sling comes equipped with a pocket to hold important items (like treats) and is lined with black faux fur. The bag is for pups 10 pounds and under. The best part is 10 percent of the profits from this Etsy find benefit in fighting animal abuse.
9. Jaraden SoHo pet carrier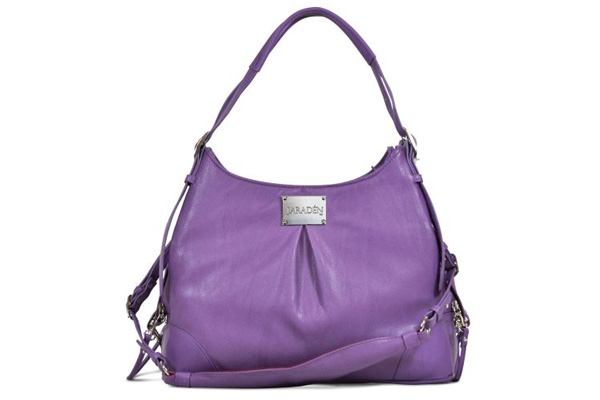 This soft, animal-friendly pleather looks and feels like the real thing. The Jaraden bag has two hidden 9″ pockets with a magnetic closure. The handles are adjustable and the bag comes equipped with a removable shoulder strap. The bag measures 15″ x 8″ x8″ and most likely can't go on an airplane.
10. Doggles hemp dog carrier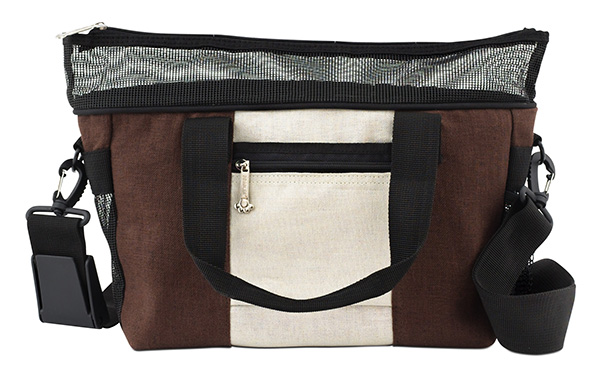 This carrier made by Doggles is all hemp and includes pillow, blanket, and collapsible water bowl. Also, the mesh panels are UV, meaning they protect your pooch from UV rays. Available in small, 11.5″ x 6″ x 12," and large, 20″ x 7.5″ x 15." The small size may be suitable for airline travel
Related: Jimmy Choo Throws Party to Kick Off Line Inspired By Dog With Same Name