Okay, even if your dog hasn't been a good boy or girl all year, they still deserve to get in on the holiday fun. And what better way than an advent calendar made specifically for them!
While traditional holiday countdown calendars use chocolate (a huge no in the dog world), there are tons of dog-friendly advent calendars on the market, with toys, treats, and other goodies hiding behind each door leading up to Santa's arrival.
Related: The Inspiring Story Behind 'Made With Love and an Extra Chromosome'
Need help finding the right advent calendar for your dog? Our top five picks will help you and your pup pack the coming weeks with holiday cheer.
1. Bonne et Filou Advent Calendar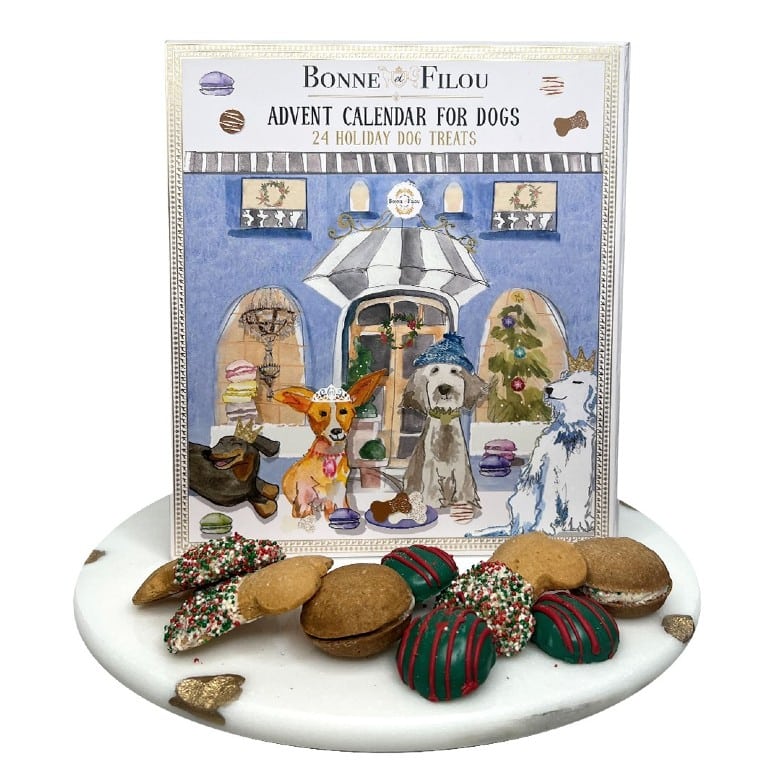 Just because you aren't royalty doesn't mean you can't treat your dog like the prince or princess they are. With the Bonne et Filou dog holiday advent calendar, you can transform your home into a pup-friendly Palace of Versailles.
With rich illustrations depicting happy holiday pets and delectable dog-safe macarons and bones, every dog—French or not—will have their day.
Why we love it
Bonne et Filou's advent calendar features deluxe dog-friendly treats handmade from locally sourced human-grade ingredients in the US. While the chic illustrations will light up your home with holiday joy, your pet will love gobbling up the 24 goodies inside each window. 
Get it on This Dog's Life for $70
2. Wufers Dog Cookie Calendar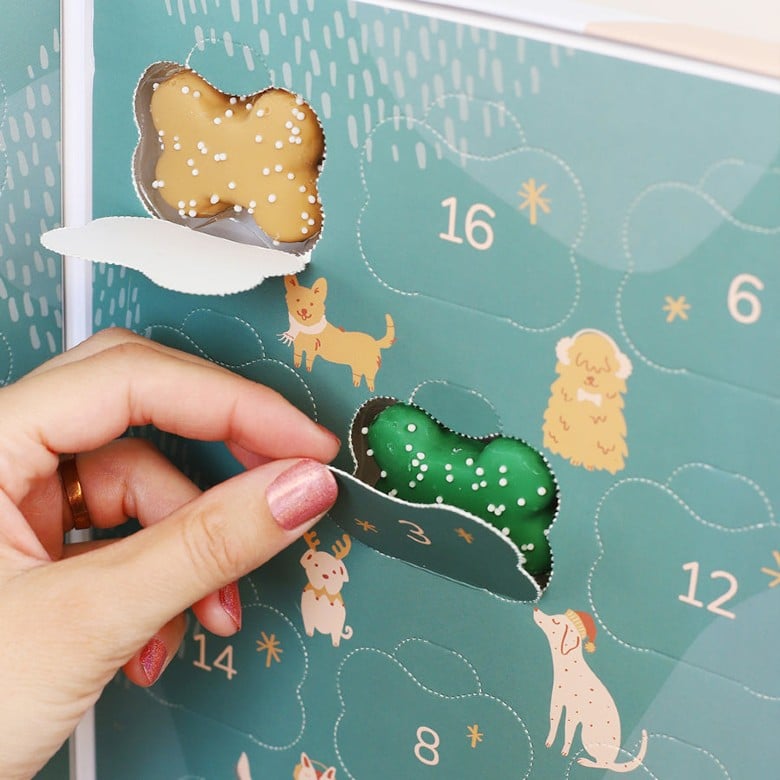 Wufers is already loved by pet parents across the globe for its freshly baked and hand-designed dog treats. So, it comes as no surprise that their dog holiday cookie calendar is always a huge hit. Rated five out of five stars, this boutique illustrated box includes 24 Wufers cookies made from quality human-grade ingredients.
Why we love it
While many advent calendars are designed to hang on your wall, Wufers' beautiful advent box can be displayed everywhere. Simply set it on your mantle or under the tree and pop open the 24 perforated dates to reveal gorgeously decorated dog sweets.
Best of all, the 24 quirky dog drawings are guaranteed to instantly lift your spirits.
Get it on Wufers for $59.95
3. YumYum4Dogs Christmas Dog Treat Advent Calendar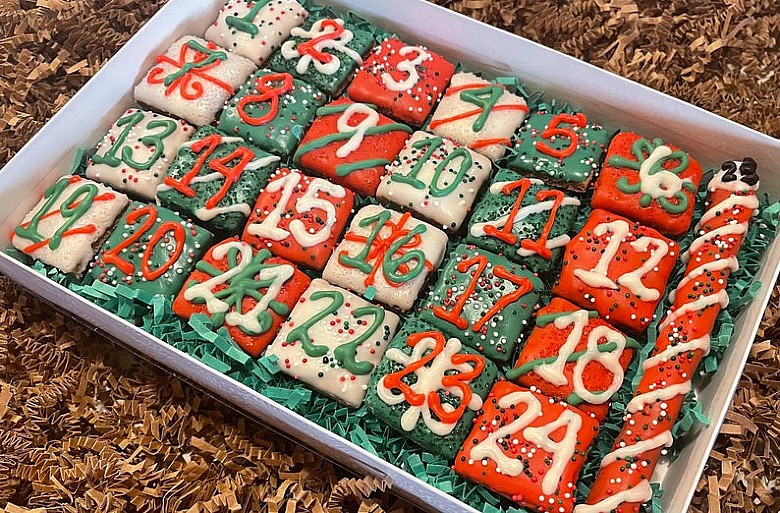 Want to support small businesses this holiday season? If so, this unique dog treats Christmas calendar box from YumYum4Dogs is a great option. Rated five stars amongst 3,400+ reviews, this designer pet calendar features 25 handcrafted dog treats made from all-natural, human-grade ingredients.
Why we love it
YumYum4Dogs' advent calendar brings something special into your home for the holidays. Handmade in small batches and baked at the time of order, the company crafts its cookies using only natural, high-quality ingredients, such as honey, peanut butter, and whole wheat flour.
This calendar is only available for order until November 27, so be sure to grab yours now.
Get it on Etsy for $27.99
4. Frisco Holiday Dog Toy Advent Calendar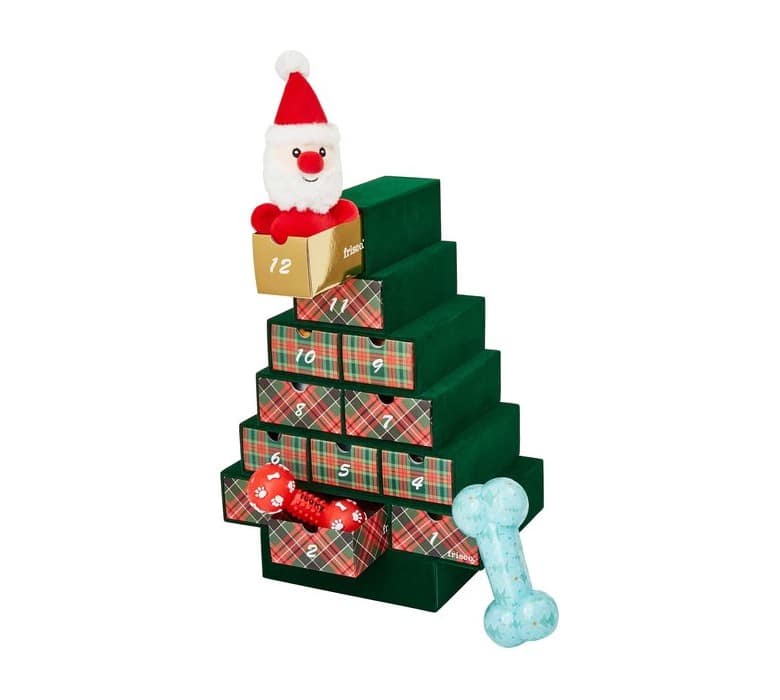 Has your dog chewed up all of his toys? Not to worry! Spoil your pet for 12 days straight with the Frisco holiday dog toys advent calendar. Shaped like a lush green Christmas tree, this calendar includes 12 toys that are best suited for small and medium dogs. Each day, open up the little drawer to discover a new holiday plushie, rope, or latex toy.
Why we love it
The Frisco dog advent calendar is the perfect addition to your holiday décor. We're obsessed with the vibrant Christmas colors and huge variety of toys included in each box. Best of all, it's priced to please. Treat your pup to 12 quality toys without breaking the bank.
Get it at select stores for $36.85
5. Zippy Paws Plush Dog Toy Advent Calendar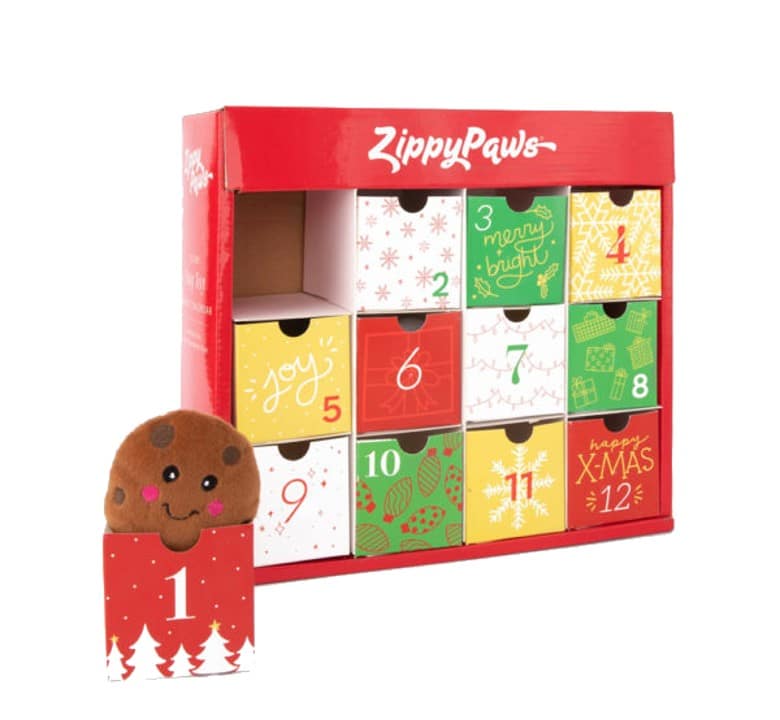 Zippy Paws is a trusted name when it comes to high-quality dog toys, feeders, and walking gear. Now, you can give your dog 12 great gifts with their holiday advent calendar. Each box measures 12.5" x 11" x 4" and comes with 12 premium dog-friendly plushies.
Why we love it
Zippy Paw's advent calendar features a fun, bright design that will zap your winter blues away. You can easily display the box anywhere and pull out a new petite plush toy…that is if your dog doesn't get to it first. Since these 12 toys are on the smaller size, you can play hide-and-seek with them. This makes the holiday fun last all year long.
Get it on Zippy Paws for $64.99