Ready for some weekend fun with your pup and your friends? We thought so!
Tomorrow, bring your four-legged BFFs to Rosie's Dog Beach in Long Beach to raise awareness and money for local charities while having a ball, too!
Called the Long Beach Polar Splash (and Doggie Dip), the event involves participants running into the chilly waters of the Atlantic Ocean to raise money for various causes, including Little Miss, Teen, Miss and Mrs. Long Beach and Southern California Cities.
Related: This Santa Monica Beachside Biergarten Boasts Tasty Food and Pup-Friendly Amenities
To join in the fun, you need to act fast. Groups of 20 or more must register by 6 p.m. tonight to qualify for the charity initiatives. Each member must be certain guidelines, including determining what organization they are going to support prior to the event, they must be at the beach by 10 am, be involved in the beach clean up before the polar splash and involved in the group photo, among other things. (You can view all the requirements here). For each group of 20 or more, the group behind the event, Community Action Team, will donate $5 per person to the chosen charity. (If you don't have a group, you can still participate, there will just not be a donation to a nonprofit.)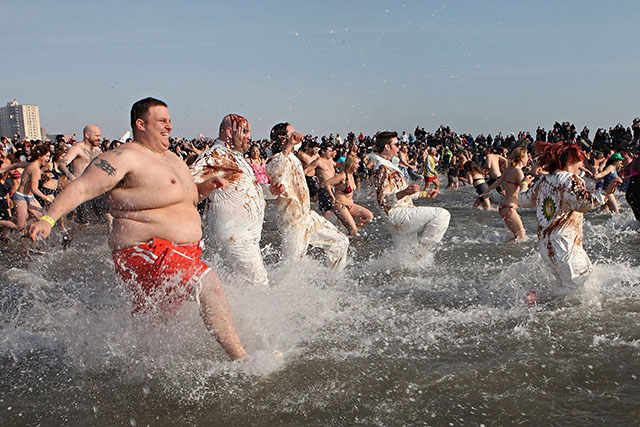 Because much of the focus is on the group aspect, the event's organizer Justin Rudd tells us, that they "get college fraternities, roller derby teams, schools, and more" to sign up.
Participants are encouraged to get creative with attire, but if you're not a costume person, don't fret: you are equally welcome to show up in a tee and jeans or your go-to bikini or speedo. Whatever floats your boat. While footwear is totally fine to wear, keep in mind that you will get wet (and when we say wet, we mean completely drenched from head to toe, so bring a towel).
Related: The Only Beach That Requires People to Have a Dog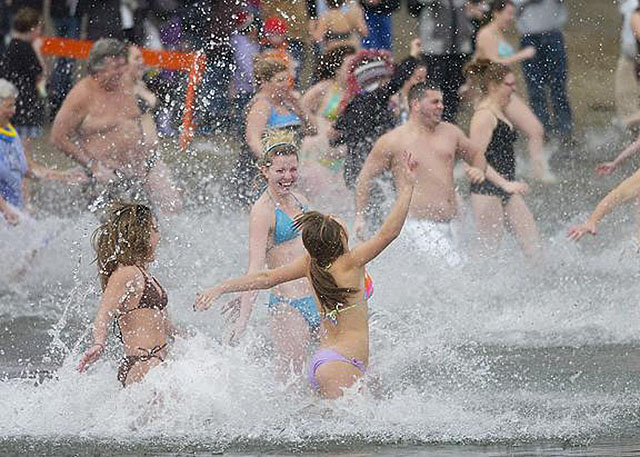 While your pup is more than welcome to join, the event organizers are not exactly encouraging them to jump in the water with you. (They can dip their feet in but can not be submerged under water.) It's probably for the best though, as water temperatures are expected to be anywhere from 55 to 60 degrees. With that said, they'll have the opportunity to mix, mingle, and jump for joy with everyone on the sand.
As for you, Rudd tells us that you'll enjoy some serious bragging rights once you "go home and [tell people that you] were able to enter the [freezing cold] ocean in January."
Not a fan of the waves? No problem. Arrive 30-minutes prior to the event to participate in a beach clean up, complete with free bags and gloves to help keep those hands clean and the job easy.
"The best part of the event is the memories and camaraderie," Rudd says. "Events like these are an annual tradition to start the new year. Symbolically, it's like washing off the past and starting fresh."
After the event's over, be sure to stock up on free prizes, refreshments and Long Beach Turkey Trot T-shirts, too! Interested in attending? Register here by 6 pm tonight. The event will take place at 1 Granada Avenue.
Related: More Than 600 Corgis Flocked to a Beach — And It Was Awesome
All images via Facebook