What's better than attending one of Hollywood's most unique live comedy shows? Attending with your best friend, of course! And when I say best friend, I don't mean your typical BFF. In this case, I'm talking about the furry little friend that's by your side on the reg.
Enter 2 Girls 1 Pup, a Los Angeles-based dog-friendly comedy show featuring complimentary "pupcorn," fun games, raffle prizes, hilarious segments and more. Named one of the "10 Best New Stand-Up Shows in L.A." by LA Weekly, the event is hosted by comedian Monique Madrid, her dog Comet and a rotating cast of comedians at Tailwaggers on the first Sunday of the month. By entertaining attendees and encouraging pup participation the stand-up show is enjoyed by both humans and dogs.
Related: Amy Poehler's 'Heavy Petting' Is a Funny Series About Adoptable Dogs
"We literally have dogs and their humans sitting in dog beds on the floor, while others curl up on their owner's lap, hump a leg, or just hunker down to take a nap," says Madrid. "We never take offense to it, though – it just means the dogs are having a good time, too. My dog, Comet, is always happy and exhausted the next day. It's great!"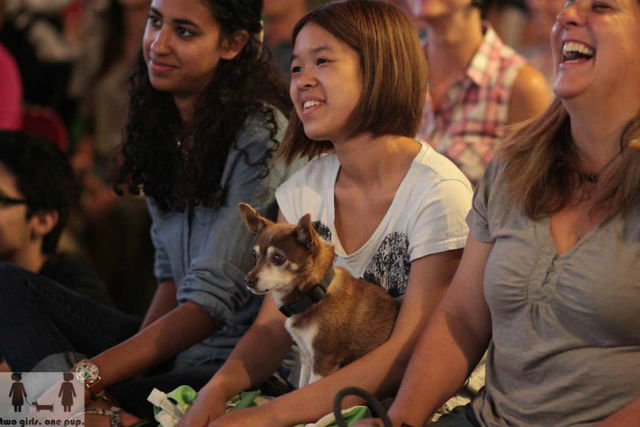 In a departure from its usual stomping ground, this month's show will be in partnership with RIOT L.A, an alternative comedy festival occurring from Jan. 29-31.
On Jan. 31. owners and their pups can see 2 Pups 1 Girl at The Lot, an uber cool event space in Downtown on 253 S Main Street. Besides enjoying the comedy sketches, the space is an interactive collective of all things fun. From arcade games to shuffleboard to food trucks, photo booths, artificial turf lounges and more, the set up is designed to give pets (and pet owners!) an evening they'll remember.
Related: Ricky Gervais' One Tweet Helps Save 680 Dogs
The show starts at 5:00 pm and goes until 6:30. But before it, there will be awesome pre-show red carpet at 4:30. Complete with cameras, lights, and "paw-parazzi," the red carpet is perfect for those pups that just can't get enough of the limelight. And at $10 a pop, tickets are not only reasonable, but they're charitable, too — every purchase goes towards The Best Friends Society, which is the nation's largest no-kill sanctuary for companion animals.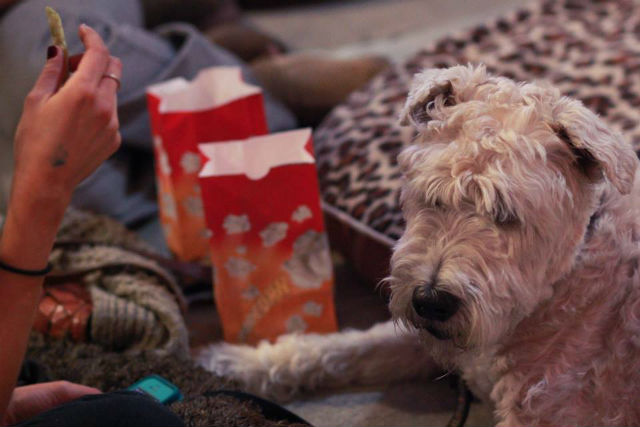 The affair promises tasty treats and craft beers for humans, comfy lounge spots for all, live entertainment by Kindred Throats, a two-man musical comedy duo made up of the hilarious Kevin Stafford and Todd Risenmay, and a performance by the comedy dance troupe Liquid Feet, who dance to TV and movie-themed music.
2 Girls and 1 Pup will raffle prizes from from Dogsniffer.com and Tailwaggers, followed by a panel with the comics at the end.
"It's so fun seeing how different comedians respond to performing for dogs" Madrid says. "Many punch lines have been messed up due to dogs barking, but the comedy is smart, funny, and relatable. Honestly, you can't leave the show in a bad mood. Between comedy and dogs, the endorphins are flowing."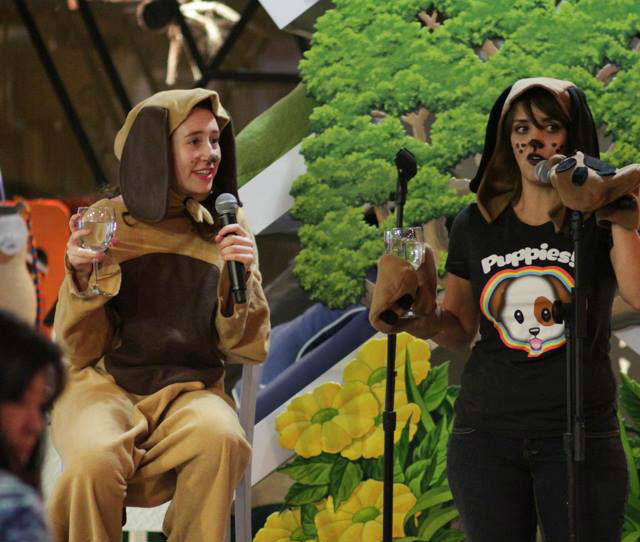 With unexpected twists, turns, and laughs, there's really no excuse not to attend (especially because you won't need a pet sitter that evening!). "People always ask me if it's chaotic." Madrid says. "Of course it's chaotic – I invited dogs to the show! With that said, it's expected, appreciated, and of course, FUR a good PAWS."
Prepare to laugh, love, and get inspired at this super-fun LA event. Tickets here.
Related: Latest 'Inside Amy Schumer' Skit Nails Us Crazy Dog People
Via Facebook