New York City is known for a number of film festivals including the Tribeca Film Festival and the New York Film Festival. Well, the Big Apple can now add the Dog Film Festival to its roster.
On Saturday, Oct. 3, the Dog Film Festival will make its debut in Manhattan. Dog enthusiasts are invited to watch two short firm sessions at the renowned Peter Norton Symphony Space. Each program runs for two hours and consists of an array of inspiring, moving and though-provoking dog-themed movies from filmmakers all across the world — Australia, Canada, Iran and France, to name a few. Some of the titles include Leonid in Space, a film about a homeless dog that becomes the Soviet Union's first Canine Cosmonaut; Biscuit/Return to Sender, a short about a rock-climbing Jack Russell terrier; and SURFice, a flick about a surfing dog that raises money for charity.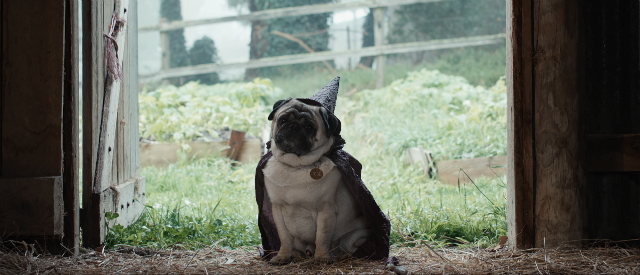 The Dog Film Festival was created by pet-wellness advocate Tracie Hotcher and is produced by her Radio Pet Lady Network. She decided to organize the event after seeing people flock to the annual Cat Video Festival.
"With the huge success of the Cat Video Festival at the Walker Art Center the past couple of years I knew the dog lovers would embrace the chance to come together to see actual films, not online videos, capturing the essence of what the human-canine bond means in so many different way," Hotchner tells This Dog's Life.
Related: How Dogs Help Actor Tom Hardy Improve His Craft
She received so many high-quality submissions, she was able to create two high-quality programs with 40 films showing – ranging from 1 minute to a half hour. Each session is one continuous film (there is an intermission) to create a shared audience experience, something Hotchner is very excited about. She tells us she is most looking forward to seeing "the reactions of 765 people in a huge theater all sharing the emotional experience of watching films that give expression to ideas and feelings about the special bond we have with dogs."
While the film event is just for humans, the kick-off Pooch Party on Friday Oct 2. is dog-friendly. The festivity is for those that purchase the limited-edition Founding Member ticket, which provides entrance to the party, a doggie swag bag and "all-access dog tag" to wear to the film festival. The premiere party will be held at Ruby and Jack's Doggy Shack on Second Avenue and 60th Street. Guests can walk the V.I.P. Green Carpet where pooch photographer Milla Chapell of Real Happy Dogs will be snapping pics of you (and your dog).
The party have a fashion show with the late Joan Rivers' dogs, Samantha and Teegan, making their social debut as they model wears from Canine Styles. Animal communicator Anni Germani will also be flying in from Minneapolis to help people understand what their dogs are thinking. She should know a thing or two, as she is the pet psychic for the Westminster Dog Show. Other activities include a sketch artist, vets and a trainer on hand to take your questions.
Related: Downtown Doghouse: Where Westminster Dogs Go to Get Groomed
While guests take in all the action, they can sip on craft beer, wine or cocktails and nosh on some "delightful" snacks. Pups will be spoiled with amazing treats, too. Pooch party attendees will go home with a pretty impressive doggy swag bag, totaling more than $100 in gifts. Some of the goodies include a Dog Film Festival Leash, two-pound box of The Honest Kitched food, Omega-3 oil for pets, supplements and John Paul pet shampoo.
For information about tickets for the Dog Film Festival, head over to the website. Click here to purchase tickets for the gala (dog film festival tickets included)
Related: 'Jurassic Weenie' Takes on the Blockbuster Dinosaur Movie