For those looking to add a canine sidekick to their household, check out some amazing pet-product vendors or just have a great time with their two-legged friend, than this Saturday's Los Angeles Doggie Street Festival is for you.
In its fourth year, the outdoor fair's main mission is to bring attention to the number of dogs in shelters and find ways to increase the adoption rate.
Related: After Losing Their Mom, 10 Orphaned Puppies Get Best Ending Ever
"Euthanasia and pet homelessness is a national tragedy that we cannot hope or wish away, dogs and cats are not disposable, they are the closest that most of us ever get to other species in the natural world – yet thousands are euthanized each day, each year, and we cannot passively overlook this, we need to take action as individuals and as a society, we have the power to end this unacceptable tragedy," says the organizer and founder Jude Artenstein.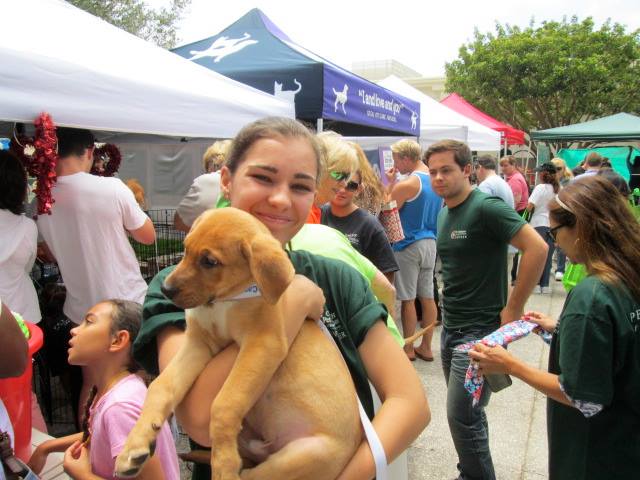 The Doggie Street Festival will bring together 12 rescue organization in hopes these special dogs (and cats) will be able to find their forever home. Besides seeing adorable four-legged friends, the event will introduce a "kids stage" where kiddos can come up and "shout out" on the festival's PA system something positive about adopting a pet. This activity supports one of DSF's solution to the homeless problem: educating children.
Staying with the adoption mission, the Doggie Street Festival will also be honoring Best Friends Animal Society and NKLA with its Hero Award for their relentless work to improve the lives of companion animals.
Related: Emmy Rossum, Amanda Seyfried and Others Show Their Support at the Best Friends Super Adoption
Other activities include a DJ, 65 specialty vendors featuring the latest in the dog world — everything from accessories, apparel, nutrition and food — auctions and delicious food.
The Doggie Street Festival is at the Westwood Recreation Center at 1350 S. Sepulveda Blvd from 10 am to 4 pm on Saturday, Sept. 19.
Images via Facebook