Those often-expensive drinking fountains for pets may seem over-the-top, but a water bowl that filters tap water is a good investment in your dog's health.
Tap water contains a number of toxins that are harmful to dogs. For example, it may surprise you that synthesized fluoride, which is put in the water supply to help prevent tooth decay, is a toxic substance that can reportedly lead to Osteosarcoma, the most common primary malignant bone tumor found in dogs.
Other toxic chemicals in tap water may include:
Lead. Large doses can lead to stomach pain, diarrhea and vomiting. Over time, lead poisoning can cause seizures, weakness, extreme anxiety, loss of appetite, blindness, and behavior changes.
E. Coli. Sometimes dangerous strains of this bacteria can make its way into our water supply, which can cause a serious infection. Symptoms include vomiting, loss of appetite, dehydration, depression, rapid heart rate, weakness, lethargy, diarrhea, and low body temperature.
Calcium and magnesium. These two chemicals are found in hard water. Some states have a greater percentage of hard water than others. The dog health insurance company Trupanion found that hard water leads to urinary tract problems including infections, crystals, cystitis, urinary obstruction, and incontinence.
Chlorine. This chemical is added to drinking water, because it is very effective at killing pathogens. That's great news. But in high doses, chlorine is toxic. In humans, it can lead to asthma, eczema, bladder cancer, and heart disease. In dogs, it can lead to these diseases in a much shorter time because dogs are usually a lot smaller.
You can find out what toxins at what percentage are present in your drinking water by inputting your zip code here.
Related: 10 Scientific-Backed Reasons Having a Dog In Your Life is Better for You
To be on the safe side, consider giving your dogs filtered water, bottled water or distilled water that are free of these toxic chemicals. Or at the very least, getting your tap water tested.
For optimum health benefits, invest in a high-quality water fountain that filters out toxins and aerates the water. Some of the best include:
1. Pioneer Pet Raindrop Style Drinking Water Fountain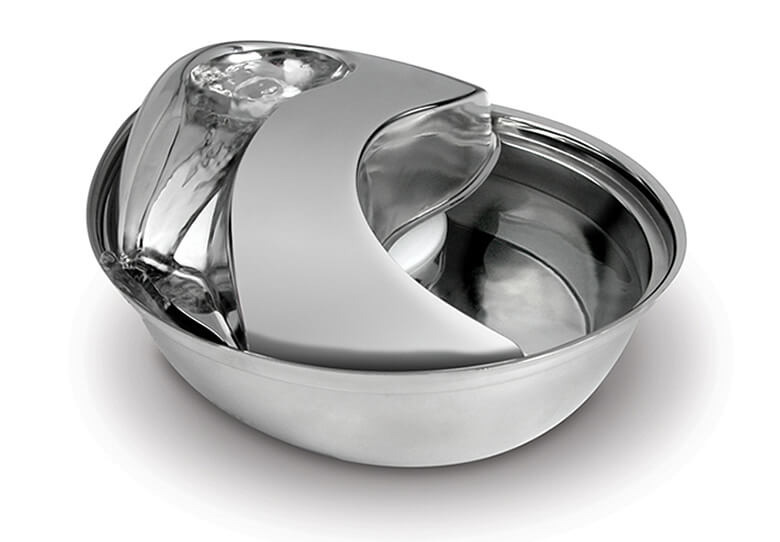 This water fountain gets top ratings for filtration, as the stainless steel bowl cuts down on bacteria that can cause infection. It's also sleek and modern looking for décor mavens. The Pioneer Pet Raindrop fountain circulates the drinking water, which may attract pets to drink more. It uses a replaceable charcoal water filter and is dishwasher safe. The water pump can be taken apart easily for cleaning. Available in a 60-ounce and 96-ounce size.
Price: $44.99 – $69.99
Related: What to Do When Your Dog Absolutely Refuses to Wear a Coat in Cold Weather
Petkit Eversweet Smart Fountain 
The Petkit Eversweet has a three-stage filtration system that features mesh screens with activated carbon and ion-exchange resins. A light will flash when the filter needs changing, and a blue LED light will remind you when water levels are too low. It is also one of the quietest fountains on the market. It works on a normal mode that continuously flows water, and a "smart" mode that shuts off when not in use. For those on the go, there is also a portable purification system.
Price: $65.87
Drinkwell 360 Pet Fountain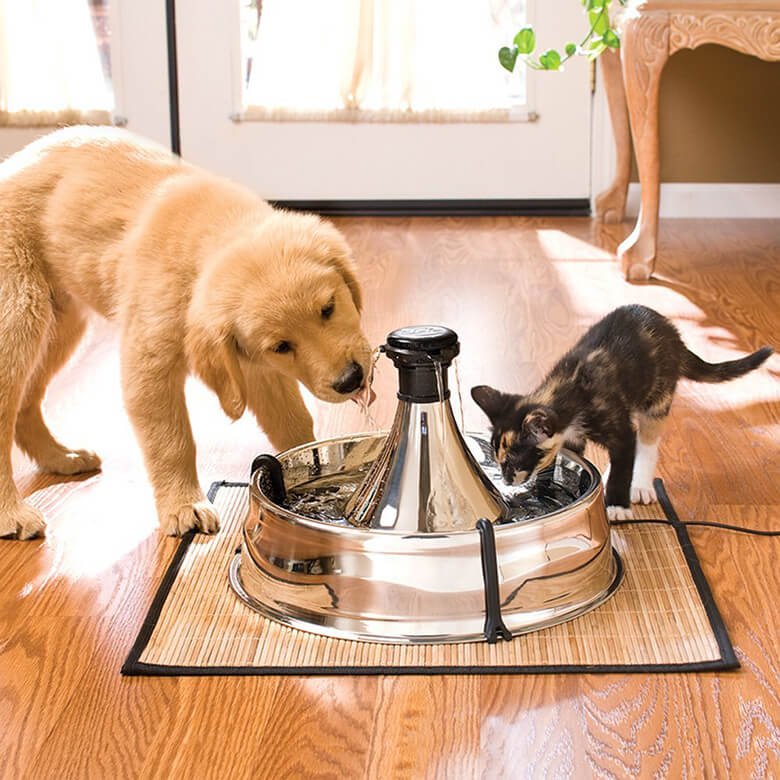 Drinkwell 360 fountain features a free-falling water flow that aerates the water and is very attractive to dogs and cats. With a large 128-ounce capacity, it's a good choice for multiple pets. The water flow is controllable to reduce splashing, and you can use different rings for 1 to 5 water streams. Water is purified by a replaceable activated charcoal filter. A foam filter catches hair and debris before it clogs the water pump. Dishwasher safe.
Price: $64.95
PetSafe Drinkwell Pagoda Water Fountain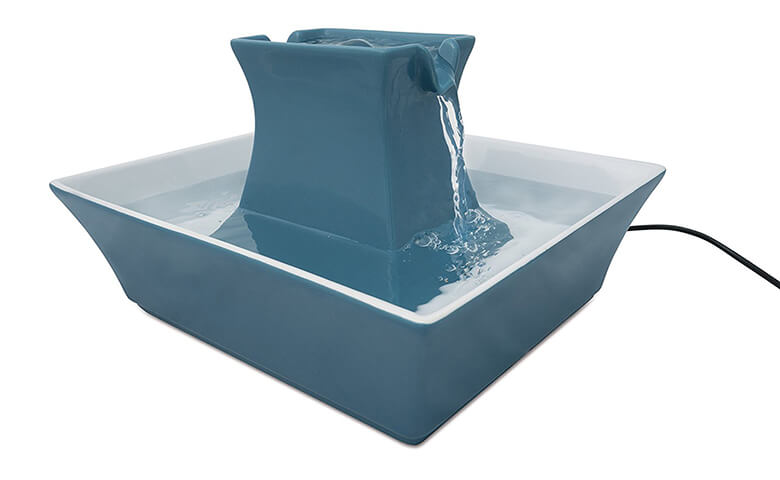 For those who appreciate classic design, this pagoda-shaped fountain from PetSafe will not disappoint. It holds 70 ounces of water. A foam filters traps hair and debris while the activated carbon filter purifies the water. The design features two levels so more than one pet can drink. Made of heavy ceramic, it's dishwasher safe, easy to clean and is available in white, blue, red and brown.
Price: $79.95
Related: 7 of the Coziest Dog Pajamas Your Pup Needs for Staying Warm Inside
NatureSPA Premium Pet Fountain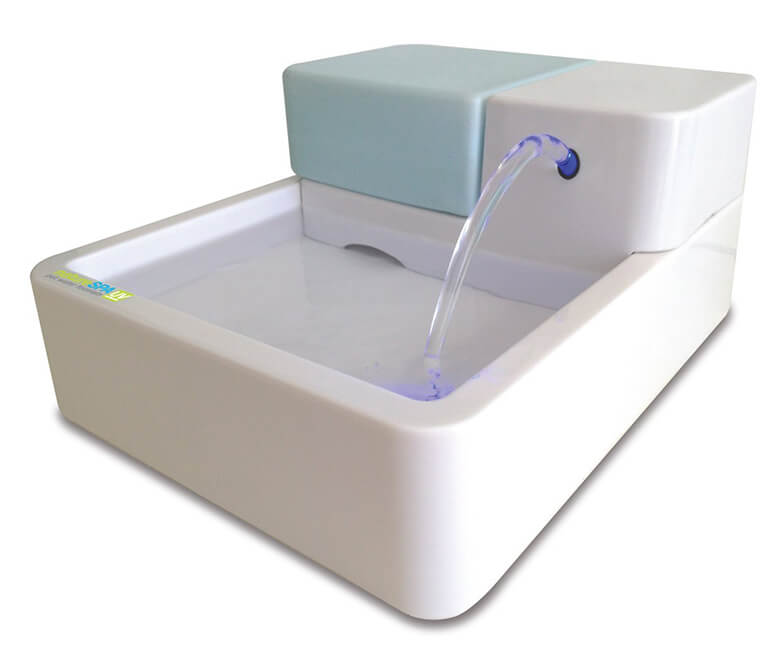 One of the first of its kind, the NatureSPA fountain uses UV light to sterilize the water and remove bacteria and microorganisms. A charcoal filter freshens the water and catches debris and hair. A blue LED light illuminates the water at night, which older dogs will appreciate. When the water level gets too low, the pump automatically shuts off. It's made of ABS plastic, which is human-food grade and BPA-free. It holds 58 ounces of water.
Price: $56.90
All our picks our independently chose, but we do earn an affiliate commission to support our work. However, if we don't like the product, we aren't going to write about it. Making a few cents off an affiliate just isn't worth it to us.