San Francisco is undoubtedly one of the most dog-friendly cities in America. Indeed, it was recently ranked the No. 1 most dog-friendly city in America, according to personal-finance site SmartAsset.
With that said, there's so much to see and do for us four-legged furries, from parks to shops and restaurants. I've made it my personal mission to go out and explore it every chance I get.
Here's a rundown of some of my favorite spots to hang out, maybe I'll see you there!
1. Baker Beach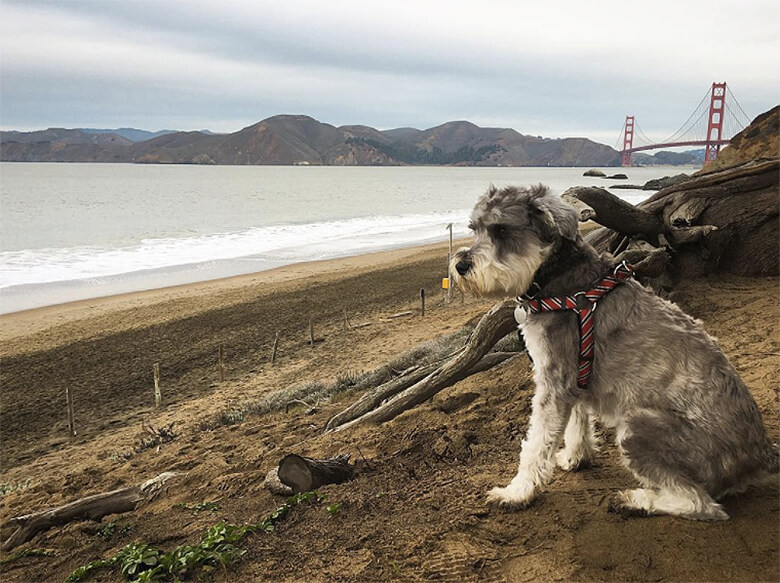 Fort Funston may be a dog paradise, but Baker Beach has breathtaking views of the Golden Gate Bridge which makes it exceptional. Crissy Field has equally great views from the other side of the bridge, but I find it to be too busy with runners, bicyclists and tourists along the path.
Related: San Franciscans Release 'WoofieLeaks' to Show Bias With Park Service Over Dog Management Rules at GGNRA
Word of warning: Baker Beach also happens to be a nude beach, but I've only been early in the mornings when it's on the colder side so I have never encountered any. If you were to go on a warm afternoon day, however, you'd better be prepared!
Currently dogs are allowed to be "nude" (off-leash/under voice control) North of Lobos Creek. Under new GGNRA rules, which are indefinitely on hold, dogs would be allowed on-leash only on the North end of the beach. Let's cross our paws it never gets enforced.
2. Pawtrero Hill Bathouse & Feed Co.
When it comes to pet stores, I am all about Pawtrero Hill Bathouse & Feed Co. It has two locations, one in SoMa and one in Potrero Hill. I love them, because they are a family-owned pet-supply store. They have the best assortment of everything from fashionable collars and leashes, nutritious food and treats and cool toys. They source from many local companies and have great community outreach. They host Dog Day Afternoon, Paws for a Cause, food drives and other events supporting local rescue organizations.
Related: This San Francisco Bistro Rewards You for Bringing Your Dog With a Sweet Wine Deal
Whenever I'm in the area of either store I'm sure to stop by. The staff are super friendly (they give me very generous treats!) and knowledgeable too. I have gotten a non-anesthetic dental cleaning at the SoMa location through Waggin Smiles and my chompers have never been more on point. Also, as the name implies they have bath stations, but I haven't tried them.
3. Golden Gate Park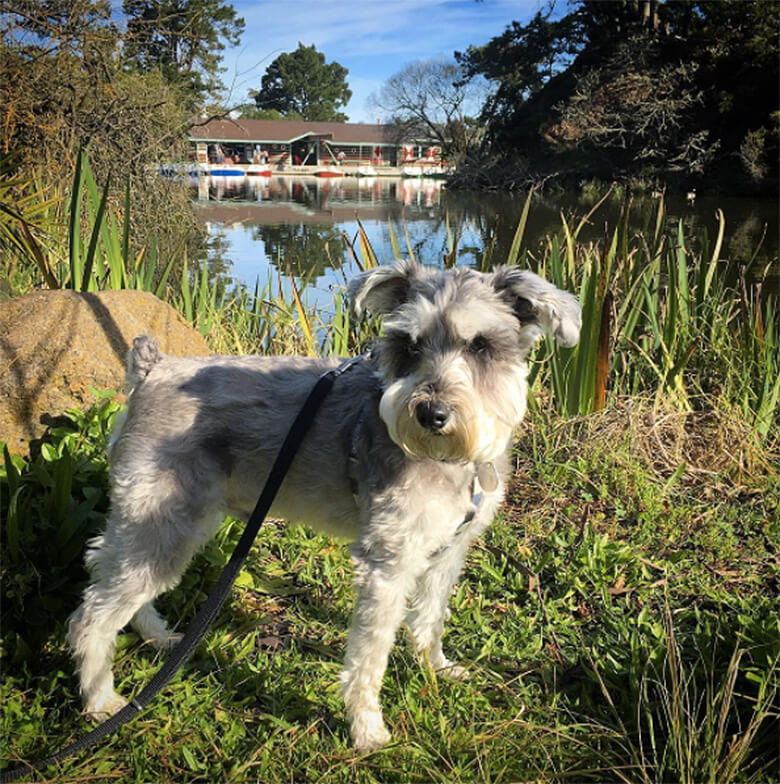 In terms of my favorite outdoor nature adventure, this was a hard category to choose a favorite because I have so, so many, but Golden Gate Park is in my backyard. It never disappoints and is so big that every time I go I discover something new. I love that it has such a rich history, and you can stay on the main roads or go off into the wooded trails and get dirty. I still can't believe this beautiful oasis of nature exists in the middle of my city!
My usual haunts include Stow Lake, Strawberry Hill, The Lily Pond, John McLaren Rhododendron Dell, Chain of Lakes and Bison Paddock. The AIDS Memorial Grove is one of the most serene spots with incredible redwood trees. JFK Drive is car-free on Sundays which is also great to meander. I'm usually there early in the mornings before it gets too crowded and always have to drop a pin at the car, so I can find my way back (I've been known to wander for hours).
4. Dynamo Donut- Marina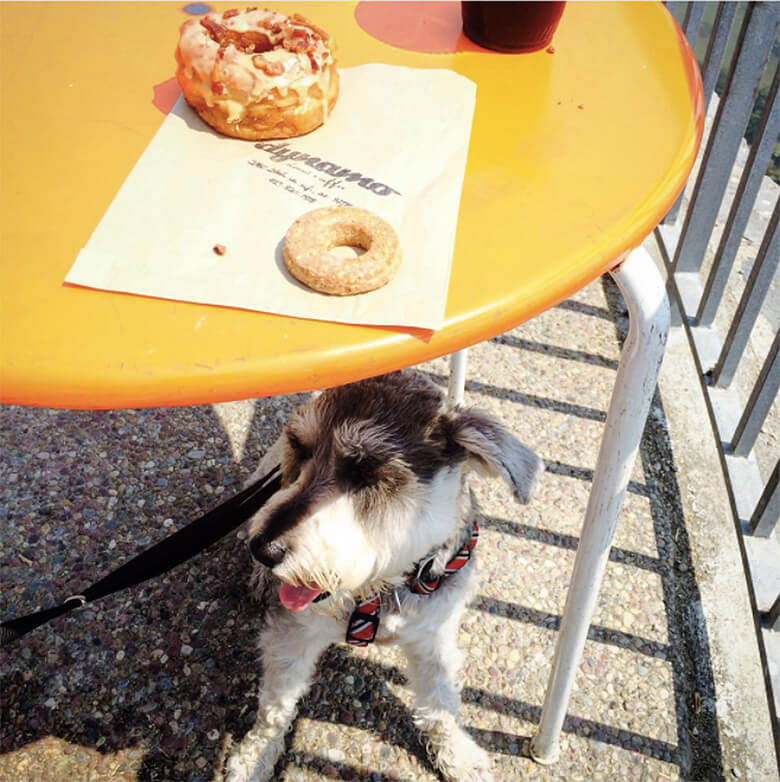 The Dynamo Donuts Kiosk on the SF Bay Trail is a great place to grab a quick treat for human and hound, especially if you've been out and about at Crissy Field, Wave Organ or Marina Green. Those on two legs can enjoy Four Barrel Coffee and a menu of innovative donut flavors that changes daily, like Caramel de Sel, Strawberry Earl Gray or Maple Glazed Bacon Apple (they have gluten free flavors, too). They use seasonal, local and organic ingredients.
But what is best of all, they have Doggy Donuts! Made of a little bit of bacon grease, wheat flour, millet and eggs, your dog will for sure love it.
It's a kiosk, so it's super easy to walk up with your pup and refuel. They have a few tables to sit and watch the boats go by or take in the grandeur of the Golden Gate.
Note: It is only open Friday-Sunday.
5. Upper Douglass Dog Park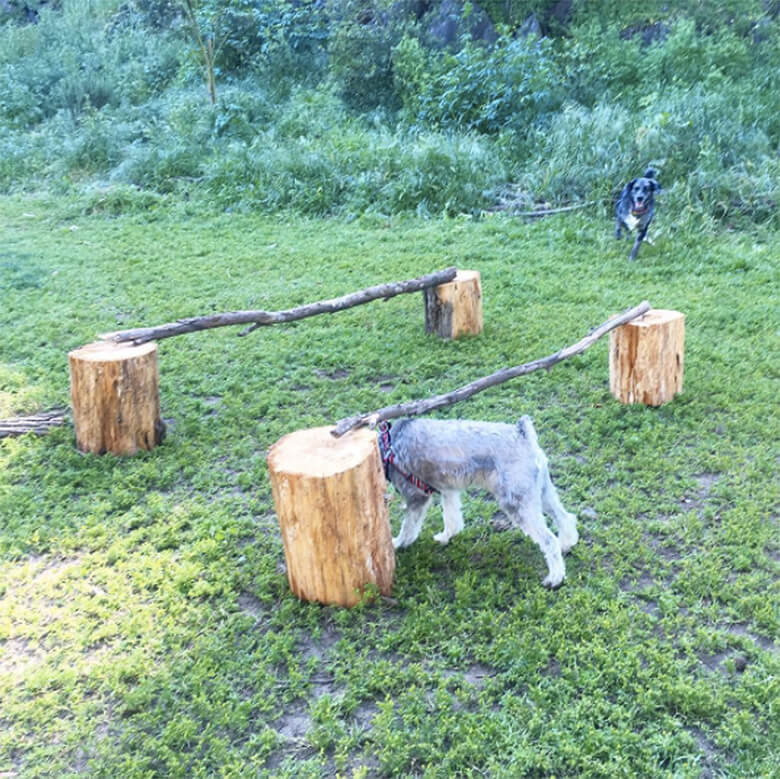 Every once in a while, it's nice to socialize and mingle with other furries. This place is my favorite, because it is completely fenced in, has a large grassy area, the crowd is pretty friendly, owners are usually responsible and parking is a breeze.
There's makeshift hurdles for agility if you're into that and a large hill in the back that you can hike half the perimeter of the park if you're daring enough. It's well maintained and also has a pretty nice view.
But be aware, there is no separation for big and small dogs. That said, the field is so big you can easily stay on the opposite end from anyone you don't want to socialize with.
Related: There is a Circus Training School for Dogs — And It Is Amazing