When it comes to where your dog lives, all states are not created equally. Some have stricter animal abuse laws, whereas others have amenities galore for our dogs.
To see where the best place to live for a dog, a number of organizations and companies — including security system Safewise, Bureau of Labor, online pet resources and Animal Legal Defense Fund — pulled some data to determine where pups have it made. The findings are based on strictest anti-cruelty laws, highest percentage of no-kill shelters, most pet-friendly hotels and parks, among other factors.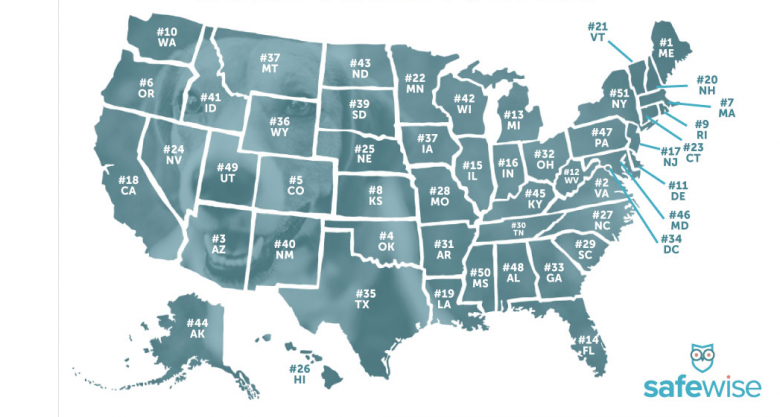 Without further ado, here are the top 10 best states to have a dog:
10. Washington
The Evergreen state has a number of outdoor amenities for pups, including a ton of parks, hiking spots and trails. It also has dog-friendly restaurants and hotels. The state scores high marks for its anti-cruelty laws, coming in as the 13th best. The main downfall for this state is that some cities have a pit bull ban.
Related: The Top Dog Names Revealed for 2016
9. Rhode Island
The big pet friendliness component makes up for the state's small size. Besides being the seventh best state for animal protection, it comes in first for overall health and wellness for our pups. The state is also home to 27 dog-friendly beaches and trails.
8. Kansas
The home to Toto is pretty accommodating to dog lovers. Kansas has 38 trails, along with 370 pet-friendly hotels for you and your pup to explore. Also, 30 percent of its 87 shelters are no-kill. However, a major drawback of the state is many of its counties ban pit bulls and rottweilers.
7. Massachusetts
The New England state has more than 1,600 vets and 208 outdoor areas you can enjoy with your dog, including beaches, parks and trails. The state ranks 10th in anti-cruelty, yet, does have bans on pit bulls.
6. Oregon
The state does have breed restrictions, including those for pit bulls. But for the dogs it does allow, the state has more than 200 dog-friendly outdoor areas, including trails, parks and beaches, along with 240 pet-friendly businesses.
Related: This May Be the Most Dog-Friendly Office We've Ever Seen
5. Colorado
With nature right outside your doorstep, the state is heaven for dogs. Colorado has more than 1,000 pet-friendly hotels and 200 trails dogs can enjoy. There is also 1,900 veterinarians to ensure your dog stays in tip-top shape. A major downfall is that it does have breed restrictions, including completely banning some fighting breeds, like pit bulls and American bulldogs.
4. Oklahoma
A bit unexpected to us, Oklahoma comes in as the fourth most dog-friendly state, according to the findings. The state has the 17th best anti-cruelty laws and has 33 dogs parks, along with 93 dog-friendly restaurants. The report does state it wishes there were more no-kills shelters in the state.
3. Arizona
During most of the year, the weather is pleasant, making the outdoors a great place for people and their dogs. It ranks 11th for strictest anti-cruelty laws and 10th for percentage of shelters that are no-kill. It also has 629 pet-friendly businesses, more than 900 pet-friendly hotels and a ton of hiking trails to enjoy with your dog.
2. Virginia
Another one that surprised us a bit was Virginia. The state has more than 2,500 veterinarians, along with 371 dog-friendly restaurants and businesses. The state comes in 19th for strongest anti-cruelty laws. The major drawback — which is the reason we are surprised it made the list – is that it has a high euthanasia rate, partly based on the fact only 15 percent of shelters are no-kill
1. Maine
Maine, the nature hub of the Northeast, has an abundance of outdoor areas dogs can enjoy, including beaches, trails and parks. Indeed, there are 76 spots your dog can join you. There are also 1,000 pet-friendly hotels. The main issue with Maine is that only 30 percent of its shelters are no-kill.
Related: East or West Coast Dogs: Who Has It Better?